More than 50 Great Thanksgiving Ideas! Everything from crafts to printables to recipes and home decor!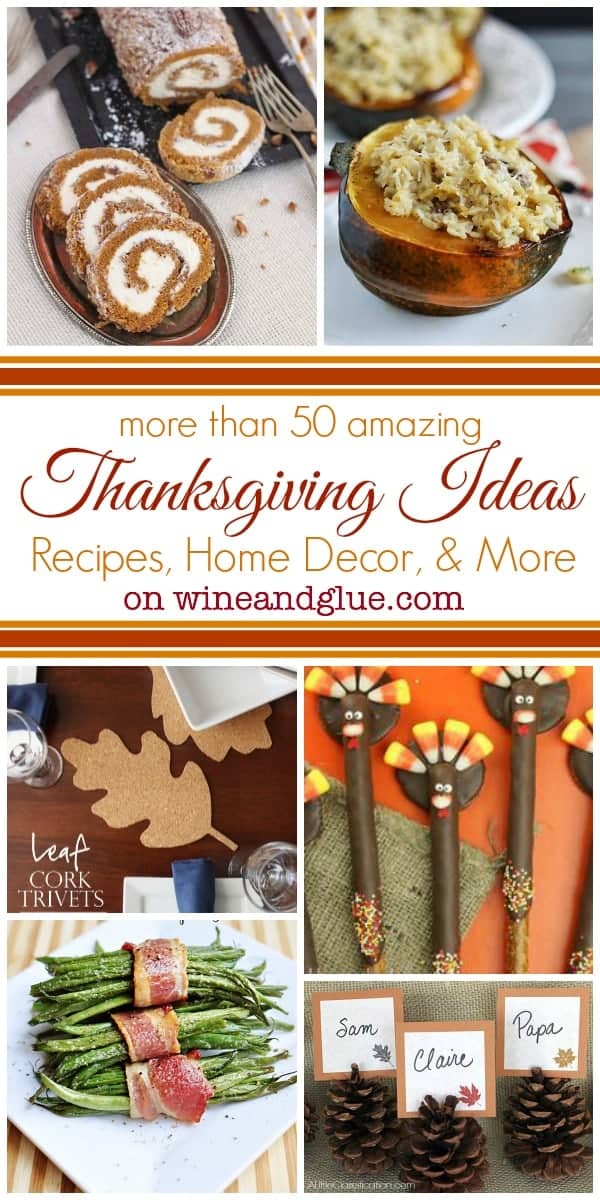 Hosting Thanksgiving doesn't have to be difficult. With the right recipes and the perfect decor, it can even feel enjoyable!
THANKSGIVING MAIN DISHES
Everyone loves a good turkey at Thanksgiving, but you can mix up with some ham too!
SIDE DISHES FOR THANKSGIVING
You will never be able to convince me there is a better Thanksgiving side dish than stuffing, but these others come close.
Slow Cooker Cheesy Mashed Potatoes
Cheesy Garlic Bacon Mashed Potatoes
Harvest Salad with Pears and Pomegranates
Bacon Green Bean Bundles with Brown Sugar Glaze
Mushroom and Kale Sausage Stuffing
Make Ahead Potato Crescent Rolls
THANKSGIVING DESSERTS
Let's thing way beyond pumping pie. Theres so many desserts for Thanksgiving!
Butterscotch Pie with Curry Crust
Apple Cranberry Spice Pull Apart Loaf
Peanut Butter Pie with White Chocolate Ganache
Perfect Pumpkin Pie From Scratch
Brown Butter Pumpkin Streusel Coffee Cake
Chocolate Pumpkin Ice Cream Pie
THANKSGIVING DRINKS
Christmas doesn't have to have all the fun. These drinks are perfect for giving thanks!
THANKSGIVING DECOR
These simple decor ideas and cute printables can't be missed.
Pumpkin Thanksgiving Place Cards
3 Simple Ways to Decorate with Sage
No Sew Thanksgiving Burlap Bunting
Free Printable Thanksgiving Place cards
Hand Painted Thanksgiving Table Runner