Cereal and Fruit into Baby Food | A really easy DIY babyhood meal!
Make sure you also check out Parts 1: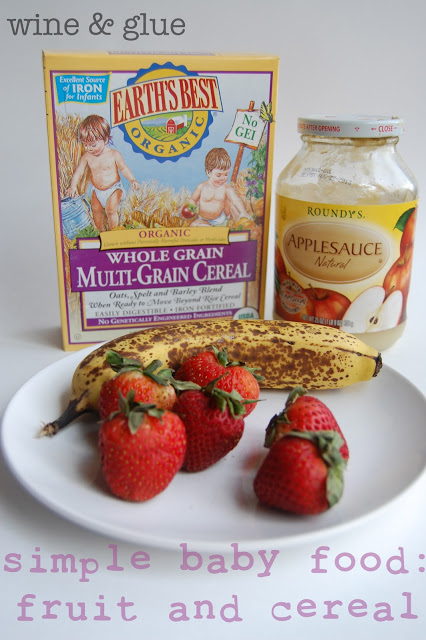 Long time no blog! Life has been crazy with my working on my dad's 75th surprise birthday party. It was a wonderful weekend with my family celebrating my amazing dad. Here is a picture of him blowing out 75 candles with the help of some of his grandkids.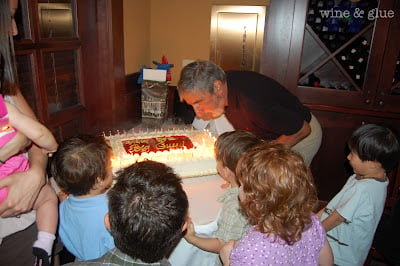 After blowing them all out he said, "You always knew I was a big bag of wind." Ha!
Anyway, I have a lot of blog posts that just need to be edited and uploaded. So now that I have a little more free time, be prepared for an onslaught of Lisa madness.
If you remember a few months back, I did a post on the financial benefit of making your own baby food.   Well . . . . I decided  . . . . wait for it . . . . to make it a series! (I know, I know. The joy you are feeling right now is a little overwhelming, isn't it?)
I remember that when I was a new mom with Gavin, part of the reason I didn't make my own baby food was because while it seemed simple enough to puree a sweet potato, going beyond that was more taxing than my sleep deprived brain could handle.
Hopefully the sleep gods are kinder to you than they were to me, but in case they aren't, I'm going to be posting one or two more posts on simple baby food.
The first is Quinn's favorite meal, made from whatever random fruit I find in my fridge yummy fresh fruit and cereal.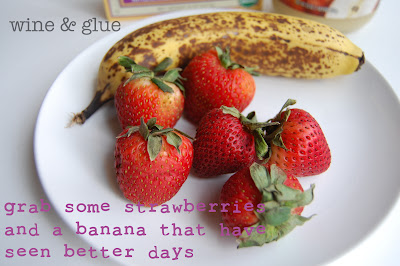 I am notorious for buying more fruit than we can actually eat in a week, and we inevitably end up throwing away the last couple strawberries and one lone banana. So a few days before we get to that point, I now turn them into food for Quinny! (Only the best for my baby!!)  My justification for it is that if the only problem with it is that it's mushy and has a brown spot, it's actually ideal life calling is to become baby food.
This go around, I grabbed one lone banana and six sort of sad strawberries and helped them find a purpose to life. (Is this what happens when you spend a month planning a 75th birthday party? You start to get philosophical about fruit??). Then I added some applesauce (look for the all natural kind that is pretty much just apples, water, and maybe some vitamin c).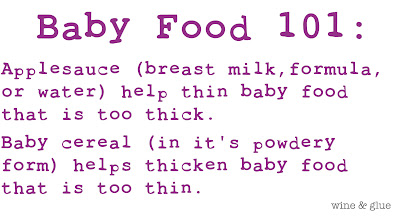 Add the cut up strawberries, banana, and half a cup of applesauce to a small saucepan and cook over medium heat covered for about 20 minutes or until it's very easy to mush the strawberries with a fork. Stir occasionally, and don't go off and do something else or your pot will boil over because you weren't paying attention. (Not that you would do that . . . )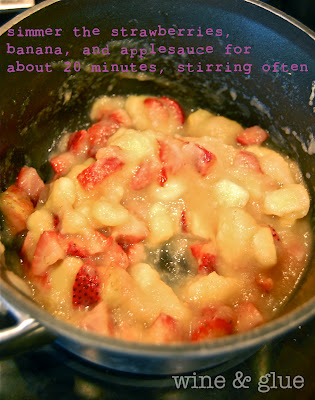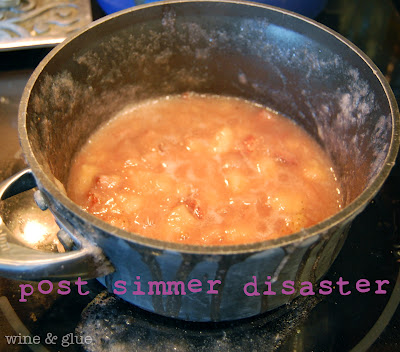 After it is done cooking, add about 1/4 cup of baby cereal. Then puree.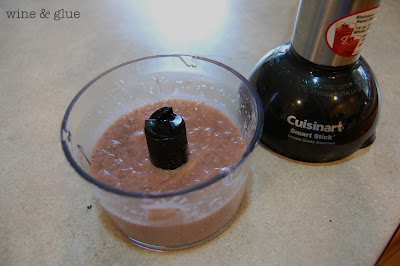 Put into ice cube trays and freeze.
Oooooor, give it to your baby right away and watch them giggle in baby bliss.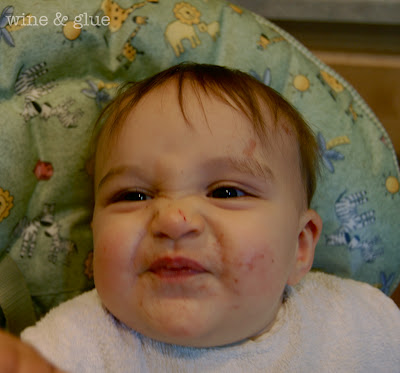 Nothing conveys Quinn's approval quite like a snort.
Simple Baby Food: Fruit and Cereal
(makes about 11 ounces)
1 banana
6 medium strawberries
1/2 cup unsweetened applesauce
1/4 cup powder baby cereal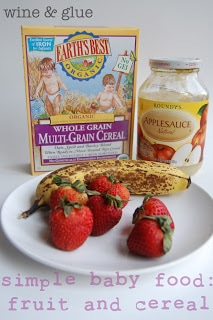 Wash and cut up the strawberries. Break up the banana. Toss both in a small saucepan with the applesauce.
Cook on medium heat covered for about 20 minutes or until the strawberries can be broken up very easily with a fork.
Stir in the baby cereal.
Puree and freeze in ice cube trays.