Biscoff Cookie Dough Dip | What do you get when you combine cookie butter and cookie dough? Addiction!
Can I just tell you how INSANELY excited I am for today's guest post?? Okay. For one, it's Julianne from Beyond Frosting. She is incredibly talented, both in terms of recipe development and photography, she's a blogger you are going to want to watch. Just a few of her recipes that I drool over are her Circus Animal Cookie Dough Truffle Bars (it's like all my childhood dreams come true!), her Thin Mint Brookies (I want the whole stack!), and her Samoa Muddy Buddies (I heart Samoa evvvvvverything!!).
Reason number two why I'm pumped about today's post? Julianne combined cookie butter AND cookie dough!!! She's like an evil dessert genius! (A title that has been given to me, but clearly really belongs to her!)  Thanks so much for being here Julianne!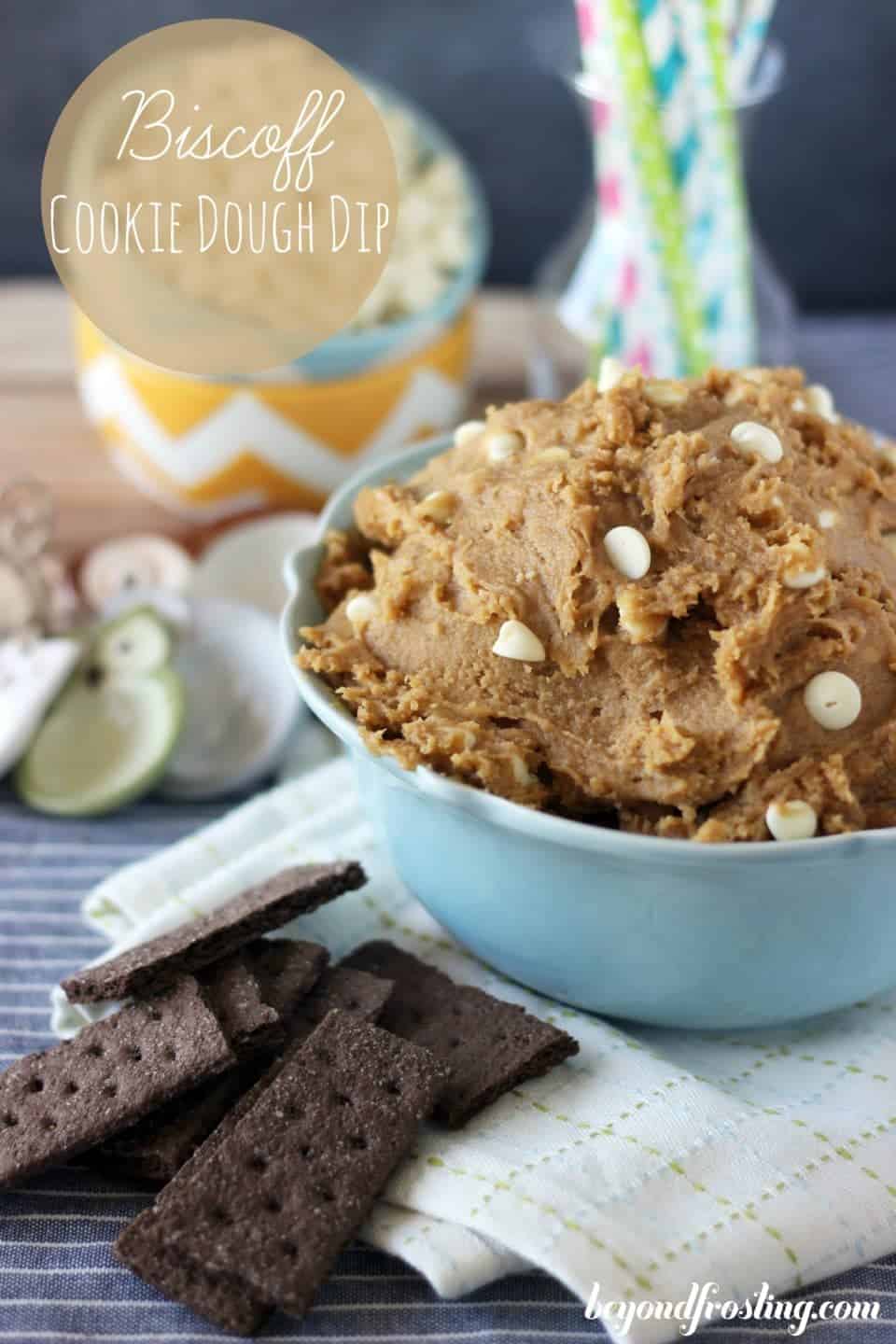 Hey everyone! This is Julianne from Beyond Frosting. I am happy to be guest posting here today at Wine and Glue! While Lisa is on maternity leave, she has asked a few of us "bloggy friends" to keep you entertained. My job is desserts! Naturally.
Although I have never met Lisa in person, let me just tell you how much she rocks. She is always there to lend a hand in support of her fellow bloggers. I am not really sure how she does all that she does with two kids and now a newborn. Wonder Woman I tell you.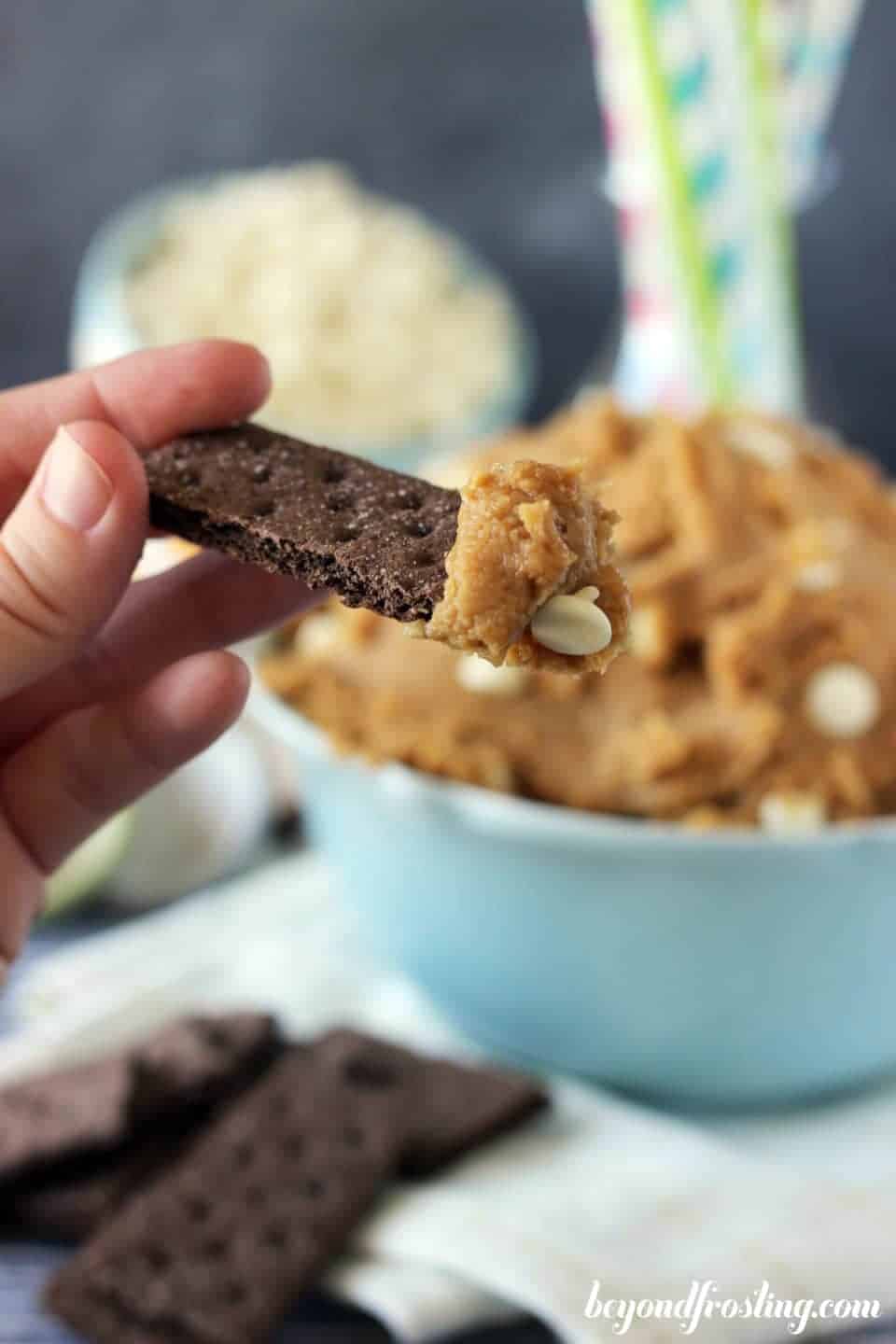 So today I am sharing Biscoff Cookie Dough Dip. I have been holding onto this recipe for a special occasion. Why? Well because Biscoff is awesome, and cookie dough is the best thing in the world; quite literally. When Lisa recently posted No-Bake Cookie Dough Cheesecake, I knew that this Biscoff Cookie Dough Dip would be a great addition to Wine and Glue.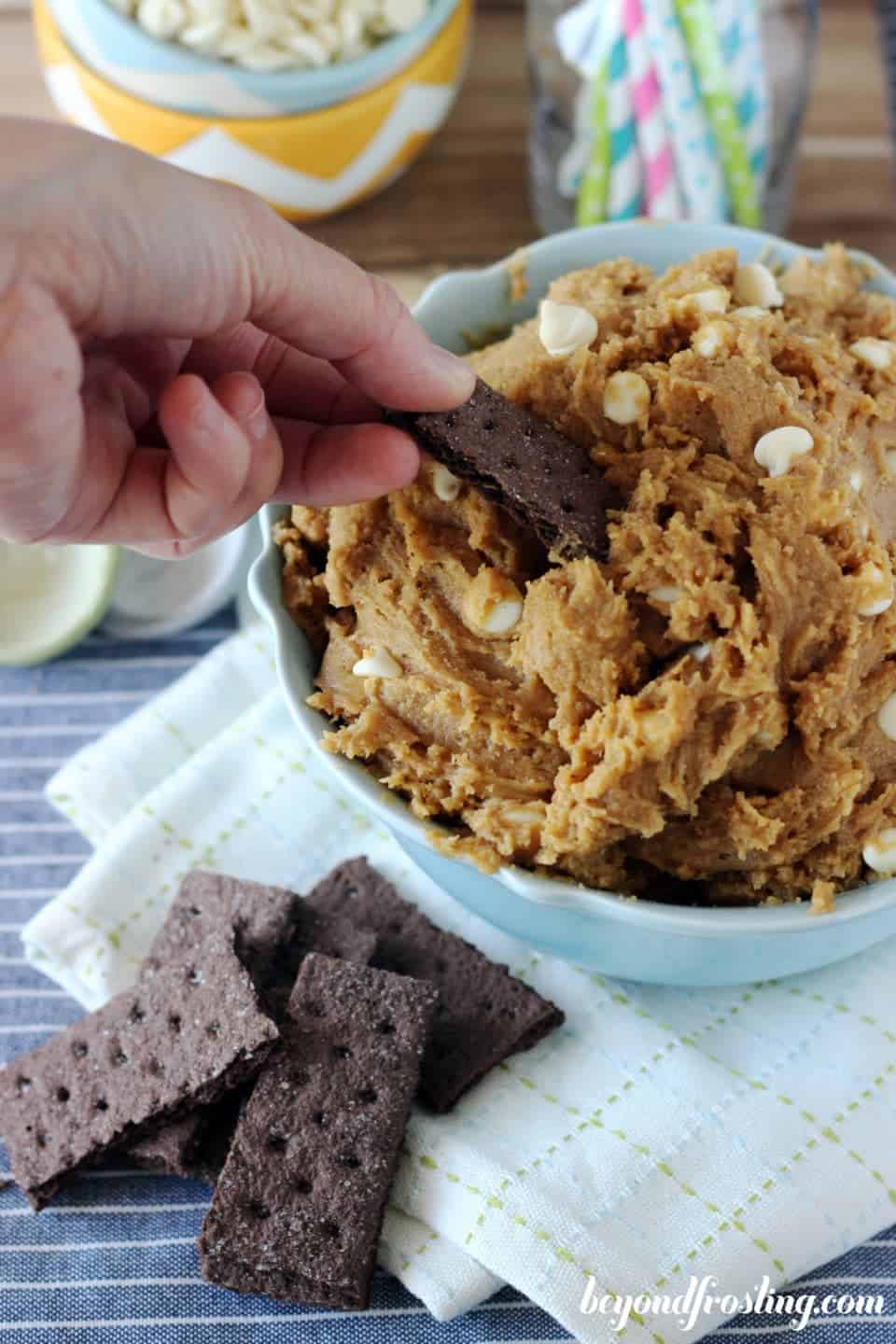 This recipe serves a crowd. So if it is just a few of you, I would suggest to half the recipe. First, you make a batch of Biscoff cookie dough. Then you mix together more Biscoff and cream cheese. Then you drop the cookie dough into the cream cheese mix and stir together. What you end up with is a creamy dip layered with Biscoff cookie dough.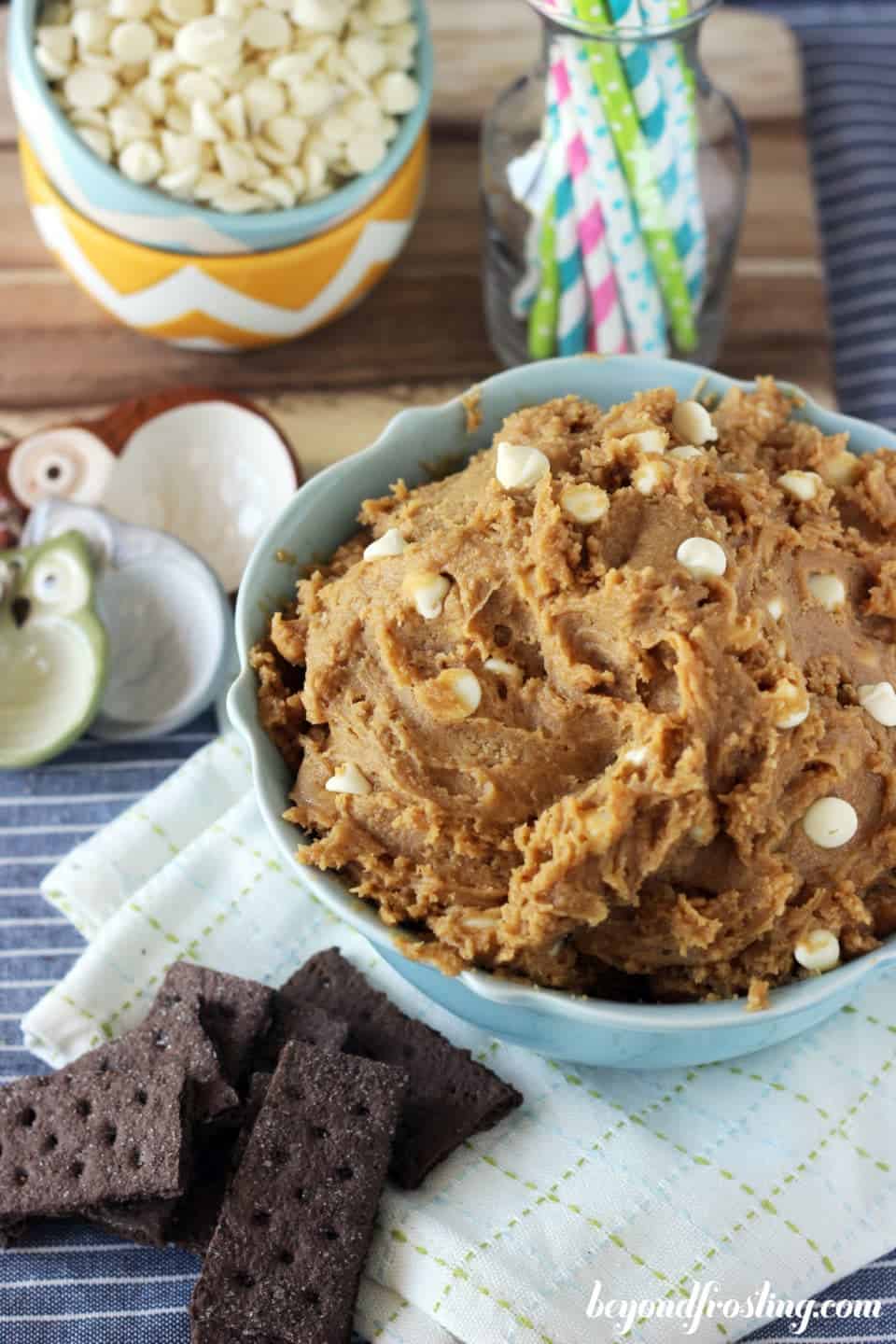 The great thing about this dip is that is can be prepared ahead of time and kept refrigerated. Since I like my dips soft, I suggest removing it from the fridge at least 30 minutes before serving.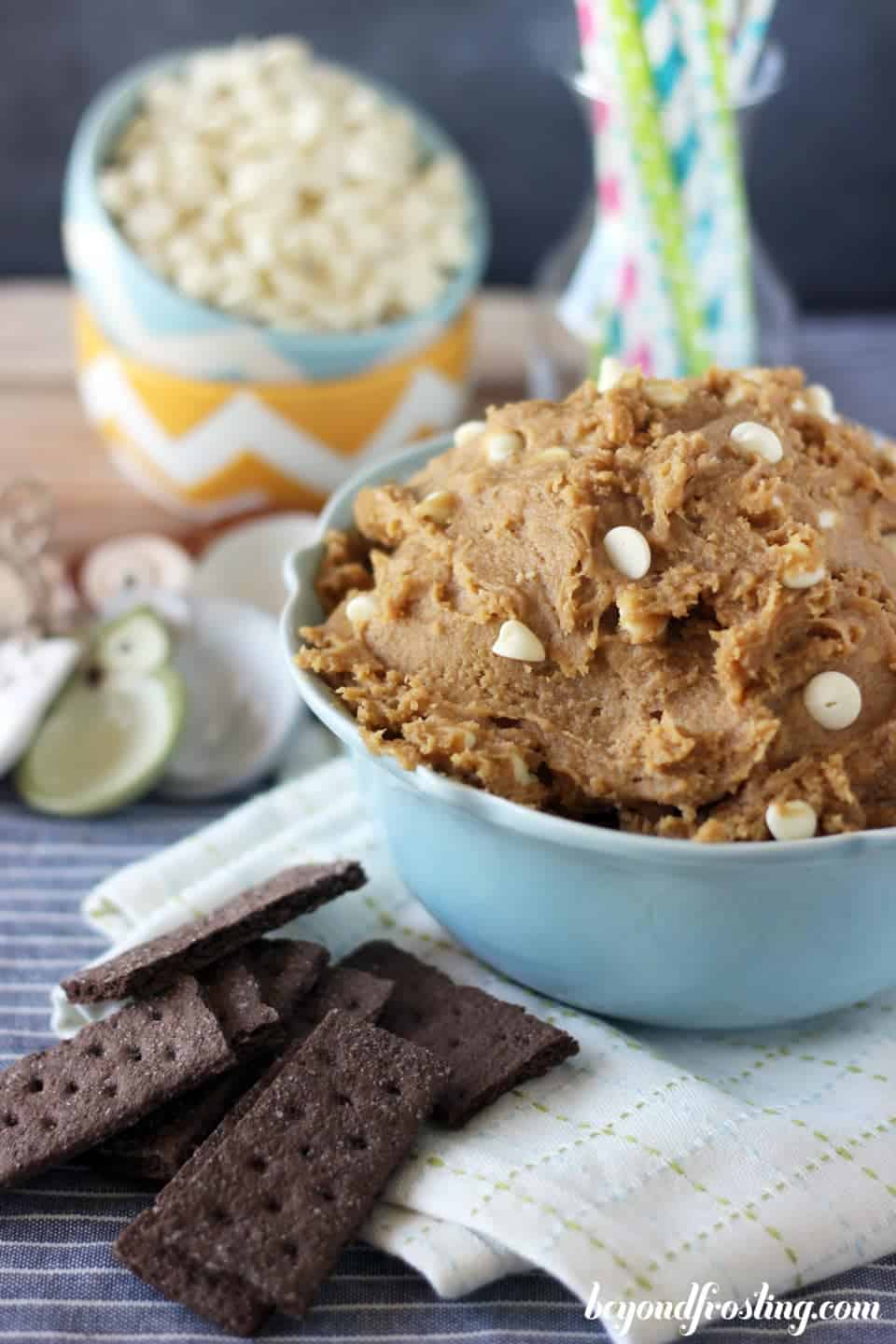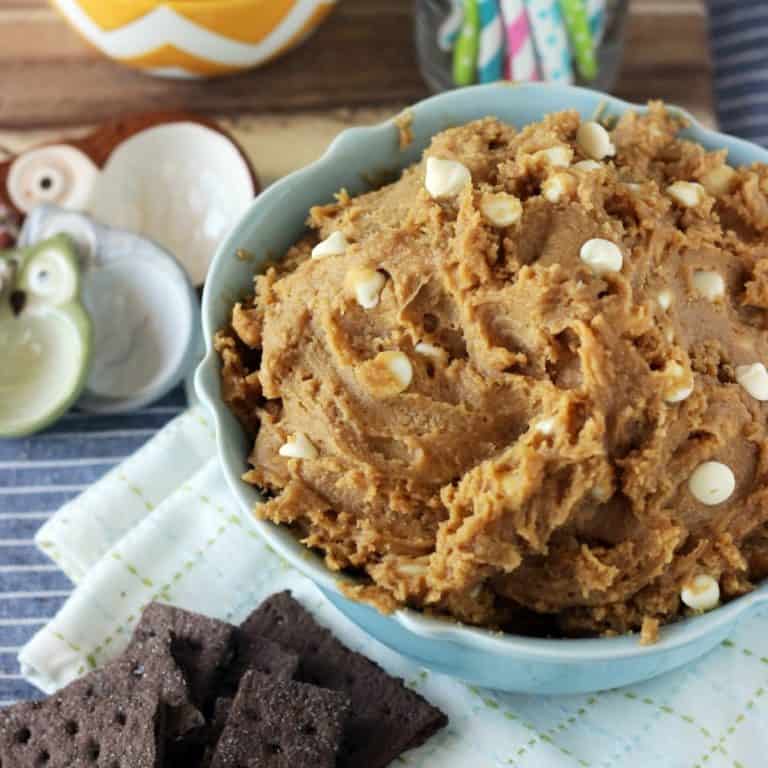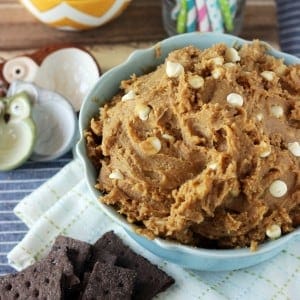 Biscoff Cookie Dough Dip
Ingredients
For the cookie dough

1/4

C

Unsalted butter

melted

1/4

C

Packed brown sugar

1/4

C

Granulated white sugar

1/2

C

Biscoff spread

3/4

C

All-purpose flour

Pinch

of salt

1

tsp

Pure vanilla extract

1 1/2

tsp

Milk

For the dip

8

oz

Cream cheese

softened

1/2

C

Biscoff spread

1 1/2

C

Powdered sugar

1

tsp

Vanilla extract
Instructions
Melt butter in the microwave for 20-30 seconds. In a separate bowl, combine brown sugar and white sugar. Pour melted butter over the sugar. Use a handheld mixer on medium speed to beat the butter and sugar until smooth. Make sure to get any remaining chunks of sugar well ground up.

Add cookie butter spread and beat until smooth.

Next, add flour and a pinch of salt. Beat for 30 seconds; dough will start to thicken.

Lastly, add milk and vanilla and beat until well combined.

To prepare the dip, combine softened cream cheese and Biscoff and beat until smooth.

Add powdered sugar and pure vanilla extract and mix with a spatula until combined.

Spoon the cookie dough into the dip so that there will be chunks of cookie dough throughout.

Serve with crackers, cookies or fruit. Keep chilled and remove from fridge at least 30 minutes before serving to allow it to soften.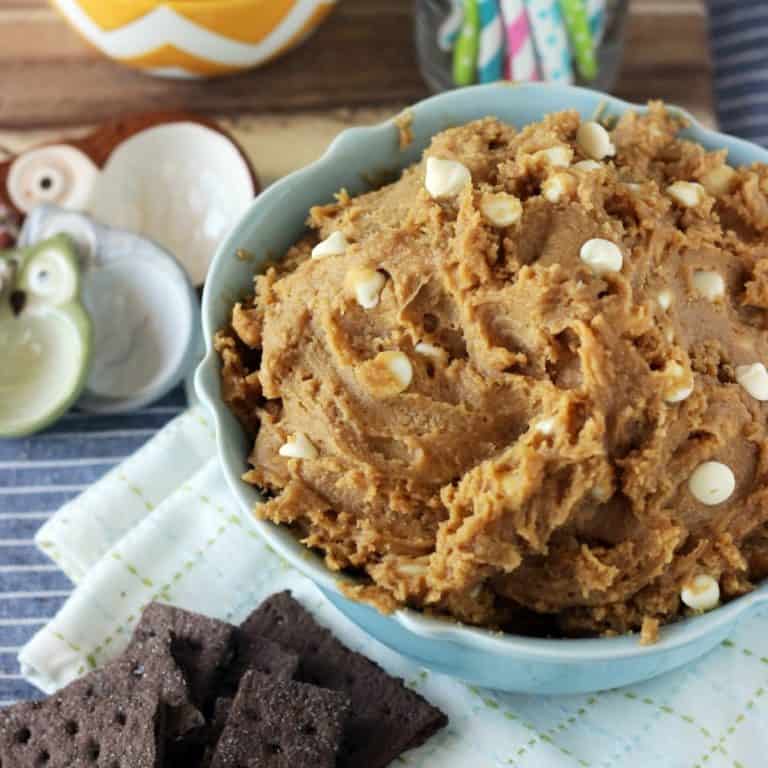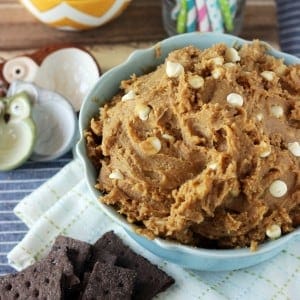 did you make this
Biscoff Cookie Dough Dip