Blueberry Sour Cream Pancakes with Fresh Homemade (easy!) Syrup – say hello to your new favorite breakfast!
Today the wonderful Jen is here from Yummy Healthy Easy! If you haven't met Jen, you are about to fall in love. She is super sweet, adorable, and a super mom to FOUR boys! And if all of that weren't enough, she whips up these amazing meals that come together in a snap and then she takes these gorgeous photos of them. All without getting her super hero cape dirty. She's amazing. Some of my favorite Yummy Healthy Easy recipes are her Chicken Thai Noodle Bowls (this is my kind of easy dinner!) and her Easy Bread Sticks with Warm Bacon Cheese Dip (drooooooool!)
Thank you so much for being here Jen!
Well, hi there Wine & Glue readers! This is Jen Nikolaus from Yummy Healthy Easy. I'm super excited to be here today! Lisa has been someone I've looked up to for a long time and I am thrilled to be guest posting on her amazing blog! Also, I have a crazy awesome recipe I'm sharing today, just for you!
Pancakes.
In my house, that's all I need to say to get some serious freak out reactions.
I have four boys and they get super excited when I make certain meals. Pancakes are one of those freak out meals. I get begged to make them on almost every Saturday morning and for random breakfast for dinner occasions.
Needless to say, my boys are happily my pancake guinea pigs. I've tried just about every recipe out there and have several different kinds of pancake recipes up on my blog. But my favorite kinds are the ones with fruit in them, especially blueberries.
You can't go wrong with a stack of blueberry pancakes. But what's even better? Blueberry syrup to drizzle over the top!
These pancakes are fluffy, rich and full of blueberries. They're super easy to make, too. So is the homemade syrup! Four ingredients and you just simmer it on the stove. It's light and full of blueberries and flavor.
The combo of the pancakes and syrup is seriously the best thing in the whole entire world. Since summer is around the corner, fresh blueberries are the way to go but you can also use frozen as well. My boys LOVE these pancakes! They're the perfect way to celebrate those warm summer mornings!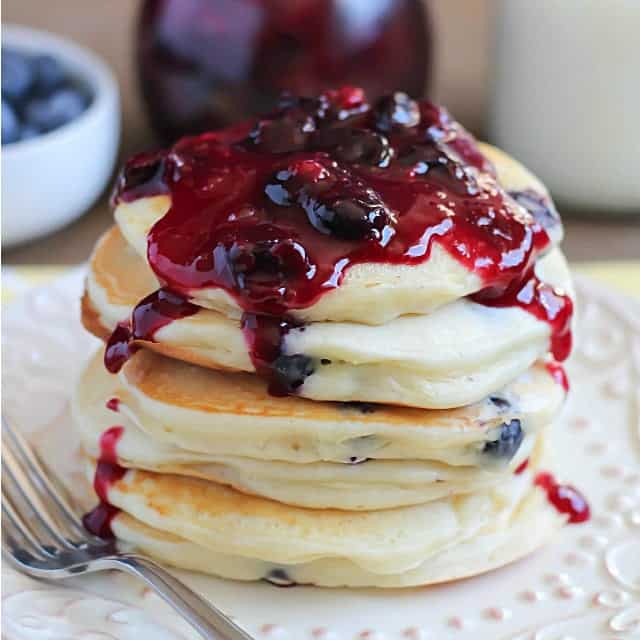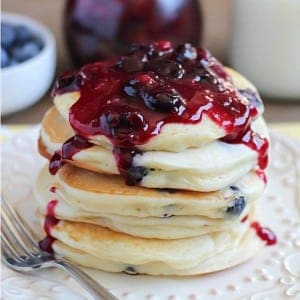 Blueberry Sour Cream Pancakes with Fresh Homemade Syrup
Ingredients
2

cups

all-purpose flour

4

tsp.

baking powder

2

Tbsp.

Truvia sweetener

or 1/4 cup sugar

1/2

tsp.

salt

2

eggs

1 1/2

cup

milk

+ a little more as necessary to thin batter out

1

cup

light sour cream

1

cup

fresh or frozen blueberries

Syrup:

1

cup

cold water

2

Tbsp.

cornstarch

1/4

cup

Truvia sweetener

or 1/2 cup sugar

4

cups

fresh or frozen blueberries
Instructions
Combine flour, baking powder, Truvia and salt in a large mixing bowl. In another bowl, beat the eggs and add in the milk, and sour cream. Stir mixture into dry ingredients, just until moistened. Fold in the blueberries. If batter is too thick, lightly stir in more milk until the desired consistency. Pour batter by 1/4 cups onto a hot greased griddle or pan. Flip over when bubbles start to form on the top. Makes about 20 pancakes.

For syrup: In a large saucepan, combine water, cornstarch and Truvia until smooth. Add blueberries. Bring to a boil over medium heat. Cook and stir for about 2 minutes or until thickened and blueberries start to pop open. Remove from heat and serve with cooked pancakes. Enjoy!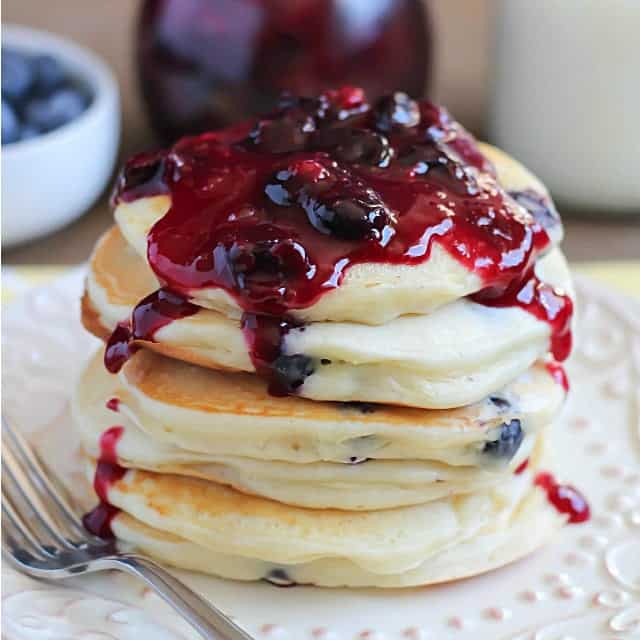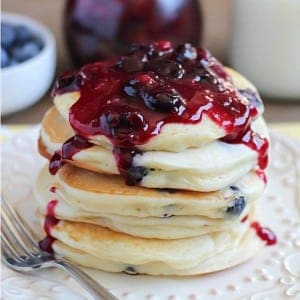 did you make this
Blueberry Sour Cream Pancakes with Fresh Homemade Syrup
(recipe adapted from Taste of Home)
Here are a few more breakfast ideas from Yummy Healthy Easy:
Funfetti Sprinkle Pancakes
Blueberry Oatmeal Muffins
Skinny Blueberry Crumble Bars
Thank you so much for having me, Lisa and Wine & Glue readers! I'd love to have you stop by sometime over at Yummy Healthy Easy to check out some more easy recipes! Thanks again!