Candy Corn Cream Cookie Bars | Delicious bars made from Candy Corn Oreos!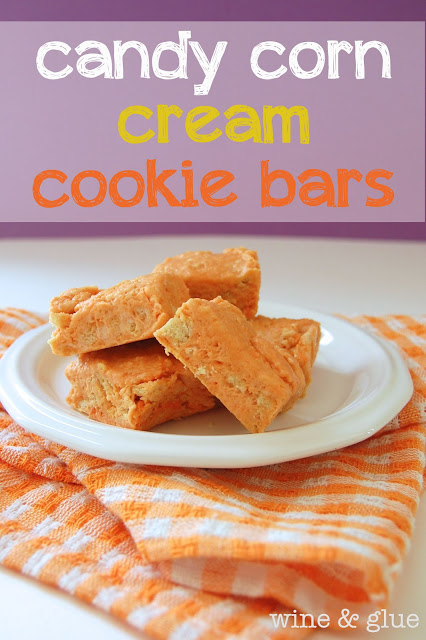 Dear Nabisco,

Kindly remove your Candy Corn Oreos from the shelf.

They are irresistible.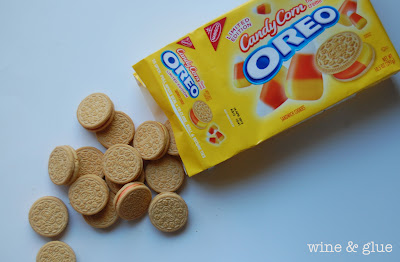 I understand that this is probably what you were going for, with the delicious vanilla cookie crunch, and amazing candy corn frosting center, but . . .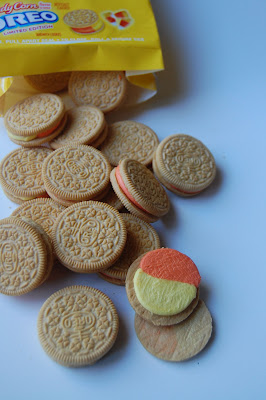 it's cruel.

Perhaps even worse, are the delicious treats that can be made with them. Like these Candy Corn Cream Cookie Bars.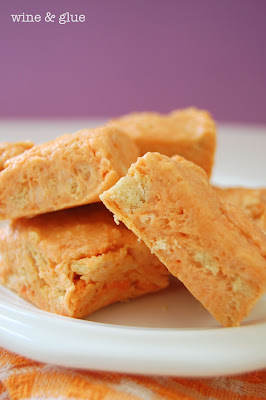 Their delicious candy corn flavor, combined with marshmallow fluffiness, and cookie crunch is making my muffin top beg for mercy!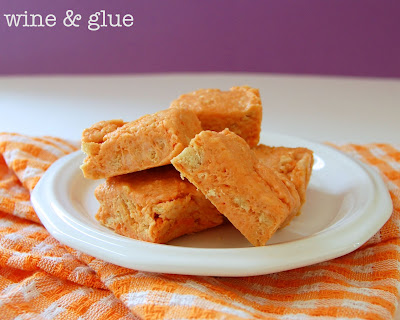 Thank you for your immediate attention in resolving this pressing issue.

Sincerely,
Lisa's Love Handles

Candy Corn Cream Cookie Bars
(adapted from Bakergirl)
1 10.5 oz package Candy Corn Oreos
3 cups large marshmallows
2 TBSPs butter
Olive Oil Spray
Spray a microwaveable bowl with olive oil. Add the marshmallows and butter and microwave until the marshmallows are puffy and melty (those are the technical baking terms). I cooked mine for three minutes at half power.
While the marshmallows are cooking, crush the Oreos in a food processor. Stop before they get to a fine crumb. It is nice if there are some chunks in there (how many recipes can boast that??). If you don't have a food processor, throw the Oreos in a ziplock bag and crush with a rolling pin.
Spray a spatula with the olive oil, and mix the crushed Oreos into the marshmallow/butter mixture.
Line an 8×8 pan with buttered parchment paper that hangs over the edge (for easy removal) ooooor, spray heavily with the olive oil. Smoosh the Oreo/marshmallow goodness into the pan and let stand for at least 10 minutes.
Remove from pan, cut, devour, and join my love handles' crusade in pulling the Oreos from the shelf.