Caprese Quesadilla! A delicious and easy lunch that comes together quickly and only has five ingredients!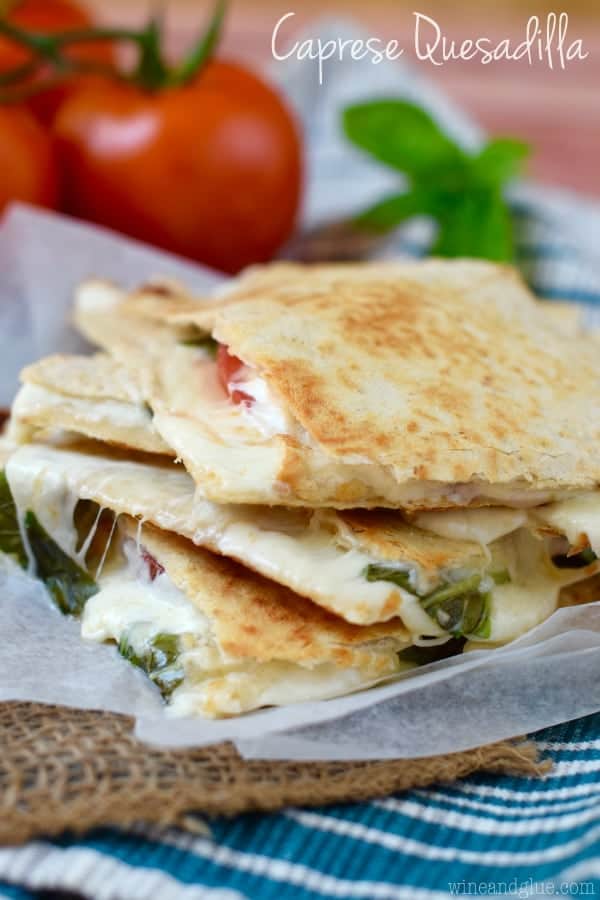 Do you ever stand back and kind of marvel at your kid and what an amazing little human being they are.
I mean . . . don't get me wrong . . .
There have been moments where I have literally looked at Gavin and said, "What is wrong with you??" #momoftheyear
But.
If I stop and really think about Gavin and all he has been through with Nathan and I in his short five and a half years on this planet . . .
Well, it's more than some people go through in a whole lifetime.
Gavin as a newborn lived through the loss of his grandmother, which he probably didn't really notice, but which sure did affect his mom.
And then of course the year he was two, he underwent surgery to have his adenoids and tonsils out, said goodbye to his puppy, moved out of the only home he ever knew, prepared for the birth of a baby brother, and then stood by and watched his parents go through such thick grief after his baby brother died.
There just really isn't a Bernstein Bear book that covers all of that.
Gavin is a special little soul.
And, the memories that I have of him after Elliot's death and during Quinn's pregnancy, such a difficult time in my life, are some of the happiest memories I have. He was kind of like my tiny little life raft, holding me afloat with his charm and sweetness.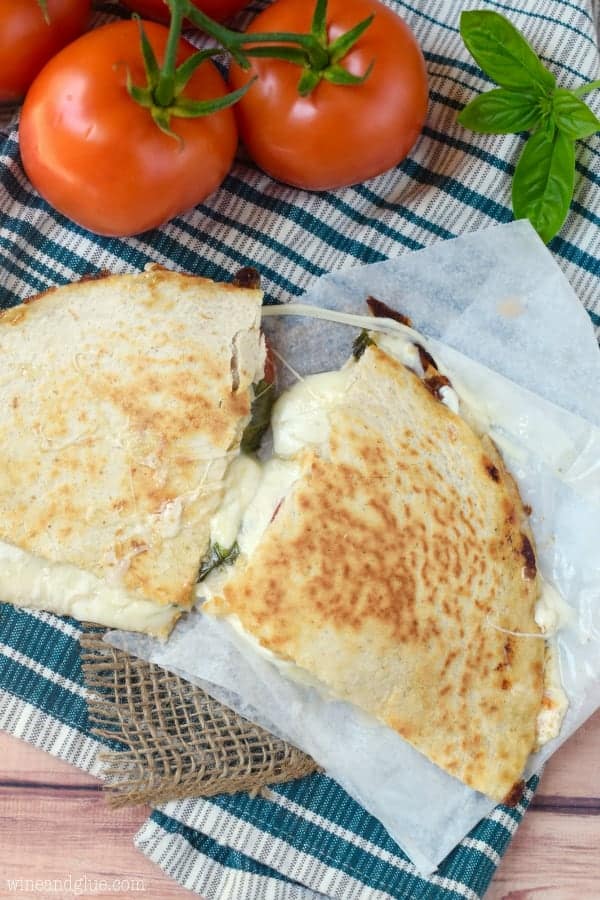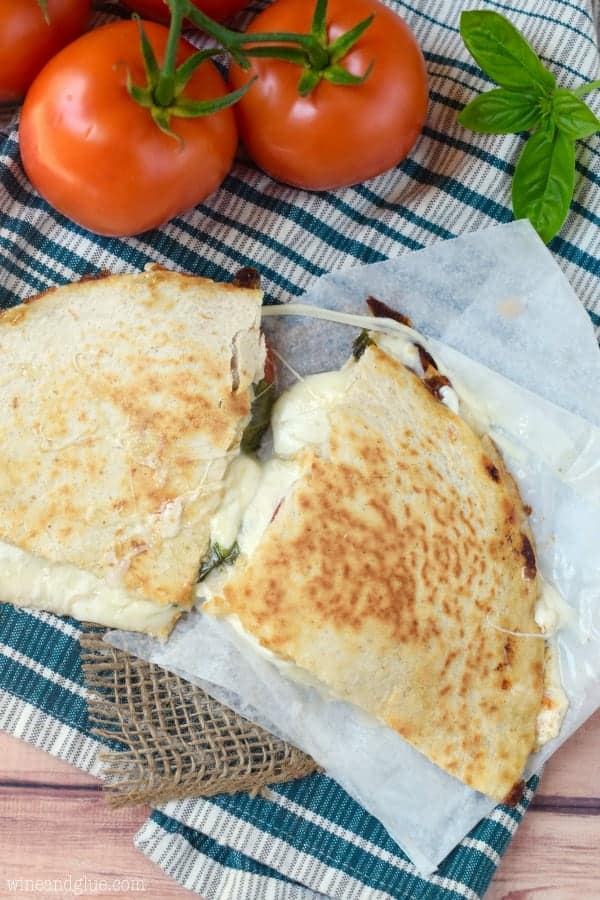 One of those memories is going to our local Farmer's Market every saturday the summer I was pregnant with Quinn. We would get flowers, get a cranberry scone for Gavin, and I would get a crepe. And not just any crepe, but really the most delicious caprese inspired crepe that this planet has ever seen.For real.I would wake up Saturday mornings and think, "Score!! It's Saturday! I'm only about an hour away from my crepe!!"
The amazing food cart that made those crepes isn't around this summer
(which has sent me into a constant state of tantrum)
, and since I'm not totally prepared to tackle crepe batter (surely anything I attempted would pale in comparison), I went with Caprese Quesadillas! So super simple and so amazingly delicious!!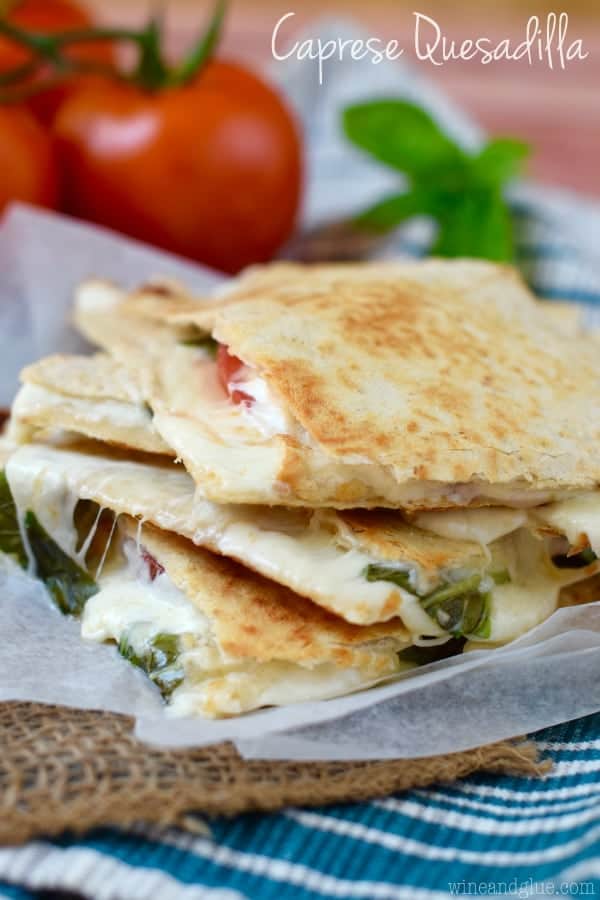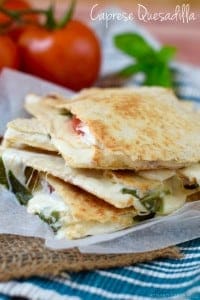 Caprese Quesadilla
Ingredients
burrito shell

if you pick one with a lot of fiber you can usually spare yourself a decent amount of calories

one 1/4 inch slice of fresh mozzarella

1/4

cup

shredded mozzarella

4 to 5

fresh basil leaves

shredded

half a small tomato sliced
Instructions
Preheat a pan over medium heat on your stove top.

Put down the burrito shell. Then on one half add the tomatoes, the basil leaves, the fresh mozzarella, and the shredded mozzarella. I like to let some of my shredded mozzarella come out of the shell so that I get a nice crisp edge.

Fold the burrito shell over, let cook until the cheese is fully melted, carefully flip, and cook for an additional two to three minutes or until the shell is golden brown.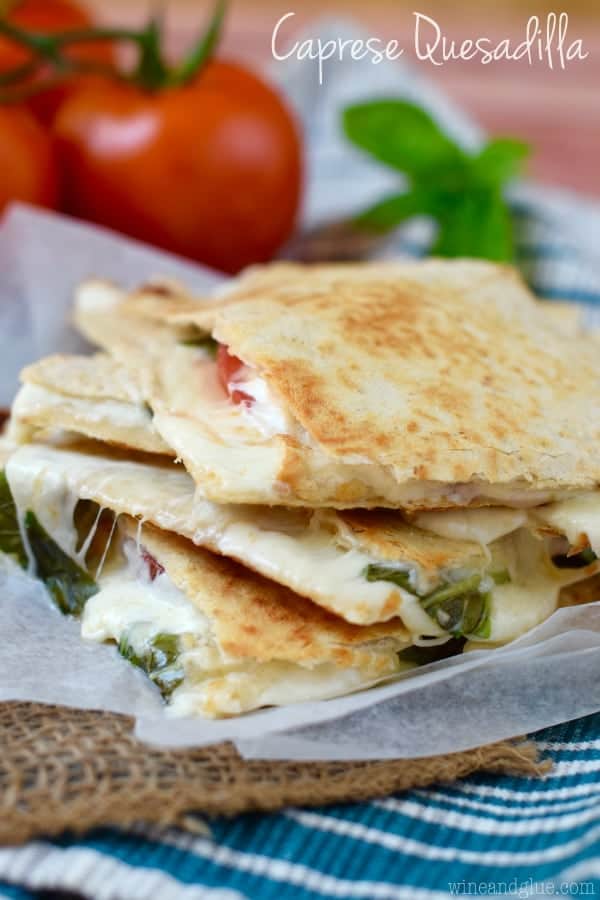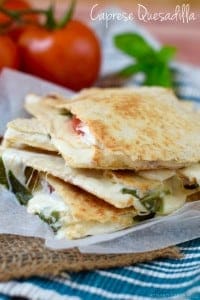 did you make this
Caprese Quesadilla
Looking for more great lunch recipes?