Caramel Cashew Cookies that are super simple to make, but so rich and delicious! The perfect flavor combination!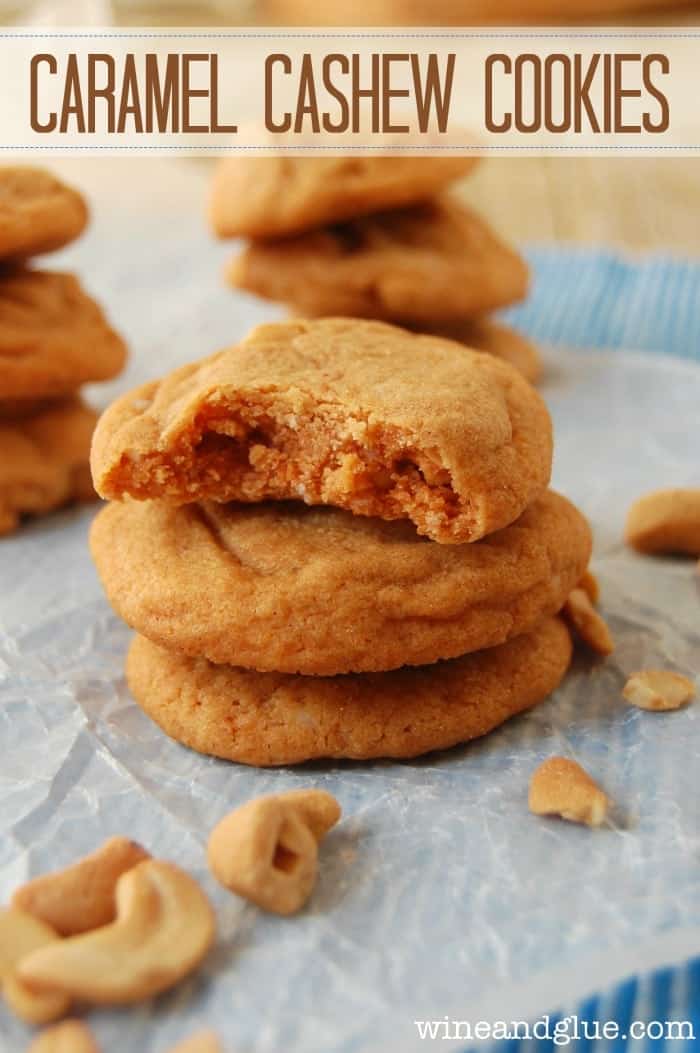 This Sunday is my dear, wonderful, amazing husband's birthday. He, like a lot of adults I think, reeeeeeeeaally doesn't like his birthday. There are so many reasons why, but I think the biggest one, that I totally feel for him on, is that we lost Elliot just days before his birthday in 2010, and each year since it has been a reminder for him. I mean, my birthday is hard too . . . it's like each year we remember that we are getting older . . . and Elliot isn't.
But! I LOVE Nathan's birthday.
Every year it reminds me how lucky I am that he was born.
Sometimes my life feels like a pretty ridiculous place, and when I think of not having Nathan to go through it all with . . . I mean that's just dumb.
My world, and I think the world in general, are better places because Nathan is in them.
Happy Birthday, Nathan.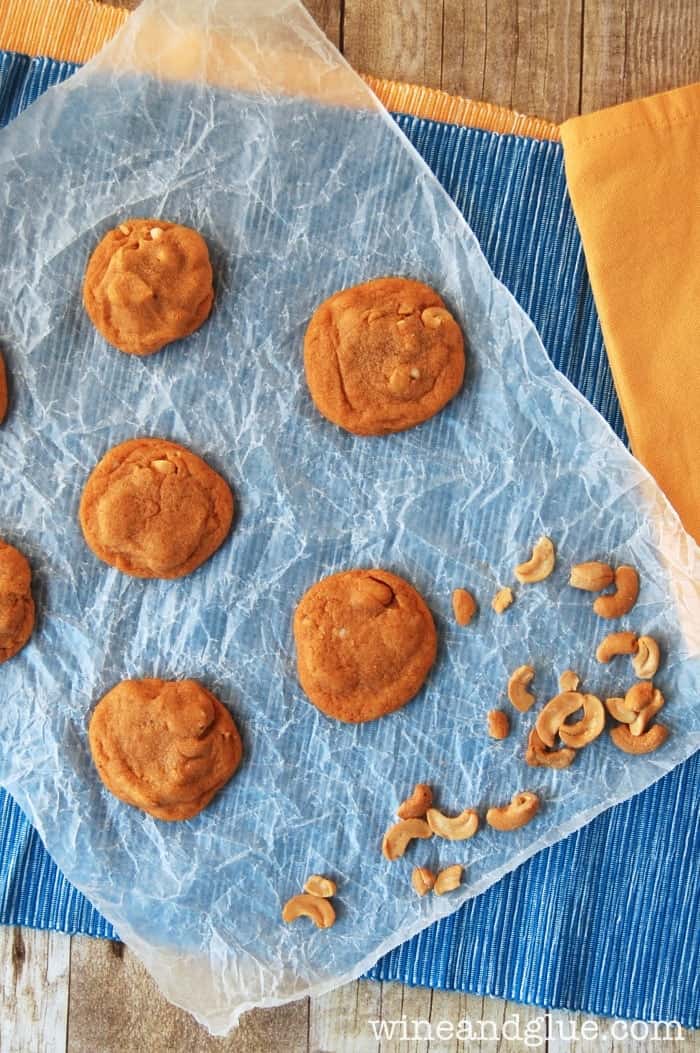 So let's talk about these cookies!
I conconcted these babies just for Nathan. We have a custard place in Milwaukee, Kopps if you live around here, that does a different amazing flavor each day. And that's it. And the flavors they come up with are all sorts of awesome.
Nathan's favorite flavor is Caramel Cashew. Rich vanilla custard with strings of caramel through it and big chunks of cashew. He loves it.
And on our wedding day, what flavor did they have? Caramel Cashew. It was like the universe saying, "You done right kiddos!" :)  And yes, we did pull up to the custard place with a huge limo, I got out in my giant dress, and we got ourselves a cone of Caramel Cashew.
So this cookie is a play on that custard.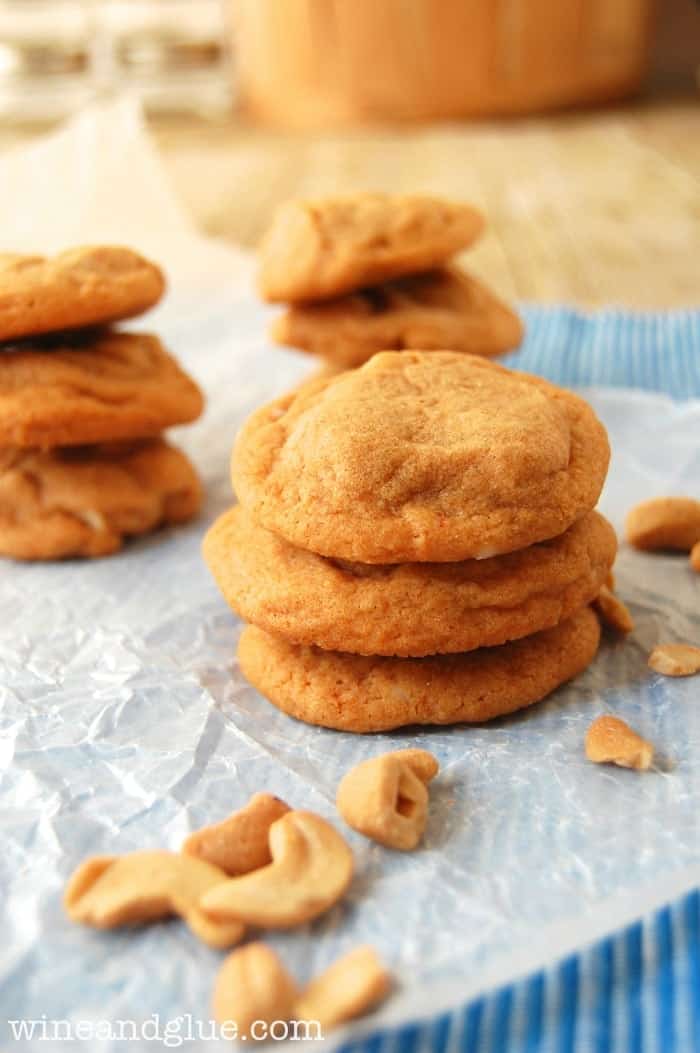 I made it a pudding cookie, so it is moist and delicious, and I added the Duncan Hines flavor creations for the caramel bit. And then a large heaping of cashews.
I am definitely not one to enjoy nuts in my desserts, I mean give me a heap of chocolate in my dessert any day over some nuts, but the cashew flavor the caramel flavor go so well together that I loved them too!
And naturally, I needed to pull out some of my No Machine Caramel Swirl Ice Cream to make some ice cream sandwiches with them. (Excuse the melty pictures, I am horrible at photographing things that melt!)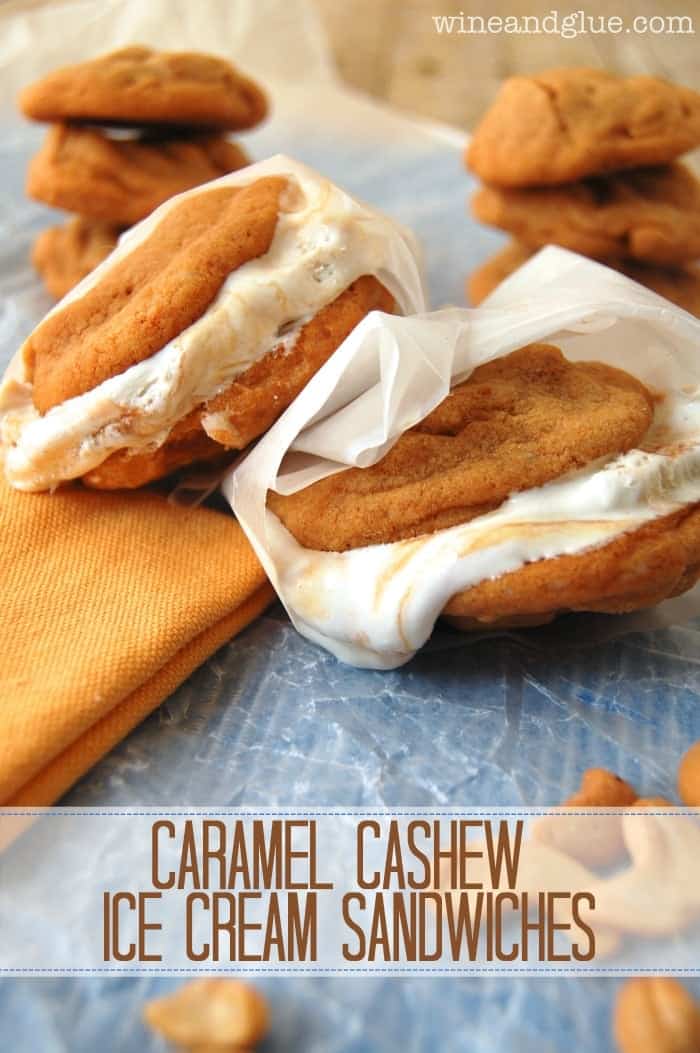 Caramel Cashew Cookies
1 7.5oz pouch of sugar cookie mix (plus what it takes to make it)
1 packet of Duncan Hines caramel frosting creations
1 3.4 oz packet of vanilla pudding mix (just the dry mix)
1 cup of cashews
Preheat your oven to 350 (or the temperature stated on the packet).
Mix together all the dry ingredients (sugar cookie mix, flavor creations, pudding mix) and then add the wet ingredients described on the packet (butter and eggs).
Gently stir in one cup of cashews.
Form one inch round balls and place them on a parchment lined baking sheet. Push them down a bit with the bottom of a glass before baking.
Bake for about 8 minutes (or the time stated on the packet).
For Ice Cream Sandwiches!
Let the cookies cool completely and sandwich some No Machine Caramel Swirl Ice Cream between two!!
Looking for more simple pudding cookie recipes?
Cookies from friends:
White Chocolate Cashew Butterscotch Cookies from Lemons for Lulu
Thin Sugar Cookies with Sprinkles from Crazy for Crust
Pumpkin Sugar Cookies from Vegan Mother Hubbard
This post may contain affiliate links which won't change your price but will share some commission.