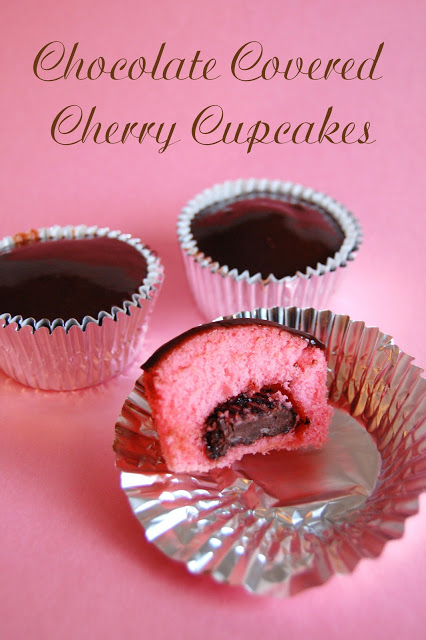 Hello Lover.
You look so simple on the outside.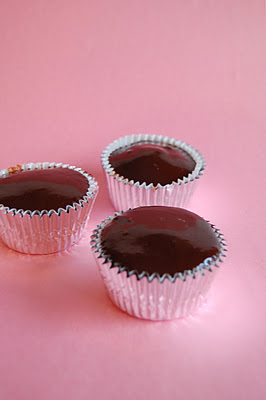 And then . . .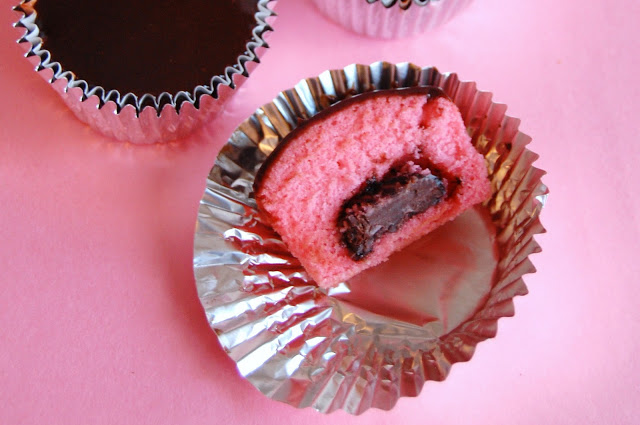 There really are no words.
Okay, there are some words. It wouldn't be much of a blog post without them. I love cherry flavored chocolate and this is the time of year to find it. I was looking for cherry flavored kisses, but instead I found these beautiful gifts from heaven.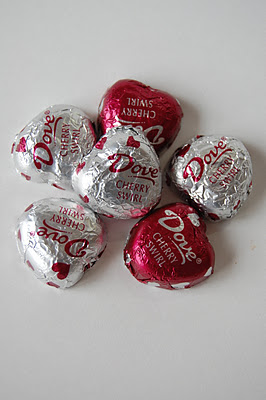 And the natural thing to do with them is bake them in a cupcake and smother it with chocolate. Okay, enough words. Recipe.
Cupcake
White Cake Mix (I used Betty Crocker Super Moist White)
1 1/2 tsp Almond Extract
Red Food Coloring
24 Cherry Flavored Chocolates
Chocolate Glaze
6 oz. Semi-sweet Chocolate (I used pieces, if you use a bar, cut it up fine)
2/3 cup Heavy Whipping Cream
1 TBSP Light Corn Syrup
1. Unwrap
the 24 chocolates
28 chocolates
2. Mix up the cake mix according to the instructions on the box. Add the almond extract and the red food coloring.
3. Use 1/4 measuring cup and fill each cupcake with about 1/8 a cup of batter. Eat the four extra chocolates you smartly unwrapped. Bake for five minutes (by using Super Moist cake mix, this added baking time for the bottom half of the cupcake does not dry it out).
4. Working quickly, put a chocolate on each cupcake and then cover with another 1/8 cup of batter. Don't worry about perfect measuring.
5. Bake for another 18 minutes or until a toothpick comes out clean (stick it into the edge, you don't want to hit chocolate!). Let the cupcakes cool.
6. Heat the whipping cream over medium heat until it comes to a gentle boil. Pour over the chocolate and corn syrup. Mix until smooth.
7. Spoon chocolate over each cupcake. Eat the excess by the spoonful.
Enjoy!!
Looking for more Chocolate Covered Cherry Goodness? How about
these
?