Chocolate Covered Cherry Monkey Bread | Monkey bread smothered with delicious cherry flavor and covered in chocolate sauce! Thanks Pillsbury for sponsoring this post and supplying us with the fun goodies to make all these great Valentine's Day treats!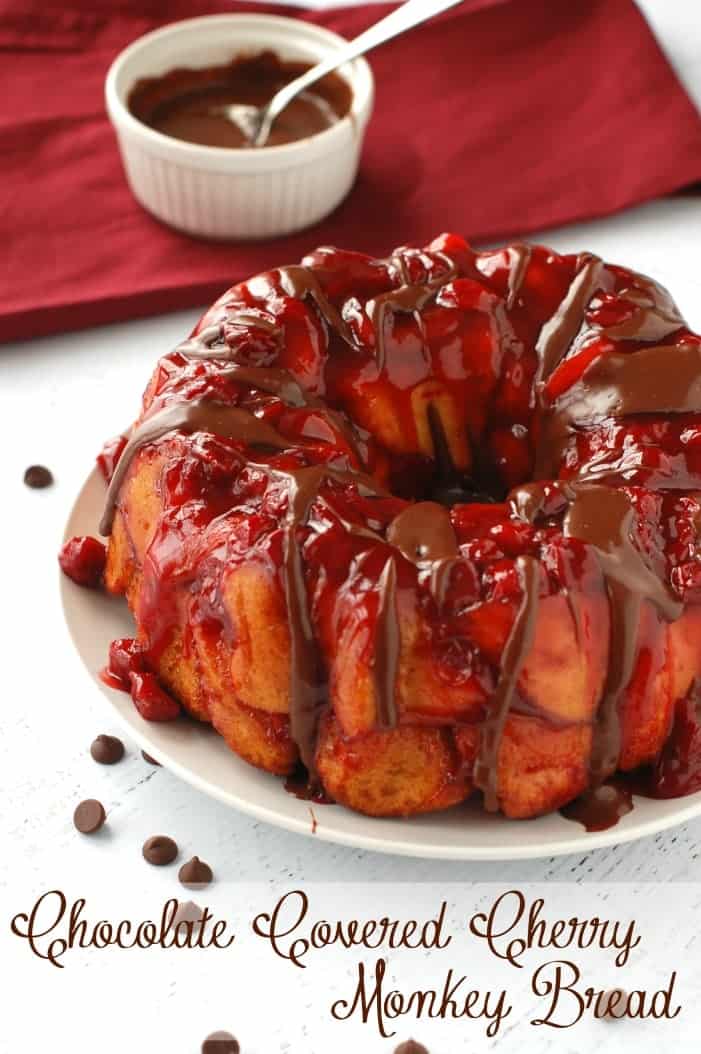 Okay. I have a confession. I don't looooooove Valentine's Day. I mean, I sort of feel like it's a holiday that makes you feel bad if you are single and something that makes you feel like you have to do something if you are part of a couple. (Please don't throw things at me or give me the stink eye through your computer screen!)
But!! Since Gavin has been old enough to understand holidays, it has definitely started to grow on me! Last year when he was in K4, he was SO excited about his class's Valentine's Day party!
So today, I'm super excited to bring you some fun Valentine's Day treats that your kids will love and that they will love helping you make! Recently, my kids have become so excited about helping me cook. So we brought in the Lemon Tree Dwelling girls and with the help of Pillsbury made some super fun treats!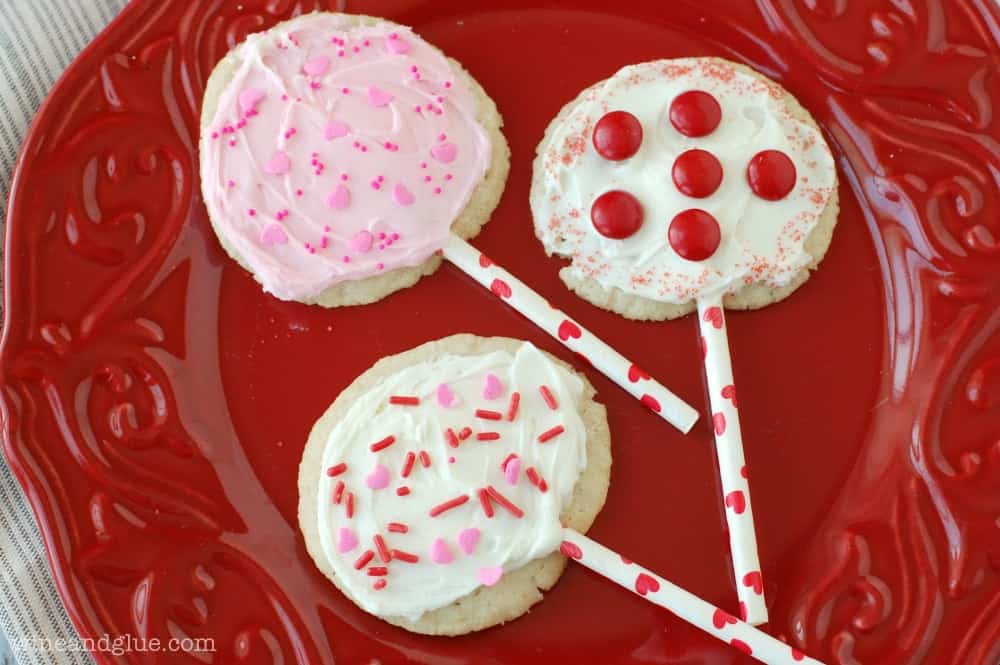 First, these great Valentine Cookie Pops! They are made really easily with Pillsbury Ready to Bake pull apart cookies! I had the kiddos put paper straws (that had been cut in half) into the cookies, we put them in the oven and then decorated them! Even the two year olds loved it!
These are so easy to make and decorate! And you don't need much to make them happen either! Just some decorations, paper straws, dough, and frosting. These even occupied us on one of our 8 million snow days recently!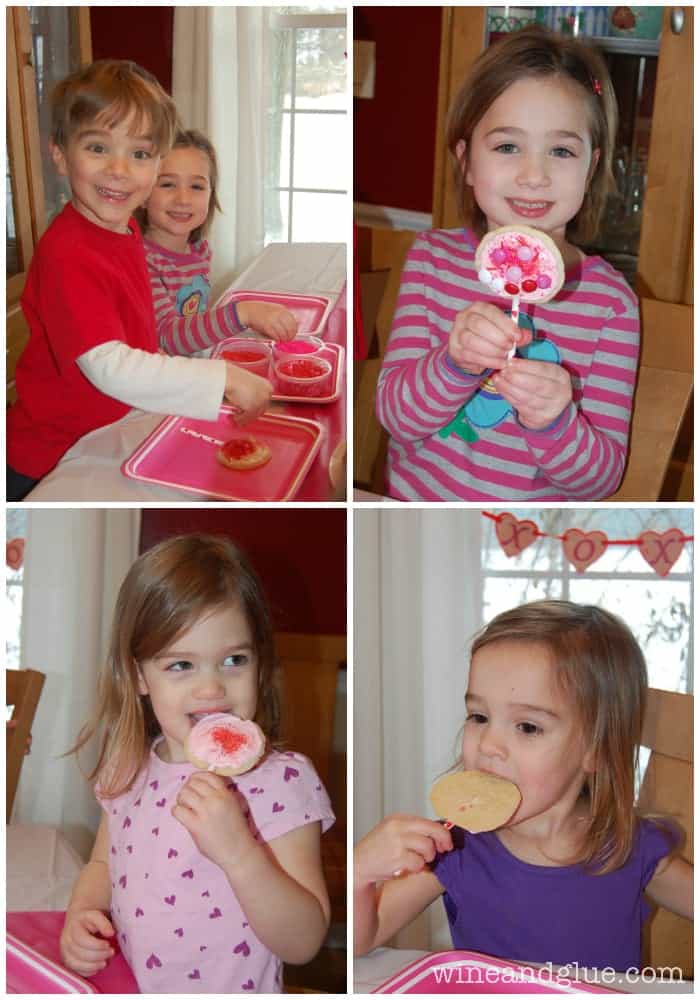 We also made Sweetheart Cinnamon Rolls!!
And by we, I mean the kids! They had so much fun pulling apart the rolls and then rolling them back up into hearts. We popped all five in a cake pan with their tips touching and put them in the oven.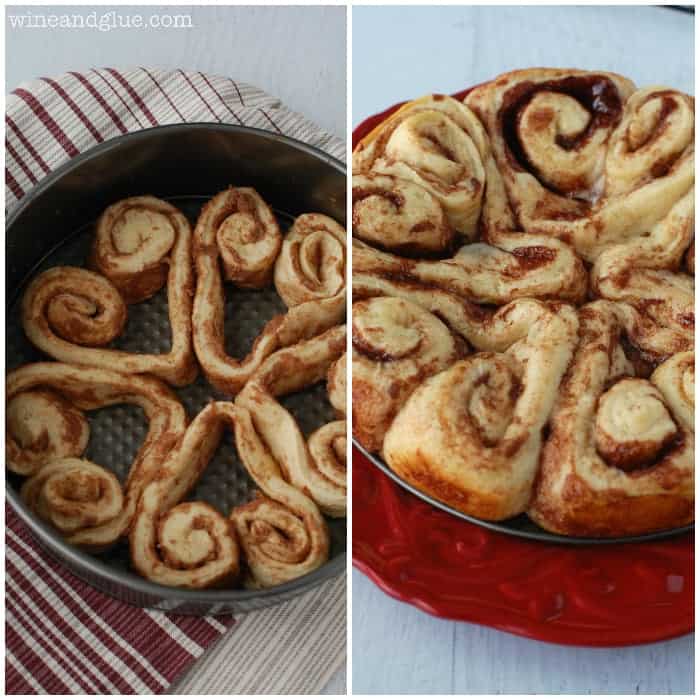 And then the kids devoured them!!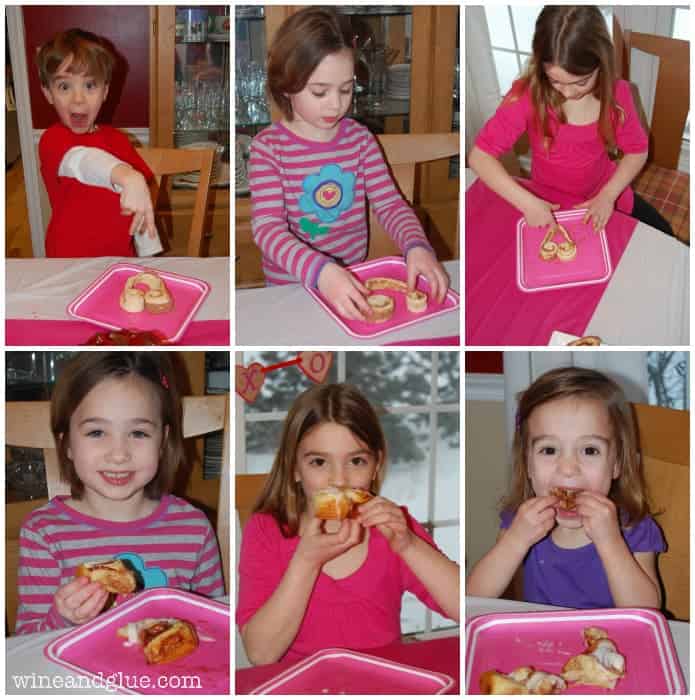 Finally, we had delicious Chocolate Covered Cherry Monkey Bread! This bread is super simple to make with Pillsbury grands biscuits, and the cherry flavor is unbelievable. It is kind of like cherry pie meets monkey bread . . . only maybe a little bit better.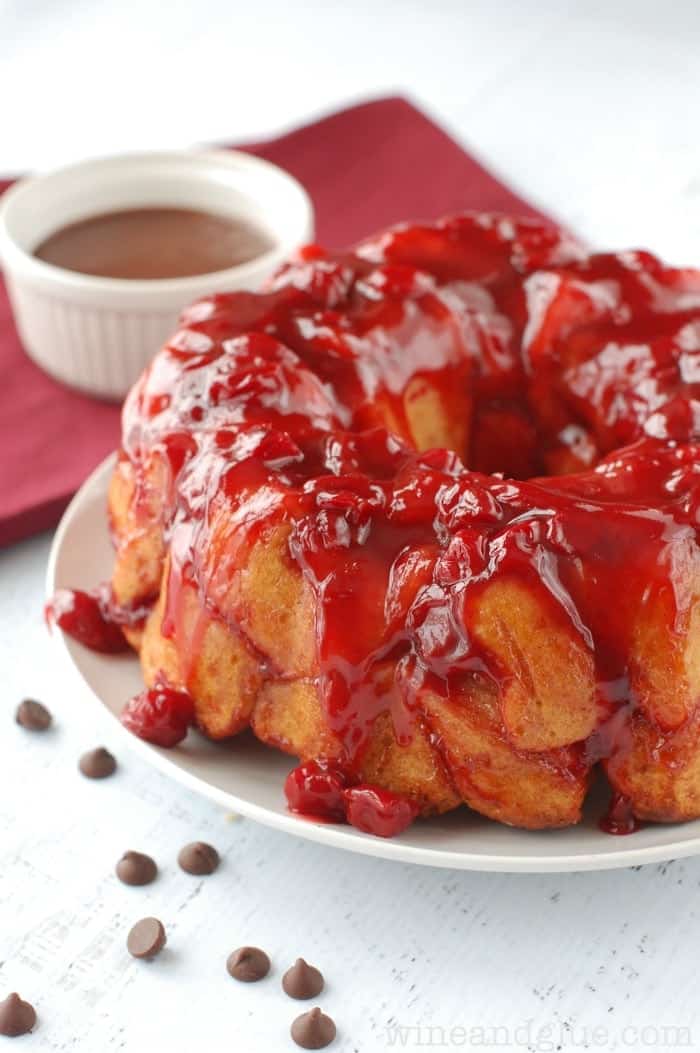 The monkey bread is great with or without the chocolate sauce to go on top, but the chocolate sauce is very tasty addition!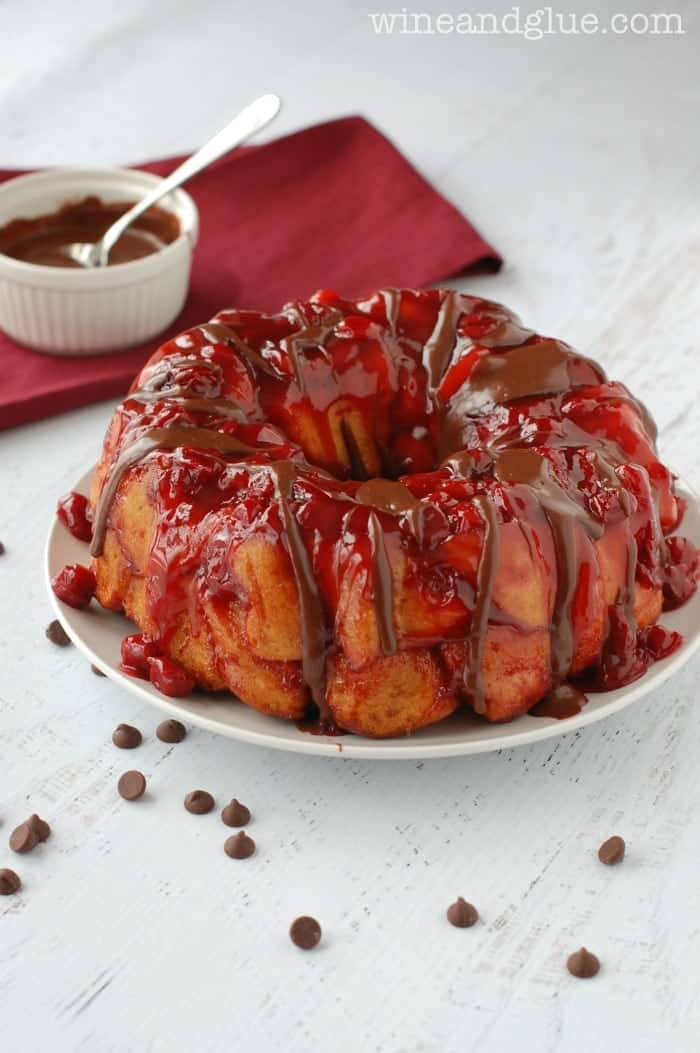 We were fortunate enough to have this twice in my house since the first time I used a horrible pan and fell out too sloppily for pictures. We for sure will be having this again! Especially since I could barely keep my husband away from the second batch long enough to take pictures.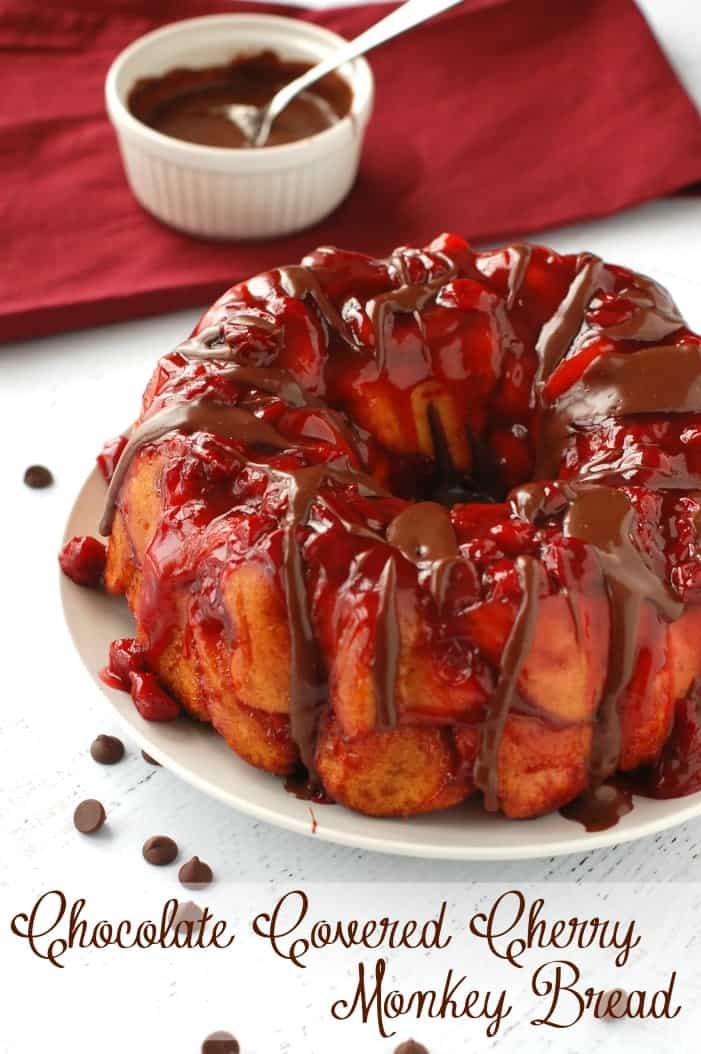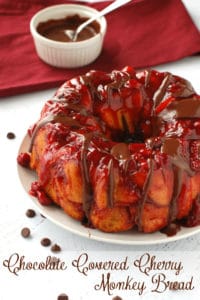 Chocolate Covered Cherry Monkey Bread
Ingredients
1/2

cup

sugar

1

tsp

cinnamon

2

packages of regular Pillsbury Grands biscuits

1

stick of butter

1/2 cup

1

tsp

almond extract

1

can of cherry pie filling

1/2

cup

of brown sugar
Instructions
Preheat your oven to 350 degrees and spray a bunt pan with cooking spray.

Unroll both packages of the biscuits and cut each biscuit into four pieces. In a small bowl throughly mix the cinnamon and sugar. Drop each biscuit piece into the mixture making sure it is covered, and then transfer the piece to a bigger bowl.

In a small saucepan, combine the butter, almond extract, cherry pie filling, and brown sugar over medium low heat. Cook until the butter is completely melted, stirring occasionally. (I let mine cook while I coated the biscuit pieces.)

Once all the biscuit pieces are coated and the butter is fully melted, pour the cherry mixture over the biscuit pieces in the large bowl. Pour any additional sugar/cinnamon mixture that is left into the bowl, and stir gently to combine.

Pour into the bunt pan and cook for 50 minutes. Check on your monkey bread about 40 minutes into the cooking. If the biscuit pieces that are sticking out are browning too much, tent the pan with aluminum foil for the remainder of the baking time.

At the end of the 50 minutes remove the pan from the oven and let sit for five to ten minutes before placing a large plate over the pan and inverting it. Make sure that the plate is flush up against the whole pan or it may not come out in one piece.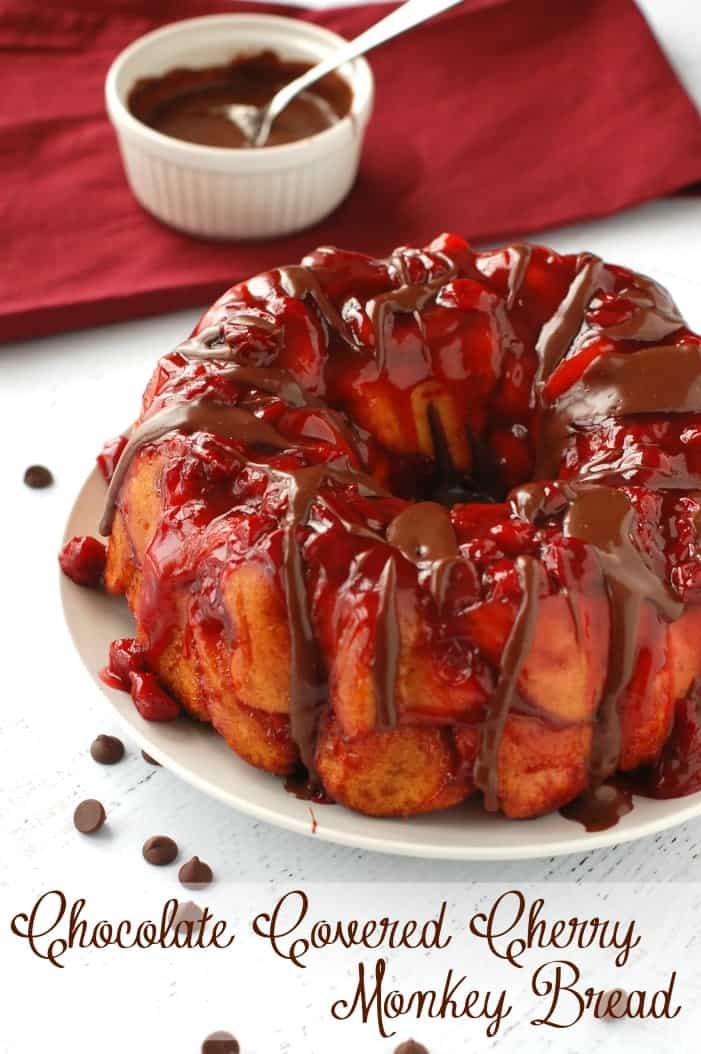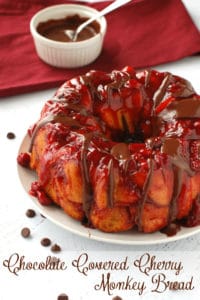 did you make this
Chocolate Covered Cherry Monkey Bread
This is a recipe that was inspired by Lemon Tree Dwelling's Blueberry Monkey Bread.