Cookie Butter Biscotti | Cookie Butter made into chips and mixed into delicious and soft biscotti. Your coffee won't want to share.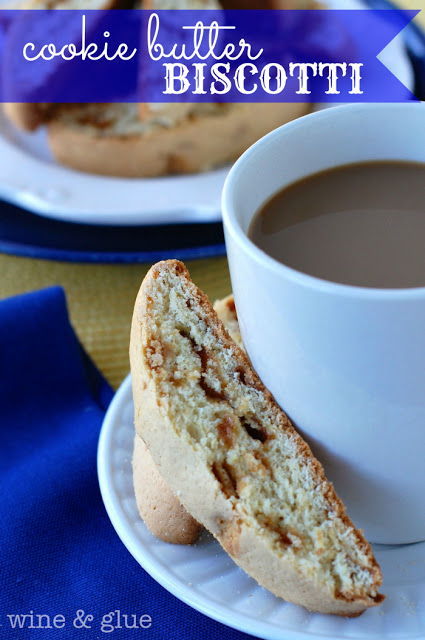 I think I can safely say that I am 100% obsessed with Cookie Butter.
First of all, I am not even a dessert blogger. (I sort of want to be, but my crafty side needs a place to hang out too.)  So the fact that I have posted four Cookie Butter desserts in the last two months (this one makes five) is . . . . . well, wonderful really, but also a bit obsessive.
Hi. My name is Lisa and I am a Cookie Butteraholic. I just bought my 80th jar. And I don't want to stop.
If you are wondering what Cookie Butter is, just think about Peanut Butter. Now take out the peanuts. Now add cookies. And now you understand why I'm an addict.
When I saw this recipe for Biscoff White Chocolate Chip Cookies from Aimee, making cookies that had Cookie Butter chips in them, I first sat there jaw dropped at her genius, and then I started thinking about all the things that I wanted to put Cookie Butter chips in.
The process to make them into chips is super duper simple. And you can easily make them into smaller chips than this, I just knew that in the mixing of the thick biscotti dough that they would get broken down a little bit more.
Are you now just sitting there staring and dreaming up all the recipes you are going to put Cookie Butter chips into?
Me too.
Okay! Back to this biscotti.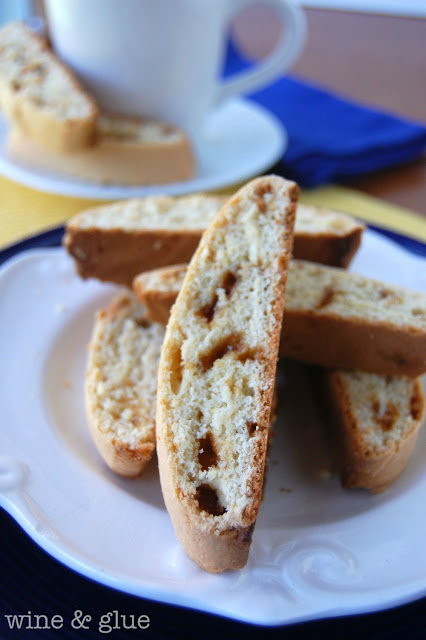 It isn't like your traditional biscotti. I like biscotti a lot, but I like cookies more. And grown up cookies that you can dunk in your hot coffee and justify eating for breakfast? Yeah, that's a good thing.
Traditional biscotti is baked twice and is pretty hard. These have a crisp outer edge, but are soft in the middle.
The key to making biscotti is to cut it when it it's hot. You are basically making mini loaves out of the dough, and when you pull them out of the oven, grab them with an oven mitt, and gently cut them. I like to use a serrated knife and gently push down, rather than doing any sawing.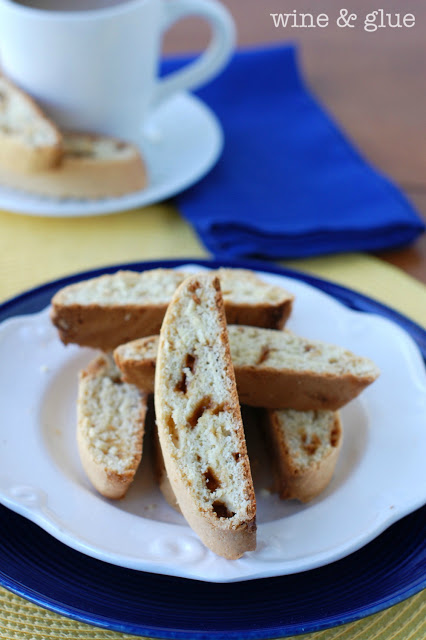 I did end up baking these again, but it isn't necessary. I could go either way on that. I guess it just depends on how desperately you want your Cookie Butter Biscotti. And I'm usually pretty desperate when it comes to Cookie Butter.
Cookie Butter Biscotti
(makes about 30 cookies)
6 eggs
1/2 cup oil
1 1/2 cups sugar
2 tsps vanilla
5 tsps baking powder
4 cups flour
one batch cookie butter chips (recipe below)
Preheat your oven to 350 degrees.
Beat the eggs well.
Beat together the oil and the sugar and beat it in to the eggs.
Add the vanilla and baking powder.
Slowly add the flour and combine until you have made a stiff dough.
Gently stir in the Cookie Butter chips.
The dough will be very sticky, so flour on your hands helps. Roll the dough into 4 inch by 1 inch rolls, and place on a parchment lined baking sheet about an inch apart.
Bake 28 minutes or until they are golden brown. Slice them while warm.
Optional:  Place the sliced cookies back on to the baking sheet and bake for an additional five minutes, flipping them over half way through.
Cookie Butter Chips
1/2 cup Cookie Butter
1/2 cup white chocolate chips
Melt the chocolate chips and the Cookie Butter together over low heat until the white chocolate is melted and it is all well combined.
Pour into a wax paper lined pan and spread into a thin even layer. Then put into the freezer and leave for 4 to 24 hours. Take out and break apart.
Want more desserts to put Cookie Butter in?
And for the traditional
biscotti
recipe,