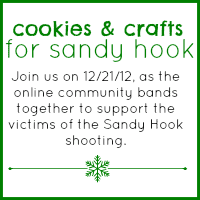 I think when something tragic happens, something unfathomable, something that shakes us to our very core, we feel like we must do something.
And while I know in my heart the only thing that is I can really do for those grieving parents, siblings, grandparents and friends in Connecticut is say a prayer that they may find some small bit of peace in their heart, some other bloggers and I wanted to do something that felt a little more concrete.
So this Friday, December 21st, we are doing Cookies & Crafts for Sandy Hook. We are sharing a post, something family friendly (like a delicious cookie or fun craft) that you can do with your kids as a way of paying tribute to Sandy Hook. If you are also a blogger, we invite you to do the same. There are no rules, no particular requirements. We just invite you to post something that will help honor those so directly impacted by the tragic events that took place at Sandy Hook Elementary.
And if you'd like to add a button to your sidebar where people can click to make a donation to Newtown Youth & Family Services, please use this code:
http://www.newtownyouthandfamilyservices.org/index.php">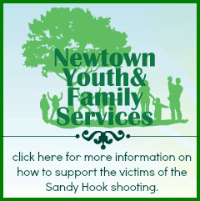 http://3.bp.blogspot.com/-CsgCFH6vTG4/UM07v615cVI/AAAAAAAAUhQ/hSxmrKX86ps/s1600/sandy+hook+nyfs+200.png"/>




Friday just happens to be my little boy's fifth birthday and the fifth anniversary of my mother's passing. Certainly both of those things will make what happened in Newtown hit home a little harder for me. And along with some other bloggers and businesses, I plan on donating 100% of the profit from sales that take place on Friday in my Etsy shop (http://www.etsy.com/shop/HummingbirdsView) to Newtown Youth & Family Services.




And while I would be honored to donate the profits from any purchases you make on Friday, if you would like to donate to the Newtown Youth & Family Services directly, I encourage you to do so.




There are some other great businesses doing the same! Please click on the links below to learn more about them.