Creamy Tomato Pasta and Shrimp  |  A delicious, creamy, and rich dish that will feed a crowd!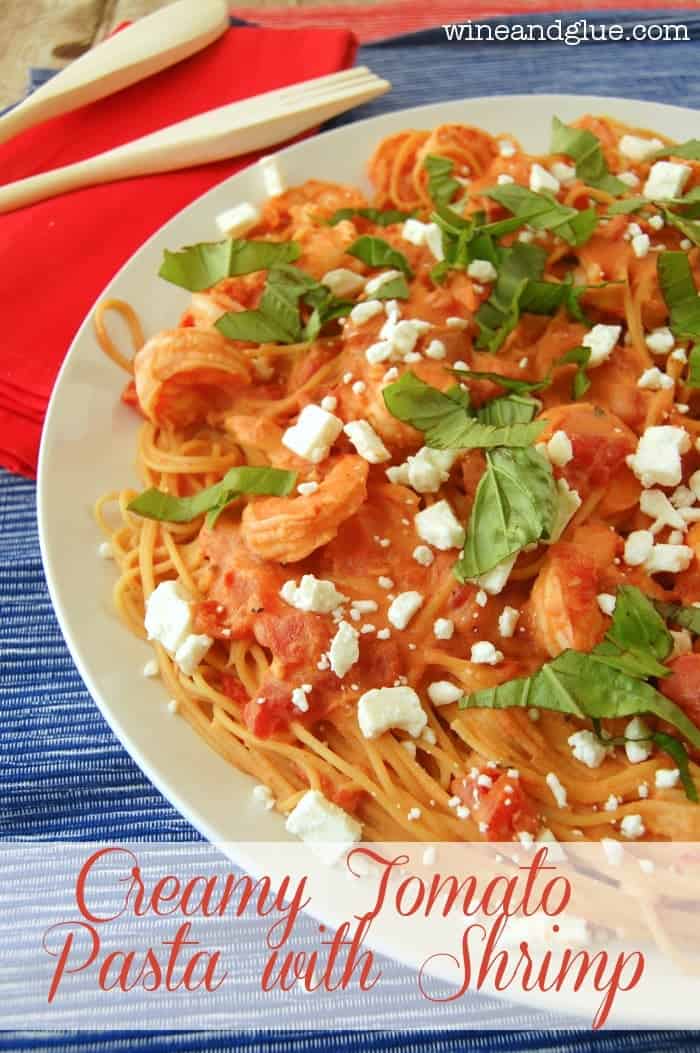 We had this kind of wonderful weekend with our kids. It was full. A trip to the farmer's market. A corn maze. Family pictures. Apple picking. Grilled pizza on the deck. Mini golf in the backyard. Full.
And since I'm riding the high of quality time with my kids and they are tucked away, so I'm forgetting the sixteen annoying things they did in the three minutes before they were tucked away, I'm going to chronicle the things I love about parenting (maybe not all of it, you came here for pasta, not my ramblings).
I love parenting with the love of my life. We certainly don't agree on everything, but when it comes to parenting, we agree on most things. And there is something so wonderful about watching our kids do amazing, silly, annoying, insightful, and beautiful things together.
I love watching my kids hit new stages. Quinn recently hit the stage of possession. "What's yours is mine, and what's mine is mine." She got a toy princess and the ENTIRE way to the corn maze she kept showing it to Gavin and yelling, "MY PRINCESS!!"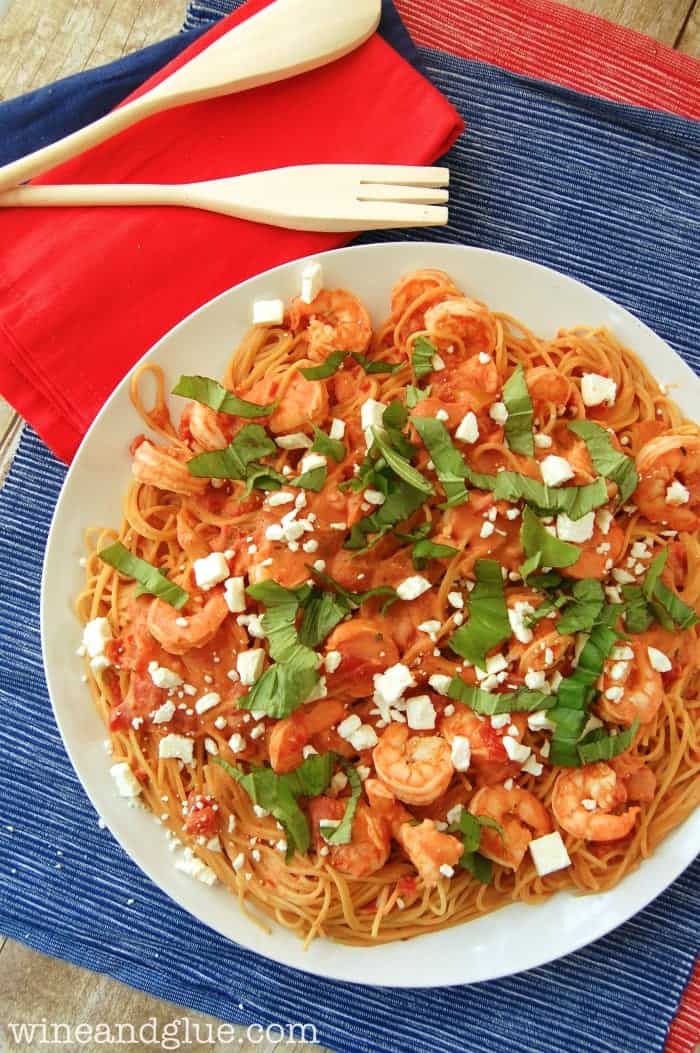 I love watching my kids learn new things. Gavin is learning how to read. He is getting better and better at sounding out words. The other day I watched him sound out this insanely long word, and I almost started crying with pride. Not so much pride that he did it, more the pride that he kept trying even though he was getting frustrated.
I love watching my kids love each other. They care for each other in such a way that overwhelms me. This morning as I was carrying a Quinn who was still half asleep downstairs, she could hear her brother's voice, and her eyes lit up as she yelled his name. And then when I layed her down to change her diaper, Gavin sat next to her head and was giving her bites of his apple. It was so sweet it made me completely forget them hitting each other violently with toys on the way home from apple picking.
There are more things that I love about parenting, but those are the big ones. Man, there must have been something magical in those apples.
This pasta is another thing I love! It is creamy, just slightly spicy, and rich in flavor. If you've never made your own roux, it is something that takes a little bit of practice, but is worth learning. You can make so many delicious dishes once you do. My biggest piece of advice is that once you have your roux, you add the liquid slowly so that it thickens the liquid rather than making it clumpy.
Enjoy!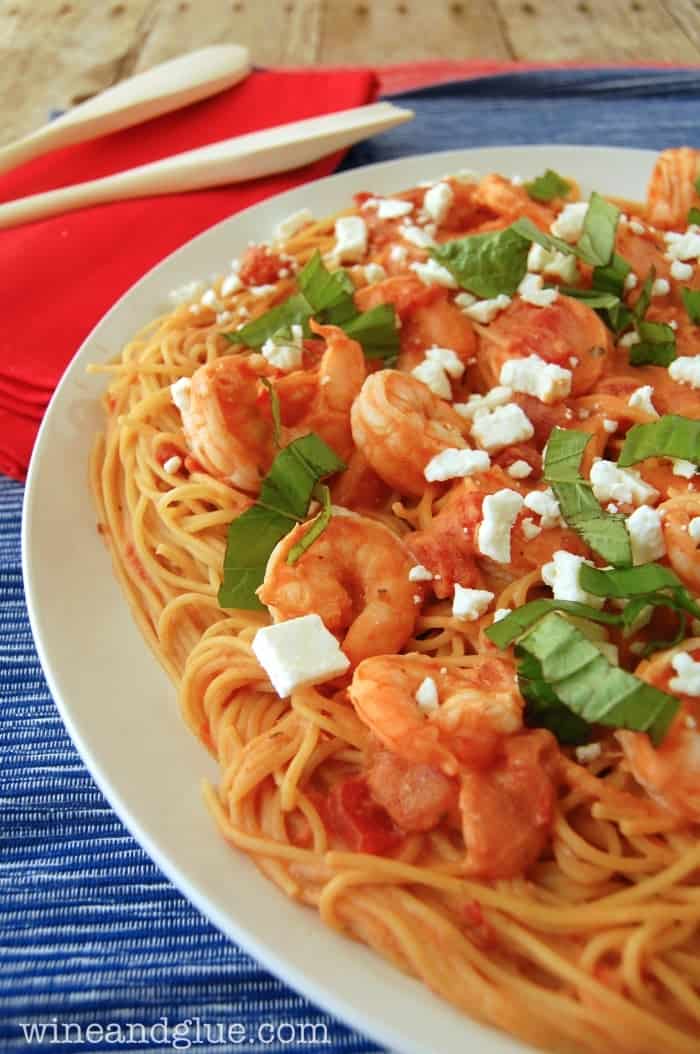 Creamy Tomato Pasta and Shrimp
2 TBSP butter
2 cloves garlic, minced
1/2 tsp crushed red pepper flakes
2 TBSP flour
1 cup heavy cream
32 oz crushed tomatos
1 lb shrimp, peeled
1 lb spaghetti
handful of fresh basil chopped
1/2 cup crumbled feta, more as desired
Bring a large pot of water to boil. Cook the Spaghetti according to package directions, adding salt to the boiling water.
While the water is boiling, melt the butter in a large pan over medium heat. Add the garlic and crushed red pepper and stir.
Sprinkle the flour over the butter and mix them together creating a paste. Gradually add the cream. Like very gradually. As you add it, mix in the flour and butter mixture. If you go slowly, you will be able to fully incorporate the flour and butter roux into the cream, making a thick sauce.
Once the cream is fully combined, stir in the tomatoes until fully combined. Turn the heat to low and let it simmer while the pasta finishes cooking.
Once the pasta is finished, add the shrimp to the sauce, and cook until the shrimp cooks through, it will go pretty quickly. Return the pasta to it's pan and top with the creamy sauce.
When you go to serve, top with the fresh basil and feta.