DIY Advent Calendar! Complete with FREE Printables to make it super easy!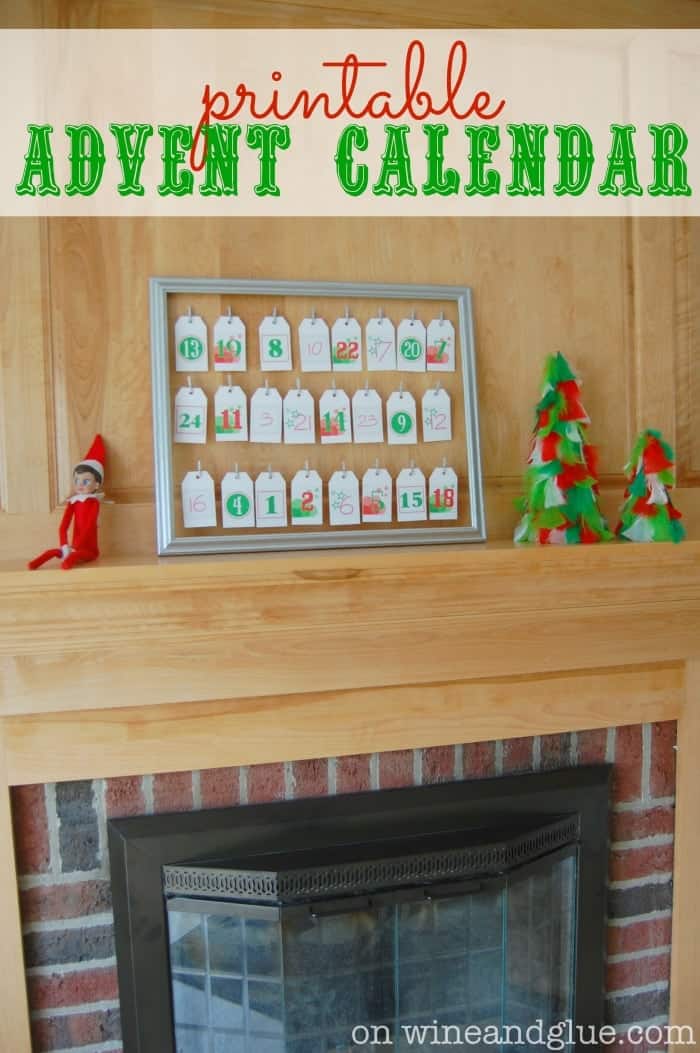 I love love LOVE holiday traditions! And one of the traditions that remains near and dear to my heart is making Advent calendars. My mom used to buy me those cardboard ones when I was really little that had the pictures behind them. Each morning it was so exciting just to see what picture was behind each window. And then for some reason in high school and college she started buying me the chocolate ones.
I love the tradition of making Advent calendars with my kids now, but I love about 10 million other traditions too.
So for this Christmas season, we are doing something that combines the two–an Advent calendar that contains a fun holiday tradition on each day! Fun things like making a bed for our Elf on the Shelf and making snow cones out of real snow! Meaningful things like making Christmas cards and picking out a gift for a child in need. And classics like decorating cookies and listening to Christmas music.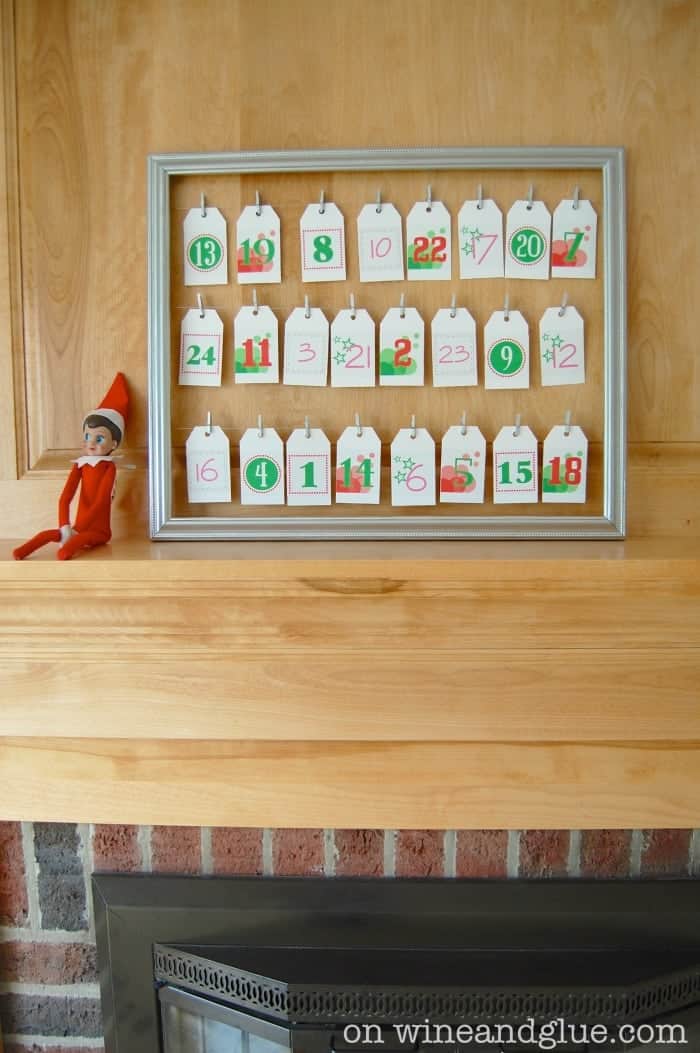 Want to hear the better news?
I made it a printable! Both the fancy numbers and the fancy tags so you can easily print them off at home!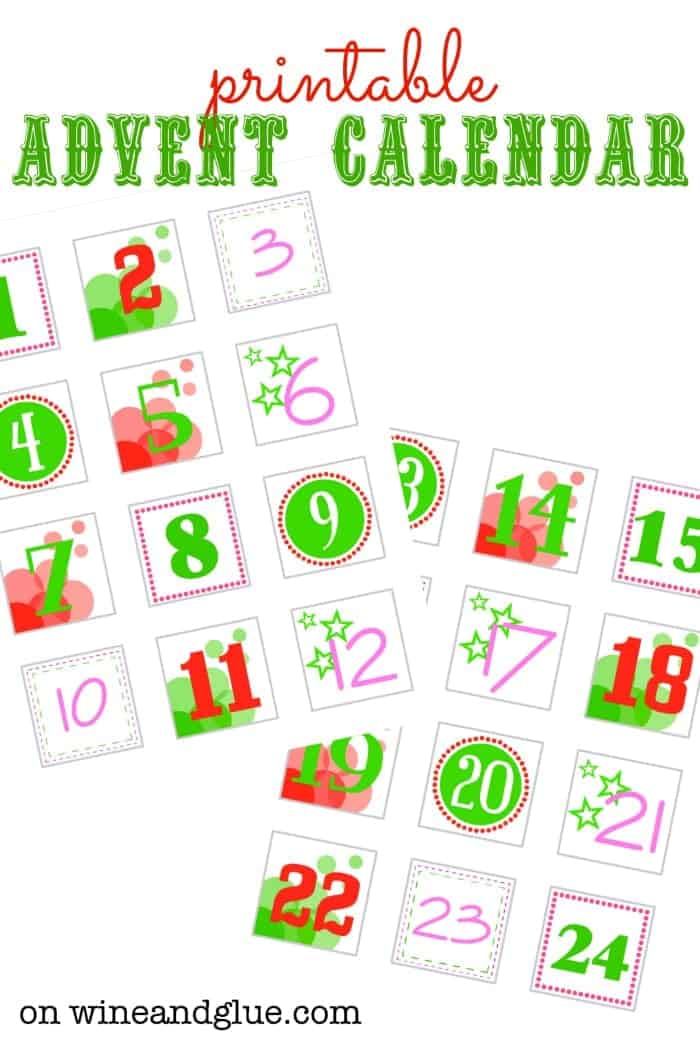 So this is a super simple project to do, and it is made even more simple with Avery Labels. Their website is kind of amazing, because you can pick what kind of label you are working with and then you can use all of their tools to design some really cool things . . . like cupcake toppers, or gift tags, or labels for homemade jarred gifts . . . or an amazing Advent calendar! It creates a really professional look without being hard to use. I used their awesome design software to make the backs of my Advent calendar.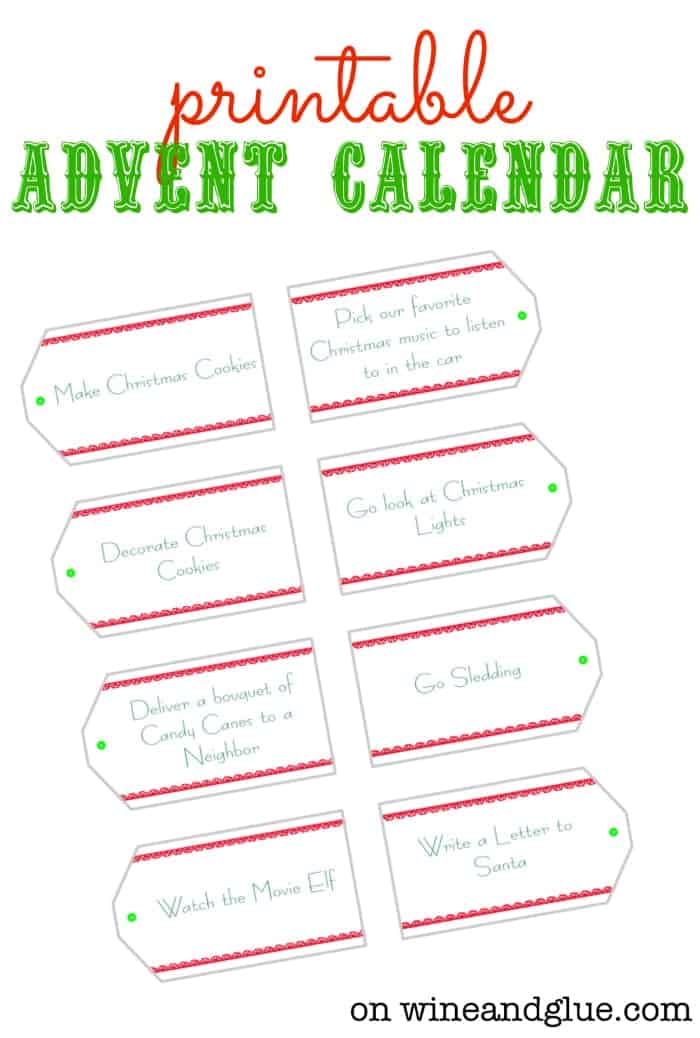 They also allow you to upload all your images, so say you wanted to make some return labels with your cute kids' faces on there, you could totally do that! Which is what I did with the numbers!
Okay, want to make your advent calendar? Here's what you need:
A frame that you can empty out and spray paint
Wire and six screws
24 mini clothespins
Avery Labels 22806 (two sheets)
Avery Labels 22802  (three sheets)
Empty out your frame (glass, back wire, picture, everything). Spray paint it something that will go with the tags . . . like silver, or green, or red, even white would be awesome.
Grab your 24 mini clothespins. Or if you are smarter than me, grab like 30 because sometimes those suckers break, and clip them to some cardboard. Spray paint them all over to match the frame.
While you are waiting for it all to dry, let's print the labels. We'll start with the numbers. Click HERE to download my file. Now grab your 22806 labels and head to the Avery website. Halfway down the page you will see a green box that says "Open Project." Click on that.
Click on the button to open a file, and select the file of mine that you just downloaded.
Now click "Open" and DON'T DO ANYTHING. It is most likely just me, but what I found works best is if you literally do not touch your computer at all after clicking the green open button. Give it a minute or two (it did take a full minute for me once, be patient) and let it open, but don't move your mouse. I know, it's probably just me, but if it's not working for you the first time, try that.
Now click Preview & Print (green box in the upper right) and in the next screen click Print (green box in the upper right)..
Once you click Print, it will ask you if you want to open the PDF. You do. It will load the PDF, which will have both pages of numbers, and then you can click print! Now you have your numbers!
Want the tags? Great! Click HERE to download the first page. HERE to download the second page. And HERE to download the last page.
Repeat steps 3 through 5 above.
NOTE! If you want different activities for your family, you can do that!  Just edit the tags (click on the words, and you should be able to type something new) after you open them and before you click "Print & Preview." Good? The way you want them? Now follow steps 6 & 7 from above.
Pull out a calendar and figure out what activities would work best for what day, then stick on the numbers accordingly. (Note: I didn't do one for Christmas because I know our Christmas Day is always pretty well planned out).
Lay out the tags in the frame, so you get the spacing down. Mark on the back of the frame where each of the three wires should go, measuring and marking on both sides.
Screw in a screw in each of the six marks, being careful not to go all the way down.
Wrap wire around the one on the left side, finish screwing it down.
Repeat with the screws on the left side.
Hang your tags in random order with the numbers facing out!
And if you love this idea, but you are thinking that there is no way that you can be so organized with your kids as to know that you can get all 24 fun activities in (you are totally not alone), then stick the labels on some fun containers and display them on your mantle, each with a little treat inside. Looking for more great label ideas?