Need and easy dinner idea the whole family will love? This Enchilada pasta is so delicious, everyone is going to want seconds!
I am so so so happy to welcome Tanya from Lemons for Lulu as a guest poster! She is ridiculously awesome, and I just love her. She's a blogger, but also a friend, and someone that I know I can count on to answer questions and for moral support. Plus? She makes the most drool worthy food. Dinners and desserts! Two of my favorites? Her Meyer Lemon Pull Apart Bread and her Stovetop Pastitiso!
Thanks Tanya!!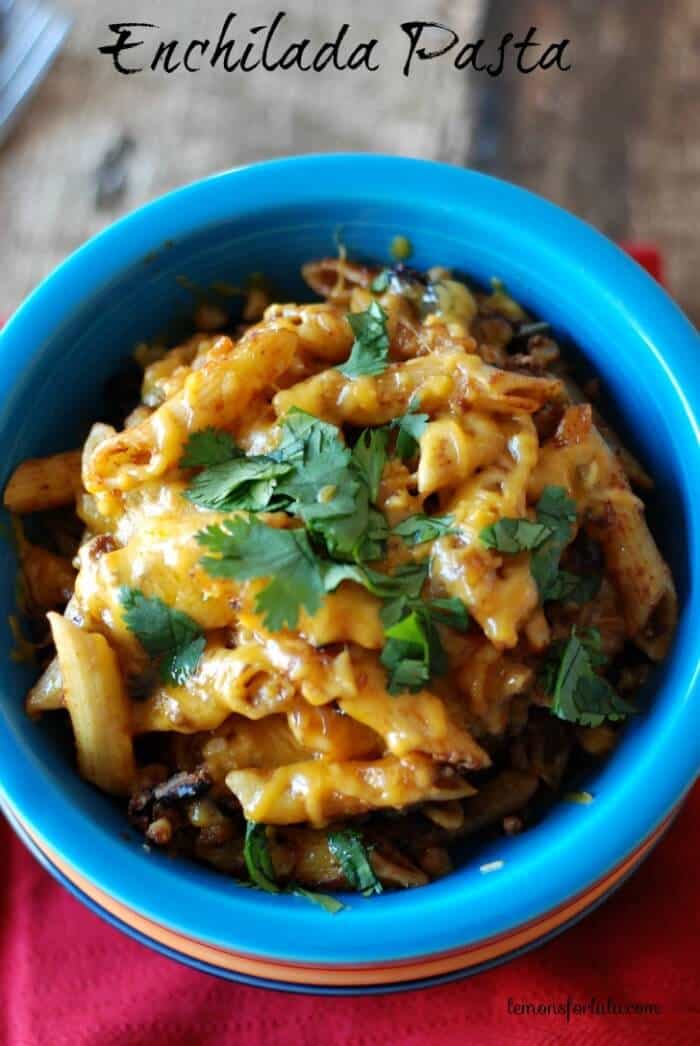 Hi everyone, I'm Tanya from Lemons for Lulu. I'm so excited to be guest posting for Lisa while she enjoys her sweet little baby girl!
I remember trying to prepare for my first baby. Of course nothing truly prepares you right? I knew we'd be sleep deprived and that our lifestyle and schedules would be turned completely upside down. I researched all sorts of recipes that I could make in advance and store in the freezer so that I wouldn't have to worry about cooking. I made dozens of dishes, all of which involved pasta. Having the freezer stocked gave me a false sense of security. I naively believed that if I had all our meals covered, then having a newborn around would be that much easier. Boy was I stupid. I was exhausted and tied to a perpetually hungry tiny human who would become a red-faced colicky infant!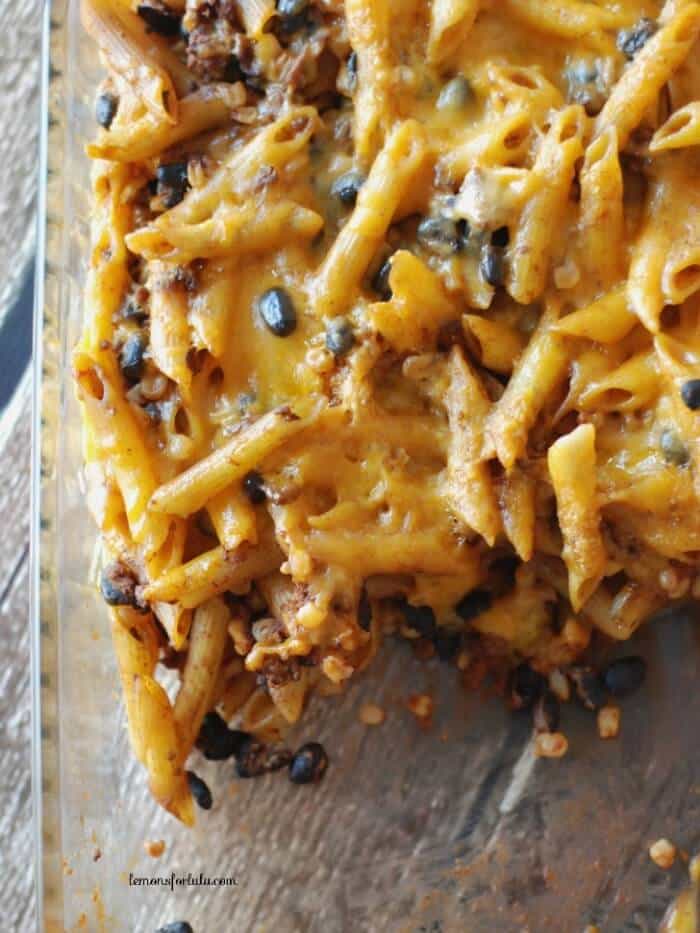 My husband and I tried to consume all 12 pasta dishes that I had eagerly frozen in advance. But by casserole number two, we couldn't handle the thought of another casserole and instead convinced ourselves that supporting our local pizza shop was a public service.
My good friend invited us for dinner one night shortly after our little bundle of poop and spit up arrived. I was so excited. It was the first time I had left the house; it gave me a reason to get out of yoga pants! We sat down to eat a big pan of…lasagna. I remember my friend's face as I sat at the dinner table telling her how sick I was of eating pasta (as I'm scooping up a second square of lasagna). Only after the room went silent did I realize how I completely insulted her hospitality. I had to back pedal and try to explain that I am only sick of eating MY pasta! Her's was good!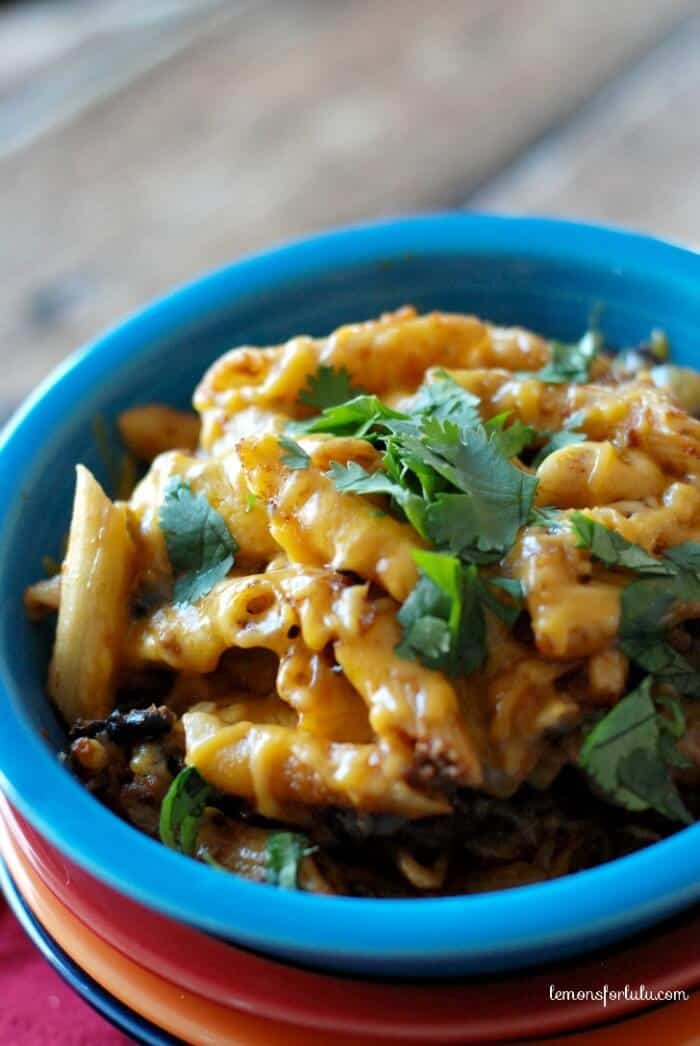 I wish I was able to deliver this enchilada pasta, with lean ground turkey, black beans, corn and of course enchilada sauce and cheese to Lisa. I would love to be able to have Lisa enjoy a hot meal without having to prepare it herself so that she can focus all her love and attention to her newly expanded family! Congratulations Lisa!
Enchilada Pasta
1 lb pound penne pasta
1 teaspoon olive oil
1 lb ground turkey
1 teaspoon cumin
½ teaspoon salt
¾ teaspoon paprika
2 tablespoons chili powder
1 14oz can black beans, rinsed and drained
1 14 oz can corn
1 10 oz can red enchilada sauce.
¼ cup plain Greek yogurt
2 cups shredded cheddar cheese
Grease a 9 x 13 casserole dish and set aside.
Preheat oven to 350. Heat oil in a large skillet over medium heat. Add ground turkey. Season turkey with cumin, salt, paprika and chili powder, crumbling meat as it browns. Add beans and corn. Stir in enchilada sauce plus one can full of water. Reduce heat and cook until mixture begins thicken.
Meanwhile cook pasta according to package directions. Drain. Combine turkey mixture, pasta and Greek yogurt. Sprinkle with cheese. Bake in the oven for 15-20 minutes or until cheese is melted and bubbly.