Woah. Strange topic for Wine & Glue, huh? Well, we are facing a huge deficit of amazing foster parents in my home town, I haven't picked an Act of Kindness yet this year, and sometimes my blog needs to be about more than crazy treats, fun printables, and easy dinners.
So if you've ever thought about being a foster parent, and especially if you haven't, I'd appreciate if you'd give this a read, share it on social media, and forward it to that one person that I know you are thinking about who would make the absolute perfect foster parent.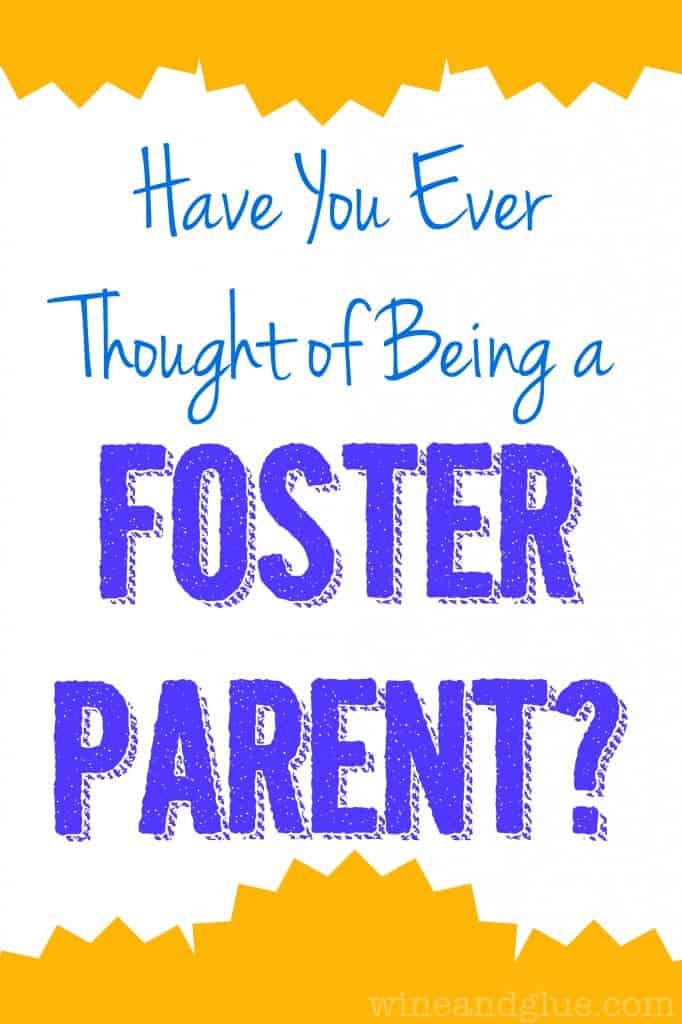 About 8 years ago I was a social worker for the city of Milwaukee, Wisconsin. I did child abuse and neglect investigations. In other words, someone would call saying that they had a concern about a child, and I would investigate. I would interview all the family members, determine if abuse or neglect had occurred, and more often than not, refer the family for services.
But there were times when abuse or neglect was serious, ongoing, and the child needed to be removed from the home. Like immediately. I took children from schools and drove them to foster homes. I took children directly from their home and drove them to foster homes. I took newborns from the hospital and drove them to foster homes. I took children from ER's and drove them to foster homes.
Most of the foster homes were wonderful. Warm and loving homes that I immediately felt comfortable in.
Some were not.
I will never forget the time I had a little boy with me, about six years old (the age that Gavin is now . . . ). It was winter in Wisconsin. Snow was on the ground, and by the time that the investigation had reached the point of determining he was no longer safe in his home, it was close to 10 pm.
To be honest with you, I don't even really remember why he was being removed from his home. And not because it wasn't significant. Children were only taken from their families in the most extreme of situations. The goal was always to keep them with their parents.
I don't remember why he was taken from his home because the foster home that he was being placed with is all that stands out in my head. I will spare you the details of the home, because honestly it's not the point of this post, but I refused to leave him there. I called my supervisor who called her supervisor who got in touch with the department that found homes for us. And some poor social worker just like me got back to work looking for a different home for him to be placed in.
Most of the foster homes in Milwaukee are wonderful. There are just not enough foster homes. Period.
In an ideal world, children would be removed from their homes, placed in a foster home, and wouldn't move again until they were either adopted (ideally by that very same family) or returned to their parents. The standard in Milwaukee is that a child is in three homes or less during their time in foster care. That standard is woefully going unmet.
There are about a billion problems in Milwaukee contributing to this issue. Poverty, institutional racism, a war on drugs that just isn't working, mental health issues that are going untreated. I could go on and on and on.
I don't know how to solve all those very real problems. But there is one problem that can be at the very least helped. The children who are the products of poverty, institutional racism, a war on drugs that just isn't working, and mental health issues that are going untreated.
They are coming into the foster care system, and they need good homes. They need to be placed in a home that is a really good match for them and not moved within 24 hours of being taken from their parents.
Think about the type of home you would want your children to end up in if they were in the shoes of so, so, so many children in this country.
So . . . .
If you've ever even remotely considered fostering, please, I'm begging of you, explore it further. Google "foster parent" and the name of your state. There is a better than decent chance that foster parents are desperately needed in your area as well. If you are in the Milwaukee Area, please start here.