Wondering which of my recipes I loved the most? Here they are! My favorite recipes of 2013!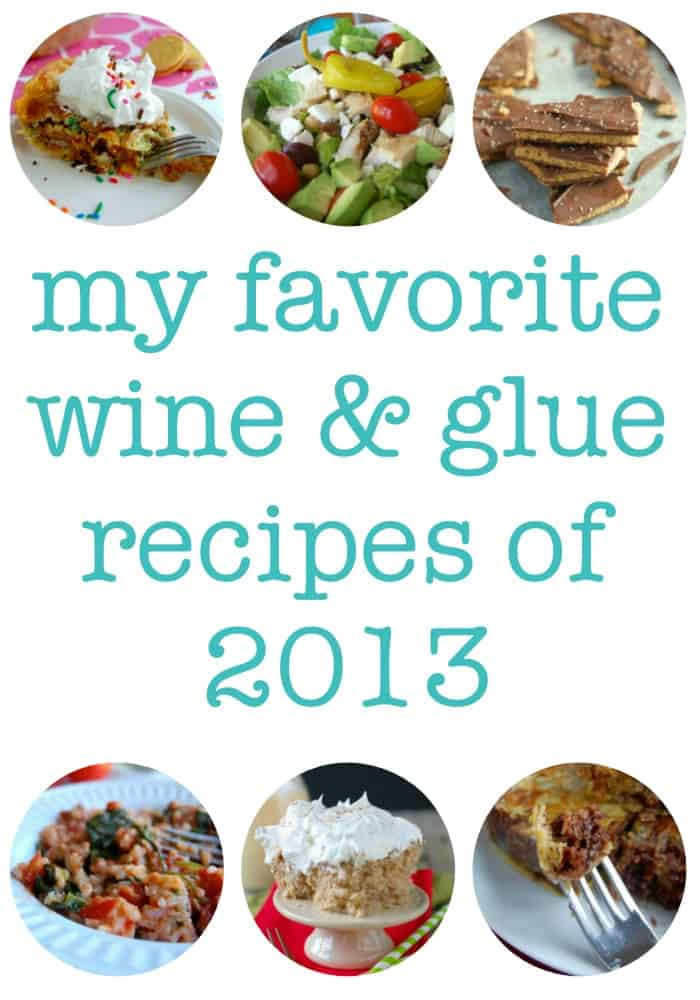 Yesterday I shared with you the most popular Wine & Glue recipes of 2013, those recipes that got the most page views and got pinned the most. Well, I thought it would be fun to share with you the ones that I loved the most!
Though I love every recipe that I put up on the blog, there are some recipes that loved so much I could barely part with them so that I didn't double in size. Recipes that make me drool just thinking about them. Here they are, in no particular order.
S'mores Fudge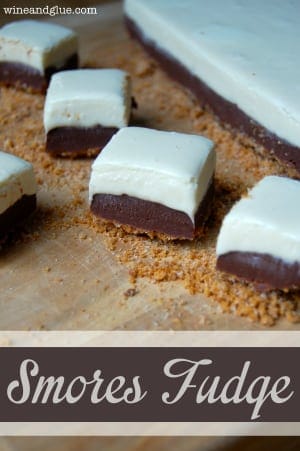 One of your favorites is one of my favorites too!! In my opinion, this was the best fudge I made all year, and I made a bunch. Obviously the flavor combination is tried and true, and I had to restrain myself from eating piece after piece while I was photographing it.
Oreo Cookie Birthday Cake Pie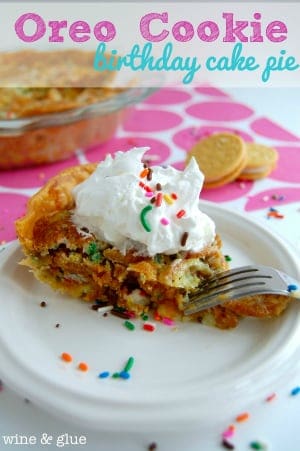 This pie. There just are no words for this pie. It was one of those recipes that I saw the ingredients for at the store, thought of it, came home, made it, photographed it, attempted not to eat ALL of it, and blogged it. I confess that I haven't made it since, but it's because I am 100% sure I would eat the ENTIRE pie.
Chocolate Banana Pudding Bread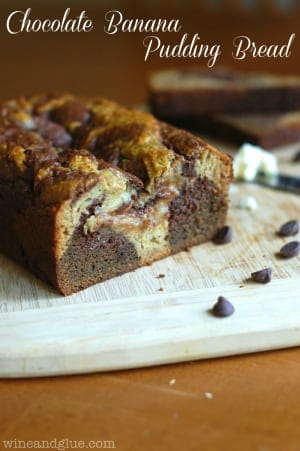 I pink puffy heart love this bread. It is all that is good about the world. (Have I mentioned that I tend to be dramatic?)  I will never get enough of the chocolate banana combo, and the gooey center and pudding moistness of this bread made me love this bread so much!
Cherry Sangria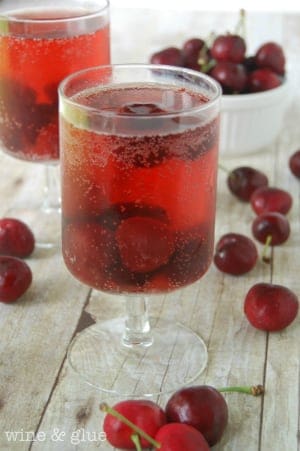 This is a recipe that I made for my buddy, Ms. Tasty over at The Tasty Fork, for her birthday bash before I even met her in person and decided she was the coolest. This recipe could not be easier, and I am convinced that it is perfect for summer or winter. You use frozen cherries, so it can be made all year round. If I wasn't pregnant it would have been brought to several holiday gatherings!
Salted Chocolate Cookie Butter Bark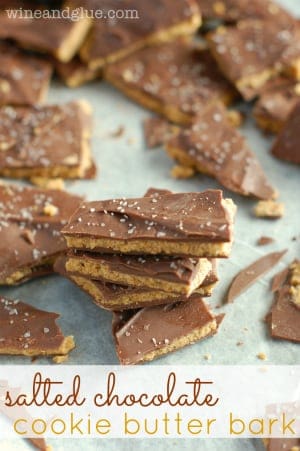 Yumm! I made this with some friends for our annual cookie making day, 16 recipes that we all split and take home. My portion of this recipe didn't make it out the door to any friends or neighbors. Also, Nathan came home from work the day I sent this with him and told me it was deemed the best recipe I had made yet. (To be fair, they didn't get to try the sangria, the pudding bread, or the birthday cake pie . . . or maybe anything else in this list . . .)
Triple Chocolate Raspberry Ice Cream Pie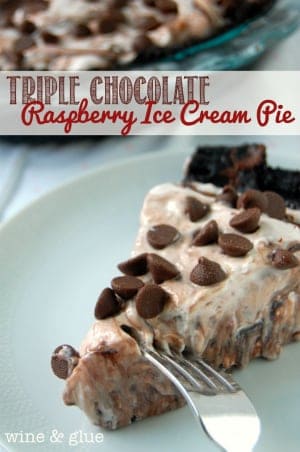 I ate this ENTIRE PIE. It was so good I didn't even have the presence of mind to get it out of my house before I could destroy it with my fork and belly. This, my friends, is the most underrated Wine & Glue recipe of 2013. It is ridiculously simple and SO GOOD. It might have to be a summer staple for me.
Eggnog Poke Cake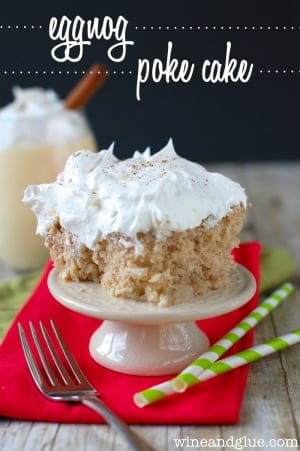 I have a confession. I am not a huge poke cake fan. I like it! I do! But it's not on the top of my list of desserts that I want to sacrifice a pant size for. You guys love them, and I enjoy making them, so they will for sure keep coming, but this, this poke cake . . . takes the cake! (I seriously need another cup of coffee.)  I loooooooooooooved this poke cake so much. And because it doesn't have any actual egg nog in it, you can make it in July, and turn on some Christmas music and pretend. :)
Ham & Brie Panini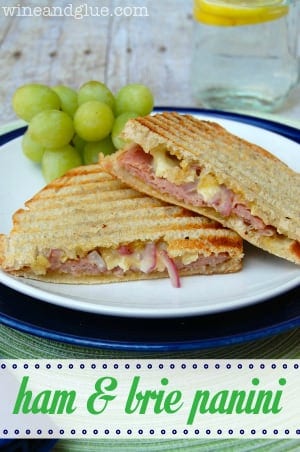 Because I'm regularly wanting to make new recipes for the blog, I don't repeat a lot of lunches for myself. I eat a lot of family dinner left overs and Trader Joe chicken tamales. But I've made this sandwich over and over. It is super simple, but the flavors are just perfect. And it makes you feel like you are eating a special lunch without slaving over it.
Jalapeño Margarita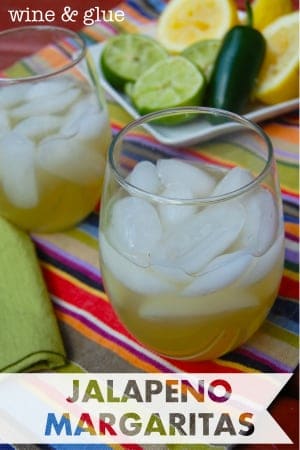 Oh my. Can it be July yet?? This margarita is so good. It is the perfect combinations of heat and cool. It is refreshing and delicious and you will want to make it your go to summer cocktail. It just makes you want to sit on a deck in the shade and put your feet up and enjoy a nice summer breeze.
Mediterranean Chopped Salad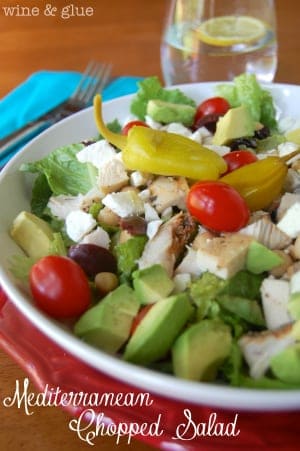 This is another lunch that I have made for myself countless times. It offsets all the nibbles of poke cake, bark, and pie. It is a go to for me because it is so filling but so so good.
Milky Way Magic Bars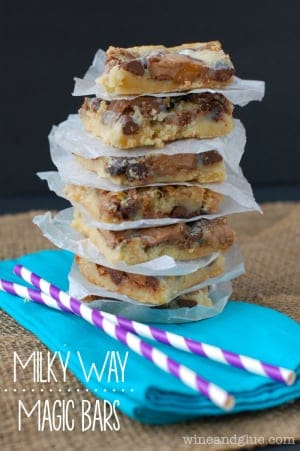 Ahhhh! This was another recipe from cookie making day that didn't make it out of my house! I LOVE this recipe. It is super gooey and delicious, and so easy to make.
Nutella & Banana French Toast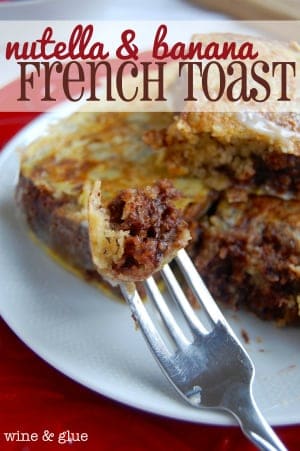 So this recipe is really good, I love a good french toast made out of quick bread. But what I REALLY love about this post is the post itself. It is about my parents and their marriage. I miss my mom all the time, but I also miss my parents. Seeing my mom and dad together.
Tomato Sausage Risotto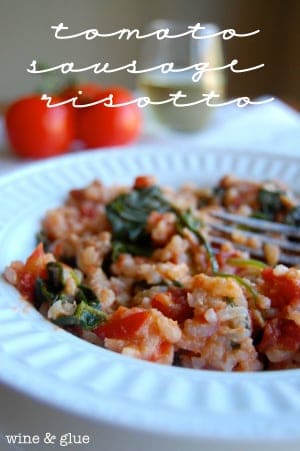 And finally, Tomato Sausage Risotto. This is my all time favorite dinner. I would eat it once a week hands down if my family was cool with it. It's not hard, it's a great intro to making risotto, and everyone who has tried it absolutely loves it.