Gingerbread Kettle Corn | Delicious kettle corn flavored with gingerbread and drizzled with white chocolate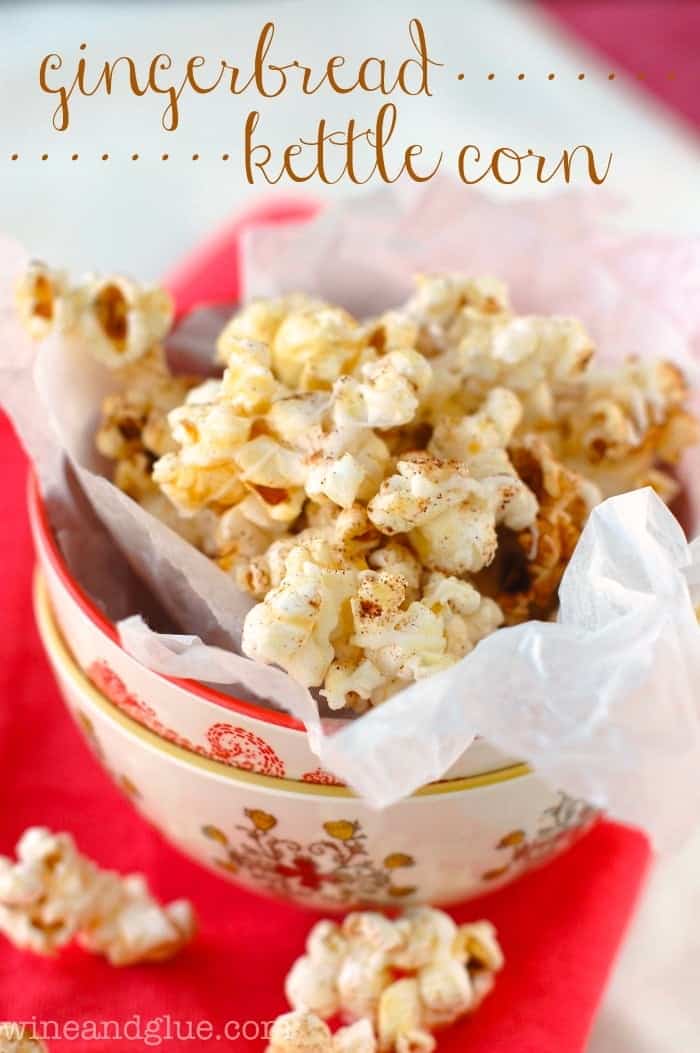 So I'm lucky for a whole lot of reasons, but one of the ways I'm lucky is my sister-in-laws.
I am the youngest of three. I grew up without any sisters, just two older brothers. And I'm so lucky because my brothers both married the two greatest women. I love them. They are great wives, they are great moms to my nieces and nephews, and I am especially lucky because they really have become like sisters to me.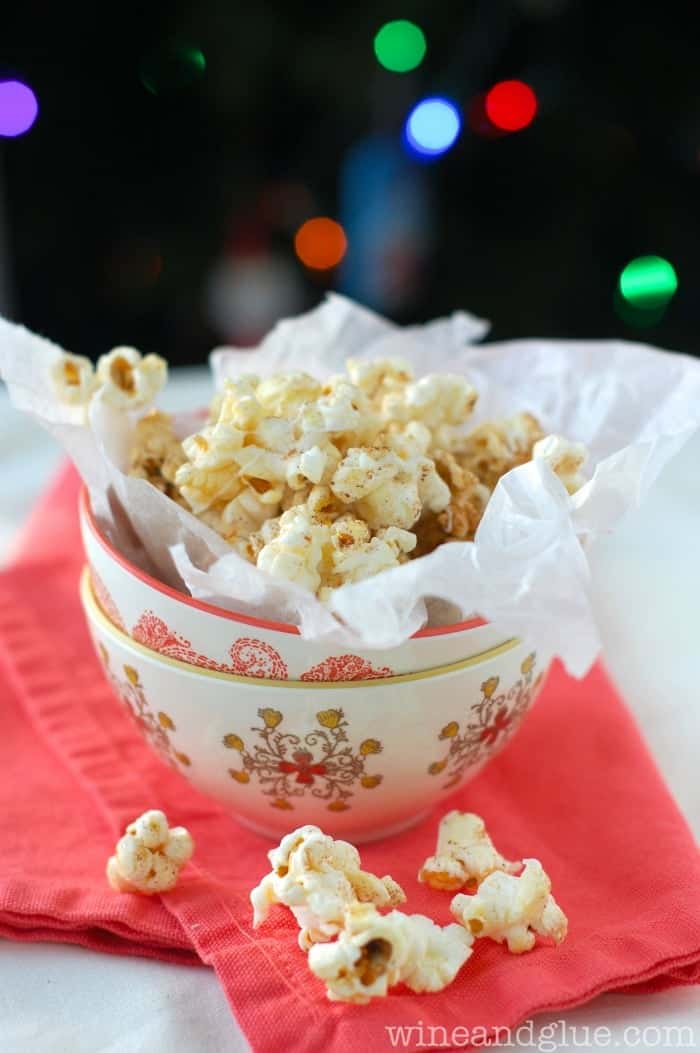 They are such huge cheerleaders for me and this little blog, and sometimes I think that they have more confidence in me than they should.
Case in point, on Thanksgiving my sister-in-law, Sam, came into my house bouncing around talking about this AMAZING popcorn that she had had. She had forgotten to bring it with her that day, and she was SO mad because she really wanted to see if I could replicate it.
She was so mad, in fact, that she sent my brother and Nathan out to the grocery store to look for it. They couldn't find it. But!! About a week later, I did!
She was right, it is SO GOOD! To be fair, she had tried the peppermint kind, and I got the gingerbread kind (mainly because I felt more confident in replicating the gingerbread kind than the peppermint kind).
I wasn't exactly sure where to start, and then I remembered that I had seen a Kettle Corn recipe posted by the talented Ashton of Something Swanky. Next, I threw together some spices based on the ingredient list on the back of the bag, and finally I drizzled just the littles bit of white chocolate over it. Voila! Okay, not totally voila. It doesn't taste exactly the same, but it is make at home, not hard to make, and super yummy!!
Who wouldn't want a big 'ole bag of this from their neighbor??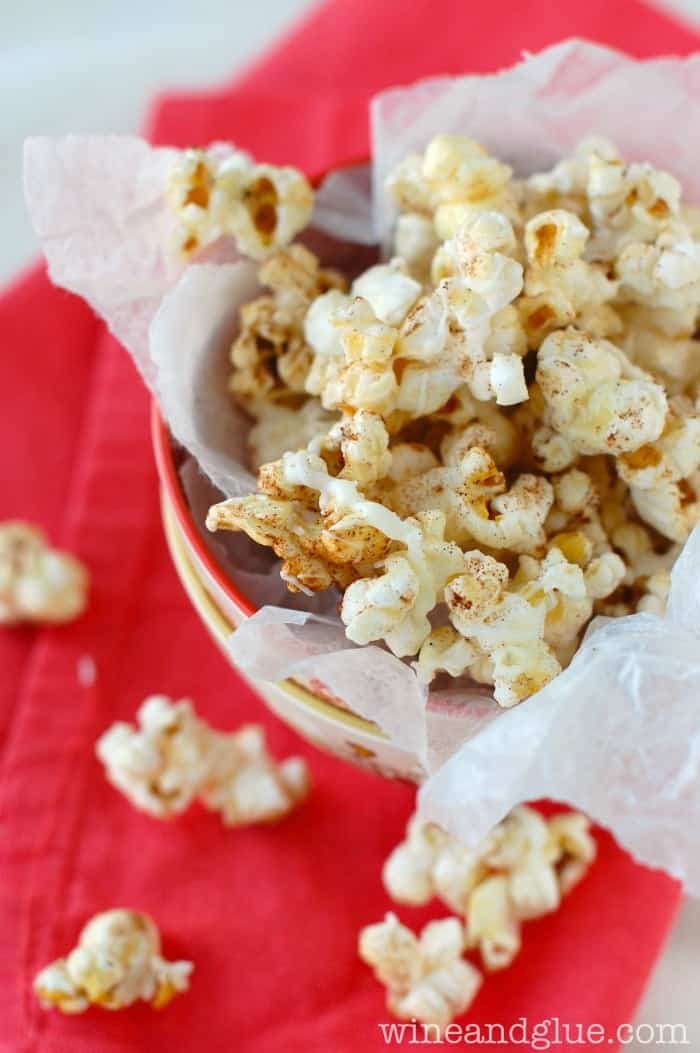 Gingerbread Kettle Corn
(Note: This makes a lot of the spice mixture. Make the whole lot to have for several batches, or cut it in half)
2 TBSPs cinnamon
1 1/2 TBSP Kosher salt
1 1/2 tsp ginger
1 tsp nutmeg
1/2 tsp cloves
1/2 tsp allspice
1/4 cup oil (I used olive oil, though it's not on Ashton's recommended list)
1/2 cup granulated sugar
1/2 cup unpopped popcorn kernels
1/4 cup white chocolate chips, melted and thinned with oil
Mix together the cinnamon, salt, ginger, nutmeg, cloves, and allspice. Make sure that it is well combined.
Lay out some parchment paper or silicon mats to pour the popcorn out on once it is done.
Preheat the oil in a large pot with a top over medium high heat. Place one kernel in the oil, and when it pops, the oil is hot enough.
Stir in the sugar. Add the kernels. Put the lid on the pot, and move it back and forth vigorously. I didn't time it, but Ashton said that the kernels take about two minutes to start popping and will finish after about 10 minutes. Keep the pot moving the whole time.
Once the kernels have stopped popping, immediately pour them out over the parchment paper so they are in a single layer. Sprinkle lightly with the spice mix. You don't want it to clump on the popcorn but you want to get some on each piece.
Once the popcorn has cooled a little, drizzle just a little bit of white chocolate over it. You are aiming to get little tiny ribbons on the popcorn, but not so much that it will all stick together.
After the popcorn has cooled, store in an airtight container.
*adapted from Something Swanky's Classic Kettle Corn
This post may contain affiliate links which won't change your price but will share some commission.