Today we have Julie from Julie's Eats and Treats! Be sure to check her out and follow along with Facebook, Twitter, and Pinterest! Thanks for covering for me Julie, take it away!
Hi everyone! I'm so glad to be guest posting over here at Wine & Glue for Lisa! When she was looking for some fill-in posts I jumped on the chance. I just adore her blog and obviously you do too!
For those of you that don't know me, 

I'm Julie and I blog over at 

Julie's Eats & Treats

. I'm a working mom with an adorable little babe we like to call "Miss K". We were blessed with her this past summer. My hubby is my best friend and ultimate "taste tester". If he doesn't approve you won't see the recipe period. And yes, when I mess something up he is the first to be laughing and asking, "Can we take a picture of this and post it". I usually roll my eyes and politely inform him that's not ok, but I'm glad he is always there to support me and tell me, well there's always pizza! If you are looking for simple, but delicious recipes then head on over and check my blog out! And now, for my Knock You Naked Bars!
"I'm going to marry these!"
He might have laughed when he asked the names of these little devils before he took a bit. One bite and he was in love. So in love that he thought he'd marry them.
I love my little brother. He's the best taste tester ever. Way better than the hubs (sorry love ya hun!). He's single therefore every time I make something and he gets to taste test he gets super pumped over it. The hubs on the other hand just says one word answers. Nothing like "I'm going to marry these!" Of course I might take offense to that coming from the hubs.
Maybe it's because my mom trained him so well. Yup going to give mom some credit on this one. Not sure how she trained him to ooo and ahhh over meals and treats, but I'm going to have to pick her brain on this one so I can get the hubs trained.
The hubs…trained. Wow that's a laugh. Does anyone ever get them trained?
If you do please share your secret.
I should also give some credit to the older bro. We were out for Halloween and he had dropped his daughter off to relieve my mom from looking after Miss K. In the midst of the festive bar atmosphere he had to lean over and say, "You have one less bar at home. They were amazing!"
Oh yes that's right this Momma thought she'd go out for a few adult beverages this past weekend. Yup, that cured me of that for another year. I need sleep. 
So if you need someone to propose, love you, oooo and ahh please head to the kitchen with this recipe in hand immediately.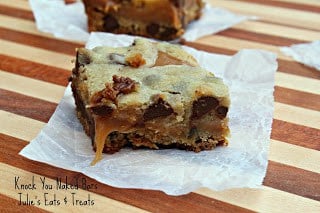 Knock You Naked Bars
Printer Friendly Recipe

Ingredients
2 1/4 c. all-purpose flour
1 tsp baking soda
1 tsp salt
1 c. butter, softened
3/4 c. sugar
3/4 c. packed brown sugar
1 tsp vanilla extract
2 eggs
2 c. semi-sweet chocolate chips
1 bag (14 oz) caramels
1/2 c. peanut butter
1. Preheat oven to 375 degrees. Grease a 9 x 13 in pan.
2. Combine flour, baking soda and salt in small bow. Beat butter, sugar, brown sugar and vanilla in a large mixing bowl until creamy. Add eggs, one at a time, beating well after each addition. Gradually mix in flour mixture. Stir in chocolate chips.
3. Spread half of cookie dough into the prepared pan. Bake for 8-10 minutes. Remove from oven.
4. While the cookie dough is baking melt caramels and evaporated milk in a double boiler. Add peanut butter after caramels are melted. Melt thoroughly. Spread over baked cookie dough base.
5. With the remaining cookie dough, drop by spoonfuls ontop of the caramel mixture.
6. Bake for 15-20 minutes or until light golden brown.