Homemade Halloween Games that come together for less than $13!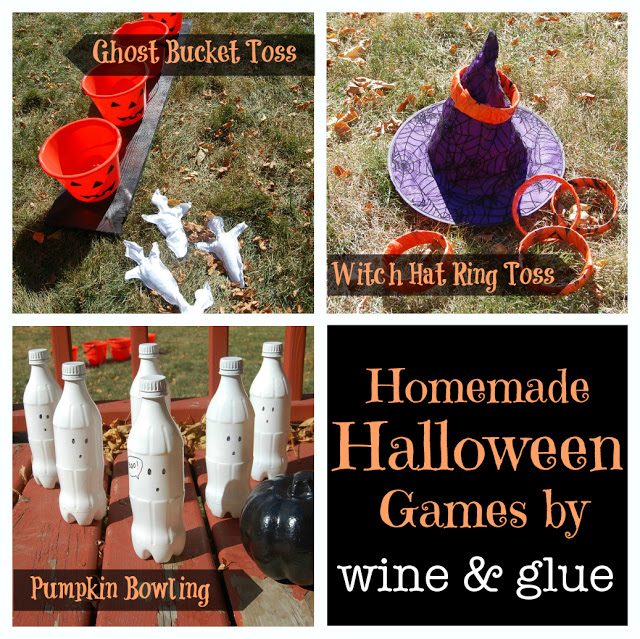 Gavin has seven cousins on his dad's side of the family. Seven! That's a lot of cousins, a lot of laughter, a lot of playing, and a lot of fun. It's also a lot of birthdays! A few years ago, my very wise sister-in-laws decided to group the birthdays together into fall and spring. It makes for two big shared birthday parties each year.
Last year, the wise sister-in-laws struck again and decided to have the fall birthday party Halloween themed and have all the kids come in their costumes. So fun!!
So this year we are doing it again, and this time it's at my house. I thought it would be a lot of fun to have games the kids could play, but I didn't really want to spend a fortune for the prepackaged games that come from Target, especially when most of them seemed simple enough to make at home.

None of these games are Lisa Originals, they all are floating around on Pinterest, and thought up by people far more creative than me. But this is my take on them.

Supplies:
Four Pumpkin Buckets from the Dollar Store ($4)
A Board ($1.75)
Black Spray Paint ($1)
White T-shirt from the Dollar Store ($1)
Screws (had on hand)
Dry Beans (had on hand)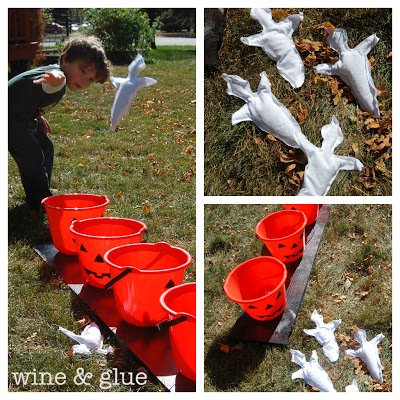 This could not be more simple. Pumpkin buckets from the dollar store, a piece of wood from the scrap section at the hardware store spray painted black, and a white t-shirt from the dollar store turned into ghost bean bags. And the grand total for this fun game? $7.75!
The buckets are just drilled into the board with a screw, and you can use the template below for your ghosts! A word to the wise:  Make the hole to fill the ghosts at the bottom for easy filling, not in an armpit, or you will end up with lentils all over your kitchen floor. The other nice thing about the ghosts is because they are made from a jersey t-shirt, I left them "inside out," not worrying about the edges fraying. I was able to be a little less exact with my sewing and they got a more ghostly ragged look.
Note:  If you don't sew, another great alternative would be white socks filled at the end with beans, a ghost face drawn on, and tied at the "neck" with some white yarn. Just tie it tight, or you will have flying ghosts and flying beans.

Supplies:
Witch Hat bought with coupon at Michaels ($1.50)
Liquid Starch (had on hand)
Flour (had on hand)
Orange Plastic Tablecloth ($1)
Oatmeal Canister (had on hand)
Hot glue (had on hand)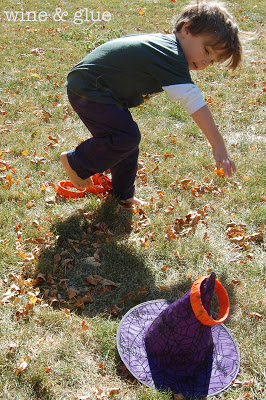 I'm sure that you could make an equally fantastic Witch Hat Ring Toss out of some construction paper, but I love this idea because the hat looks super cool, is already decorated for you, and it's super easy to make!
I started with the same ratio of
Sta-flo Liquid Starch (1 cup) and flour (1/2 cup)
as I used for the
Easter Egg Wreath.
  Paint the mixture onto the inside of that hat, one layer at a time, letting it dry for about an hour between each layer. Rotate it a little as it dries so it doesn't pool. A great place to let it dry and harden is the dish rack, because it will easily stay on it's side.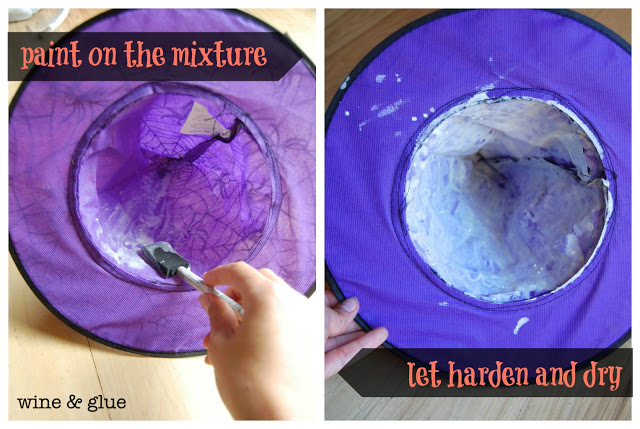 For the rings, Gavin and I tried lots of things that were waaaaay too floppy before doing some googling  and learning from others far smarter than me that cardboard is the way to go.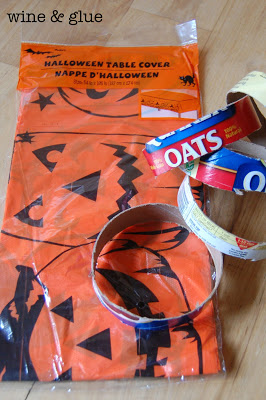 So I cut an oatmeal container into 1 inch round rings, and then covered them with cut up plastic table cloth from the dollar store. If you have your glue gun set to "first degree burn" instead of "second degree burn" (i.e. just when it starts to heat up but before it becomes steamy), you can use it to glue the plastic to the rings without it melting the table cloth.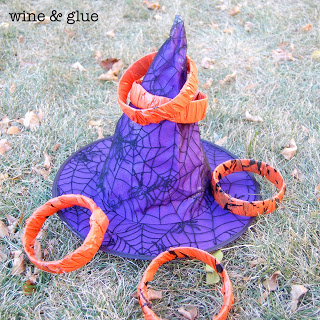 This is a super fun game that can be used year after year. Even if you had to replace the rings, that wouldn't break the bank. And the grand total for this one? $2.50!

Supplies:
6 empty soda bottles (I . . . . ahem . . . . have a small Diet Coke addiction . . . )
Black Spray Paint (left over from Ghost Bucket Toss)
White Spray Paint ($1)
Black Sharpe (had on hand)
Carveable Foam Pumpkin from the Dollar Store ($1)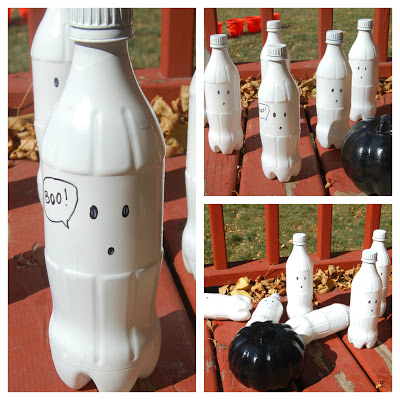 This game was by far Gavin's favorite. And he obviously inherited his dad's thrifty nature (thank God he didn't inherit my tendency to be drawn to the absolutely most expensive item in a store), because this was the cheapest to put together!
For a grand total of $2 (provided you have a diet soda addiction like I do), this too can be yours. The dollar store has these great small foam pumpkins that are perfect for little kid bowling. They are light enough to throw, but heavy enough to actually knock over the bottles.
I spray painted the pumpkin to make it look more like a bowling ball with the white ghost bottles, but you could keep it orange. Then I spray painted the bottles white and drew on some little ghost faces. Voila.
So . . . . if you aren't keeping track, that is three great games for $12.25!  Better yet, we are helping with the Halloween Party at Gavin's school, so these games will be doing double duty.