Ok. We know it isn't really Friday. And I did briefly consider naming this post:  It's Monday. Boo.
The reason for this very delayed post, and don't even try to deny that you weren't hitting refresh at wineandglue.com all day Friday, is  . . . Friendsgiving!! Rather than blogging on Friday, I spend the day celebrating one of my favorite holiday traditions, Friendsgiving. What is Friendsgiving? Glad you asked.
We have these amazing friends. Well, we actually have a lot of amazing friends. And some pretty spectacular family members too.
These friends that I'm raising my Monday morning cup of coffee to though (which may or may not be spiked with Baileys), are our dear friends, Jorden and Cathy, and their awesome kids, Ellia, Greta, and Nora.
Over the years, we have had a lot of good times with them. So many good times, in fact, that I was trying to comb through about 100 of my favorite pictures of our families together to pick out my favorites and nearly had a mental breakdown trying to eliminate some. So I decided to include all of them.
Just kidding.
We are so lucky to have found friends like them. What started out as a friendship between Cathy and I, very quickly developed into a family friendship. Our husbands get along, we get along with them, and our kids have gotten to the point where they push each other's buttons like siblings. (Which I actually kind of love and find endearing.)  We love each other's kids like nieces and nephews, and I would dare say that at times, Gavin would trade Nathan and I for Jorden and Cathy without thinking twice.
And as great of friends as they are, what makes them really special to us, is that at this point they are really more like family. In a friendship like ours, it's hard to pinpoint when something like that happens, when the friendship changes. In fact, I would say that most of the time you really can't pinpoint it. It's just something really wonderful that happens over time as you see your friends go through their worst moments and you stand by them regardless.
In the case of our friendship, I would say that you can pinpoint it. It was right around the time that we lost Elliot. I remember having dinner at Jorden and Cathy's house, the week that we learned something might be wrong with Elliot. I remember telling them what the doctor saw on the ultrasound, and how we weren't really going to get that stressed about it because it was probably nothing.
I remember texting Cathy to tell her it definitely was something.
I remember dropping Gavin off at Cathy and Jorden's house and going for the ultrasound that showed Elliot needed to come out. Now. And I remember stopping back over on our way to have the emergency c-section to kiss Gavin and still leave him with Cathy and Jorden.
I remember having dinner at their house several times the week after he was born. And I will never forget them getting a phone call while we were sitting there from a relative who wanted to "check in." When I asked what they were checking in about, worried that with everything going on with Elliot I was missing something important in their lives, and they looked at me a little dumbfounded and said that the relative was calling to see if there were any updates about Elliot.
Oh.
They, like so many dear friends in our lives, had reached out to those they knew and loved and asked them to pray for Elliot.
Cathy was our only friend who met Elliot. And as soon as we realized there was a very real likelihood that he would not survive, we decided we wanted Cathy to give his eulogy. I think there were some people who thought it was weird that a friend, rather than family, was giving the eulogy. And I think there were some that thought it was weird to even have a eulogy. I mean, what do you say about a one week old?
But Cathy and Jorden had been the first people we told that we were pregnant. Jorden even did a little leap for joy at the news. They had celebrated each moment of Elliot's life with us, from finding out he was coming, to his first kicks, to learning he was a boy. And Cathy did the perfect job.
They were there for us during that horrible time in our lives, and the aftermath that followed. They watched us go through our lowest lows. They watched us snap at each other, and they stuck with us when we snapped at them. And that's how they went from awesome friends, to amazing family.
Each year, starting in 2010 just after we lost Elliot, we have had Cathy and Jorden and their awesome kiddos, over to celebrate Friendsgiving. Cathy and I split up the menu, and we make a huge traditional Thanksgiving meal and we celebrate how blessed we are to have such wonderful people in our lives who laugh with us, spend time with us, complain about the kids with us, celebrate the kids with us, support us, and are there for us. Always.
So cheers to you, Jorden and Cathy. And thank you for being the family that we got to pick.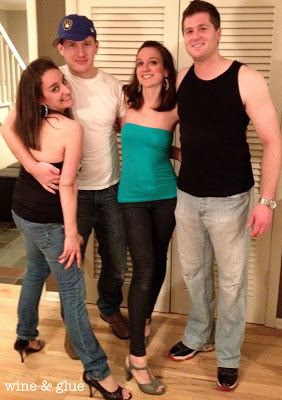 I wish I could say this was a Halloween costume . . .