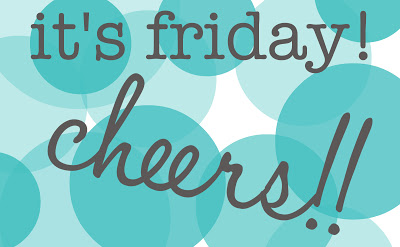 It's Friday! Cheers!!
Are you as excited about the weekend as I am? I have a date night with Nathan planned, some quality time with friends that I don't get to see nearly enough, and some quality family time planned too!
So lately I have been getting this question a lot, from other bloggers and from good friends, who wonder how I can possibly do all the things I do. Aside from being a blogger (and wanting to turn that into a business so I can be at home
and
help financially support our family), I also own an Etsy shop
(Hummingbird's View
), contribute at some other great blogs (
Chef in Training
and
Bon Bon Break
), and I'm in the process of redesigning blogs for two friends (
Lemon Tree Dwelling
and
Vegan Mother Hubbard
. . . posts all about that coming soon!)
And besides all that there's my actual full time job, being a stay at home mom!
How do I do it all? Let me let you in on a little secret . . . .
I DON'T!
I think the idea that women can "have it all" (the career, the kids, the perfect marriage, the perfectly clean house, etc.) is bunk. Total bunk.
(Also, as I am doing this post, I am working on an Etsy order, making coffee, and standing up in my kitchen so that when Quinn walks through in about five seconds and asks for a snack, I'm ready to grab it.)
Here's my biggest and dirtiest secret. And by dirty, I mean filthy, and by filthy I mean put on your HAZMAT suits people.
My house is a disaster.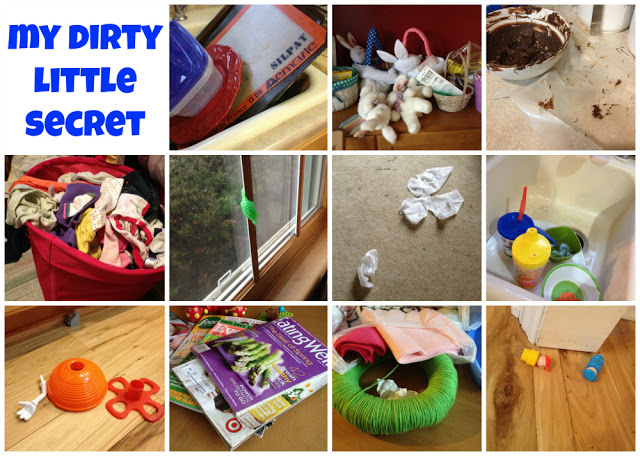 Dishes in the sink (kitchen)
A plethora of Easter Bunnies (dinning room)
Chocolate drippings for a post to come (kitchen)
Laundry that has been waiting forever to be folded (laundry room, "aka junk room")
A dinosaur stuck in the window pane for several days (family room)
Wipes Quinn pulled out four days ago (living room)
More dishes in the sink (bathroom . . just kidding, kitchen)
Mr. Potato Head's arm, half of a plastic stacking ball, the end of the Trick A Ma Stick (kitchen)
Food magazines (one pile of many)  (dinning room)
A wreath that just won't get it together and get made  (dinning room)
Little People taking a nap by our bathroom door  (hallway)
And to put your minds at ease, the kids are fed (relatively) healthy food, the house isn't unsanitary, and we are a very happy family.
My other little secret?
My husband.
He is crazy supportive of this dream of mine to be a blogger/Etsy shop owner/Super Star. Especially in the last few weeks as things have picked up for me, he has really helped make it easier for me to get things done. Like Saturday mornings at Starbucks, taking the kids to run errands for me, and not complaining when I'm glued to the computer at night.
And not mentioning when you can't really see the countertops in our kitchen.
So what do you think? Can women "have it all?"
Want to see the things I did this week instead of cleaning?
(It took me about an hour to write this relatively simple post because in the midst of it I, changed a diaper, cleaned up spilled milk, and read some stories. 
And poured some of that coffee I was making.)