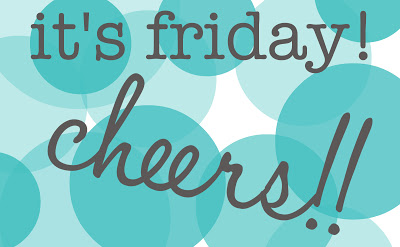 It's Friday . . . and this is normally where I say "Cheers!!" and then make some tongue in cheek comment about the treacherous week I've had.
First, let me say thank you for indulging me in two posts today. It felt really important for me to participate in #BloggersforSandyHook . . . as I mentioned in my post last week, my blog feels awfully silly and superficial in the face of such senseless tragedy. It feels good to use it to send some positive words into the universe for those families shaken by this loss.
And just as my post earlier today seemed important, so does this one.
I am saying cheers this week, and I'm raising a glass of my mom's favorite wine, Port, and toasting to my most amazing mother. It is appropriate to be posting this Friday evening, as it was a similar snowy Friday evening five years ago tonight that I was nursing my baby, born just hours earlier, when my brother called me to let me know that my mom had passed away.
(Brace yourself, people. This is going to be a long post.)

My mom and I at my baby shower for Gavin, just two and a half months before she passed away.
Nathan, who loved my mom more than I think I often realize, regularly asks me what I miss most about her. The answer to that is that it changes based on where I'm at at any given moment. Because that's who mom's are, really. They are there for you in the way you need them, at the moment you need them.
I miss laying in my mom's bed with her and talking to her about life. In the last few years of her life there were many times when her bed became her refuge, and when I came home to visit, I would head up to her room and hang out with her there. Her room had two large sliding glass doors that from her bed showed the beautiful huge pine trees in our backyard. We would sit and watch the moon rise and the birds come to the bird feeder as we would talk.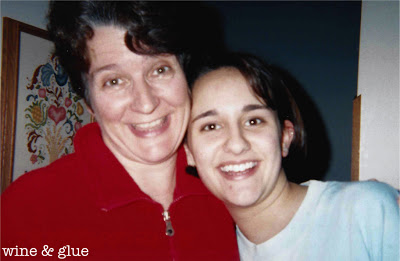 I'm not sure a worse picture of us exists, but it makes me smile.
I miss my mom's cooking. She was such a good cook. She cooked with love and joy. I would come home from school in the fall, and our kitchen windows would be all steamed up against the dark sky with the delicious warmth she was making us for dinner. We grew up vegetarian, and she worked really hard to cook us delicious and well balanced meals. Her clam linguine, her chocolate cake, her homemade pie crust, homemade pizza, the perfect Christmas cookies, delicious tofu chili . . . I miss it all. And I miss sitting at the counter and watching her put it all together.
And man alive do I miss calling her mid recipe and having her talk me out of disaster.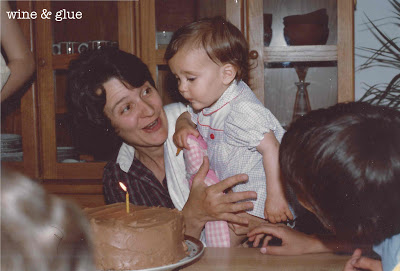 My first birthday and my mom's awesome chocolate cake.
I miss my mom being the glue of my family. Is this how it is in your family? Your mom is the hub of the wheel and everyone else is the spokes? What does John want for Christmas? How is Dan doing? Dad crashed his bike again! Is he okay?? She kept us in the loop on how everyone else was doing. Now we actually have to talk to each other! Pah! Okay, I'm being half silly, half serious. I love my brothers and my dad, and I hate talking on the phone. And it actually has been a real adjustment that we are still figuring out how to be a family without our hub.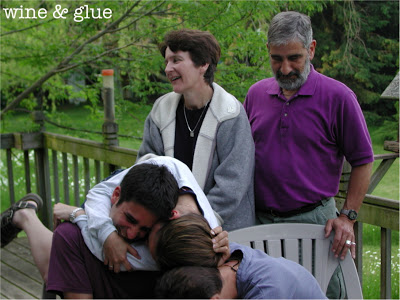 Us acting like idiots while my mom tried to get a family picture :)
I miss watching my mom and dad together. Don't get me wrong, they had their moments. But there is something really special about watching the love story that created your family. When we were making the slideshow for my dad's 75th birthday, I found so many pictures that my mom took of him without him knowing. She adored him.
I looked up to my parents' marriage. They didn't fight when they were angry, they talked things out, they enjoyed things together, and their time apart. And they loved each other. They really loved each other.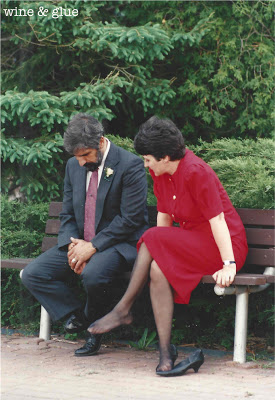 This is one of my favorite pictures of my parents,
just a candid sweet moment.
I miss my mom's advice. It often seemed like she knew everything about everything. The crazy sound my car was making. When and how to prune the bushes in my front yard. Sewing. Cooking. Home repair. Laundry. I've gotten used to not having Wiki-Mom on speed dial, but for the first year or two she was gone, I felt a little lost. Especially when I was looking for a recipe of hers and couldn't find it.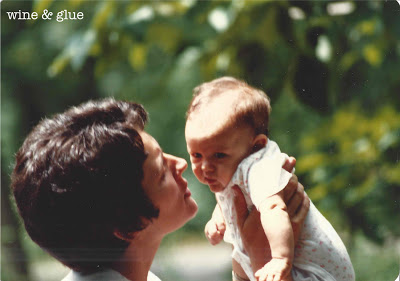 My mom and newborn me.
I don't know if this really counts as something I miss, because it's not something I ever had, but I miss having my mom around as a grandmother to my kids. Nathan and I talk all the time about how much my mom would have adored Gavin and Quinn. My mom was so good with kids. She found herself in so many roles that involved working with kids, the most prominent being a pediatric nurse and a mom. I can't help but think that as much as she would have adored my kids, they would have just loved her.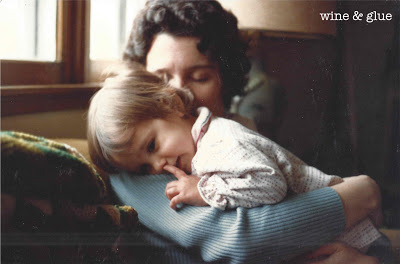 The similarity between this image and my life with Quinn now . . .
heartwarming and heart breaking all at once.
I miss what it would be like to have a mom helping me be a mom. There are many times that it has felt like a cruel joke that I became a mom and lost my mom in the same day. And yet, thank God I had Gavin to hold onto in those first few months after losing my mom. I remember two days before my mom passed away, it was just her and I in a room. She hadn't really wanted to talk about the fact that she was dying. She was actually pretty adamant that it was not what was happening. But in a rare moment she and I talked candidly about it. With my very pregnant belly between us, I told her that I couldn't imagine being a mom without her. She looked at me and said, "Oh honey. This is not how I would have planned it either."
There have been countless times over the last five years that I wanted to pick up the phone and call her for advice. Or ask her to take the boy before I lost it. Or beg her to come and cook me a meal because we were all crazy sick. Or guilt her into taking the kids for a weekend. I often can't believe that I've made it this far without her help. But when I think of the me that I was, super pregnant and basically begging her not to die, and the me that I am now . . . I've done a lot of growing up in the last five years.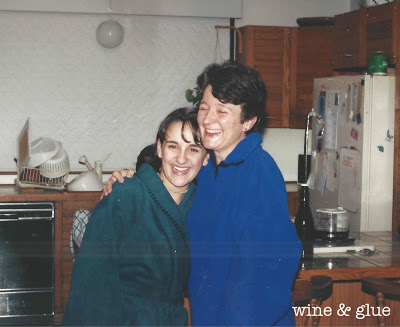 My mom and I giggling about our new cozy fleece Christmas gifts.
More than anything? I just miss my mom. I miss calling her in tears and having her say, "Oh honey." She never really had to say anything else. Those two words summed it up for me. Those two words said, "I love you. I am sorry you are going through this. I wish I was there to hug you. I would make it all better if I could. You are strong enough to get through this." And in the five years I have been without her, there have been plenty, plenty of "Oh honey," moments.
Mom, thank you for being such an incredible mother that even though you are not physically here, your spirit still fills my life. In the moments when I don't feel strong enough to go on, I hear your voice in my heart giving me the strength I need.