Maple Bacon Blondies! Sweet maple flavor combines perfectly with the bacon in these blondies!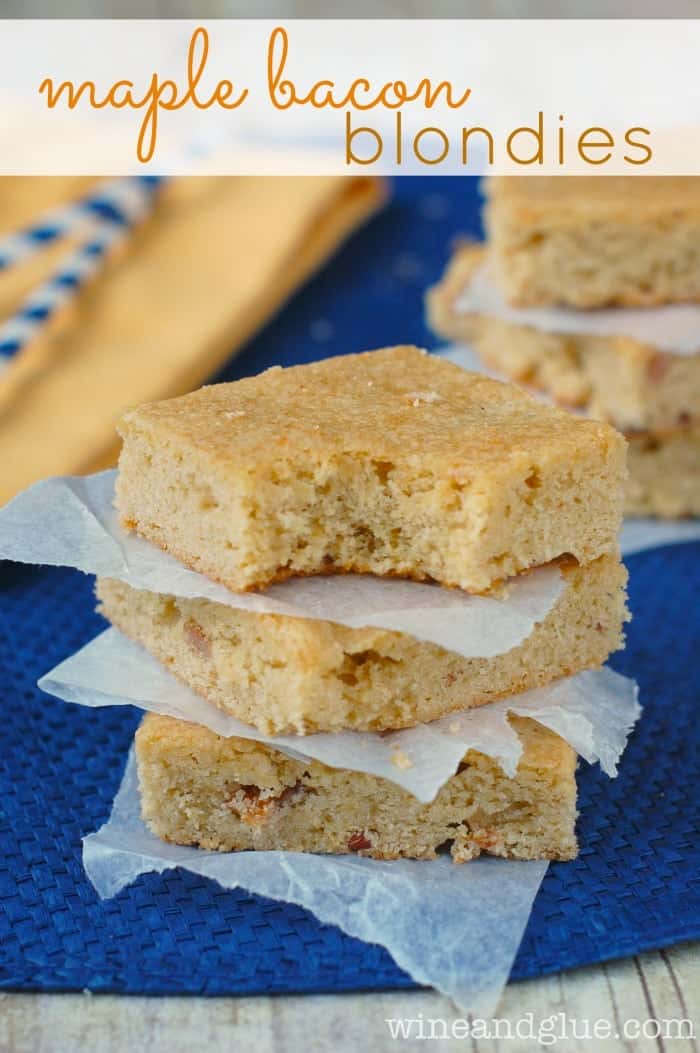 This is going to be short and sweet, because this whole pregnant-mommy-blogger thing is taking a serious toll on me today. Seriously, the bloggers out there who have multiple kids, a bunch under toddler age . . . how do you do it???
Can we have a blogging conference on that??
Anyway.
I figured out a way that you can eat your dessert for breakfast! You just throw some bacon and maple syrup in it! And seriously, there's flour and eggs in there too, so it's pretty much just a pancake breakfast!
A couple things about this recipe. Yes, there is bacon fat in there. I pulled out some of the butter in the original recipe and replaced it with bacon fat. Yummy. It really deepens the bacon flavor. Dare I say, if you aren't fan of actual bacon in your desserts, you could just go with the fat and the maple syrup and leave out the actual bacon.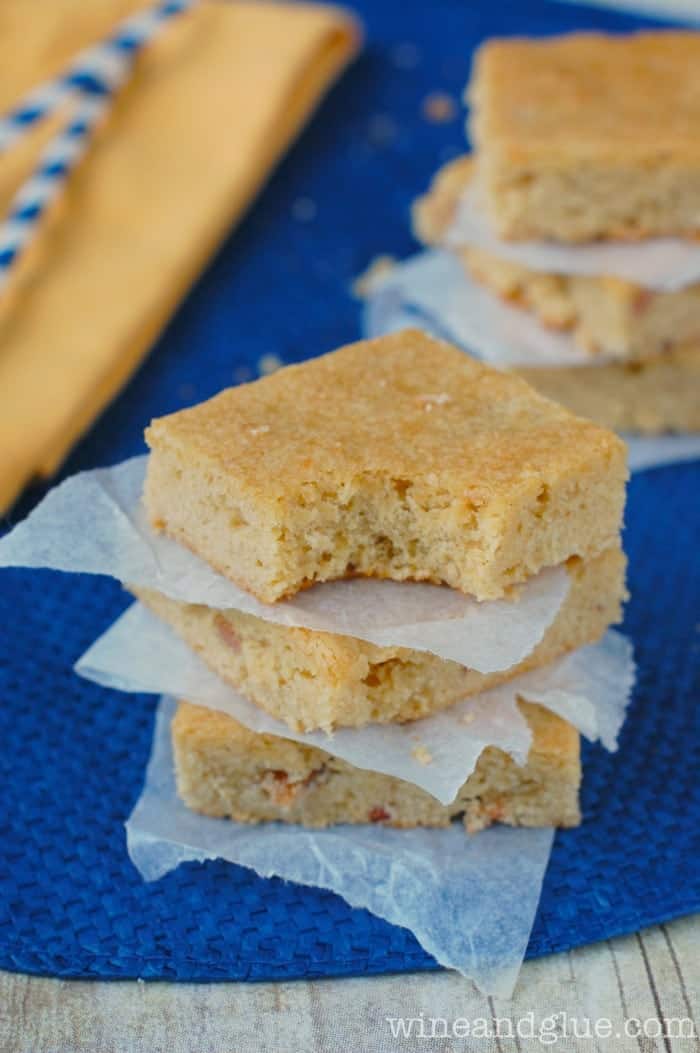 Maple Bacon Blondies
4 pieces of thick cut bacon
1 1/2 cups flour
1 tsp baking powder
1/2 tsp salt
10 TBSP butter, melted and cooled
1 1/4 cup brown sugar, packed
1/4 cup maple syrup
2 eggs
4 tsps vanilla
Preheat your oven to 350 degrees. Prepare a 9 by 13 inch pan by spraying it with cooking spray and sprinkling it lightly with flour.
Begin cooking your bacon.
While the bacon is cooking, in a medium bowl, whisk together the four, baking powder, and salt.
Once the bacon has finished cooking, take it out and set it on a paper towel lined plate, patting it dry. Pour the bacon fat into a glass measuring cup, removing it from the heat, but reserving it.
In a seperate medium bowl, whisk together the butter, brown sugar, and maple syrup.
Having let the bacon fat cool a little, pull 2 TBSPs off the top. Whisk it into the butter and sugar mixture.
Whisk in the two eggs, and the vanilla until completely combined.
Slowly add the flour, stirring it in until just fully combined.
Chop the bacon into small pieces, pulling out any large chunks of fat. Stir the bacon into the batter.
Pour the batter into the baking dish and bake for 20 to 22 minutes, or until the edges are golden and a toothpick put in the middle comes out almost clean.
(Adapted from America's Test Kitchen)
Looking for bacon desserts?