Veggie & Tofu Noodle Bowls | A super delicious meal vegan dinner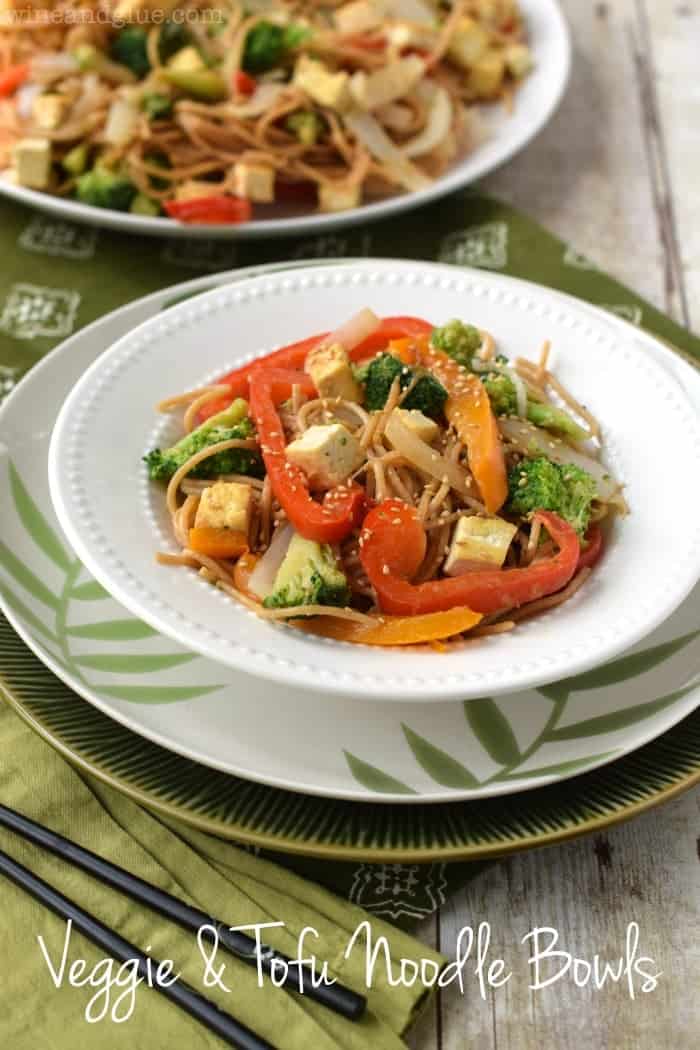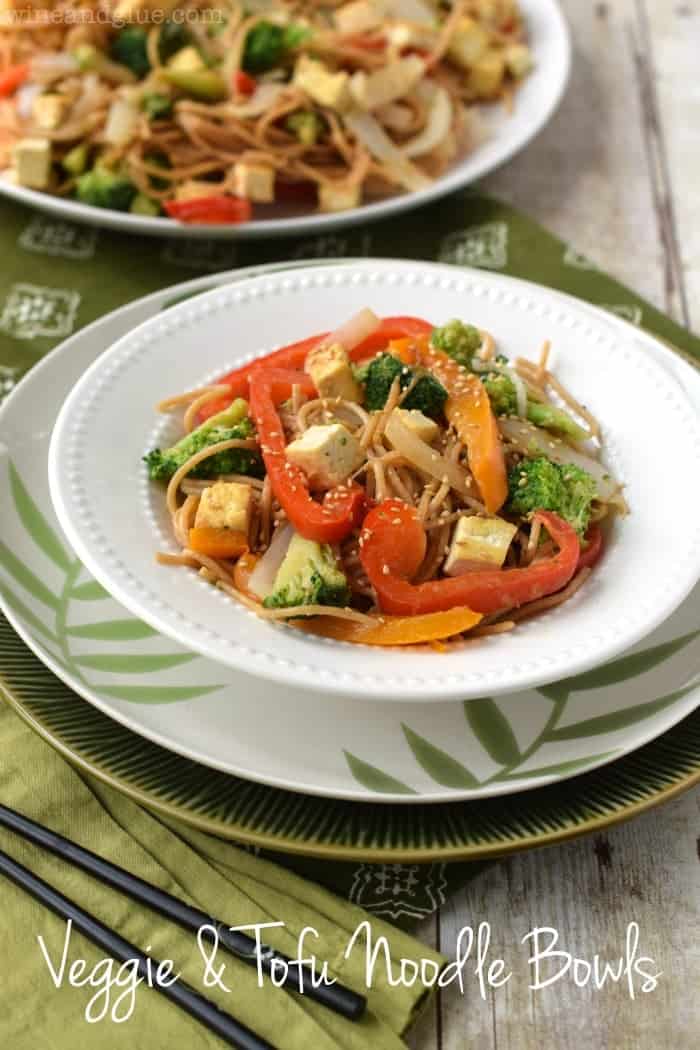 If you are new to Meatless Mondays, I have been going meatless with my family one meal once a week.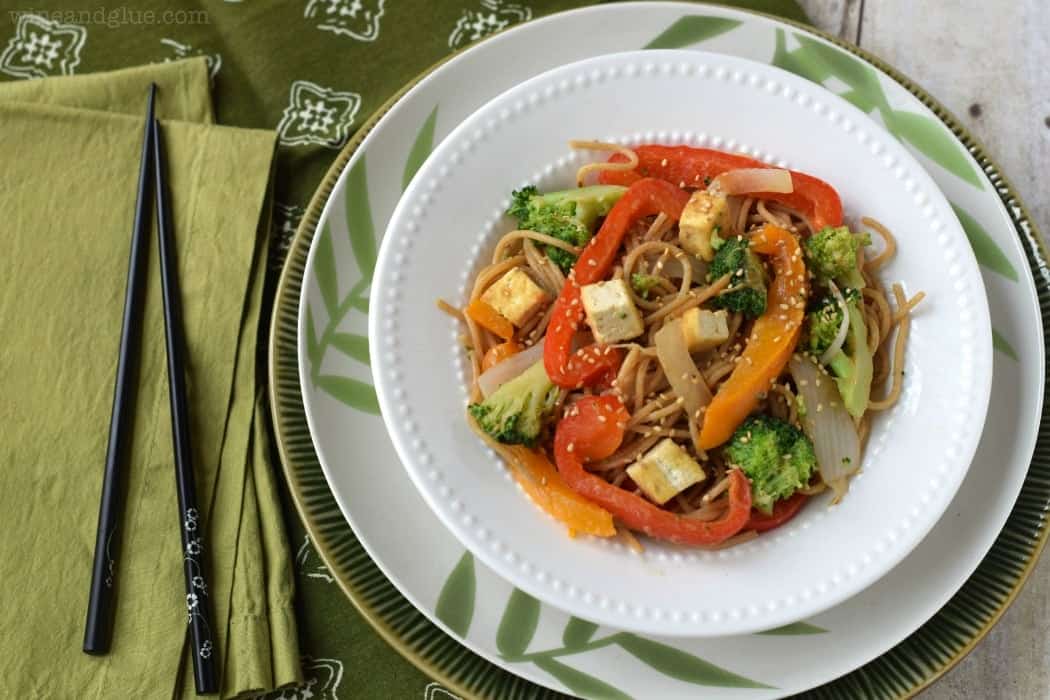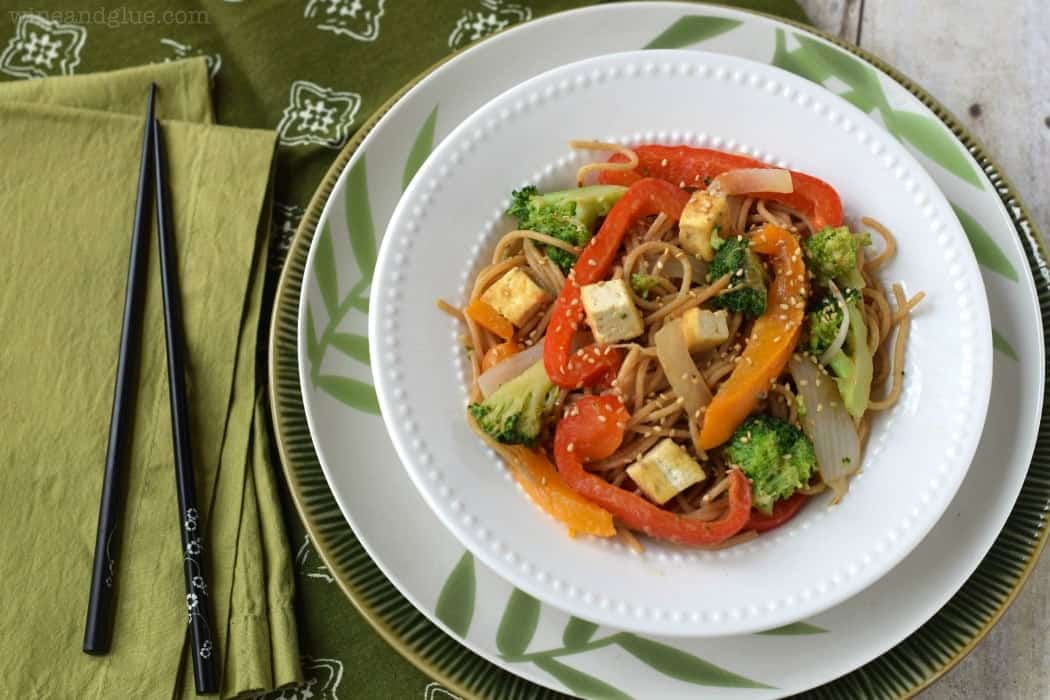 I love this recipe. It is full of delicious and colorful vegetables, and it is SUPER delicious. It is adapted from a Martha Stewart recipe (seriously, it should be called Martha's Meatless Mondays).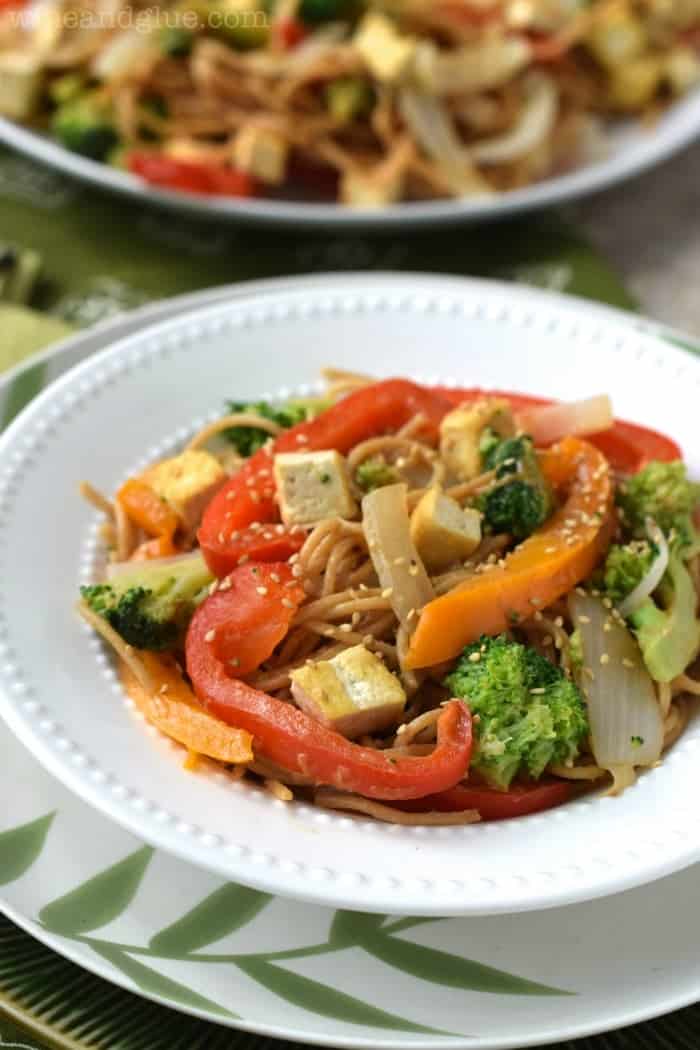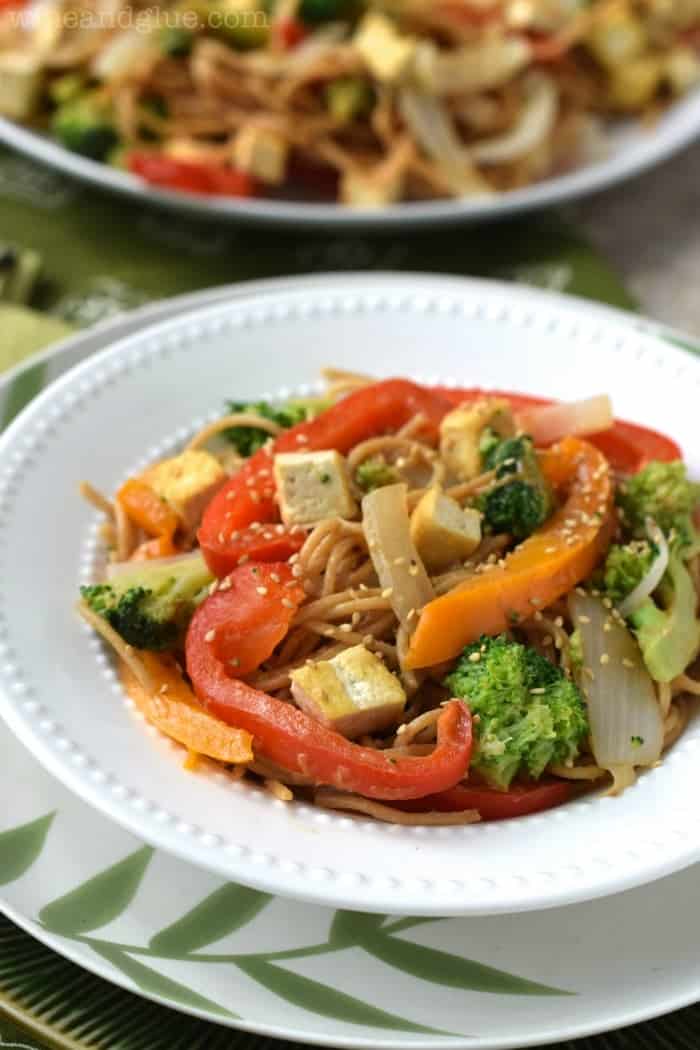 I switched it up a little bit because I wanted to add a little extra protein. So I cut the amount of pasta in half and added a package of tofu.
If you are new to tofu, give it a shot. I grew up eating it, and I think of it like chicken:  On it's own, not so delicious, but it easily takes on the flavor of whatever you are cooking it with and packs a lean protein punch. One package of tofu has 190 calories, 10 grams of fat, and 20 grams of protein. So give it a shot with this recipe, and let me know what you think.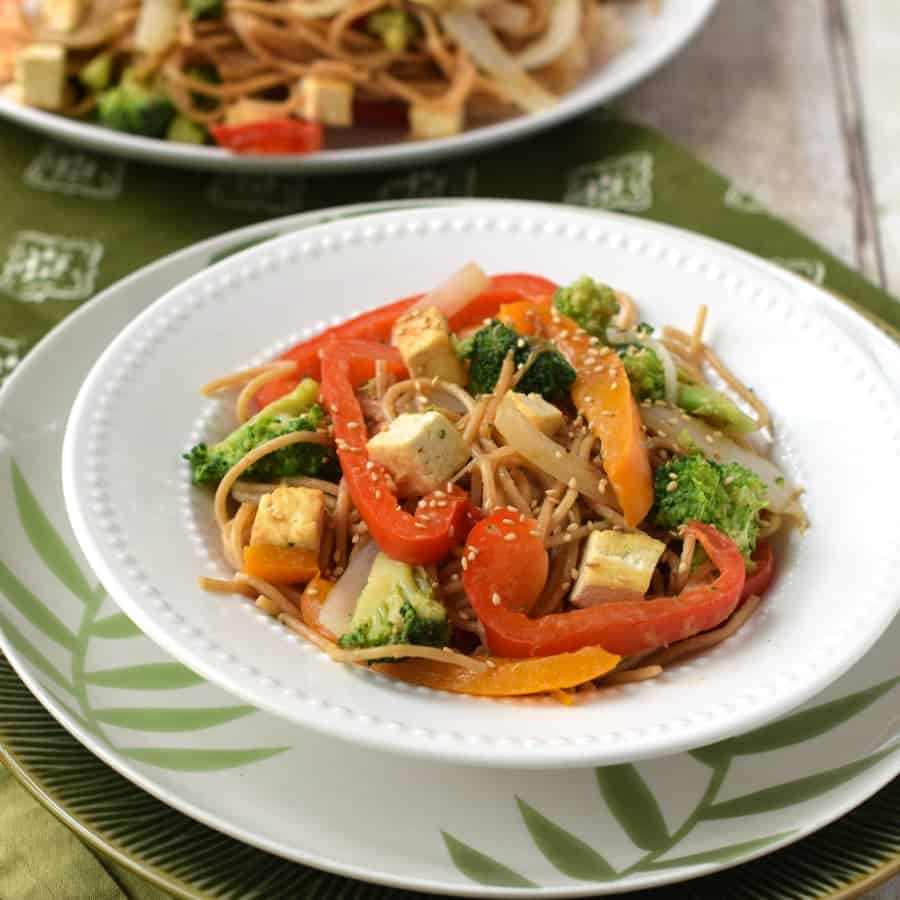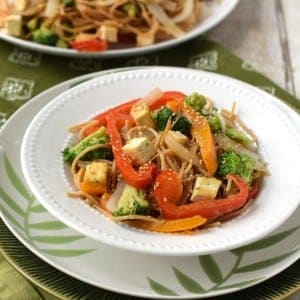 Veggie & Tofu Noodle Bowls
Ingredients
14

ounce

package of firm tofu

6

ounces

whole wheat spaghetti

1

bunch broccoli

cut into florets, stalks peeled and thinly sliced

2

red or orange bell peppers

seeded and thinly sliced (I used three smaller peppers because they were what I had on hand)

1

large onion

halved and thinly sliced

1/4

cup

creamy peanut butter

3

TBSPs

dark brown sugar

2

TBSPs

rice vinegar

2

TBSPs

soy sauce

1

TBSP

toasted sesame oil

2

garlic cloves

minced

1/2 to 1

tsp

red-pepper flakes

sesame seeds for serving
Instructions
Heat a skillet over medium heat. Drain the tofu and cut it into 1/2 inch pieces. Add a small amount of oil to the pan, and fry the tofu until it is crisp around the edges. Remove from heat and keep off to the side.

While the tofu is cooking, bring a large pot of water to a boil. Add salt, and the pasta, cooking three minutes less than the package directions. Add the vegetables and cook until the pasta is al dente and vegetables are tender. About three more minutes.

Drain vegetables and pasta, reserving 1/2 cup of pasta water.

In a large bowl, whisk together the peanut butter (microwaving it for 10 to 30 seconds makes this easier), brown sugar, rice vinegar, soy sauce, sesame oil, garlic cloves, and red pepper flakes. Add the pasta, vegetables, and tofu to the peanut butter sauce, adding a little pasta water at a time if it needs to be thinned out.

Top with sesame seeds, and serve either warm or chilled, it's very good either way!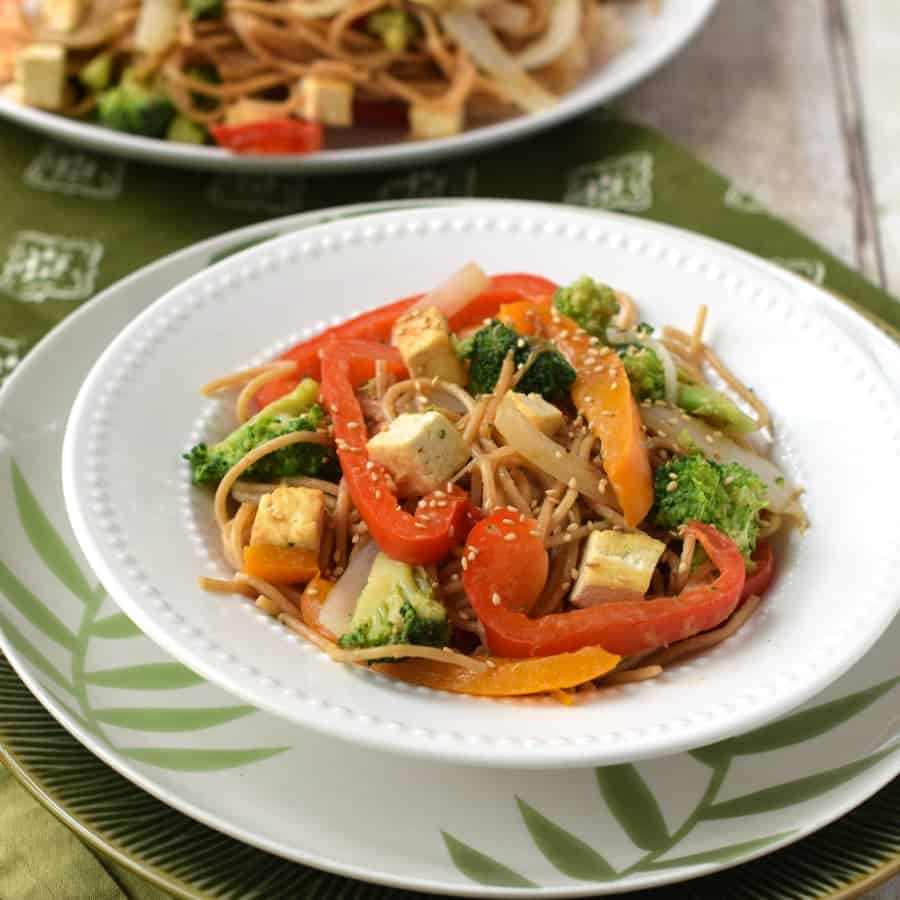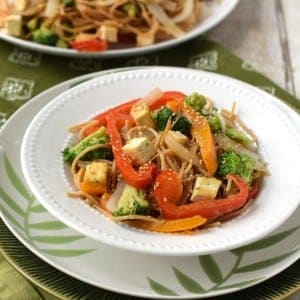 did you make this
Veggie & Tofu Noodle Bowls