Butternut Squash Chili | Delicious and easy vegetarian chili made with butternut squash and served over rice
I love fall. I love the way the air becomes cool and crisp. I love the smell of fall. And the sounds, all crunchy. But even more, I love how fall tastes!
Pumpkins, apples, warm cozy comfort food.
And Butternut Squash. There is so much that you can do with Butternut Squash, and a vegetable that can run you over $5 in the off season because of how heavy it is, is suddenly only like $1.50 this time of year! Especially if you buy them at local farmer's markets. I got the squash I used for this batch when we went apple picking with the kids and it was so ginormous that I only used half! That's $0.75 worth of squash people.

I love a good bargain. Especially when it comes to food.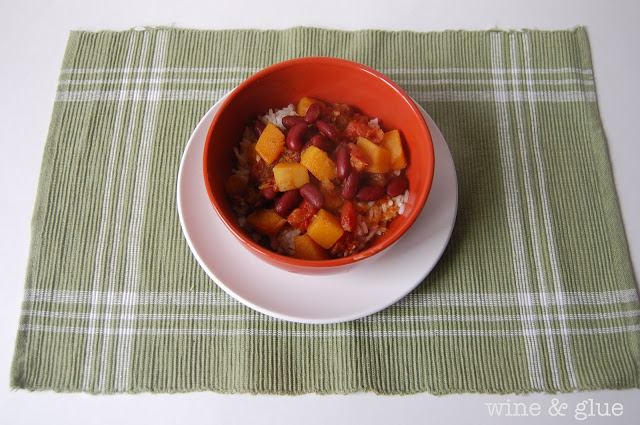 This chili is warm, delicious, and super budget friendly. You can make a pot that will feed a small army for under $10!! Keep the recipe as is for something spicy that will warm you from the inside out, or use the kid friendly directions for something a little more mild that even my kids will eat. Serve it over some rice, and you've got a well rounded and filling meal.
Annnnnnnd, it's vegan!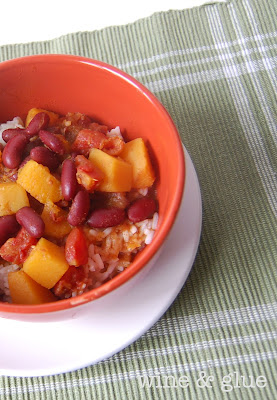 Butternut Squash Chili
2 tbsps olive oil
1/2 a large butternut squash, cubed (about six cups)
3 cloves of garlic, crushed and diced
1/4 cup chili powder (only 2 tbsp to make it kid friendly)
1 tbsp cumin
1/4 tsp cayenne pepper (omit this to make it kid friendly)
32 oz can of diced tomatoes in their juice
2 cups of water
2 15 oz cans of red kidney beans, drained and rinsed
cooked rice
Heat the olive oil over medium high heat and add the cubed squash. Season the squash with salt and pepper. Stir occasionally and cook until tender, approximately 10 minutes.
Add the garlic and spices and stir to coat the squash.
Pour in the diced tomatoes and their juice, scrapping up the brown bits from the bottom of the pan. Add two cups of water and bring to a boil. Reduce the heat to low, cover, and let it simmer for 20 minutes, or until the squash is very tender.
Stir in the beans, and let them heat through.
Serve over rice and enjoy!