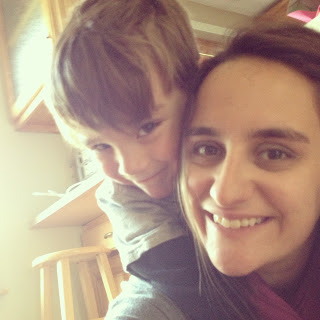 Mommy Guilt.
Two ugly little words that play in and out of my head on a daily basis.
The last Friday of each month, I have been participating in While Wearing Heels' This Is Me experiment. The idea is that we as women, as mothers, as bloggers, step out from behind the camera and take pictures of ourselves.
And since I want my children to know what I looked like before they make me completely gray, I love this idea.
Amy asked me to help her in choosing the theme for May.
I chose:  Me time.
I thought it fit really perfectly with May, Mother's Day, you know the deal.
Here's the problem.
Mommy Guilt.
It wasn't until I actually considered this and actually tried to capture some "me time" on camera that I realized that while I do take time for me, it is sparse, it is more and more related to blogging, and it is hardly ever pretty.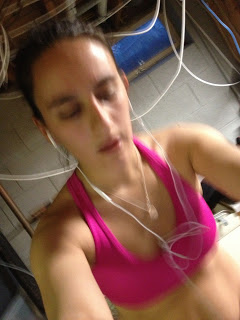 Working out it my dingy basement
When I first started blogging, pretty much the sole purpose for it was to have something for me. Something that I could be really proud of outside of my children, because while I try my hardest with them, I don't feel like I can take the credit for the awesomeness.
But slowly over the last six months or so, my blog has become a business. It's become a source of income that my family actually really uses and needs.
So now, when I head off to Starbucks with my laptop and my headphones, it's an enjoyable time . . . . A really enjoyable time! I big fluffy pink heart love blogging and all that goes along with it. It's just . . . well, I wouldn't really call it me time.
It's work.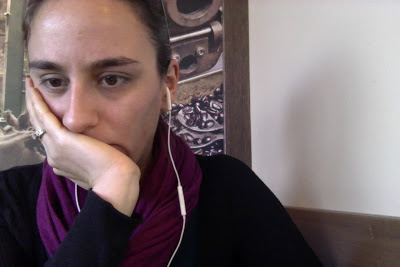 Working at Starbucks
And this is where I come the point of . . . .whomp whomp . . . . mommy guilt.
It's really easy to tell my friends, to tell other moms I know and adore, that if you don't take time for yourself, you won't be as good of a mom.
But that's something I really struggle with.
How can I spend all this time at my computer, all this time baking and crafting and photographing and editing and Etsying and then on top of that take time for myself?
It just doesn't seem like there are enough hours in the day to both give to my marriage, my kids, my family, my blog, my Etsy shop . . . and then to me.
And when I do try to take some of the little extra me time, I end up feeling so restless and guilt ridden, thinking of all the things I should be doing instead.
I don't necessarily have an answer.
Okay, I for sure don't have an answer.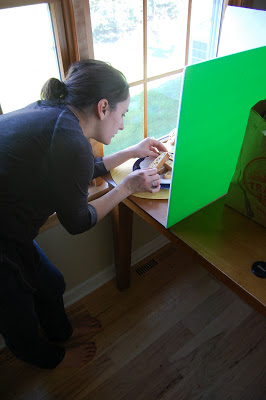 Setting up photos for Cookie Butter Biscotti
You know, I vividly remember when I was little complaining to my mom about her not giving me enough time. She very clearly looked me in the eyes and gave me her list of priorities. And I don't think I even made the top three.
Right up at the top was God, my dad, and herself.
And maybe that's what made her such a phenomenal mom. She knew enough to put herself, her marriage, and her spiritual life first, because in doing so it would make her more available to us when she was with us.
And yet . . . Mommy Guilt.
So tell me.
What is your answer?
How do you take time for yourself? What is your "me time" and how do you feel about it? Are you able to bask in it and enjoy each second so that when you are back with your family you are really with them?