Okay, Nursery Makeover! is a bit of a misnomer. Because there are no before pictures. Because I was pregnant and exhausted and couldn't deal with before pictures when it was before. Forgive me?


What I do have for you is a post more full of pictures than my diaper pail is of dirty ones. And hopefully coming soon (you know, like before Piper leaves for college) is a bunch of tutorial posts on how to make some of the the fun stuff in this post . . . . but mainly I just want to show off my baby's cute room.
And if you are wondering, yes her outfit does coordinate with the room.
And yes it was intentional.
Please forgive my less than awesome picture . . . I'd so much rather take pictures of cookies.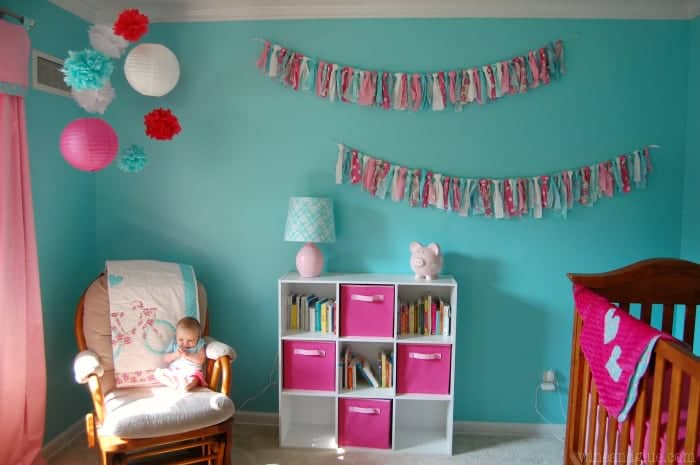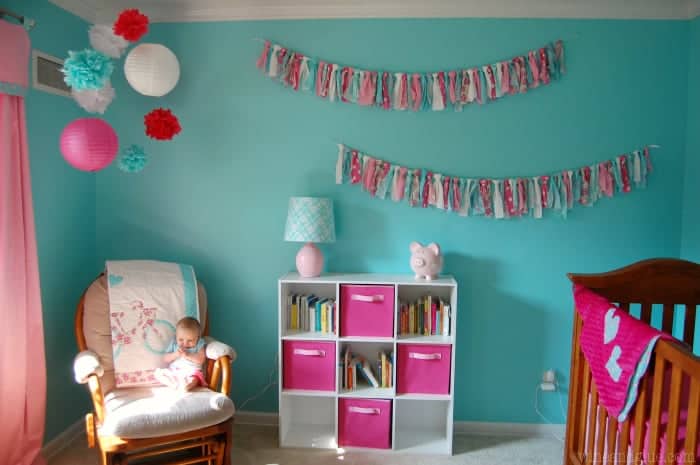 In the picture above you can see my favorite part of the room, the scrap fabric garland. You might be able to tell that there were some sewing projects involved in Piper's room, like the quilt on the chair, the blanket on the crib, and the fabric around the lamp. I used all the scraps of fabric to make the garland and I'm so so happy with how it turned out.
I also have to give a shoutout to that book case/bin holder. I've used it in every nursery I've put together, and it's just so perfect for so many things.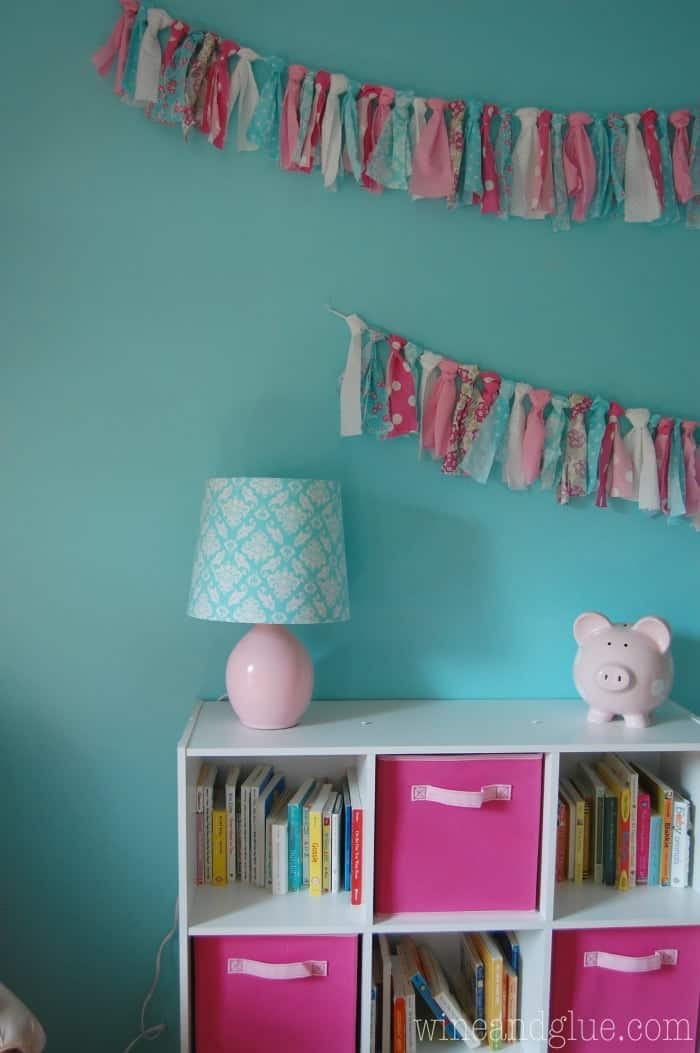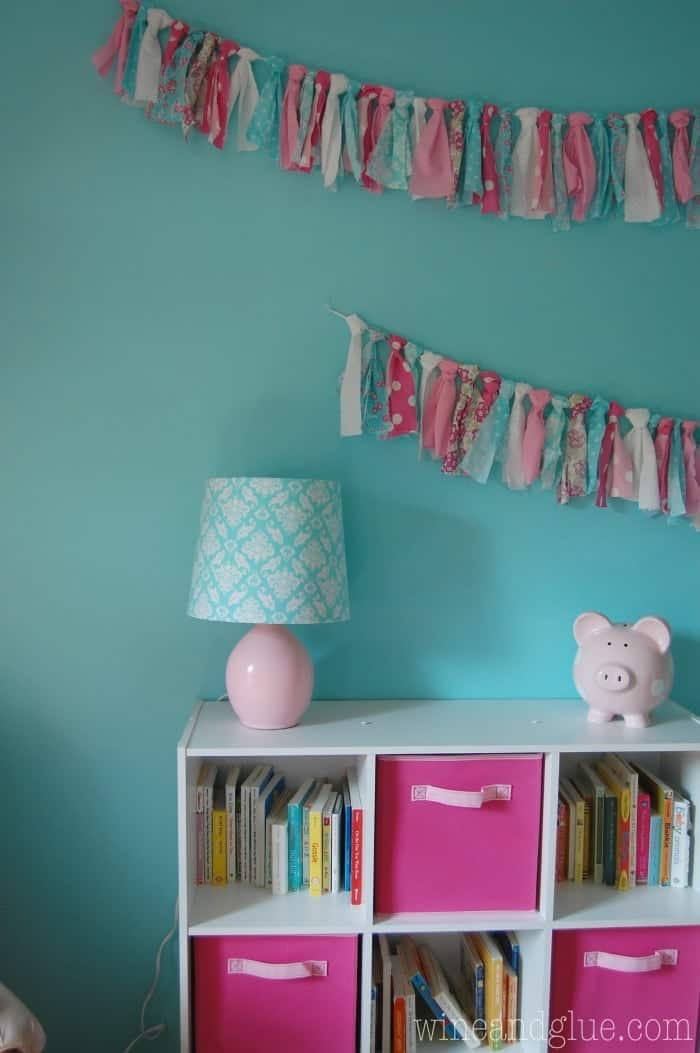 Here's a closer view. The lamp was a GoodWill purchase that was spray painted and then the lamp shade covered in fabric that matched the other fabric used in the room. This tutorial was super helpful.
Oh, and here is the piggy bank!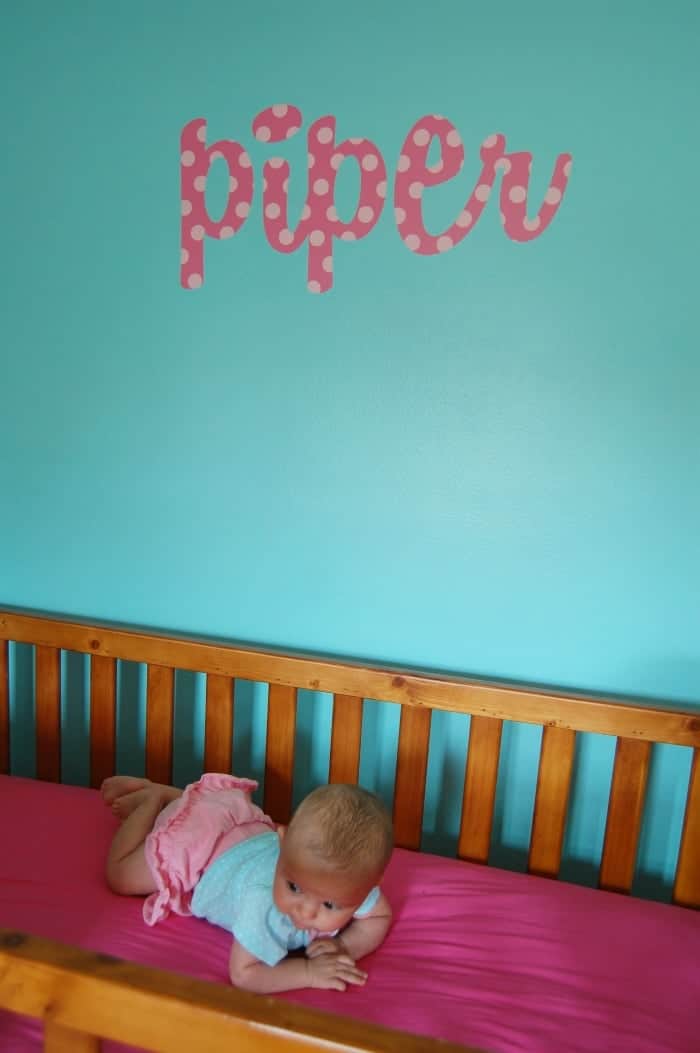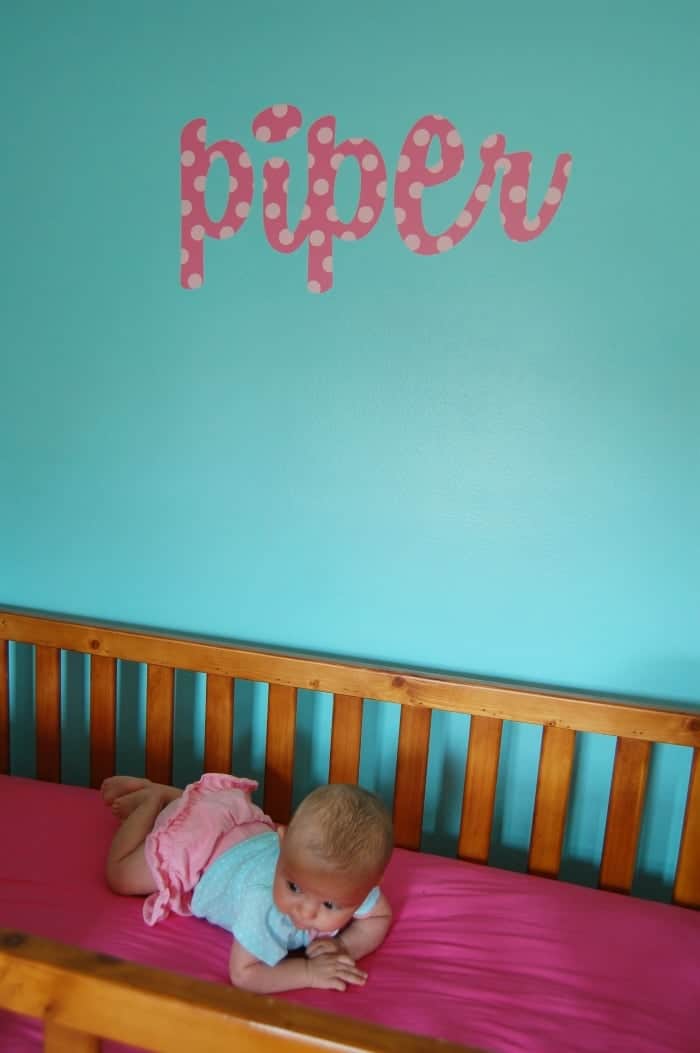 Another favorite part of Piper's room for me is her name over her crib. It looks vinyl right? It's not! It's painted on in layers! I will have a tutorial of that on the blog soon. I loooove how it turned out.
Here's another view of it.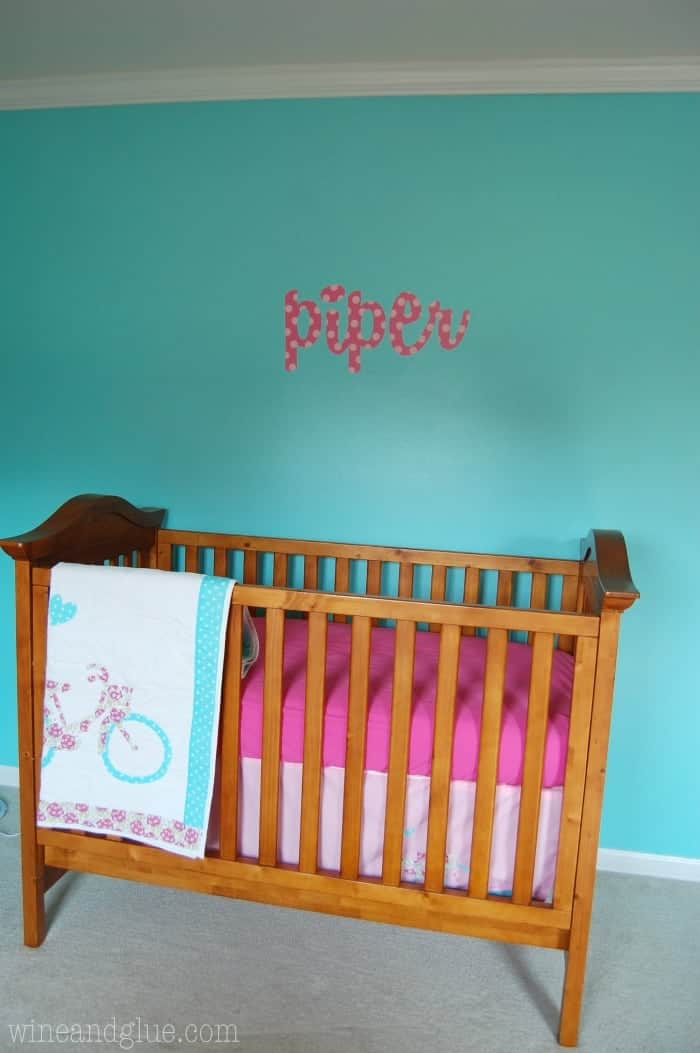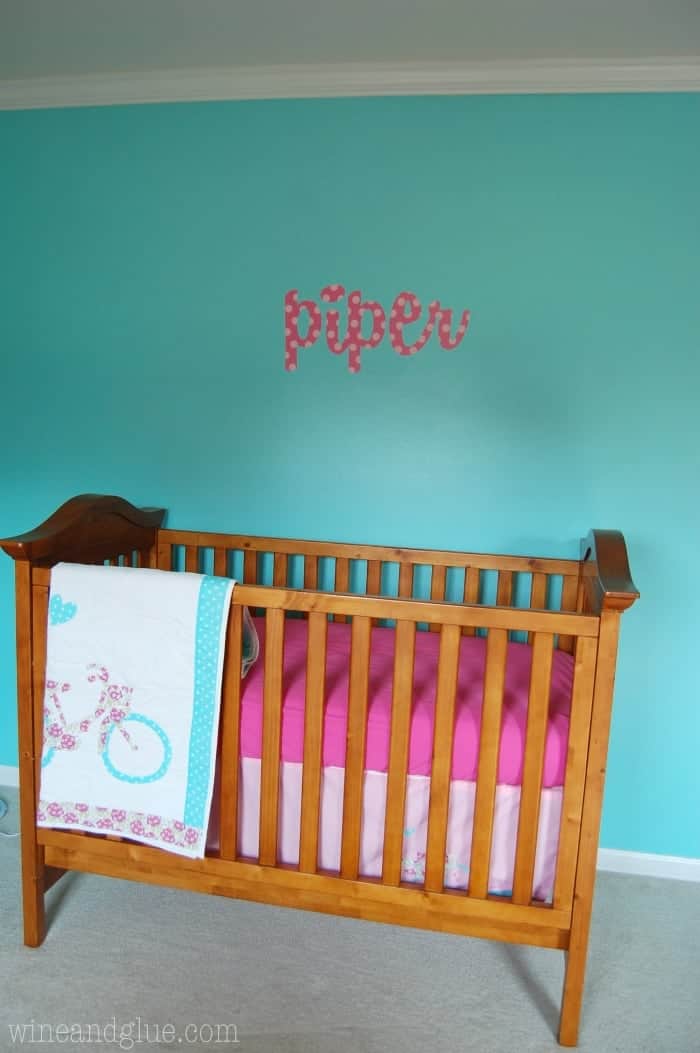 I've wanted to decorate a nursery on my own for a long time. Like make all the different pieces rather than buying a set. I wanted to do it with Quinn, but I didn't feel like my sewing skills were up to par . . . or really existent. Things have come a looong way.
Piper's nursery started out with my designing the quilt you see above (hopefully I will have a tutorial on that too), and kind of went from there. You can see the same bike on the bed skirt and in the canvas art below.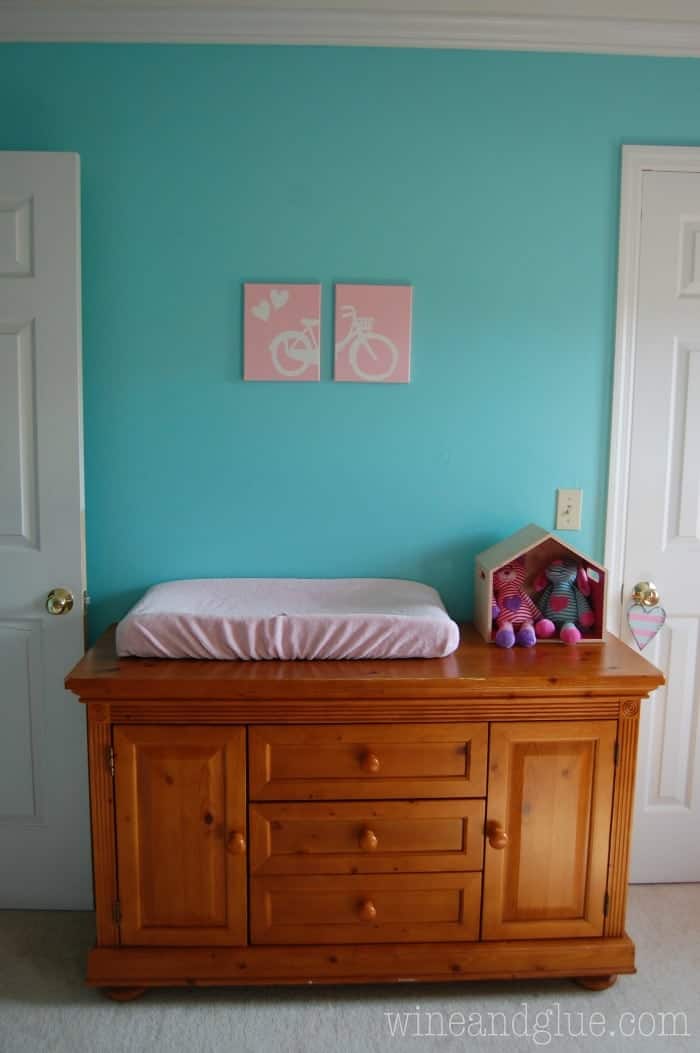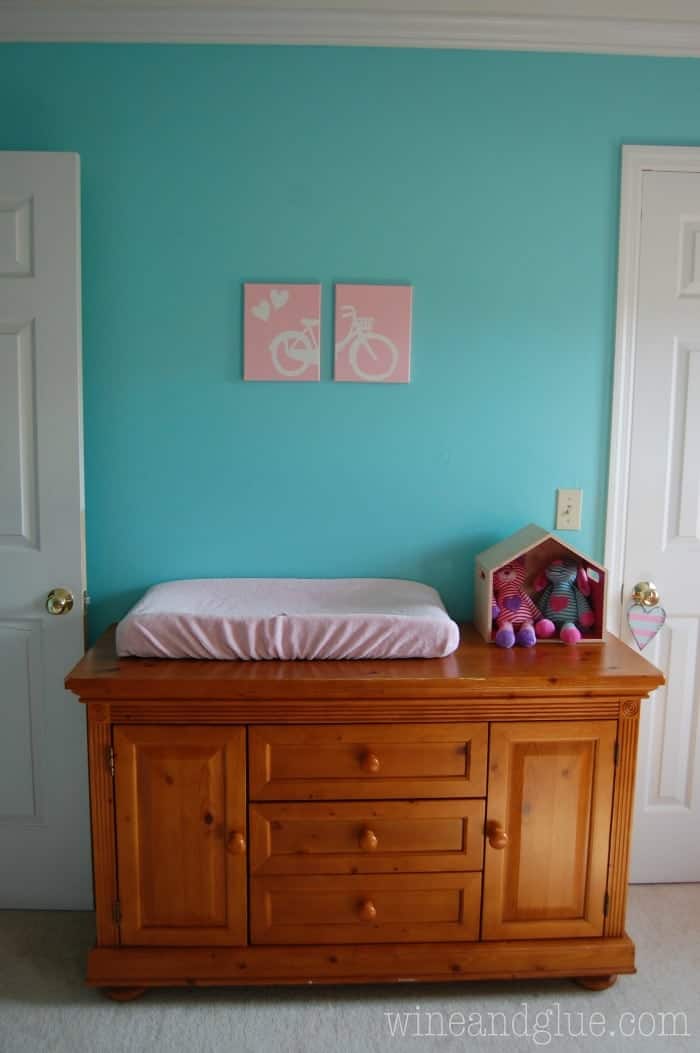 The little house and and the two animals were found on clearance at Target and were so perfectly color coordinated that I had to buy them. My husband said, "What are you going to do with that little house??" And I responded, "What am I not going to do with that little house??"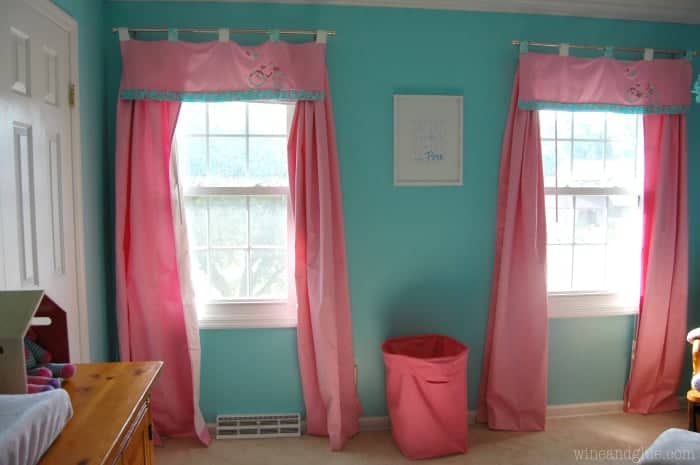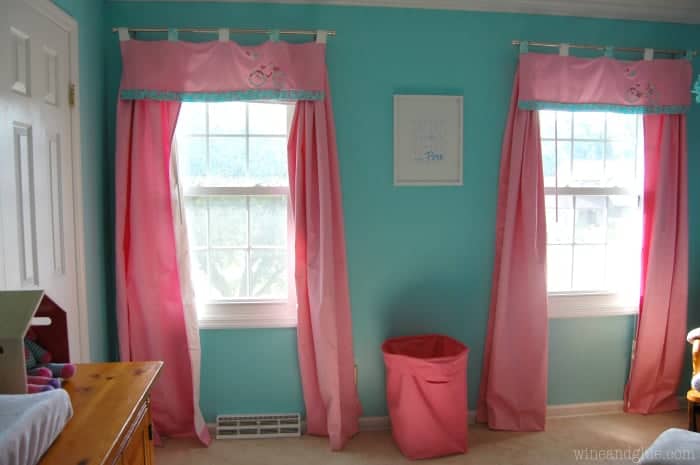 You can see the bikes on the window valances too, as well as more of the fabric I used. That laundry bin is my ABSOLUTE favorite (we have three more in our house and a fourth on the way) and is from Land of Nod. Oh, and those curtains are the absolute bomb. They are room darkening, and the only kind I will ever by for my getting up too early children.
The art in the middle of the windows is an ABC, P is for Piper Lisa original that I may or may not have scammed off an Etsy artist. Eeeek! #shameful  Hopefully I will have a post up for that sometime soon, where you can download a file and easily customize it for your kiddo.
And how about one more view of our super cosy spot that Piper and I spend many many hours together. The lanterns were bought from a party store and the puffs were made from that tutorial you have seen 800 times on Pinterest. They are held to the ceiling with thumb tacks and fishing wire.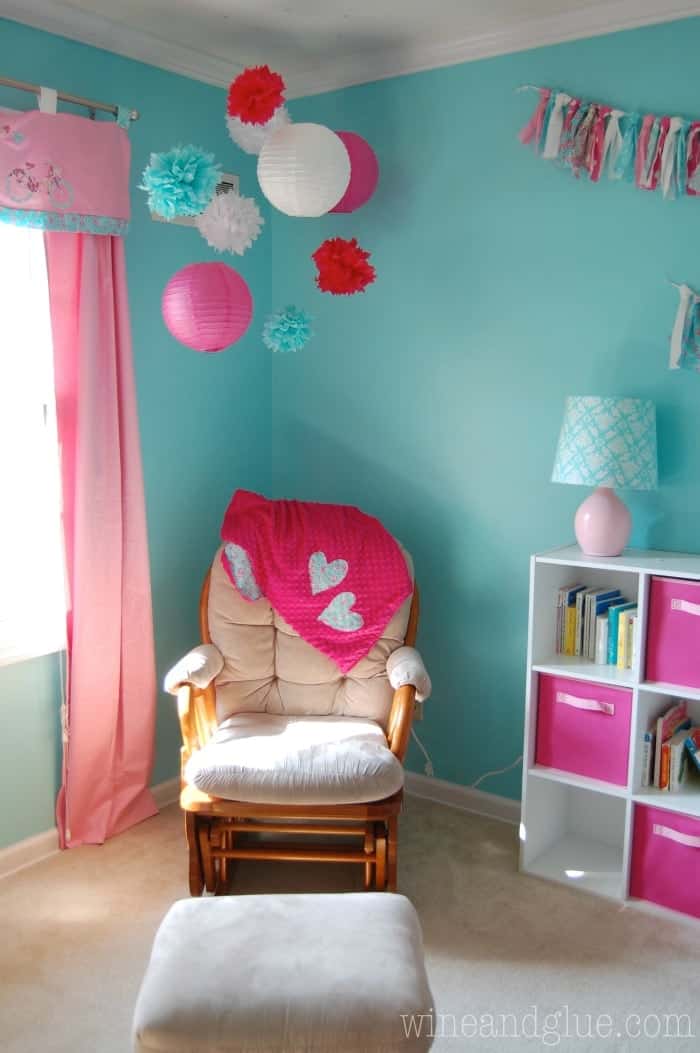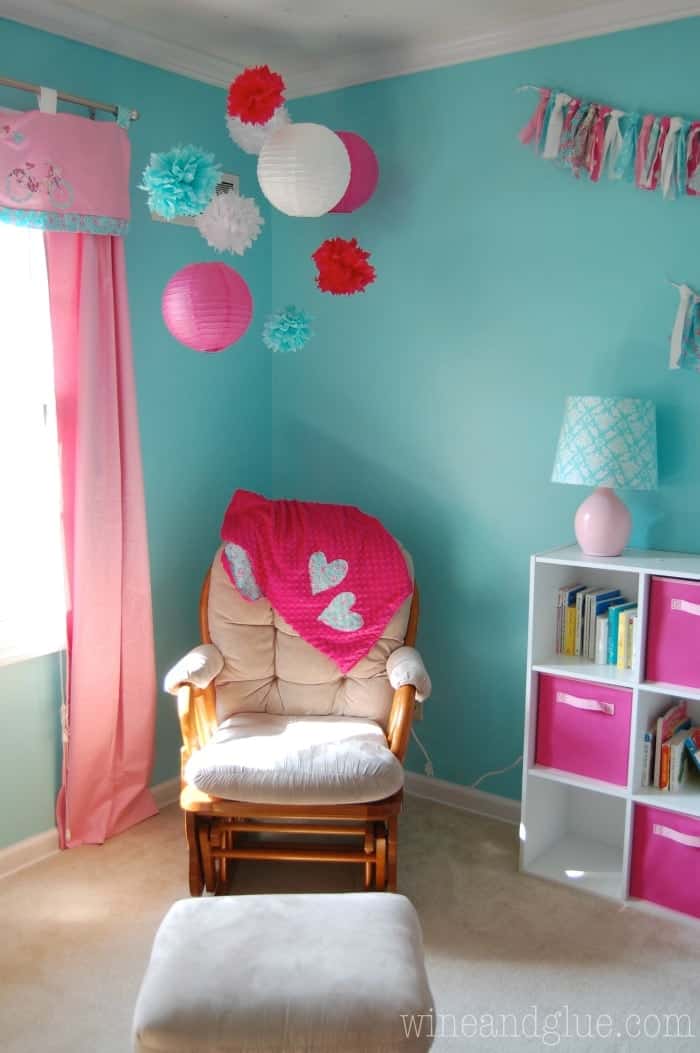 Two important disclosures:  1. This post contains affiliate links, thanks in advance for supporting Wine & Glue. 2. This room was never this clean as it was for this pictures, before or since.