Does anyone remember that magazine, YM? It stood for Young & Modern? Yeah . . . well at 14, I was young, but I was in no way modern. None the less, I obsessed over the magazine with all its teenage drama and angst. I even remember sitting at the kitchen counter talking with my mom about some pour tortured teenager who had shared her story with the magazine. Her boyfriend had broken up with her or she had a zit on prom night or something. Kuddos to my mom for getting through that conversation with a straight face.
Anyway. My obsession got carried over to the back of my bedroom door where I methodically made a magazine collage of every interesting word and image I could find from with scotch tape over the entire door. (Fast forward ten years and you see my dad cursing my name as he tries to take them down!)  "My-So-Called-Life" may or may not have played a staring role. I mean, who can say no to Jorden Catalano??
And when I ran out of space on my door, they went around the edges of my windows (apparently I can't cover wood bedroom spaces with magazine clippings fast enough). When I ran out of space there they went on the front of cassette tapes, making the perfect covers for such powerful and moving collections of music such as, "Sad Days" and "Happy Days." Yup, I've always been a word smith.
I'm still kind of obsessed.
But now I get to torture all of you with my "collages." Seriously, if I could spend eight hours a day playing around with graphics, I would be a happy
happy
woman.
Anyway. Want to see some of the fonts I'm loving lately? They are all free and gorgeous! I love downloading new fonts. It's like a fun new toy to play with.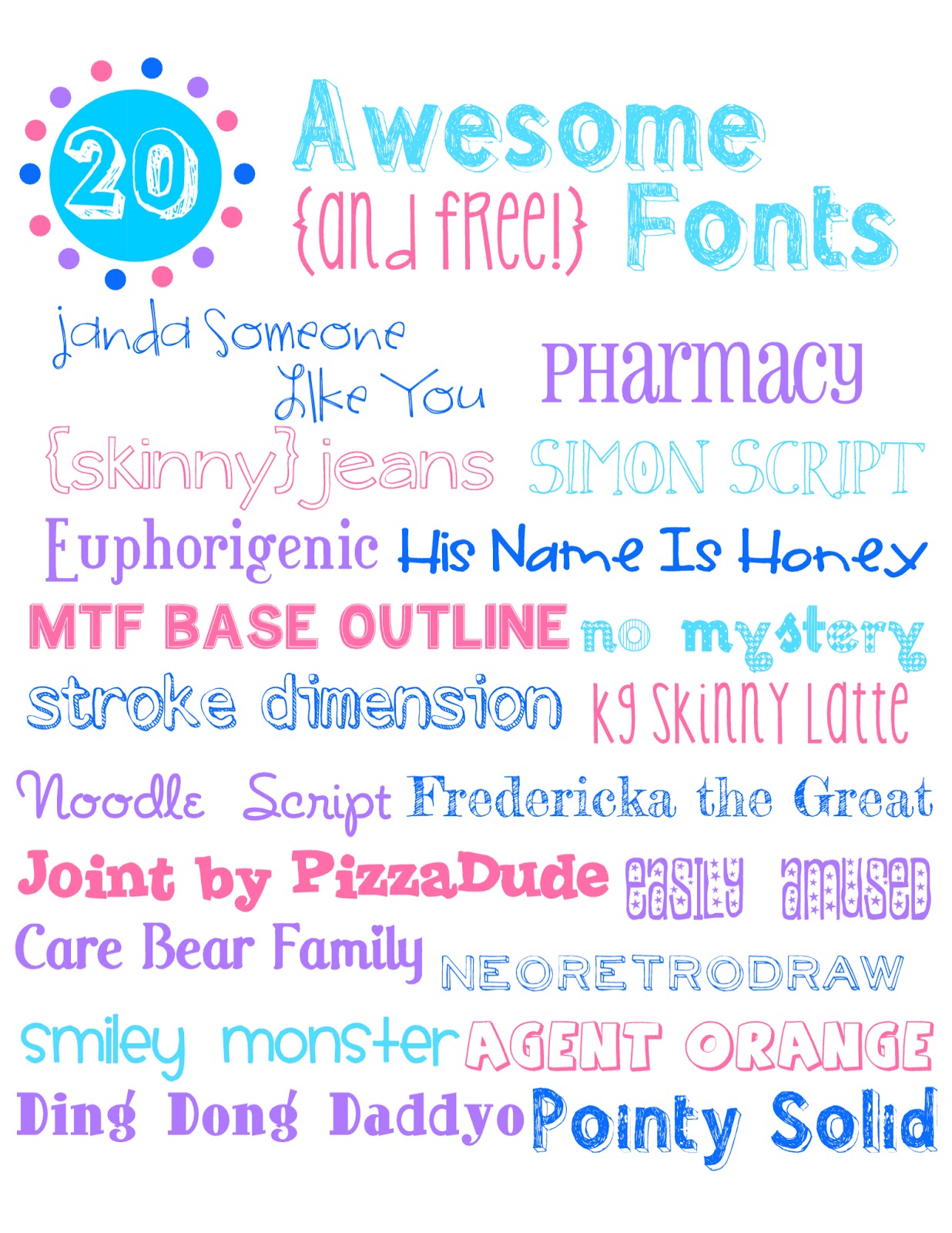 Want to download some of them? I made it all easy for you with links and stuff.
Janda Someone Like You
Pharmacy
{skinny} jeans
Simon Script
Euphorigenic
His Name Is Honey
MTF Base Outline
no mystery
stroke dimension
KG Skinny Latte
Noodle Script
Fredericka the Great
Joint by PizzaDude
Easily Amused
Care Bear Family
NeoRetroDraw
smiley monster
Agent Orange
Ding Dong Daddyo
Pointy Solid