What to do with a high energy four year old on a day like this?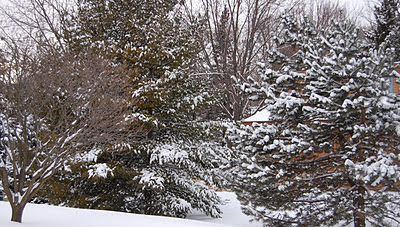 I kind of gave it away already, didn't I?? The answer? Puffy Paint!! And it could not be easier. All you need is:
1 TBSP self-rising flour
1 TBSP salt
water
food coloring
paint brushes (or the original author suggests Q-tips)
and cardboard (fantastic, I was looking for something to do with the 8,000 cardboard boxes in my garage!)
I got this idea from Skip To My Lou. She's kind of awesome, and has a million great ideas of things to do with kids. I will definitely be reposting more of her ideas here.
Mix the flour and the salt together, then add a little water. It took me about 1/2 a TBSP to make it the right consistency. Then add some food coloring to make it the color you want. Now make some more. And more. And more until you get the colors that make your four year old satisfied. (For a while now his nick name has been The Tiny Dictator.) This is what mine looked like.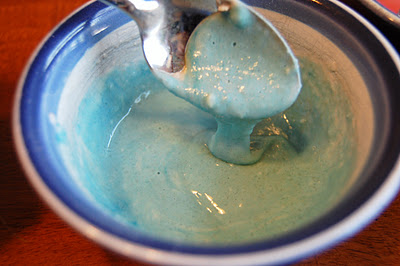 Now let the kiddos paint with it on cardboard. Paper plates work really nicely too and keep you from having to cut up cardboard.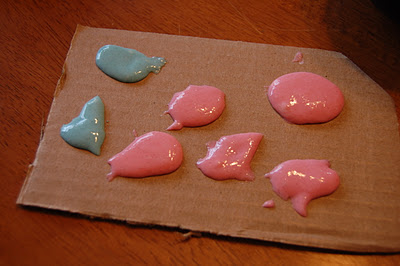 After their painting is done, microwave it for 10 seconds.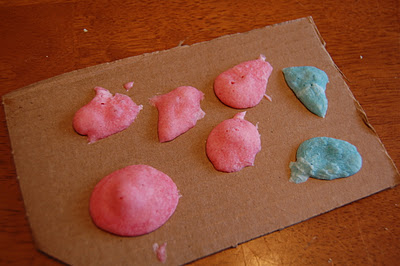 Again, this was one of those activities that Gavin asked to do again and again. Like starting first thing in the morning every three minutes until I finally finished making breakfast and eating it and started making the puffy paint.
**When I first wrote this post, I hadn't yet discovered the wonder of using muffin tins during crafts. Thank goodness we've done puffy paint approximately 7,325 times since then. It works so well! And it means that Gavin gets to use more than four colors! I'm one of those mean moms who doesn't want to wash 16 different little bowls. Check it out.