Rainbow Party! | A TON of amazing rainbow party ideas!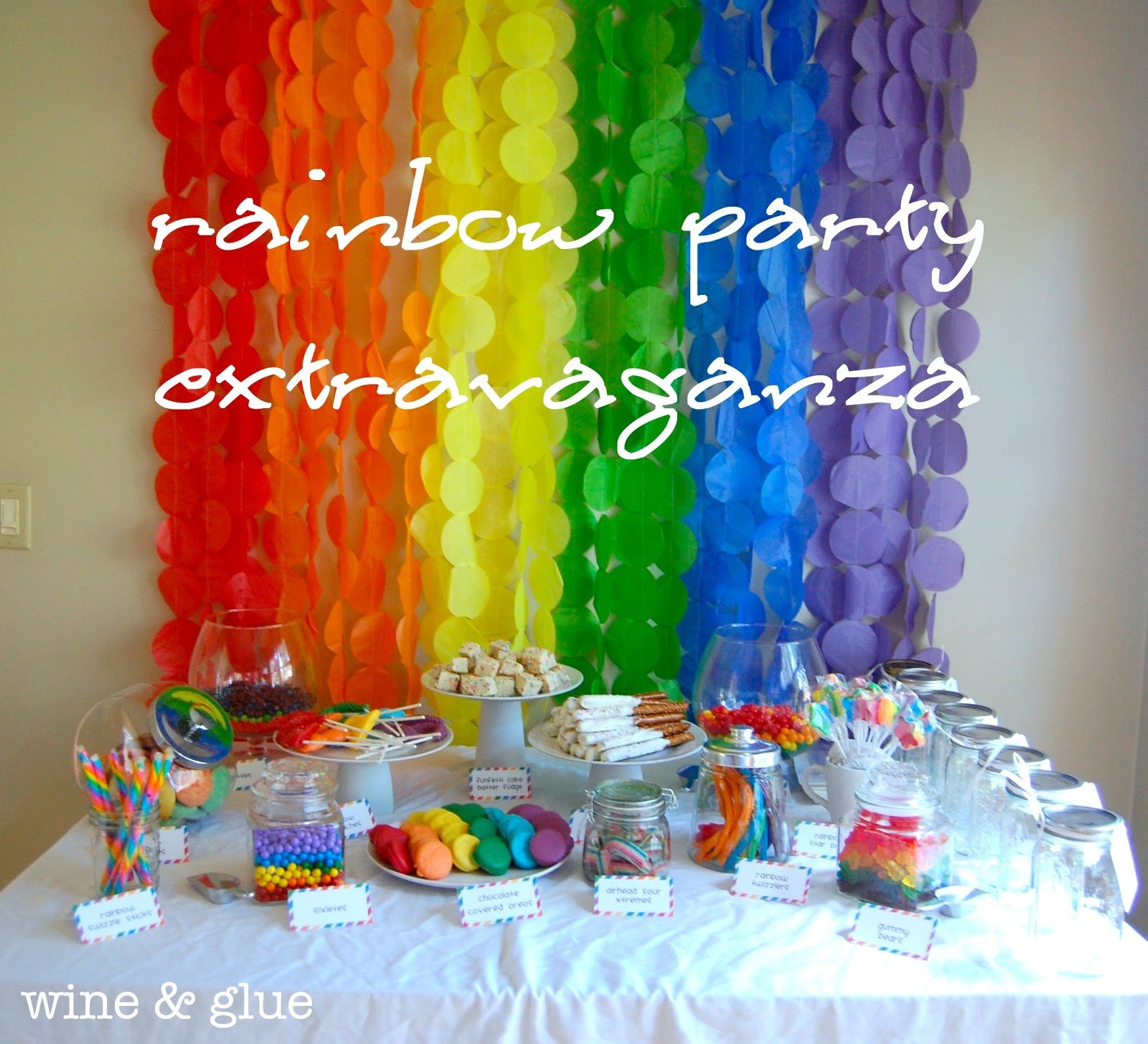 Finally! The Rainbow Party Post that you all have been waiting on the edge of your seats for! (It's okay to admit it.)
After being all consumed by rainbows for the last . . . ah hem . . . six months or so . . . I don't really want to see anymore rainbows for a while! But here it is in all it's colorful glory. Prepare yourself for an onslaught of rainbowosity.
One of my favorite decorations for Quinn's party was the custom Keep Calm and look Somewhere Over The Rainbow sign. I used my Silhouette Cameo and the same method as I did with Quinny's nickname art. (Much to my dismay, the only pictures I took of it were with my cell phone . . . come on, Lisa, use your head!!)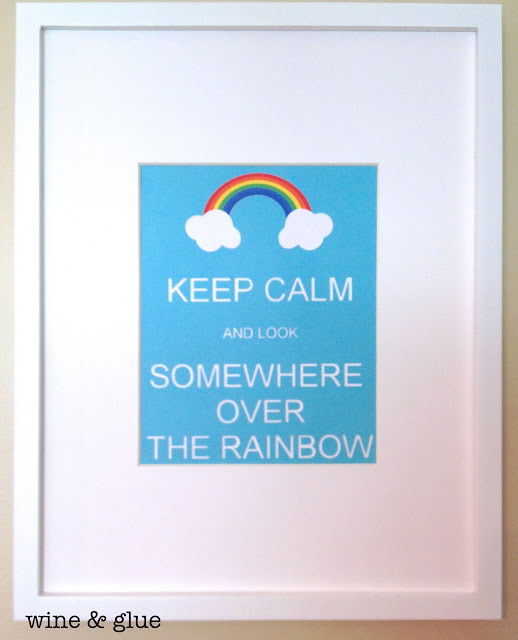 Beneath it I strung a line of thing vinyl rope from Michael's. (Okay, full disclosure:  I have NO IDEA what kind of rope it was. The packaging for it is looooong gone. But it was slippery, cheap, in the back of the store, and only like $1.20 for 27 yards. And it worked magically.)  On the "rope" I hung the month by month pictures of Quinn that I altered using PicMonkey with tiny little rainbow colored clothespins from Michaels. (For a closer look at Quinny's month to month cute explosion, click here.)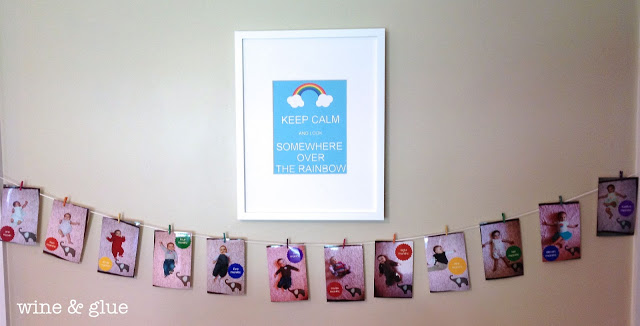 Also in the decor were some rainbow pinwheels lining our driveway. It was perfect, because I had so many pinwheels left over from the Rainbow Wreath.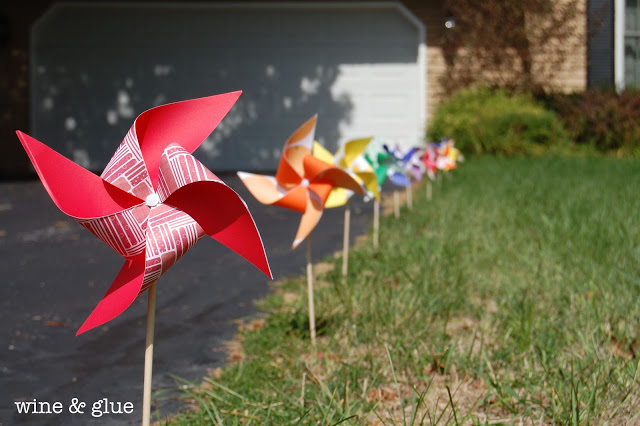 Given that I've been planning Quinn's Rainbow Party since she was in utero (okay, not really, but close). I was able to snag these sweet rainbow rugs at Target in the dollar bins around St. Patrick's day.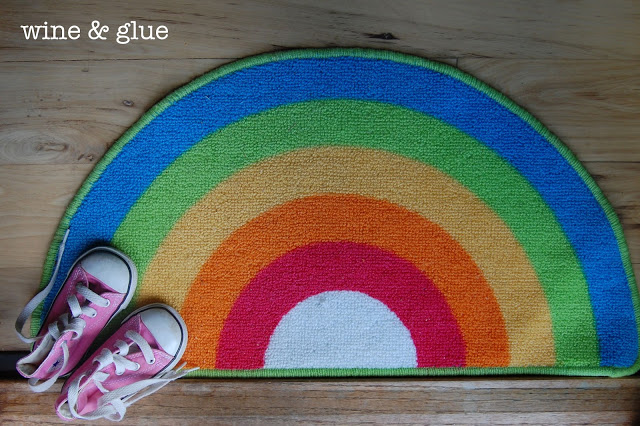 Over the fireplace we
created a shrine to Quinn
hung a few of our favorite pictures from the year, using more nameless rope and clothespins.
(At one point in the party my dad looked at me and said, "So . . . you've got a few pictures of Quinn up, eh?" Thanks Dad.)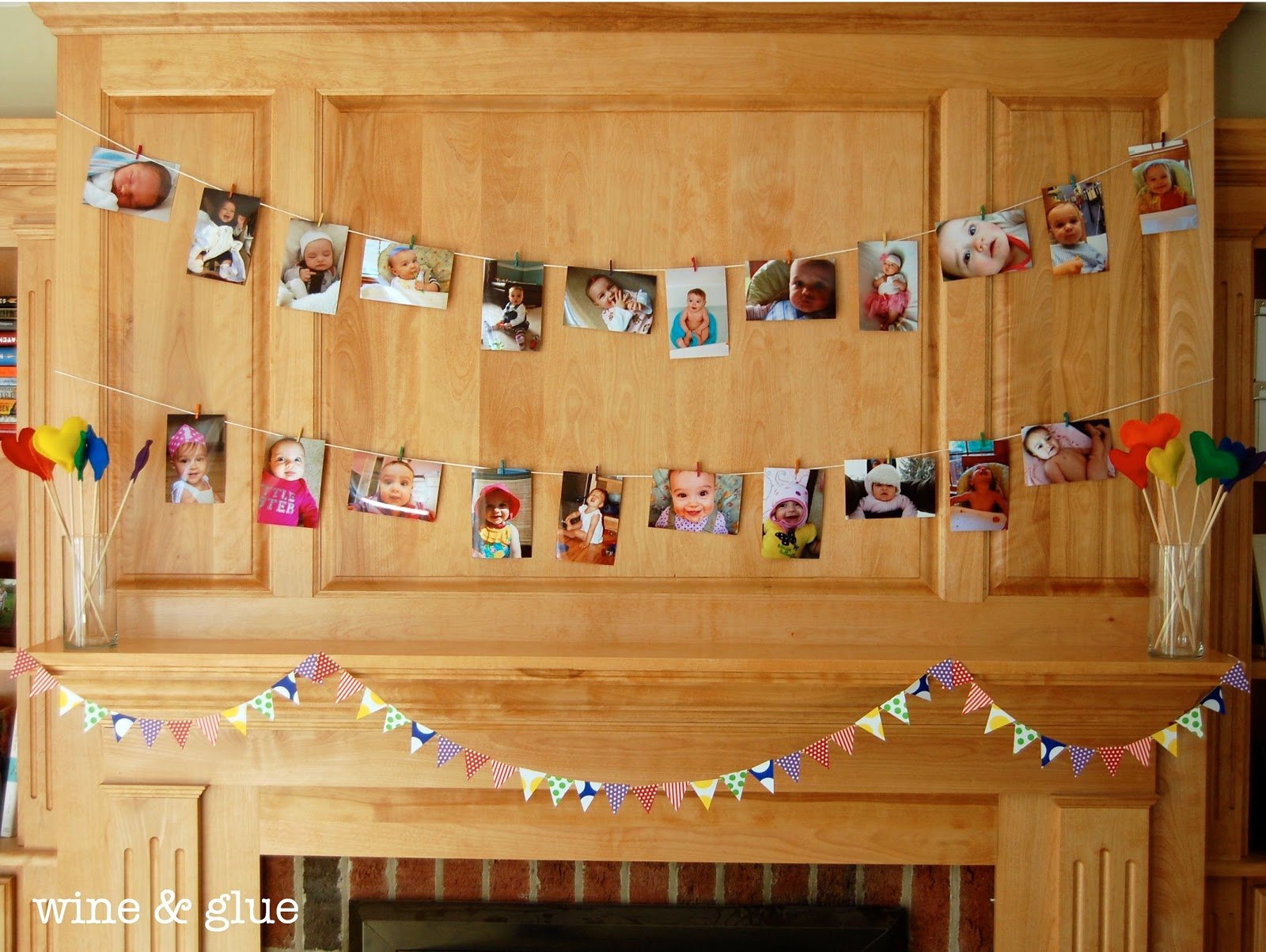 I hung a rainbow pennant banner that I created with my Silhouette, and added simple dollar store vases filled with felt heart flowers made using craft felt, wooden dowels, poly-fil stuffing, and a hot glue gun. If you listen very closely, you can hear me screaming in agony as bits of poly-fil laced with hot glue land on my finger and promptly remove a layer or two of skin.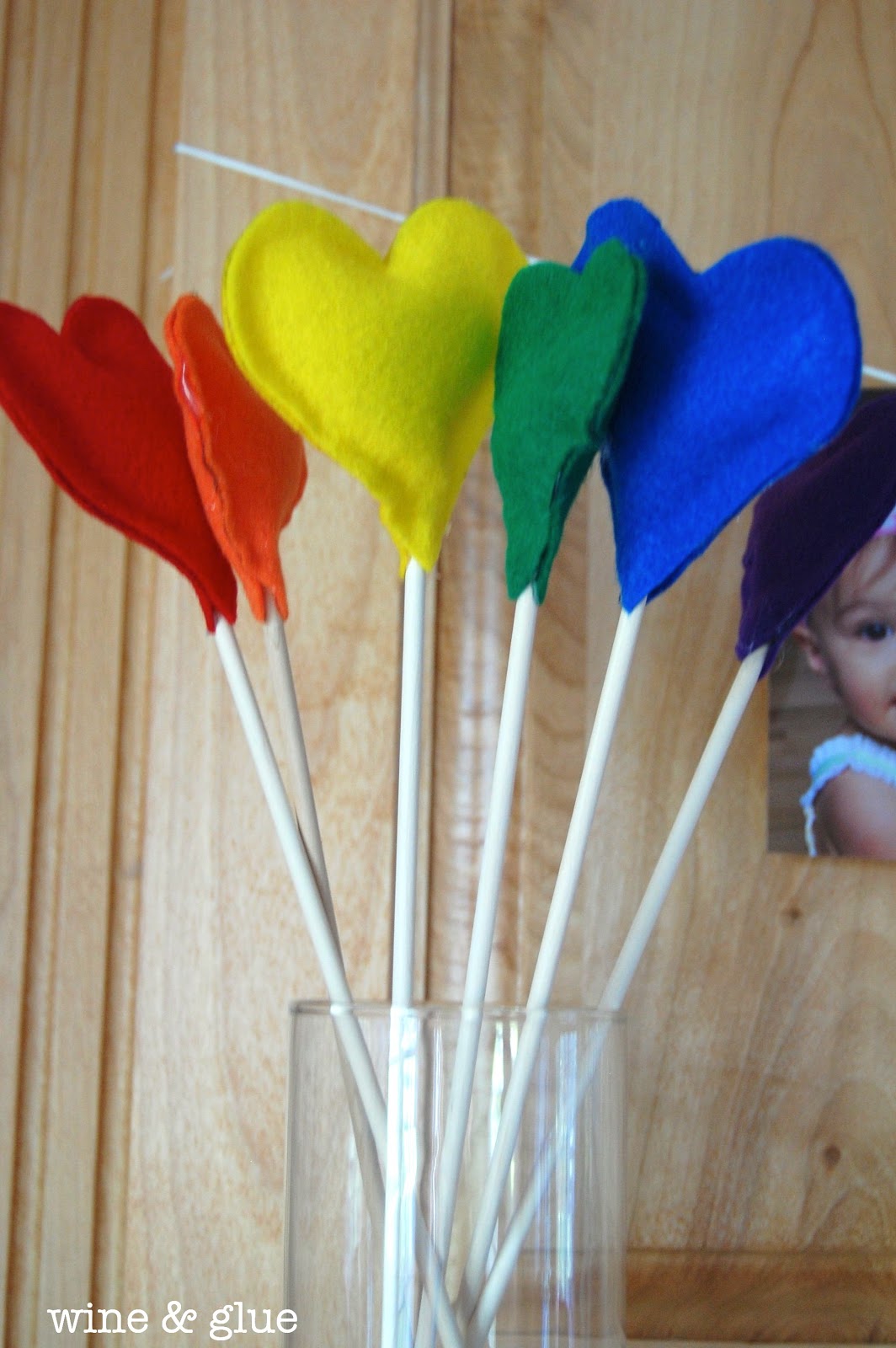 We strung some rainbow paper chains in the doorways. It was a wonderful (read: cheap) way to decorate. I don't have a great picture of them other than this adorable picture of Quinn with her Uncle Justin (who are these bloggers who can create a beautiful party, host it, and take amazing pictures of it???).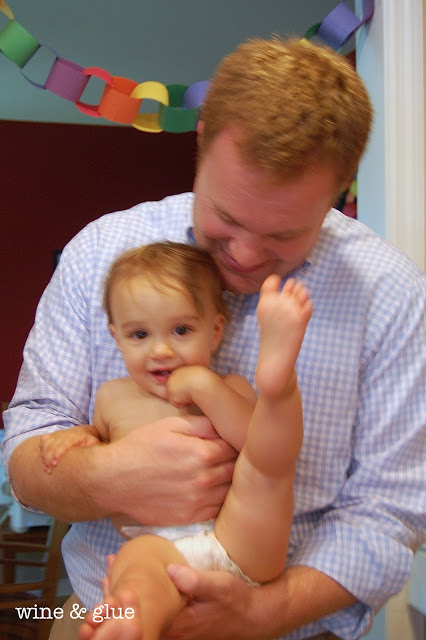 But perhaps the coupe de grace of the decorations was The Rainbow Dress Disaster hanging resplendently in all her glory . . . . with more pictures of Quinn.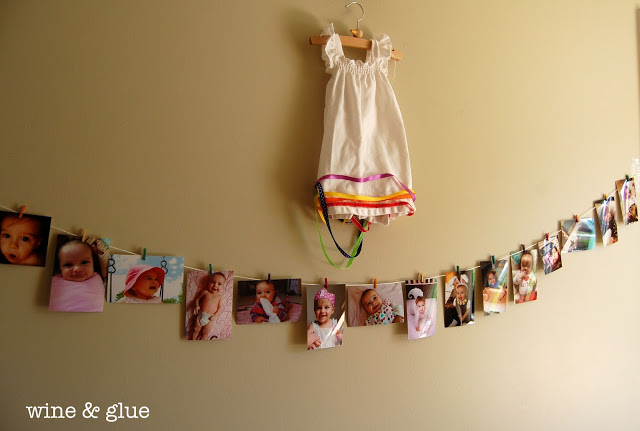 The piece of the party that probably took most of my time, but turned out the coolest, was the candy table.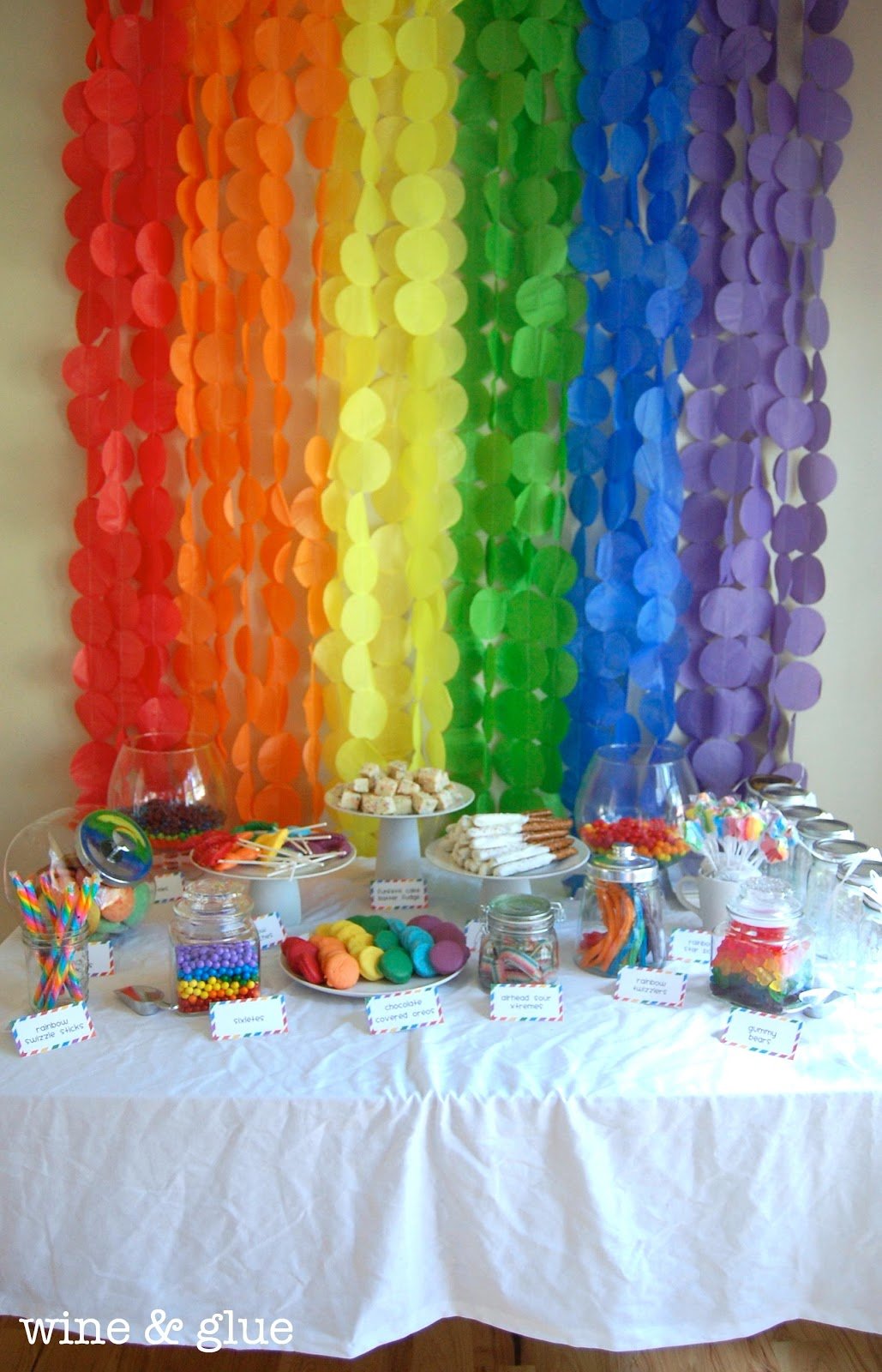 The tablecloth is the remnants of the rainbow dress (ha!) and most of the containers for the candy were purchased at Goodwill for a dollar or two. The cake stands I made from a white plate and a glass purchased at the Dollar Store (the glass was spray painted white, and the plate kept plain and then I glued them together).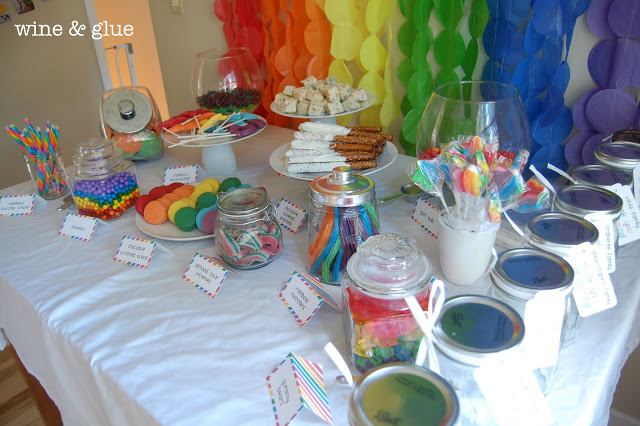 I made the tags for the candy by creating a rainbow striped background in Gimp, and then importing that to my Silhouette software so that I could add in the names of the candy. The absolutely yummiest part of the table? The Funfetti Cake Batter Fudge from Pursuit of Hippiness.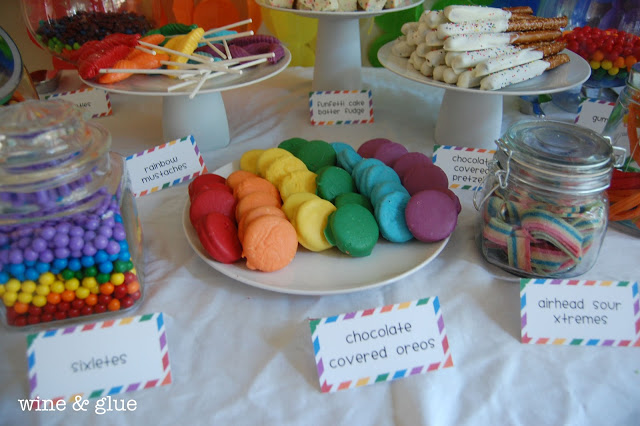 Given that I didn't want to end up with a MASSIVE amount of candy at the end of the day, I set out mason jars with gift tags made using my Silhouette with everyone's names on them. Anyone who attempted to leave without a decently full jar met my wrath. Because that just the kind of jerk hostess that I am.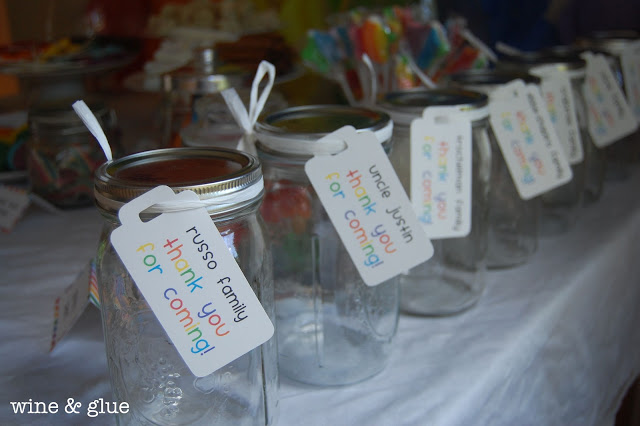 The backdrop of the table was made of tissue paper (like the kind you use to stuff in gift bags). I cut four inch circles and then sewed them together to make streamers of it. That sounds like a post in and of itself.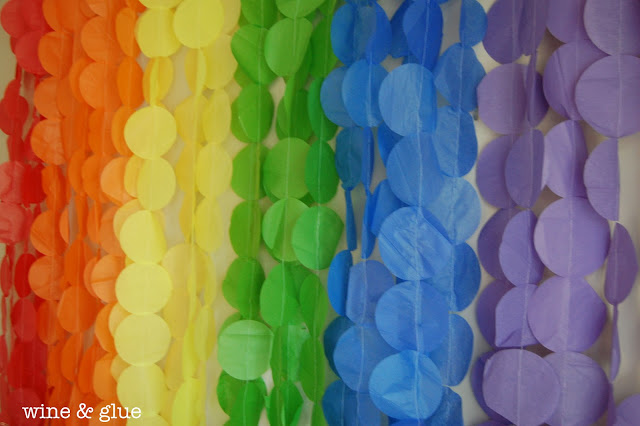 The kids got to take home some super sweet rainbow swag, including rainDOUGH and rainBOWS. I used Homemade by Jill's recipe for the play dough. Though if you are going to make big 'ole batches of it, I would suggest adding the color to the water when you heat it up at the beginning of the process, not when you kneed it in. It is about seven million times easier. They were then packaged in these awesome little plastic containers from the Dollar Store (I think eight for a dollar). The rainBOWS were an inspiration from the lovely ladies at My Sister's Suitcase.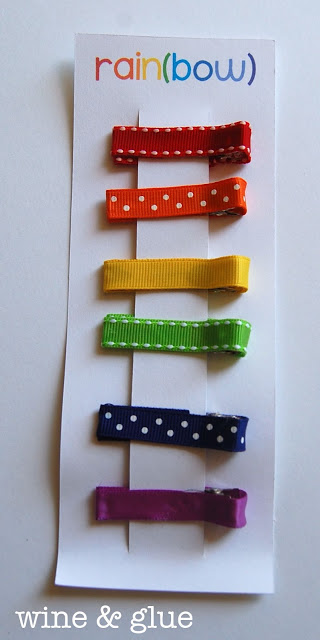 I also collected a managire of other colorful goodies over the year that I put in sand buckets (a dollar a piece at Michael's) and happily displayed in rainbow fashion under Quinny's Felt Pennant Birthday Banner.
And of course, for cake we enjoyed Rainbow Heart Cakes and Rainbow Trifle Cups.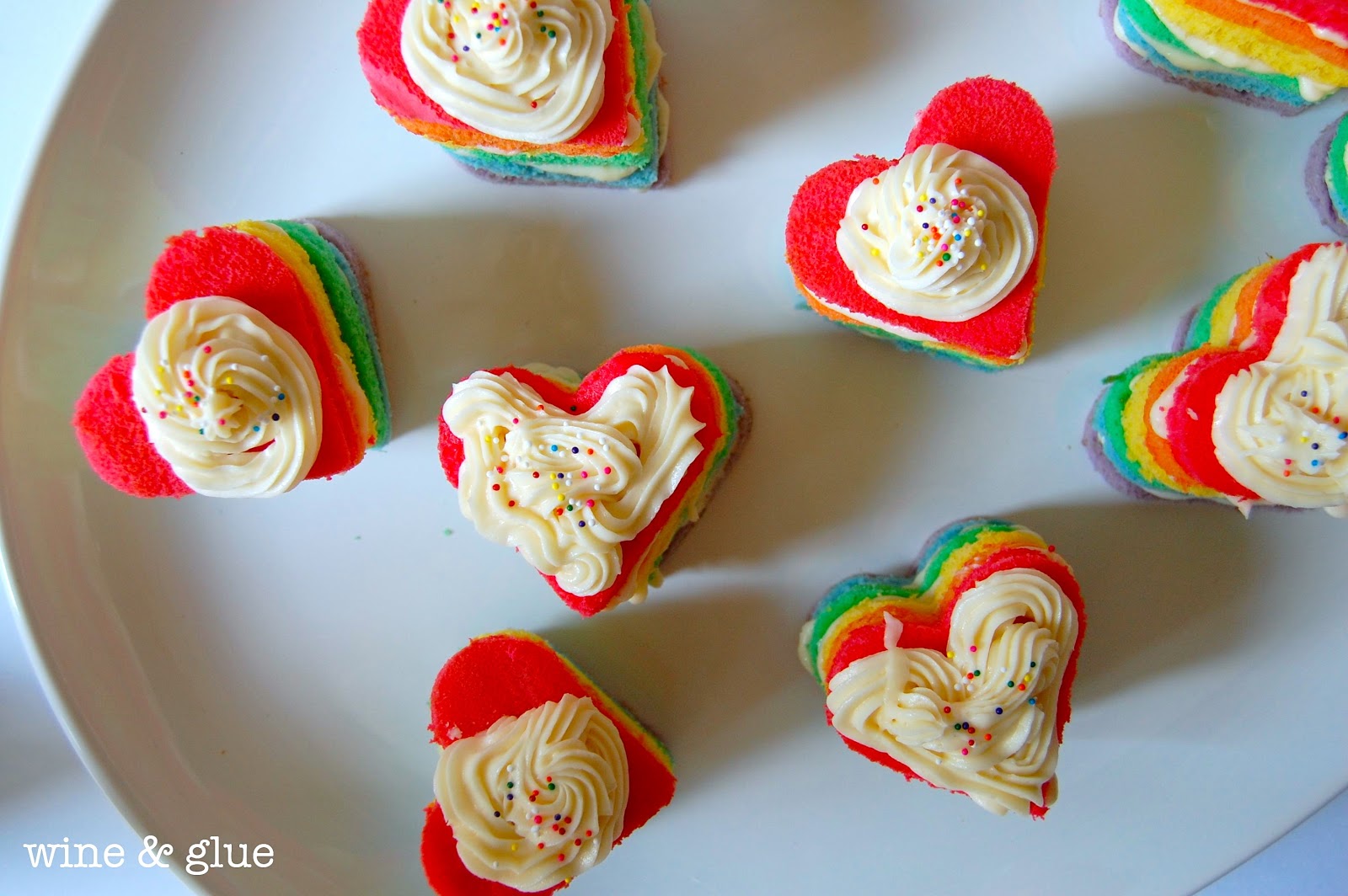 And last but not least, our rainbow apparel. Now, if you've attended any of my kids' birthday parties, you know that I tend to dress to match the theme. I blame my untreated case of ETD (Extreme Theme Disorder). This year, I inflicted the pain on my entire family. Quinn was decked out in her very own and original freezer paper stenciled shirt. Yay! A rainbow piece of clothing for my daughter that isn't a disaster!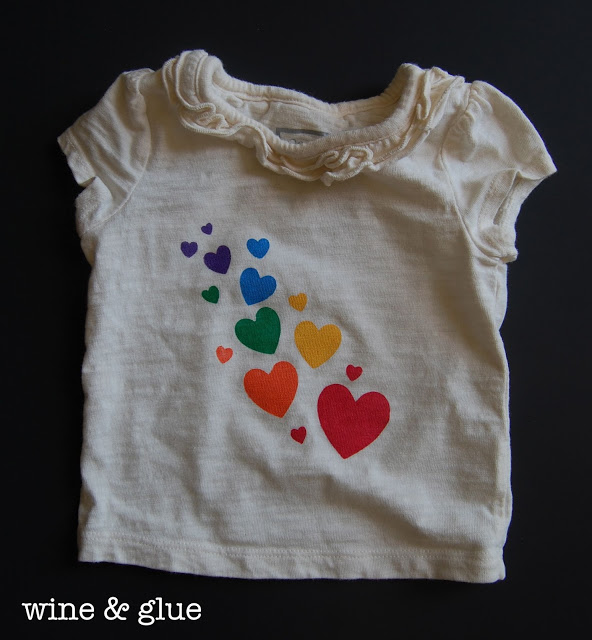 The rest of us sported shirts from Threadless. I picked a cute little rainBOW shirt for Gavin and this awesome Mothers and Daughters shirt for myself that supports the Bill and Melinda Gates Foundation. For Nathan's shirt, I attempted to buy the most manly rainbow shirt I could find. He was still endlessly mocked. Oops. I guess at the end of the day, a rainbow is still a rainbow and Nathan is a great dad taking one for the team and his little girl.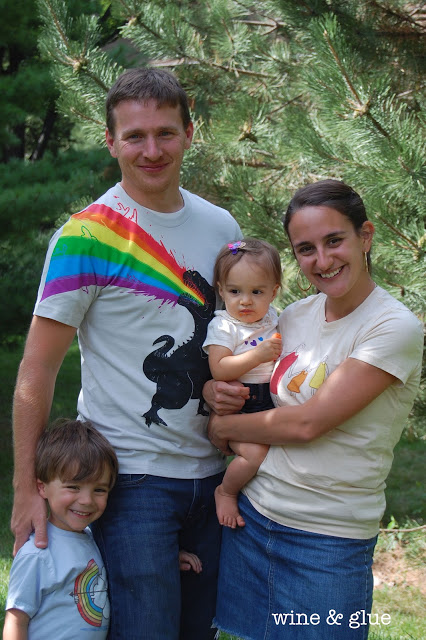 And there it is. The painstakingly loooong Rainbow Party Post.
Happy Birthday Quinnah!
You were worth every cut, burn, backache, 
and hour that I spent working on your party. 
I love you, my little rainbow.