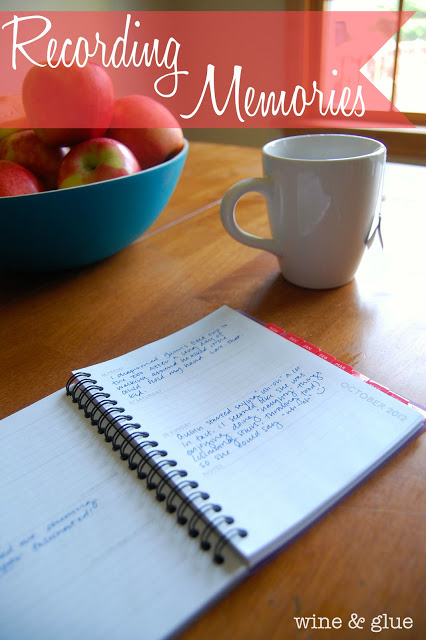 I'm crap at baby books.
And scrap books.
And photo books.
Really any books of any kind that may at some point in the future give my kids some sense of how they were as babies and how I was as a mom. Crap.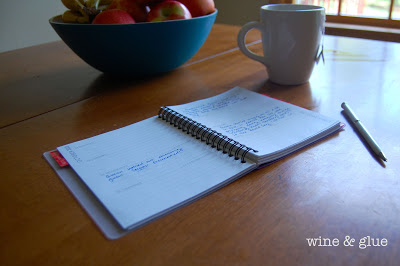 And while I'm not opposed to some of the moments of the last five years being erased from time forgotten (like the epic tantrum Gavin once threw in Michaels or the . . . you know what . . . never mind . . I don't need these moments even more preserved by posting them on the internet), I do want my kids to know what these early years were like.
I can't tell you how many times I have wished that my mom had been just a little bit better at recording the details.
How old was I when I started sleeping through the night?
What kind of food did I like as a toddler?
What did she do when I threw epic tantrums because I was being dragged along on a craft related errand? (Who are we kidding?? If my mom had ever taken me to Michaels as a kid, the tantrum would have been because we were leaving!! "But I still haven't had a chance to look at the clearance section!!")
But because my mom is not here, and I don't know the answers to those questions.
So when I saw this picture on Pinterest, I jumped on it.
I LOVED the idea. An index card for each day, and a sentence for each year. Supplemented with pictures that relate to what you write down.
It was working beautifully for like . . . . a month. And I totally printed out pictures that I took with my cell phone to correspond to the days. I had grandiose ideas of making copies of the final project for each kid. (It has stayed in my mind that my mom did the best recording the details of my childhood, my poor brothers.)
And then . . . .
. . . I stopped.
It became a chore. I would wake up in the middle of the night a little panicked remembering that I hadn't written anything down in like a week. It was a lot of pressure!!
(I know. I need to chill. About this and about approximately 10,482 things. But who's counting?)
Enter Cathy.
Have I mentioned Cathy?
She really is my friend. Not like a paid advertiser. Even though I am pimping her blog like no other.
(Can you say "pimping" on a crafting/mommy blog??)

One day I was at her house, and she pulled out some old day planners. I was just about to confront her about her Goodwill/Rummage Sale addiction when she opened them and showed me what they were.
Journals!
They were her grandmother's old journals. Musings. Recordings of life happenings.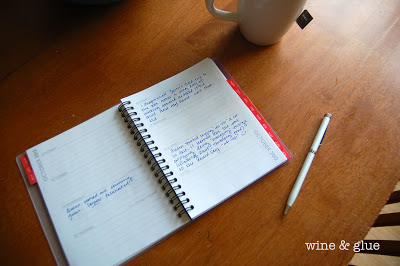 Some of the entries were as simple as talking about grocery shopping. Like three words. Others were slightly more detailed with memories of things her kids did.
And she would go weeks and weeks without writing anything.
Huzzah!
Something I can actually do.
A Target clearance day planner later, and I am back in the business of being a good mom.
And for the record, future Gavin and Quinn:
Gavin:  You still don't sleep through the night, but you are my champion eater. You call cherry tomatoes a treat. Love you.
Quinn:  You threw your dinner all over the floor tonight. Again. Three meals today, three floor clean ups. Sigh. You on the other hand are my champion sleeper. 8 consecutive hours of night time sleep at two months old. Love you.