These Red Velvet Gooey Bars, from Red Velvet Lover's Cookbook the amazing new book by the author of Taste and Tell, are an absolute dream come true. They are my new favorite way to eat red velvet, and they are going to be yours too!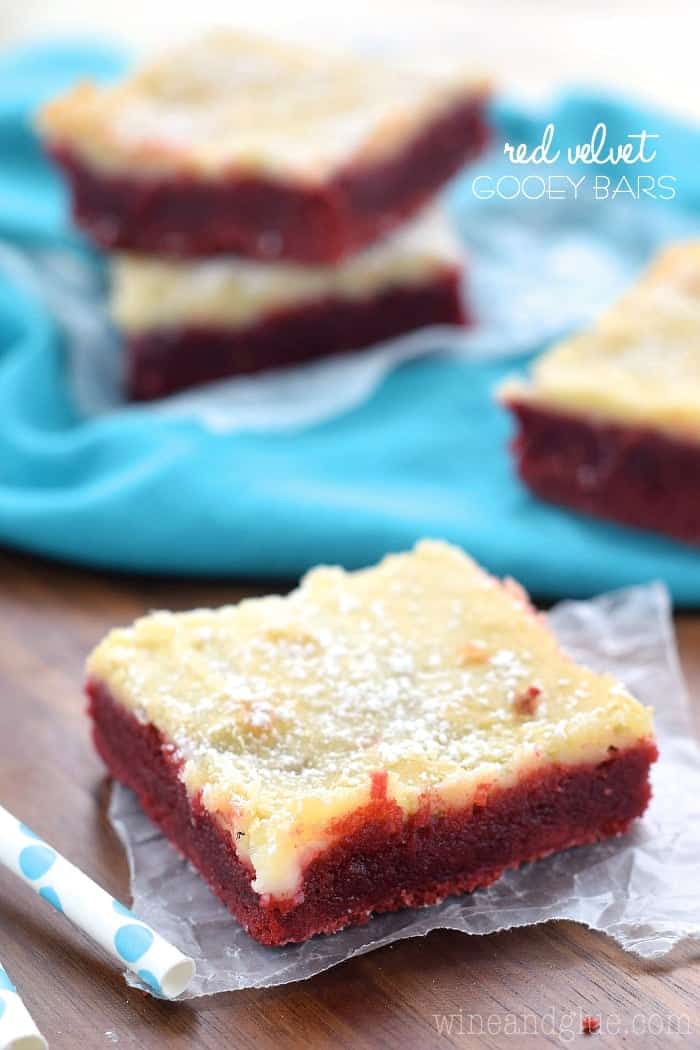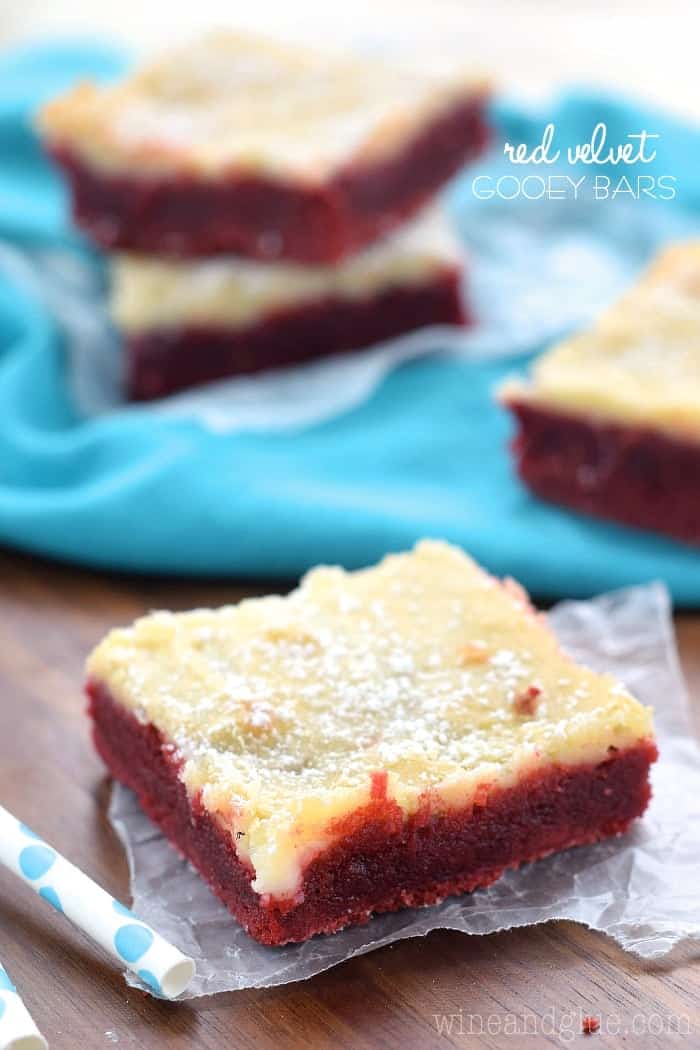 I know that I've mentioned it before, but one of my absolute favorite parts about blogging is the amazing community that it has made me be a part of. I'm friends with all these amazing women (and a couple really cool guys) from all over the country (and world!), who support me so much professionally, but also personally too! This group is so insanely talented! So many of my blogging friends are coming out with cookbooks. And I want to snatch each one up! It's like this amazing collection of yearbooks from this crazy cool time in my life!
The most recent one I got in the mail was from blogger, Deborah Harroun of Taste and Tell. When Deborah asked me if I would review her new cookbook, Red Velvet Lover's Cookbook, I was totally honored and psyched! I've admired her amazing work on Taste and Tell for ages, and knew that her cookbook would be nothing short of awesome.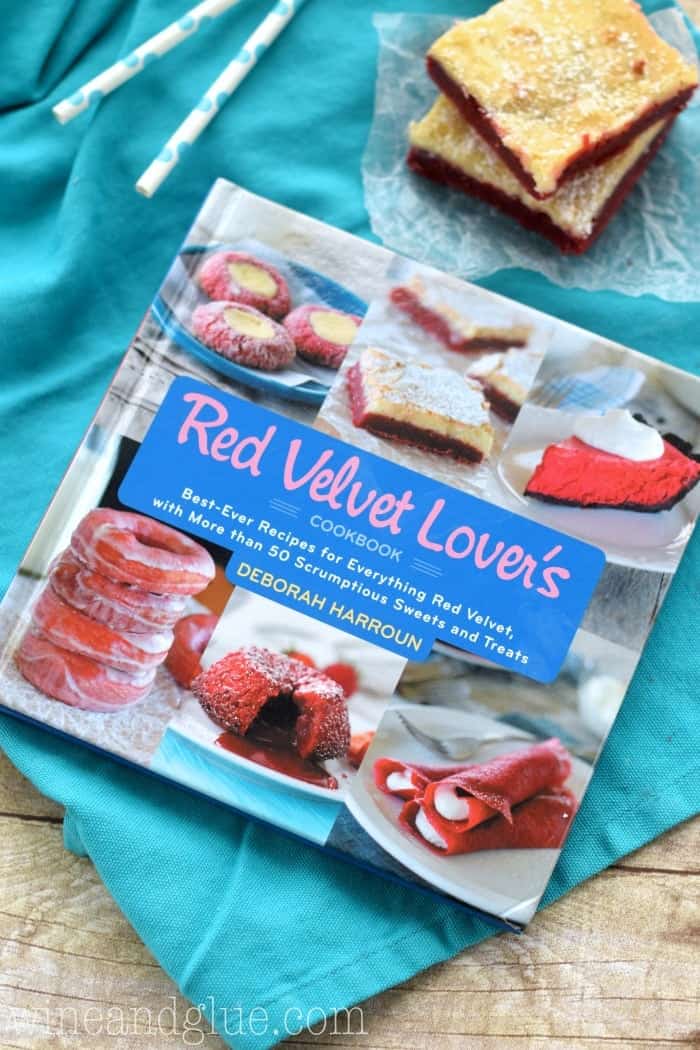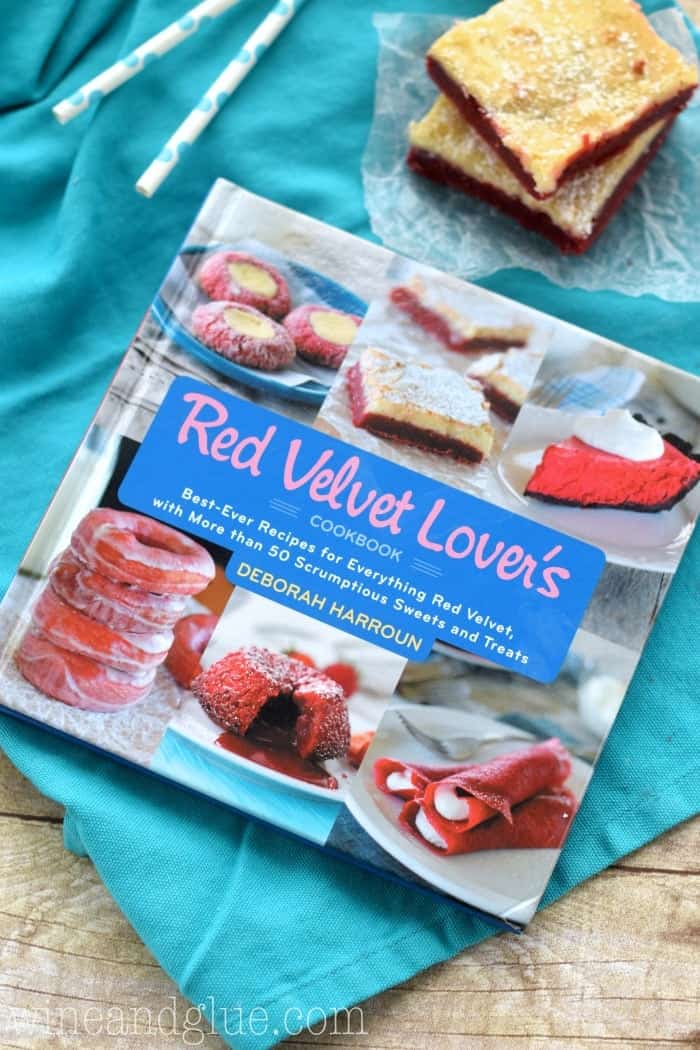 And I was right! Full of big beautiful pictures, more than 100 pages, more 50 recipes, and great intro about the history of Red Velvet, this Red Velvet Lover's Cookbook is a MUST for the person in your life who can't get enough red velvet.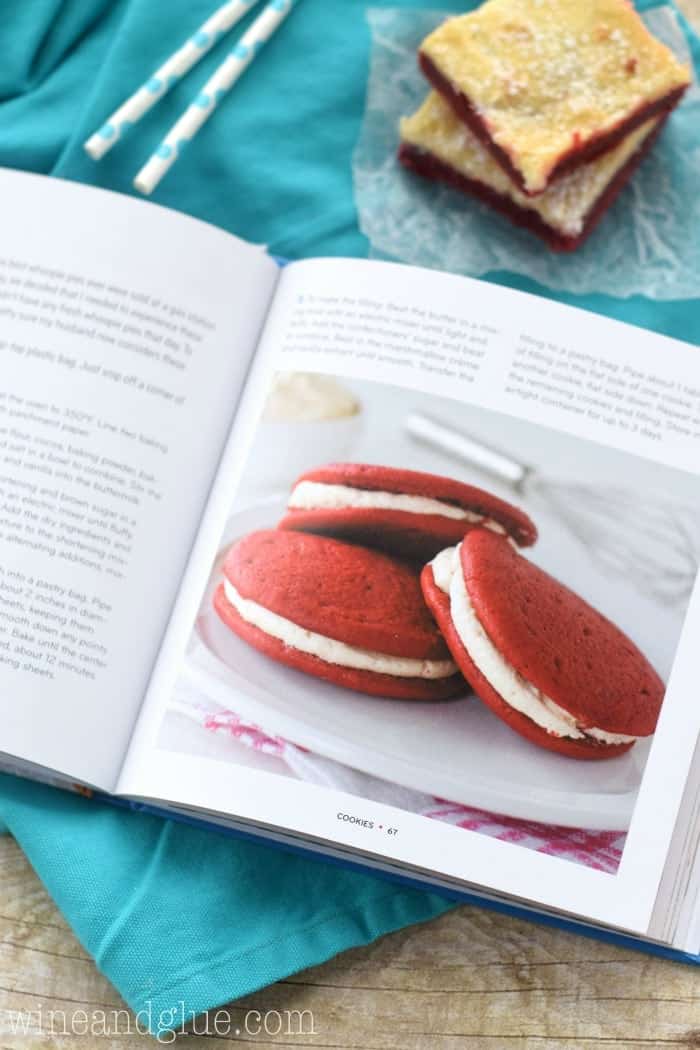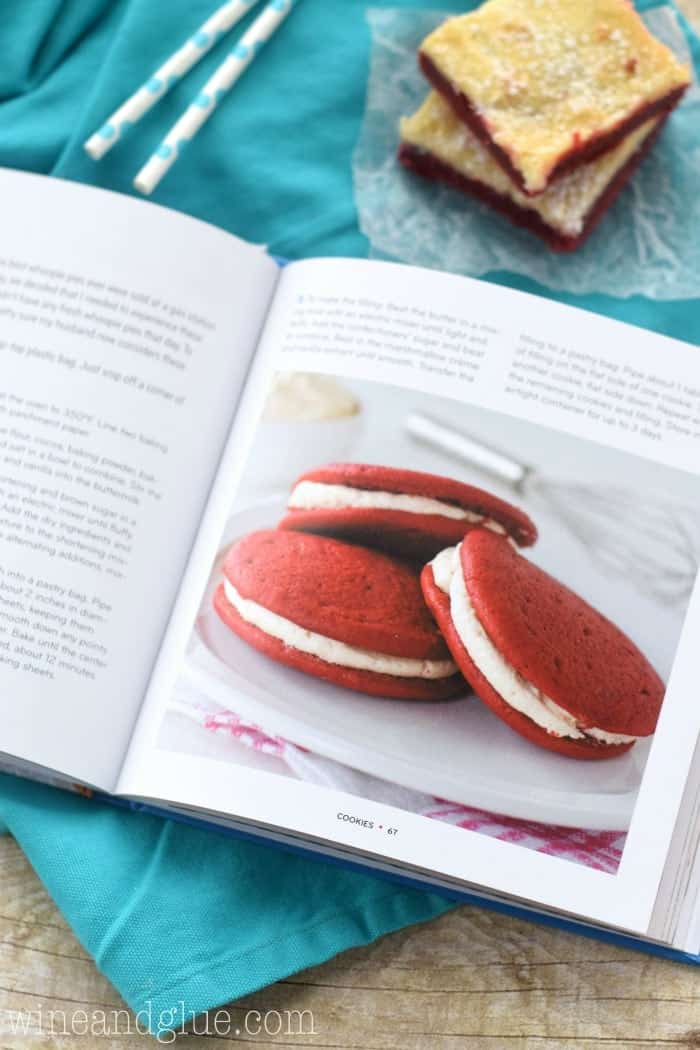 I had such a hard time picking out which recipe to make!! Probably because there is pretty much every kind of baked good in there. Cookies, cakes, pies, breads, rolls, crackers, and more . . . there was just so much red velvet awesomeness to pick from!
I ended up making these heavenly Red Velvet Gooey Bars. I'd never made or eaten a gooey bar before, and these just sounded magical. And they were! They turned out totally perfect, and I kept sneaking slices of them before I demanded that my husband take them out of my house as soon as possible. I should mention that these were devoured at my husband's office! They all talked about how much they loved them!
Admittedly, I'm not someone who gravitates towards red velvet, but Deborah does it so perfectly, that I know I will make these bars again, probably for Christmas treats. And now I really can't wait to try more!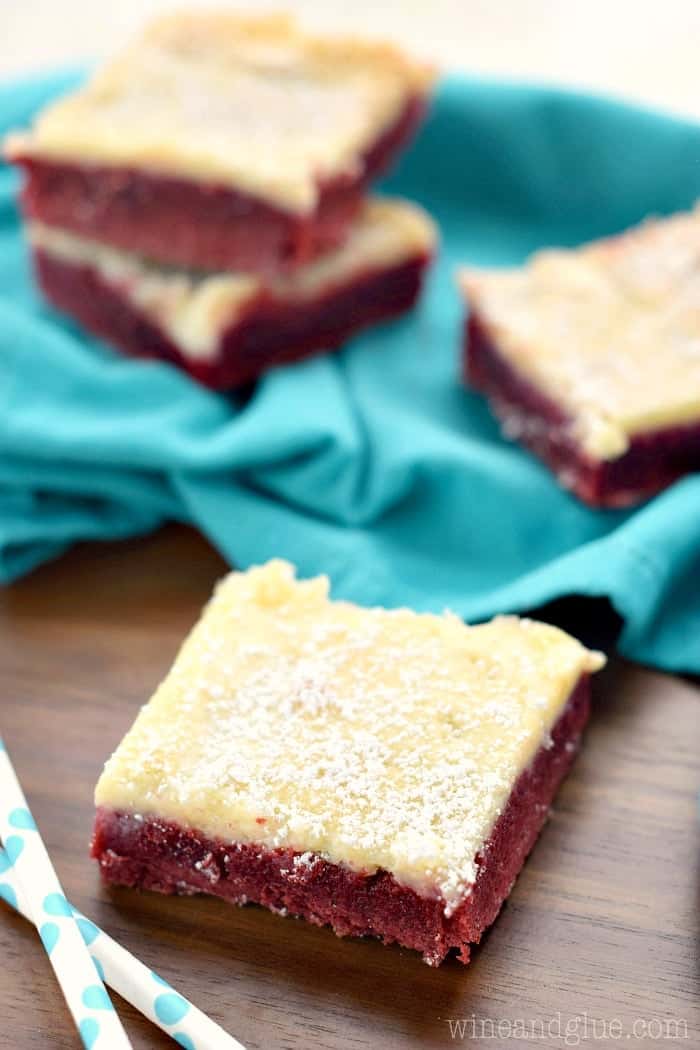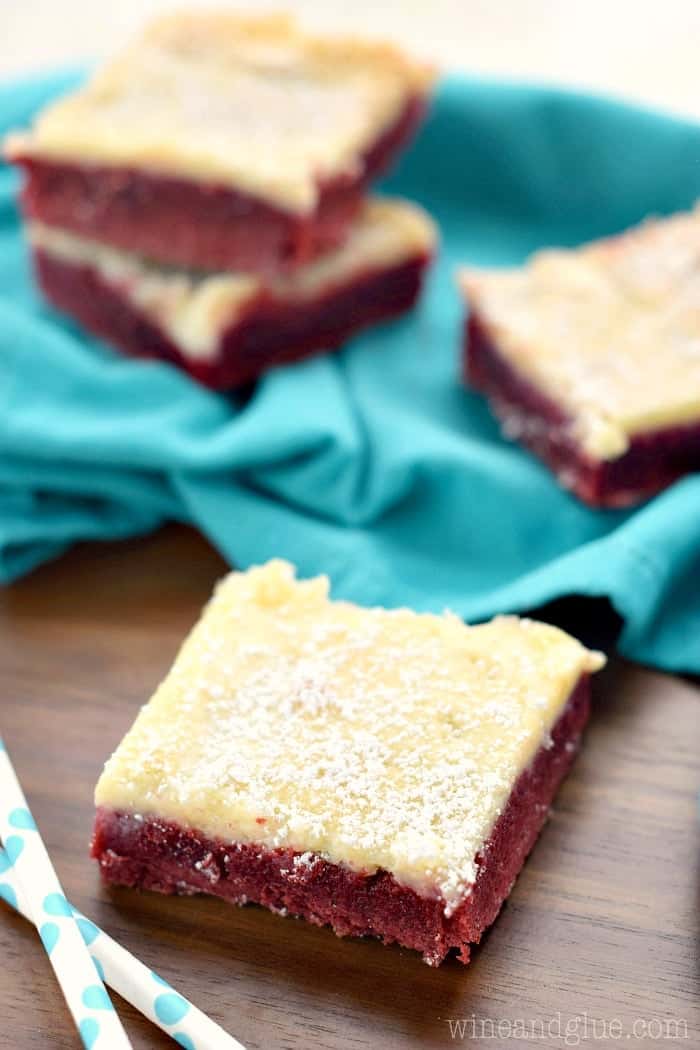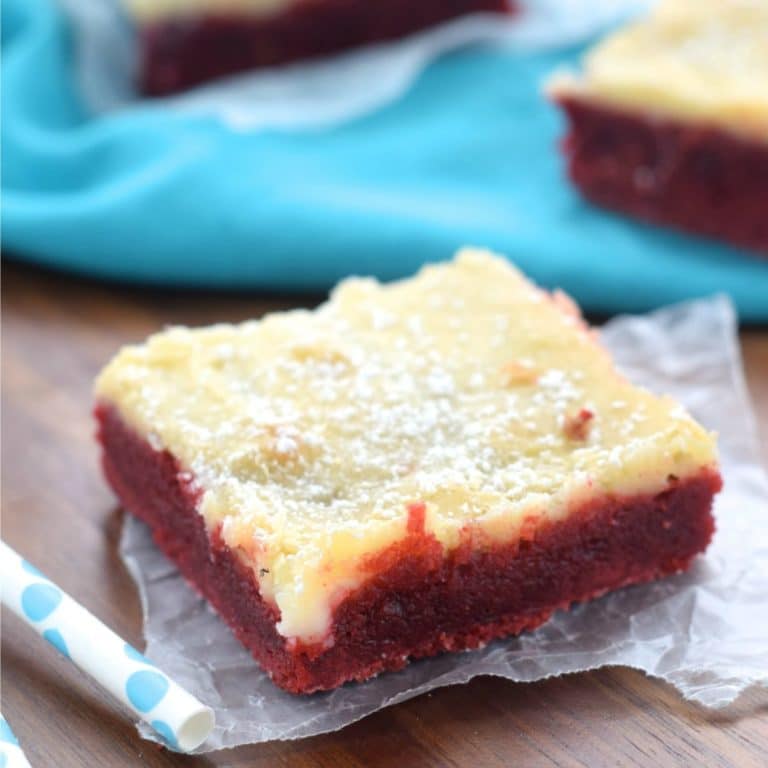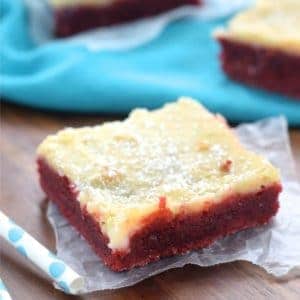 Red Velvet Gooey Bars and "Red Velvet Lover's Cookbook" Review
Ingredients
2

cups

of all purpose flour

1 1/2

cups

granulated sugar

2

TBSPs

natural unsweetened cocoa powder

2

tsps

baking powder

1/2

tsp

salt

3

large eggs

2

sticks of butter

divided and melted

2

TBSPs

buttermilk

1

TBSP

red food coloring

8

ounces

of cream cheese

room temperature

1

tsp

vanilla extract

4

cups

powdered sugar

plus more for dusting
Instructions
Preheat your oven to 350 degrees, and heavily spray a 9 by 13 inch pan with cooking spray.

In a large bowl, whisk together the flour, sugar, cocoa powder, baking powder, and salt. Add in one egg, 1 stick of the melted butter, the buttermilk, and the red food coloring. Mix until thoroughly combined. The dough will be thick (I used my hands to fully combine). Press it into the bottom of the pan.

Beat the cream cheese until fully smooth, about two minutes, scrapping down as needed. Beat in the 2 remaining eggs, the other stick of melted butter, and the vanilla. Beat in the powdered sugar one cup at a time until creamy. Pour over the bottom layer.

Bake for 35 to 40 minutes until the edges are golden brown and the center is still a little gooey. Cool completely, dust with powdered sugar, and cut.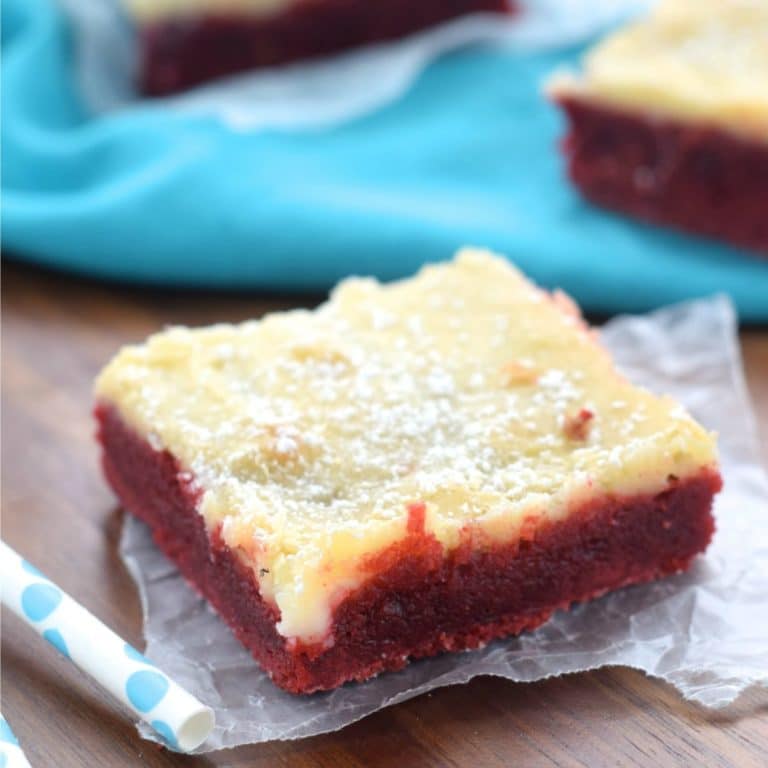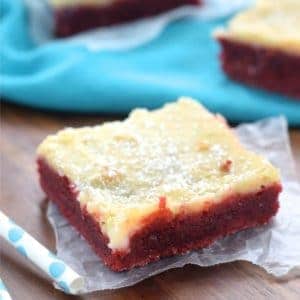 did you make this
Red Velvet Gooey Bars and "Red Velvet Lover's Cookbook" Review
Red Velvet Bread Pudding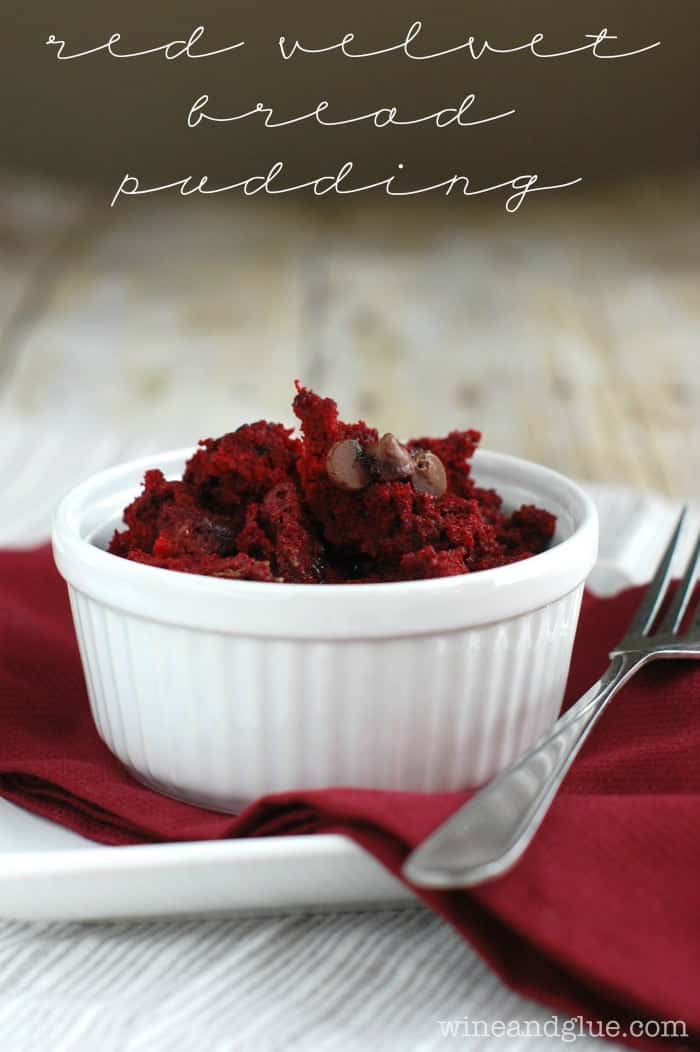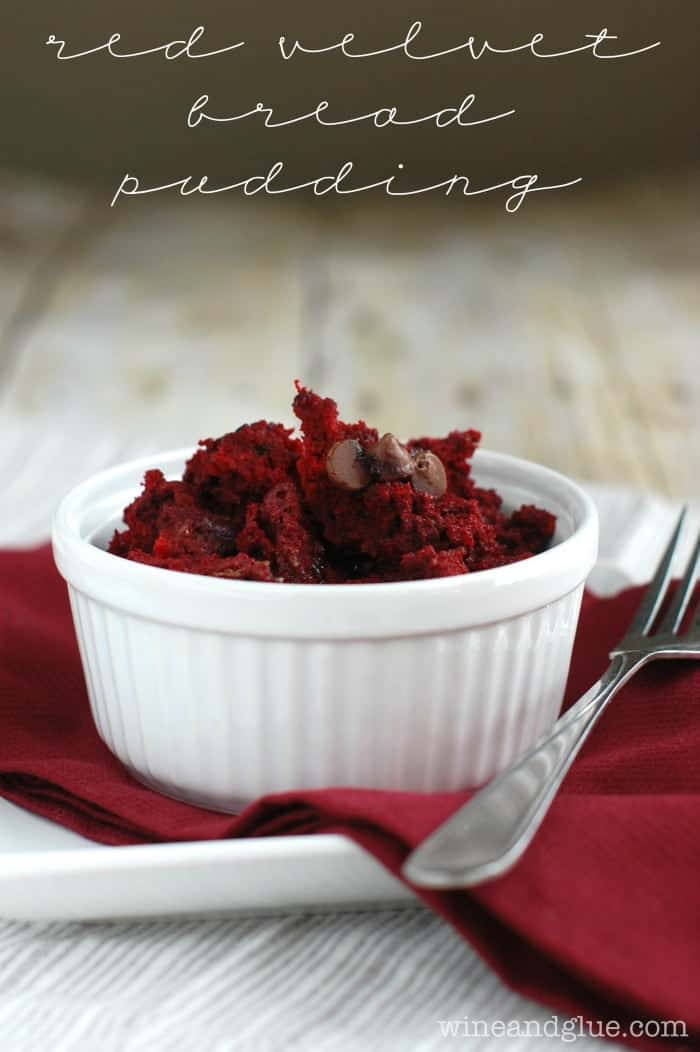 This post contains affiliate links, thank you in advance for supporting Wine & Glue.