Ruffle Wreath | A fun and easy to make Christmas Wreath!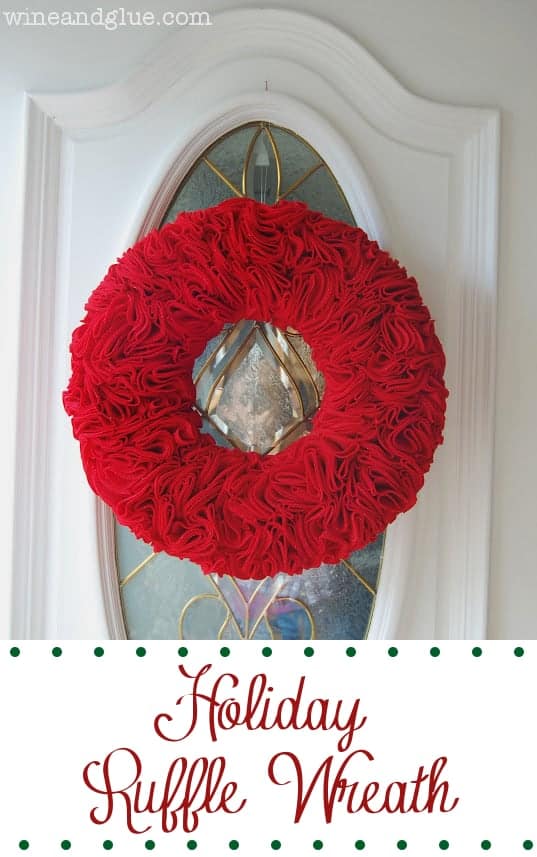 In an ideal world I would have had a 100% home-made Christmas. As my husband says, gift giving is like a sport to me and I MUST WIN!!! I thoroughly enjoy finding the perfect thing for the people in my life. Maybe that's why I love Christmas so much. I worked really hard this year to make sure that Gavin knew that Christmas is not about getting gifts. Rather, one of the most important parts about Christmas is sharing love with each other, and one of the ways we can do that is by getting something special for someone we love. Is there anything more special than something unique, home-made, and totally awesome?
Well, this world is not ideal, and I wasn't able to make all my gifts, but I was able to make this one! A ruffle wreath for my mother-in-law. I love this because it looks so classy, but it measures pretty low on the talent scale necessary to make it. These are all over the internet, but I went here for the step by step.
These are the materials I used: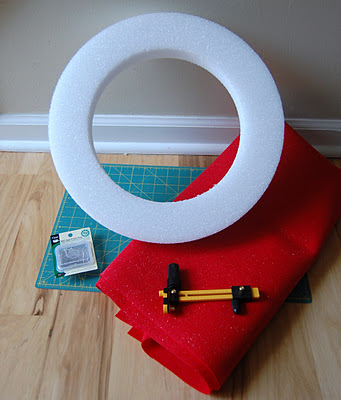 an 18 inch foam wreath form
a cutting mat
3 1/2 yards of glitter felt (it will be less if you use a thicker glitter free felt)
600 stick pins
the most amazing and incredible OLFA!! (it's imperative that you say that in a German accent)
fishing wire (not in the picture . . . it was a last minute addition)
Now heres the story with the felt . . . I let Gavin pick it out. And I told him that it was for a wreath for Grandma. To which he told me that red is Grandma's favorite color. Red with GLITTER. (Red is actually Gavin's favorite color. At least we know he's right on track with development . . . egocentric and all.)
You start by cutting circles. LOTS of circles. Hence the Olfa. It makes cutting circles insanely easy. To all the people out there who have done this project without this, how do you have any feeling left in your hands? The glitter felt is thinner, so you end up needing a lot more of them. And glitter gets EVERYWHERE. On the other hand, it does give it a neat little sparkle.
Updated:  I made my circles three inches in diameter
Nathan was so touched by the amount of time I was putting in to his mom's gift that he took a picture of me cutting circles. This picture doesn't show my pajamas, wine, felt carnage, or the blister on my thumb. But you can see glitter!!
After you have the circles cut, you fold them in fourths and pin them to the styrofoam. There really isn't a right or wrong way to do this. Just go for it. Try to get them close together so you can't see the styrofoam, but not so close, that you can't really see ruffles.

After you do that, you cut some more circles. And then some more. Then go to the store because you need more felt. Brush the glitter out of your eyes. Rinse. Repeat.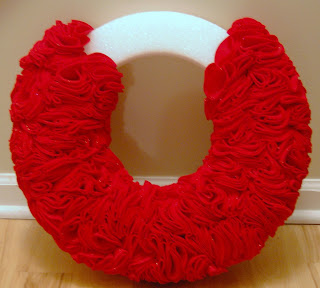 This is the wreath with two yards of fabric on it.
At this point I started to get a little nervous about how heavy it was going to be. The original site I got this from didn't do felt on the back and used a ribbon pinned to it to hold it up. I felt like that wasn't really going to hold up. So I decided to make a fishing wire loop.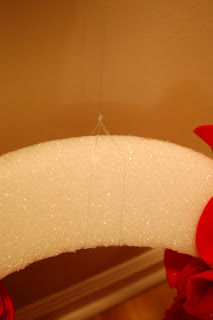 Then I got a little nervous that it would slice right through the styrofoam, so I added a little tape. (When in doubt, tape is usually the answer.)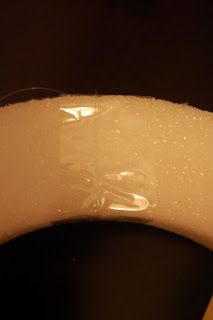 Please excuse my crappy pictures – most my felt wreath making took place at night. Once the wreath was done, I decided that I needed . . . more felt. I decided that the back really needed to be filled in.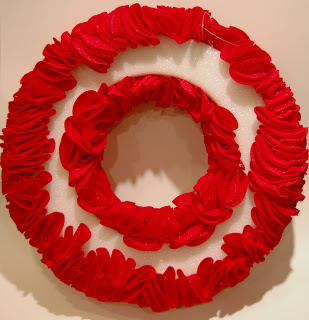 I was so excited to give it to my mother in law. (Though I did feel the need to rat out Gavin as the glitter lover and buy her a wreath bag to store it so that there was not a trail of glitter through her house.)  I hope that she loves it. The fact that she hung it over her fire place right away gives me hope.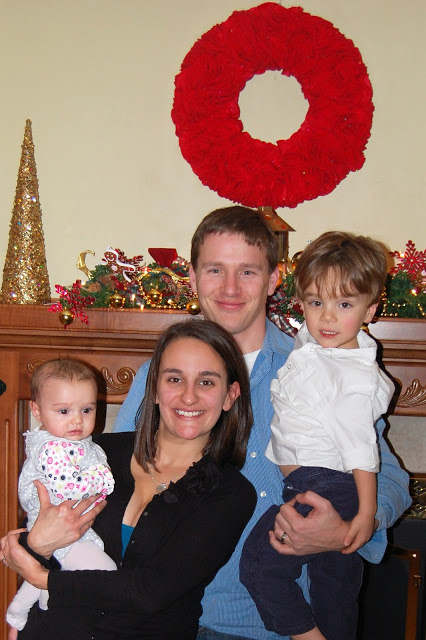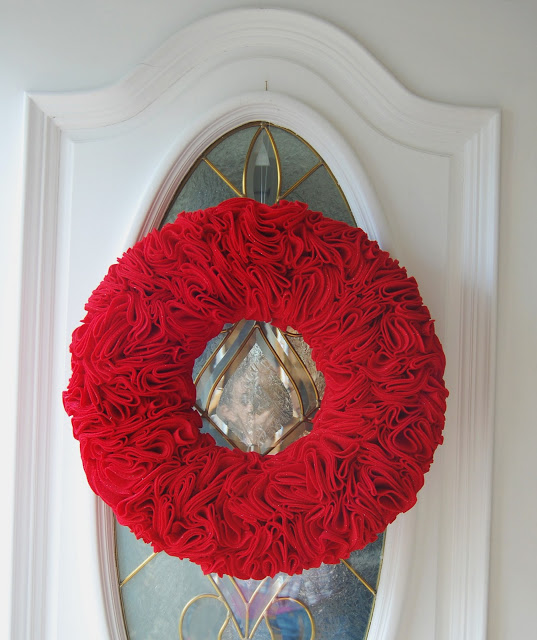 This post may contain affiliate links which won't change your price but will share some commission.