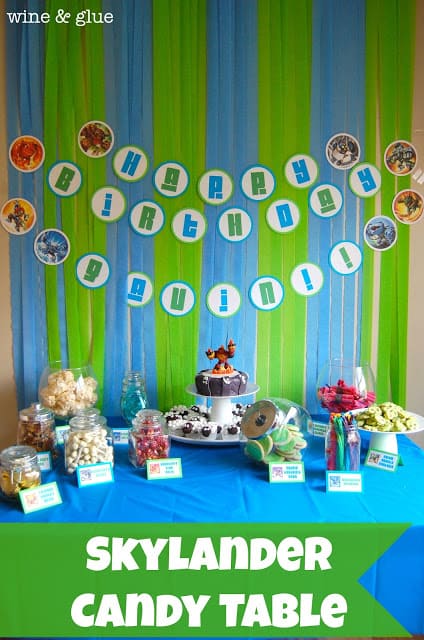 So. I blame Nathan.
I blame my beloved and wonderful husband, Nathan, for the fact that my darling dear little boy who is just on the precipice of turing five most enjoys pretending to shoot people with fire balls.

It was Nathan, after all, who first introduced us to the world of Skylanders this time last year.
And here we are now. Celebrating Gavin's fifth birthday, and I am bound by motherly guilt to put together a video game themed birthday party.
Video. Game. Themed. Birthday. Party.
Just to fill you in, Skylanders is a video game that is kind of  . . . genius. With the help of the "portal of power" you take the actual physical character that you buy and put it on the portal and then become it in the game. There are about seven gagillion characters, but we only own five gagillion. As my sister in law has said, "I'm just pissed I didn't think of it first."
I begged for dinosaurs. I tried to coerce my way into a lego party, and given the headway with Gavin's Halloween costume, I nearly thought I could pull that off.
But no. Gavin was bound and determined to have a Skylander Birthday Party. As if the kids' birthday parties have ever really been about them. Sheesh.
How does one plan a birthday party themed after a video game that they do their best to avoid?
Candy.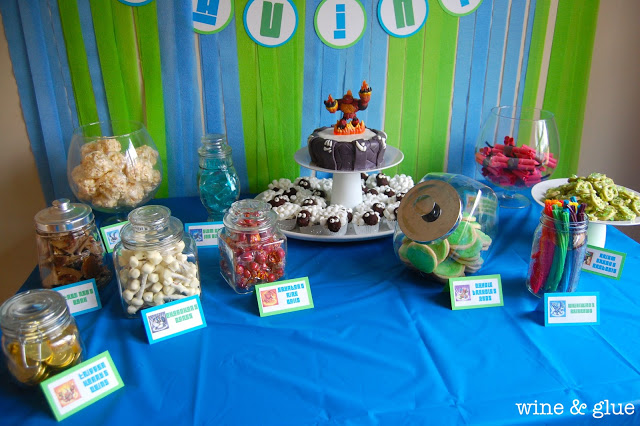 I mean, what problems can't be solved with candy?
I first got the idea to really run with a Skylander themed party from this great blogger, Amy. And from here, I decided to do a character of each element . . . . you know, I can hear you snoring. It's rude.
I found a lot of great ideas on Pinterest. One pinner came up with this great blue rock candy for Slam Bam's Ice Blocks. And I mean . . . if I were a yeti, I for sure would want rock candy. I found a great recipe for  it here, and with a candy thermometer, it's super easy to make.
That same smart pinner came up with these for Chop Chop's Bones. Yeah . . . Skylanders has a lot of characters who are . . . ummm . . . undead. It is simply a pretzel with mini marshmallows stuck on either end, and dipped in white chocolate.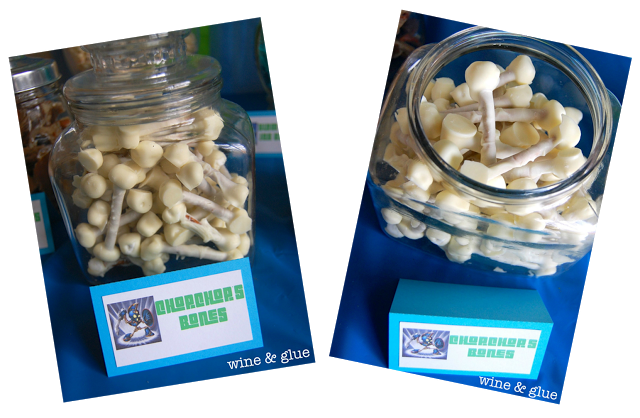 I made some Prism Break's Pretzels (another idea of 
Amy's)
. I coated some pretzels in this ridiculously perfect
new green candy coating from Wilton
. For the "prisms" on top, I used some of the rock candy from Slam Bam's ice, by pulling out a small amount before adding the blue food coloring, and dying it green.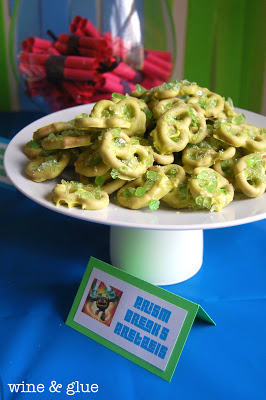 We have Trigger Happy who shoots out gold coins . . . I mean, if I could shoot out gold coins, I might be a little trigger happy too, just sayin'. For those I bought some foil wrapped chocolate coins, which are insanely easy to find at Christmas time when chocolate practically grows on trees, and absolutely impossible to find around St. Patrick's day, when every parent knows that any decent leprechaun is going to leave some chocolate coins!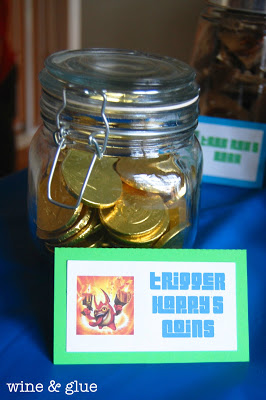 Eruptor, the original favored Skylander in our house, and let's all be honest, who doesn't love a four year old pretending to throw fire balls at you? Really warms your heart, pun not intended but what a wonderful happy little accident. For Eruptor, the only answer really was Atomic Fire Balls.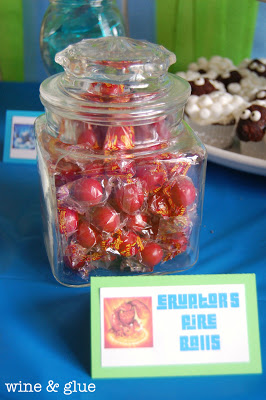 Can I just say how hard it is to find Atomic Fire Balls? What is this world coming to when its hard to find a classic candy like Atomic Fire Balls.
Double Trouble's Orbs were the most delicious and amazing sugars you could ever make, sprinkled with green colored sugar. There was not a single one left. That's not true. There was one left. But only because some poor kid left their candy bag here and I found it. Snap! Win!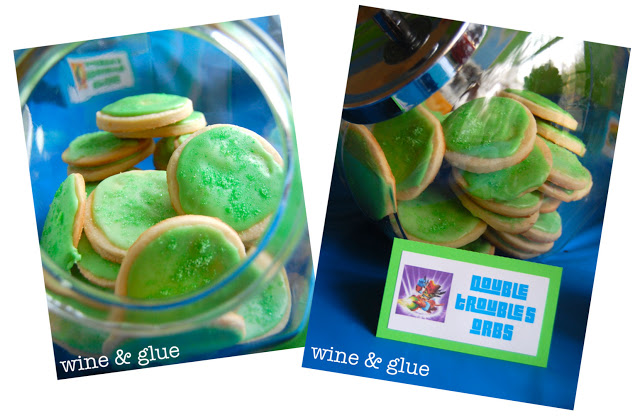 Boomer's Dynamite Sticks were some smarties wrapped in red and black construction paper with a black pipe cleaner fuse, the great idea from this blogger. They resulted in my nephew pretending to blow me up. Sigh.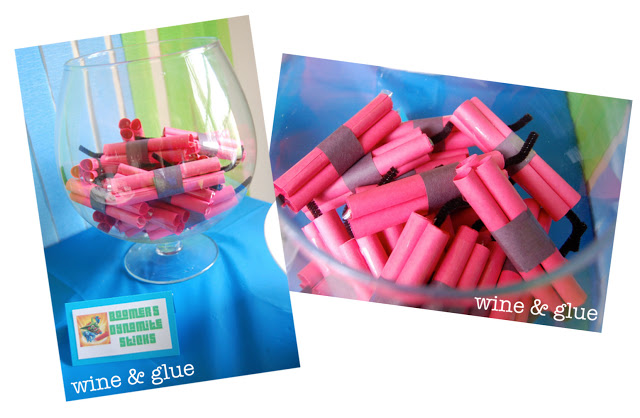 Sonic Boom's Clouds were yummy and individually wrapped popcorn balls made from this 
recipe
 plus a teaspoon of vanilla. This is the stickiest most delicious mess you could ever make. Crisco your hands. Crisco your counter tops. Crisco the top of your baby's head.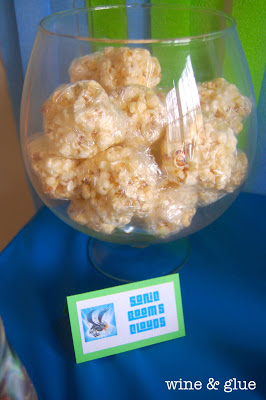 Whirlwind's Rainbows were made of a beautifully delicious jar of Rainbow Twizzlers.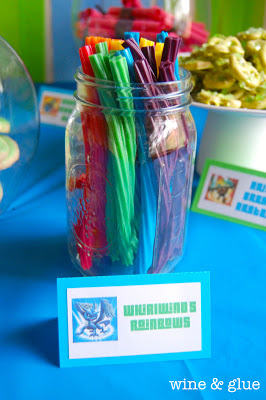 Finally, I made Tree Rex's Bark. Get it? He's a tree? And it's bark. Anyway . . . it was the hit of the candy table. I actually saw more than one person park themselves in a chair next to the table and snack away at the bark. And I couldn't get over the fact that it's bark, which is normally white, but it's brown. Annnnnd, the pretzels on top reminded me of Tree Rex's horns. (And this is the part when I realized I have given absolutely way too much thought to Skylanders.)  Get the awesome recipe for the bark here.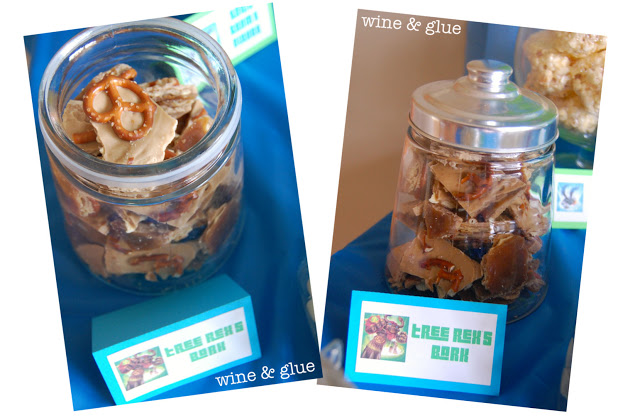 Kuddos to anyone who is still reading!! You win a treasure chest full of digital gems! Tune in next time for the coup de gras of the candy table . . . drum roll please . . . the fondant portal cake!