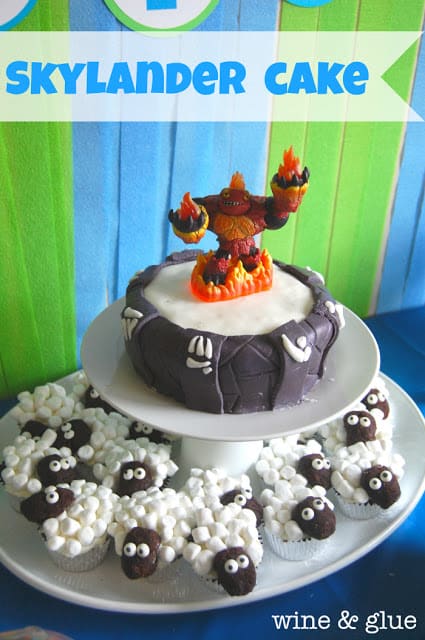 You can't really have a Skylander Party without a portal of power cake. Well, I guess you could. Of course you could. But that is only assuming that you aren't a puppet and your every move isn't controlled by an adorable five year old who is totally obsessed with Skylanders.
Let's, for a moment, assume you are that puppet. You are going to want to learn how to make fondant. And fast.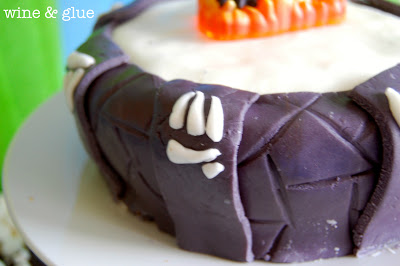 I have absolutely no pictures of this cake in progress, but I can tell you about it.
I started with one box of cake mix. And cooked it in a large 9 by 13 glass pyrex. After it cooled, I used a grating disc from my food processor (about seven inches in diameter, totally random, I know) as a guide to cutting two circles out of the cake. I put one of the circles on a plate with wax paper, threw some frosting on top, added the second circle cake, and then frosted the whole thing lightly.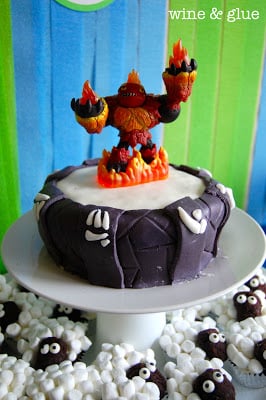 I used this recipe from Wilton discussion boards. It's perfect because it is for small batches, so it is easier to work with, and if you have to make more than one color, you can do it with this recipe, adding the color when you are still at the liquid stage (with the marshmallows melted, and before you add the powdered sugar).
Make two small batches of the Wilton recipe.
Keep one white, make the other black with Wilton black food gel (adding the food gel in the liquid stage makes it so much easier).
Mix in as much of the powdered sugar with a spoon covered in Crisco as you can.
 Dump out the mixture onto a Silpat (or, a countertop covered with an insane amount of Crisco).
Finish working the fondant with your hands, which should also be covered with a lot of Crisco.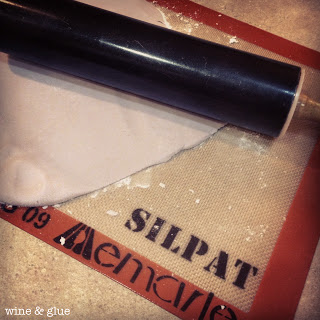 Roll out the white into a thin layer, and spread it out over the top of the cake, having it go just over the edge.
Roll out the black, and cut it into segments that are tall enough to go up over the top of the cake slightly (I ended up cutting three different pieces to cover the entire horizontal side of the cake).
Use a toothpick to make the stone markings on the fondant. (Pictures of that would be nice, eh?) Or if you are lucky like the genius, Jen, at The Next Martha Project, you have a stone mold thingy from a Moon Sand castle kit.
I cut out smaller pieces of the black fondant and made those as the bigger stone blocks that have the white markings on them.
Then I took my left over white fondant and did my best to create the white markings.
I didn't do anything special to attach them, I literally just set them on the black fondant (while still flat on my table), and they stayed there. Even once I "attached" the black fondant piece to the rest of the cake . . . and by attach I mean, plopped it up against the side, and it too stayed.
When I was all done, I picked my up off the wax paper lined plate (with my hands) and carefully placed it on the nice clean, frosting free cake stand.
Since my cake ended up being big enough to feed like one person, I decided to make some sheep cupcakes. And since you, faithful reader, may not be a total expert on Skylanders like I now am, I shall explain. There are sheep in the game. I can't exactly tell you their purpose, but I can tell you that you are able to hurt these poor innocent defenseless sheep. You can smash them, bump them, roll them, set them on fire. All good stuff, right?
Do I really allow my four year old to play this game? #bestmomever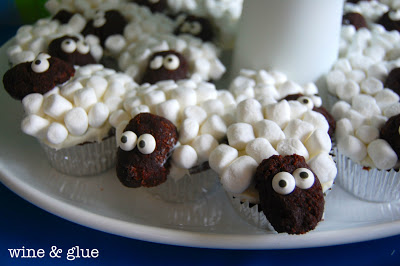 The cupcakes were made from a box of chocolate cake mix. They got a light frosting, and then were covered in marshmallow fur. Their heads are made from half of another chocolate cake that I had left over from a different cake pop experiment and had frozen. Half of a chocolate cake mashed up with some chocolate frosting (maybe 1/3 of a cup?) makes about 22 chocolate sheep head. I added some candy eyeballs, and attached them to the cupcakes using a pretzel stick. Aren't they too cute to eat?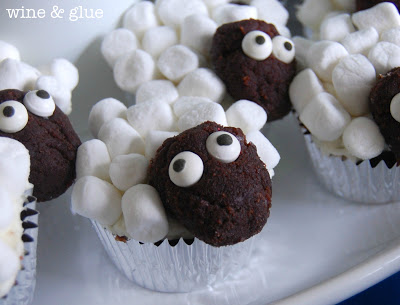 Maybe.
But they certainly weren't too cute to set on fire? My
pyromaniac
husband thought it would be really funny to have a picture of a flaming sheep (you know, like in the game . . . clearly we know who allows Gavin to play this menacing game).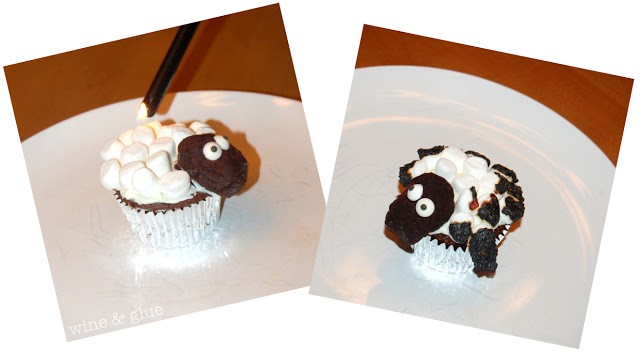 The end result was 35 pictures of a lighter and a cupcake and one charred cupcake.
Poor sheep.
This post may contain affiliate links which won't change your price but will share some commission.