White Chocolate Graham Cracker Crusted Blondies | Blondies with a butter graham cracker crust and rich white chocolate chunks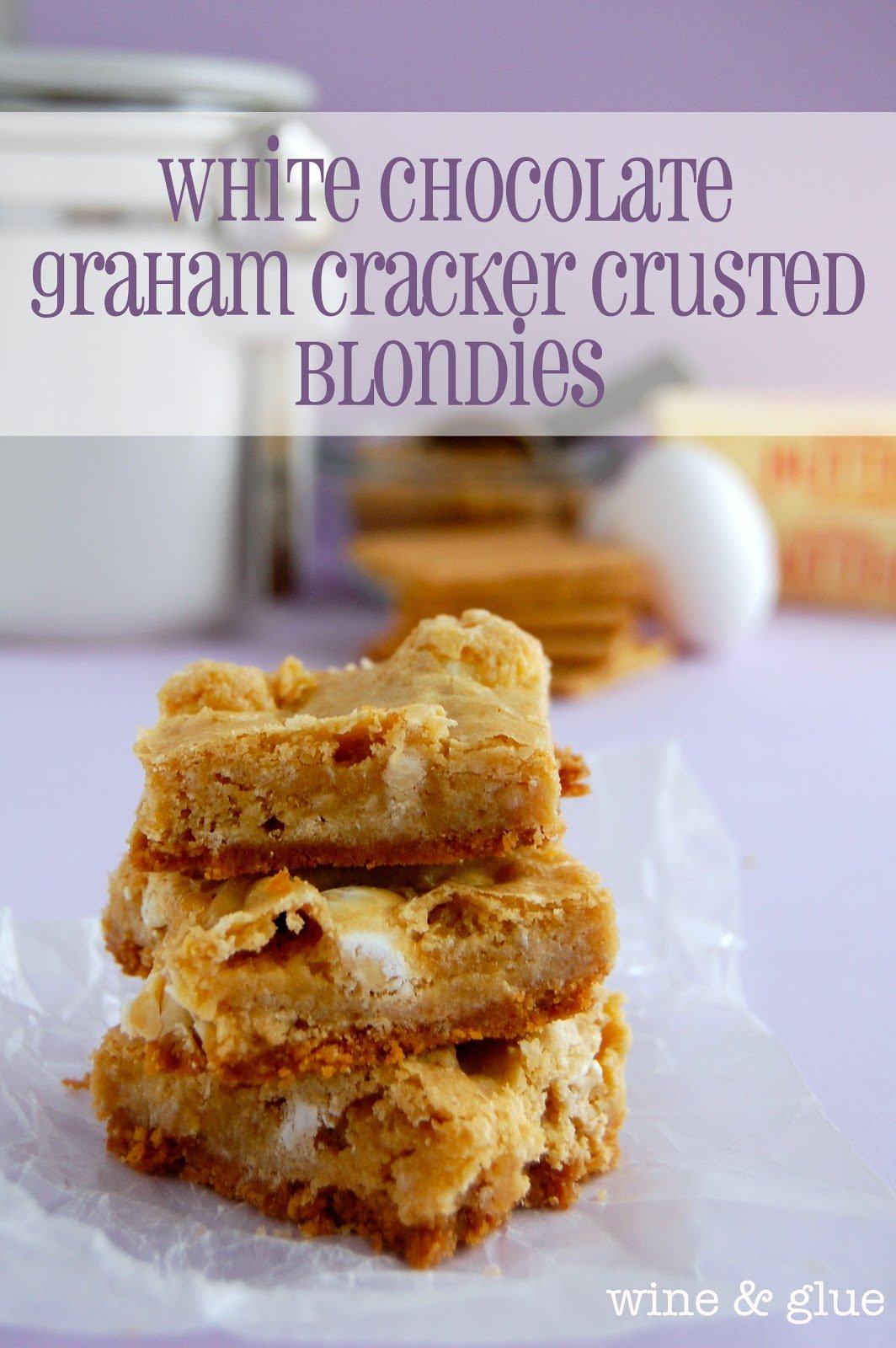 It's been a long day folks.
I know I say that a lot, but holy man.
And when I say holy man, I mean, can I get a holy man up in here to say some prayers that this mama doesn't loose her marbles??

12:00 PM  (Central Time)  Quinn goes down for her daily nap. And good thing too, she was a banshie. No, I don't mean that in a good way.
12:45 PM  Quinn is screaming in her crib. What the what? 45 minutes?? No way, Jack. You better ride that pony back to sleepy town.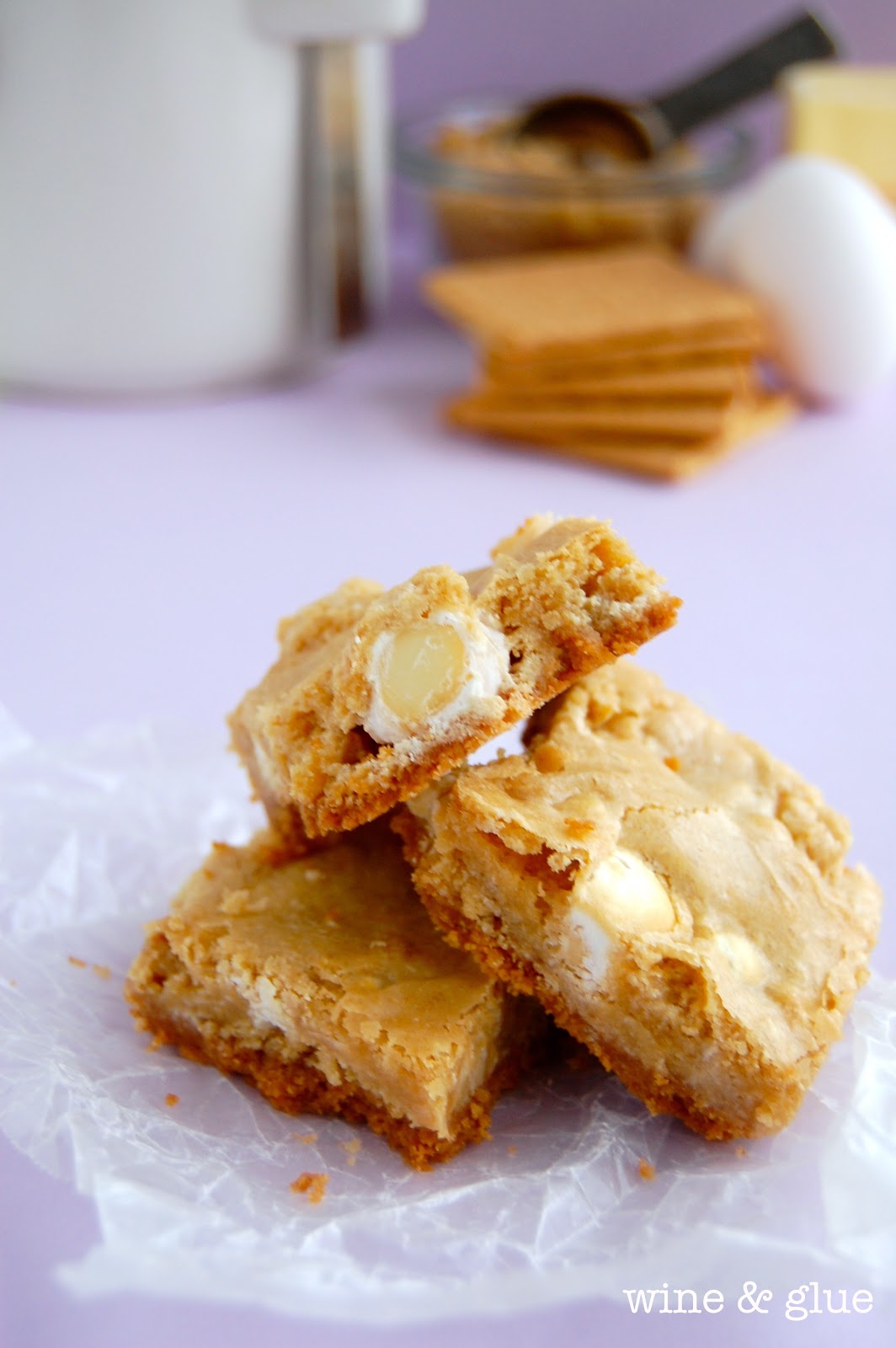 1:15 PM  Nursing Quinn trying to get her back to bed. Yes, I am still nursing her. Yes, she is almost two. No, I don't want to talk about it.
1:30 PM  Still screaming. Get child from crib, and curse her father. Not really for any good reason other than she is here screaming and he is not. (Here, I mean. He rarely screams.)
3:00 PM  Children have turned the house into the Indie 500. Gavin is racing his scooter around the house (yes, I lifted the ban on scooting in the house when we hit the 30th consecutive month of winter). Quinn is cruising on a Big Wheel. All would be fine, if they could just race silently. (And maybe if I could convince Gavin to wear pants . . . ) Is that too much to ask?? Silent racing???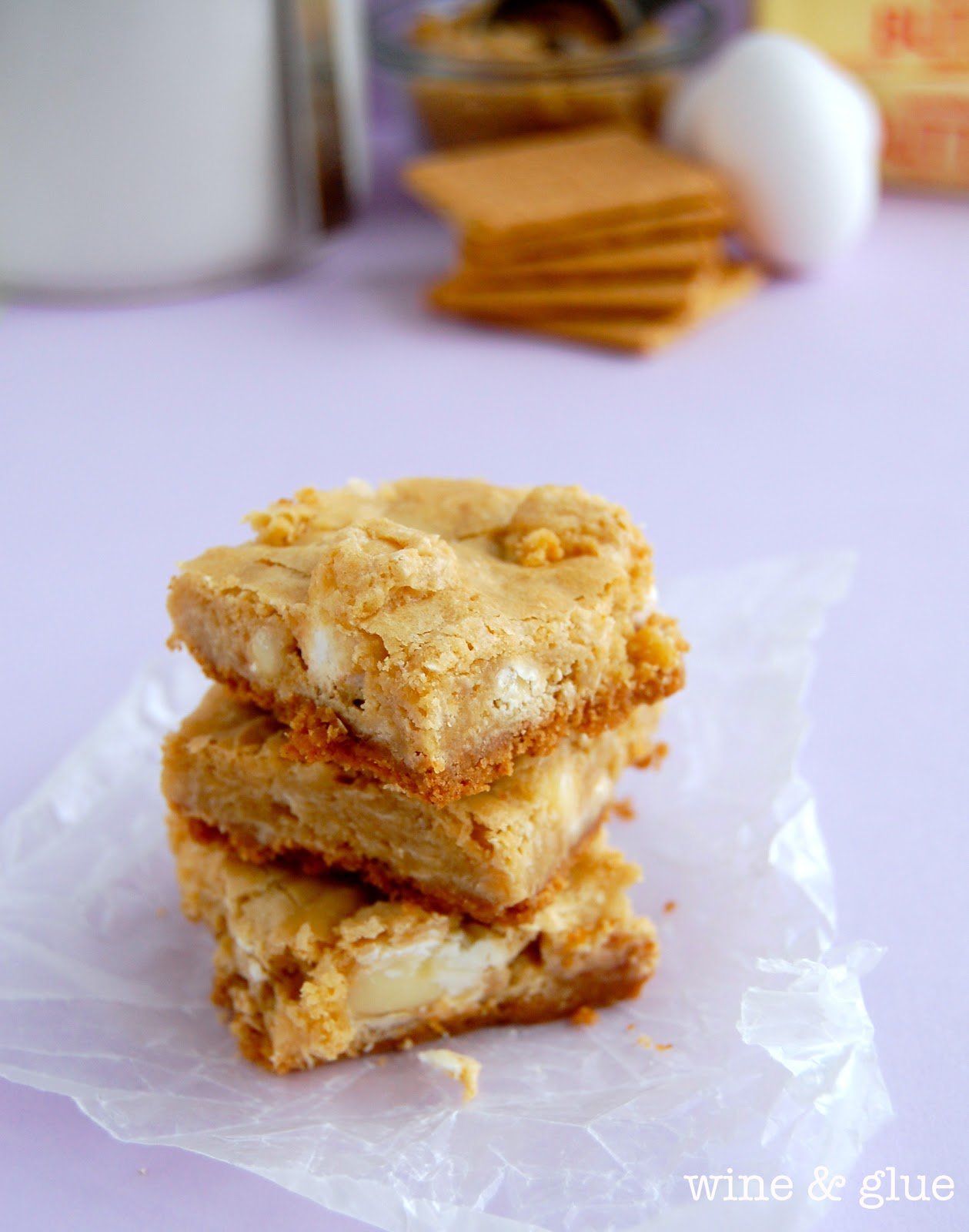 3:30 PM  Quinn has had her 80th time out. They have come for many reasons. Slapping her mother (which is almost as upsetting as it is painful, because I'm a lover not a fighter). Touching the screen door. Ok. That sounds extreme. But I have my reasons. Yanking on a power cord . . . .
3:31 PM  Lisa finds her 80th gray hair. #thanksquinn
3:45 PM  Quinn is eating strawberries peacefully in her booster seat. Ummm, what? Calm before the storm anyone??
4:00 PM  The Indie 500 picks up again. Lisa silently (when did I start talking in the third person??) curses whoever had the genius idea to send these amazing White Chocolate Graham Cracker Crusted Blondies to work with Nathan. (Psssst, don't tell, but it was Lisa who sent them . . . she gets very ornery when she is sugar deprived.)
I've made some pretty awesome things since I started blogging (TOOT TOOT!! That was the sound of me tooting my own horn), but this is really right up there on the list of awesome. The recipes, both for the blondie itself, and for the graham cracker crust, are based on America's Test Kitchen recipes, so you know they are good. And putting a crust on the blondie just keeps it so buttery, moist, and obnoxiously delicious. Then I added some Hershey's Candy Coated White Chocolate Eggs for the sake of Easter. Perfection. The butteriness, combined with the richness and crunch of the chocolate was just perfect.
White Chocolate Graham Cracker Crusted Blondies
For Crust:
10 graham crackers
6 TBSPs butter, melted
2 1/2 TBSPs sugar
For Blondies:
1 1/2 cups all purpose flour
1 tsp baking powder
1/2 tsp salt
1 1/2 cups packed light brown sugar
1 1/2 sticks butter, melted and cooled
2 large eggs
4 tsps vanilla extract
1 10 oz bag of Hershey's Candy Coated White Chocolate Eggs, half of them chopped (or all of them briefly pulsed in a food processor)
Preheat your oven to 350 degrees.
Crush the graham crackers in a food processor (or in a zip lock bag with a rolling pin). Combine with sugar and melted butter and press into a 9 x 13 inch pan.
Bake the crust for 15 minutes. It will start to smell very tasty.
In a medium bowl, whisk the flour, baking powder, and salt together.
In a large bowl combine the sugar and butter. Then whisk in the eggs and vanilla. Add the flour mixture and gently stir in the white chocolate eggs.
Using a spoon, top the crust with the batter, one scoop at a time, adding the scoops at different spots on the pan. Gently push the batter down so it is even. If you add the batter the way you traditionally do, you will pull up the crust and everything will become a jumbled up mess.
Bake for 25 to 28 minutes. Allow to cool for at least two hours before cutting into them.
Try not to eat the whole pan.