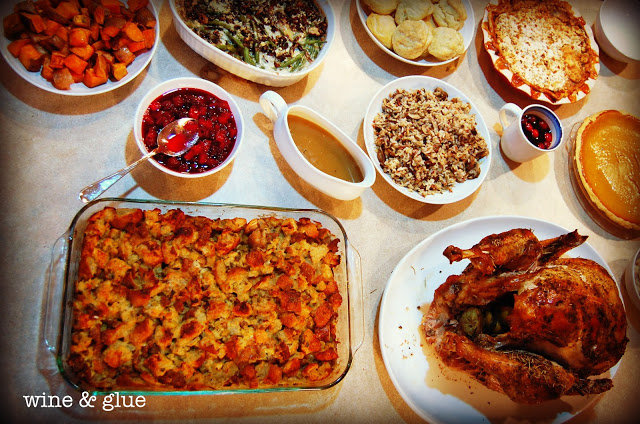 **Disclaimer:  I took the pictures for this post last year this time, before I knew anything about anything about blogging. They are horrible. It brings me shame to post them. That said, you MUST try this recipe. Best. Turkey. EVER.**
I have a confession.
I hate Thanksgiving.
I know, I know.
I'm not proud. But I do. Or I did. Until Thanksgiving 2010. Let me paint the scene for you, but we need to go back to the fall of 2007.
My mom was in declining health. We were celebrating Thanksgiving with my family at my brother's home, and I was a whopping 36 weeks pregnant and feeling HUGE. I made the decision, given my girth, to not make the two hour trip to my in-laws home for Thanksgiving as we typically did, and stayed with my family.
Thank goodness I did.
It ended up being the last holiday I would ever celebrate with my mom.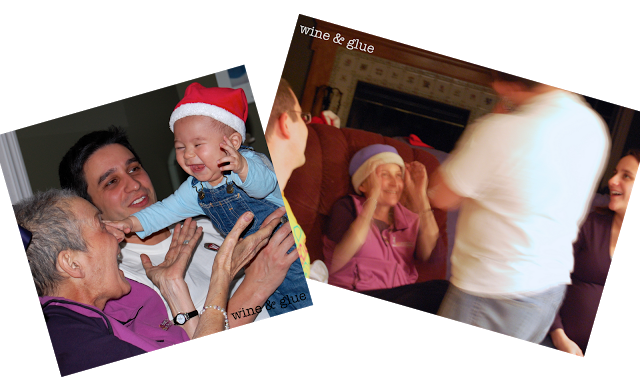 That's a picture of her with my nephew, Bodi. The only grandchild she got to meet in person. And in the other photo you can see me and my very pregnant belly off to the right.
So after that last Thanksgiving . . . I just wasn't feeling it.
I was particularly NOT feeling it the fall of 2010. I already was hating on Thanksgiving pretty hard, missing my mom and her amazing cooking. And then my baby died. And I was wondering, pretty much to anyone who would listen, why we should even bother celebrating Thanksgiving. I mean, my mom had died, my baby had died, and that summer, my sweet dog had even died. I was questioning what I had to be thankful for . . . to say the least.
On the morning of Thanksgiving, 2010, I woke up, and I took a pregnancy test. It was a full FIVE days before I really should have been taking one.
It was positive.
The line was reeeeeeeeaaaaalllly faint, but I saw it. Nathan even saw it. I was pregnant.
Just 10 weeks after losing Elliot, we already had another little soul making it's way into our family.
And my Thanksgiving spirit was revived.
But you didn't come here to hear about my internal struggle with turkey day.
You came for the turkey. And turkey I shall give you.
It was that very same Thanksgiving that I had this turkey recipe for the first time. And it was SO GOOD! It was so good, in fact, that I will never make turkey another way again. It was moist, delicious, and there were almost no left overs.
This recipe comes from my wonderful sister-in-law's (Sam) mom. Let's, for the sake of internet anonymity, call her Mrs. A.
I'm done rambling. I'm going to give you Mrs. A's turkey instructions now. Use them and be merry.
The instructions are long, and may seem daunting, but please trust me when I say they are WELL WORTH IT!  Even a wannabe chef like me can conquer these.
(Print Your Instructions Here)
WORLD'S BEST TURKEY INSTRUCTIONS
(Courtesy of Mrs. A)
Start the day before you are serving!
1. Gather a turkey and defrost it if it's frozen. (The way that I defrosted my turkey last year was submerging it in my full sink and changing the water every half hour. I did this for eight hours. Then I moved on to step two.)
2. Get a container that is large enough to fit your turkey and at least a gallon of water. This could be a stock pot or a large 5 gallon clean plastic bucket. (We bought a bucket the year we started making our turkey this way, and it is now stored in our basement and only used for making this turkey recipe.)
3. Picking the perfect turkey:  Mrs. A suggests that you use a fresh turkey, though a frozen turkey that is completely thawed will work almost as well. She notes that if you use a Butterball turkey, you should only use 1/3 of the salt in the recipe.
A note on free range turkeys:  Mrs. A says that in her experience, they tend to be dry even if they are brined in this way, they are so low in fat content that there is very little drippings left for making a gravy.
4. Start your brining mix:
1 gallon of water
5 tea bags of English breakfast (Mrs. A says that if you only have green tea, that works too, but it will be less fragrant)
1 cup salt
1 cup brown sugar
2 limes (squeezed and then tossed into the brine)
bunch of fresh mint leaves
Completely dissolve the salt and the sugar, then add the other ingredients. (Mrs. A says that if you have a big turkey and need more brine than this makes, you should use 1/2 cup of salt and 1/2 cup of brown sugar for every 1/2 gallon of water.)
5. Prep your turkey. Remove the neck, giblets, and liver from the cavity of the turkey and reserve for gravy (I didn't actually do this. Mainly because I'm lazy.)  Rinse the turkey inside and out under cold running water.
6. Put the turkey in a large stock pot or the clean five gallon bucket. Pour in enough brine to cover the turkey completely. If need be, weigh the turkey down with something heavy, like a can of soup or two, so it doesn't float. Brine for at least 10 hours, but not more than 24. Mrs. A's Notes:  Brining too long can ruin the flavor of the turkey. If your turkey is less than 8 lbs., cut down the brining time, or reduce the amount of salt in the brine.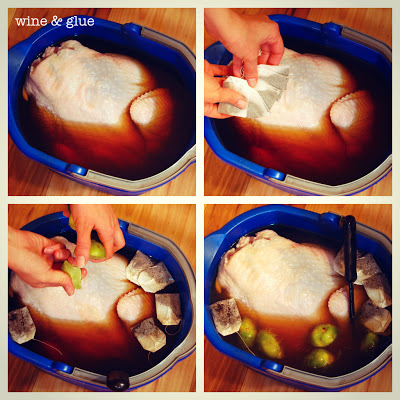 7. Storing the turkey overnight:  If you don't have room in your refrigerator, you could put the turkey and the brining solution in a small cooler. Then place a milk gallon half full of frozen water in the brining solution to keep down the temperature. If the temperature is cool, but not freezing, you can place your turkey outside overnight (though watch out for critters!).
8. When you are done brining, discard the brining solution, but keep the limes. Rinse the turkey well under cold water and pat dry with paper towels inside and out.
9. Make the following rub and spread it all over your turkey. Mrs. A Notes:  You may not need it all, especially if you have a small turkey, but you could keep the rest for roast turkey.
3 TBSPs dried rosemary
1 1/2 TBSPs black pepper
3 TBSPs Dash (original flavor)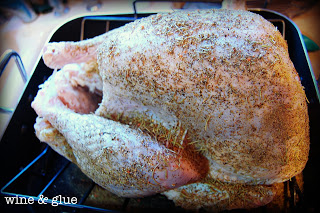 10. Preheat your oven to 325 degrees. Transfer turkey breast side down to a large, heavy roasting pan. Surround the turkey with fresh sprigs of rosemary, and put the limes reserved from the brine, along with more rosemary, inside the turkey.
11. Roast the turkey, uncovered and breast side down for 1 hour.
12. Remove it from the oven, turn it over, baste with the drippings and brush with olive oil. Continue roasting breast side up until a thermometer reads 165 degrees when inserted into the largest part of the thigh. Mrs. A Notes:  Be sure to avoid the bone when checking the temperature, and use an insulated rubber glove when flipping the turkey over.
More Notes from Mrs. A on roasting:
If you are using a convection oven, the turkey could be done before the breast has browned. If that happens, turn the oven up to 425 and continue cooking for no more than five minutes.
If you are cooking with a regular oven, the turkey may turn too dark on the breast side before the internal temperature gets to 168. If that happens, cover loosely with a piece of foil at the top to prevent from over-browning.
13. For extra flavor you can either use a Maple Glaze or a Basting Sauce.
Maple Glaze:
1/2 cup pure maple syrup
1/4 cup white vinegar
Whisk the ingredients together, and in the last five minutes of roasting, brush the turkey with the glaze.
Basting Sauce:
1/2 cup olive oil (not extra virgin) *
2 cups canned chicken or turkey broth
1/3 cup honey
2 leeks, left whole**
Juice of one lime
Whisk the ingredients together and pour into the pan. While the turkey is roasting, occasional baste with the sauce, for example, every 15 minutes.
* don't use extra virgin olive oil, and if you only have canola, that is fine
** leaving the leeks whole allows for easy removal
14. Once the turkey hits 165 degrees, remove the turkey from the oven, hold upright using the insulated rubber gloves for a few seconds to let the drippings fall into the pan. Place the turkey on a carving board and let it rest for 20 minutes while tented with aluminum foil.
15. To make gravy from the pan drippings you will need:
pan drippings,
3 cups of turkey broth (canned or made from boiling 3 cups of water, the turkey neck, a medium leek, and whole black peppers)
1/2 cup of white wine
2 TBSPs butter
2 TBSPs flour
place the roasting pan on two stovetop burners over medium heat and deglaze the pan, stirring to scrape any brown bits from the bottom of the pan, bring to a simmer
add to the pan drippings 1 cup of turkey broth and 1/2 cup of white wine, bring to a simmer, and add the rest of the turkey broth
transfer to a container and set aside
in a larger heavy saucepan, melt 2 TBSPs over medium high heat, stir in flour and make a light roux.
add the hot stock/drippings mixture whisking constantly, until it is thickened, about 10 minutes.
add salt and pepper to taste, move to a gravy boat, and serve