Sigh. There are just so many things no one told me about parenting before I signed up for this.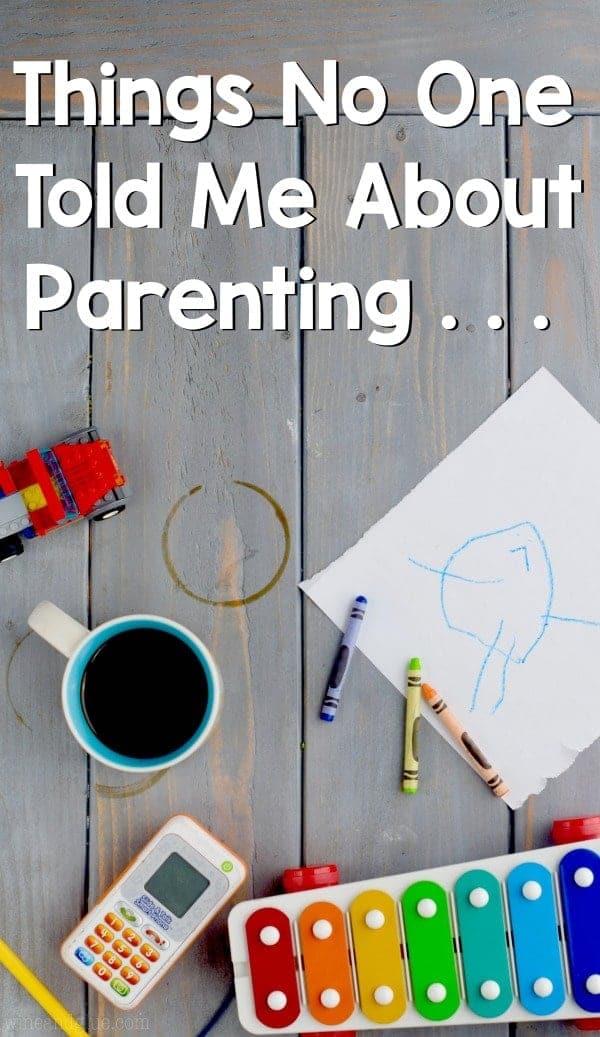 I am so proud to be partnering with Yoplait to bring you this list that you, by now, already know. By heart. Yoplait is a proud supporter of Moms. Momming On.
No one really prepared us for this parenting thing.
I remember when Gavin was a newborn and someone who didn't have kids yet stopped over. She asked, with horror, if changing poopy diapers was really bad. And I was like, "Dude. Poops are like the easiest part. THERE IS ONLY ONE ANSWER."
So, for all you out there who have yet to have little tiny mini butts of your very own to wipe, here are all the other things you can expect. Full disclosure: This list is not mine alone. I asked my friends, and they came out of the woodwork with answers in droves. And every single answer made me yell at my phone, "YES. THAT."
No one told me that . . . . 
 . . . . I would be willing to catch and unreasonable amount of bodily fluids with my bare hands.  For real though. Every parent has a story in their back pocket just waiting to come out on prom night or during a wedding toast that involves a new carpet/bedspread/car and some bodily fluid that came out with unreasonable speed and in unreasonable quantity.
. . . . there is such a thing as Mom Math.  One kid + One kid = 87 toys out, 62 snacks needed, and 14 tantrums had in 45 minutes. And "We'll be there in 15 minutes" means "We'll be there in 30 minutes assuming all goes according to plan and I don't have to catch anything (see point above)."
 . . . . I would come to simultaneously loath and love the word Mom.  It becomes the soundtrack of your life, like a bad 90's song overplayed on the top 40s radio station. "Mom. Mom. Mom. Mom. Mom. MOM!!" It is also the sweetest sound in the entire universe when said just as they are about to sleepily head off to bed.
 . . . . there are no such things as 'good' and 'bad' hair days.  There are only days you showered and days that you aren't sure you can remember the last time you showered. I mean, it was probably two days ago . . . *smells armpit* . . . nope, definitely on three days now.
 . . . . there would be a new definition of 'me time.'  30's something me looks back on 20's something me getting a pedicure and thinks, "That's cute, I just want to pee with the door closed and take a 30-minute trip alone to Target."
 . . . . I really would have a favorite child.  Your parents lied to you all along. They did have a favorite. If you didn't know that, it probably wasn't you.*
 . . . . children are biologically programed to have selective hearing.  Tell them 3,485 times to put their shoes on before they even start walking towards said shoes, but open up a package of cookies while looking for 30 seconds alone in the pantry and all three flock to you like Pavlovian beasts.
 . . . . you will have PTSD-like flashbacks to your school days.  They will inevitably wait until the very last second to tell you they need XYZ cockamamie thing and you will no doubt be driving to 6 stores at 9 pm to get wooden clothes pins at some point in the next 18 years.
 . . . . HANGER is a real thing. Hell hath no fury like an over hungry three-year-old being told "No."
 . . . . you will say things you never imagined. "Don't stick a pencil in the dog's butt." "Your head is not a weapon." "Do not hit your baby sister with a light saber!" "No one wants to see your butt." "How many times have I told you to put pants on today?" "I told you, your head is not a weapon!"
 . . . . you would love them this much.  Actually, that's not entirely true. My mom did tell me that I couldn't even begin to understand how much parents love their children, and it's only something you know once you've done it. I don't think I believed her. Or maybe it just didn't sink in until literally that first moment I held Gavin and looked into his bright blue eyes that seemed like they held the entire universe and felt happier than I have ever felt in my whole life.
Despite all the poop, timeouts, open door bathroom sessions, the amount I love them feels overwhelming.
Yoplait gets that moms are real people, living very real, very messy lives with these tiny people they love more than life itself. They are encouraging moms to embrace the way they Mom On in all the everyday moments, messy and perfectly imperfect. I'm so proud to be joining them in bringing you this campaign of awesomeness. Check out their newest ad that is basically my life on screen.
Be sure to follow along this year as I share more from Yoplait and be sure to chime in with all the things no one ever told you!
*Children of mine now in the future and old enough to read this, of course you were the favorite.