Baked Turkey Meatballs are a delicious lighter alternative to my Grandmother's Italian Meatballs! Baked in the oven instead of fried, they are the healthy turkey meatball recipe you've been looking for!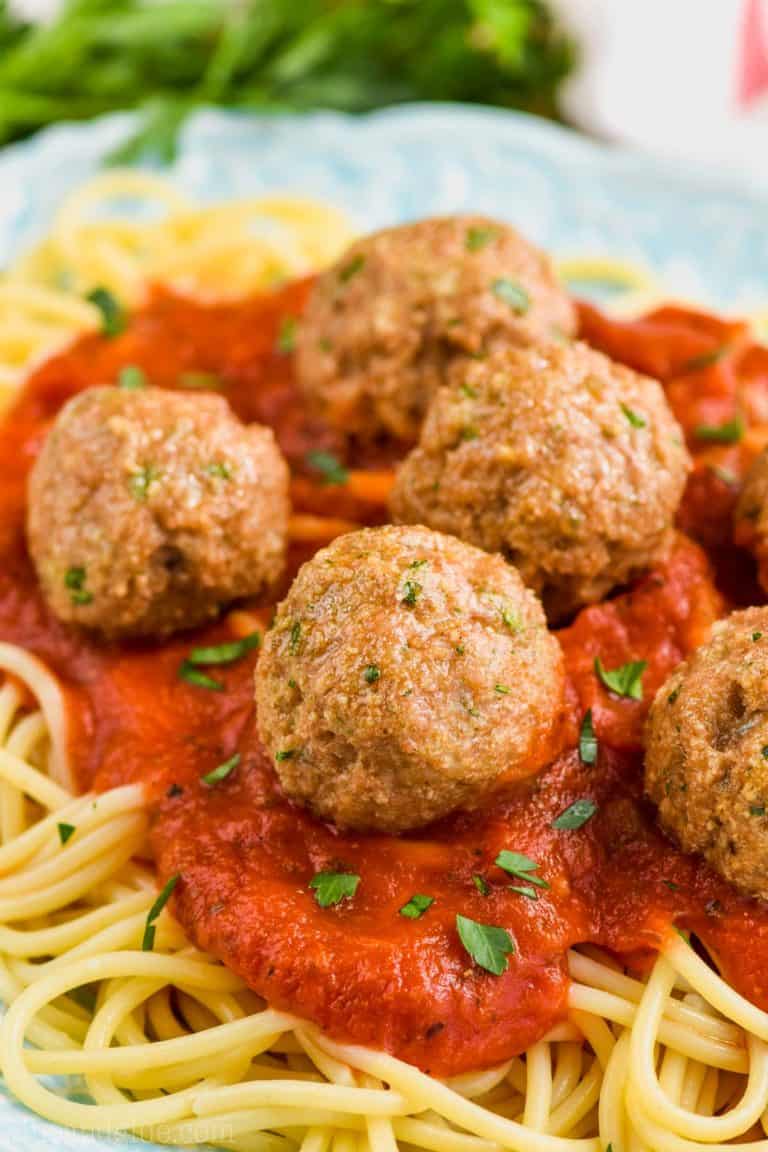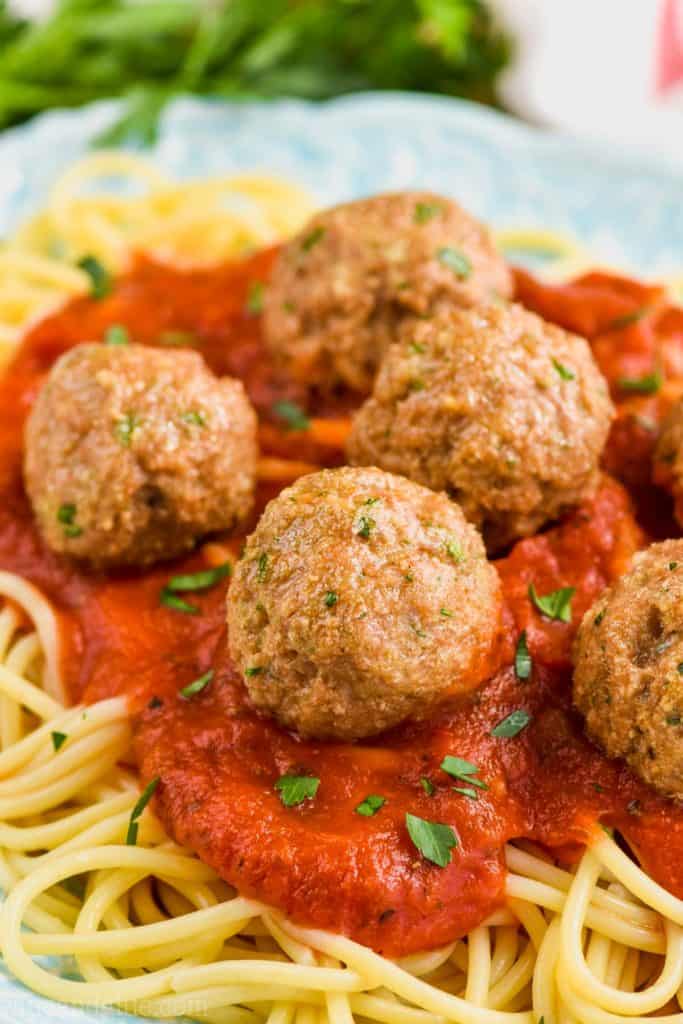 For as long as I can remember I have been making turkey meatballs.
In fact, I know that I have been making them a really long time because I have a memory of telling toddler Gavin, "Put that meatball in your belly" and him lifting up his shirt and slamming the "meatmall"on his fork into his stomach.
That kid has been super literal from time immemorial.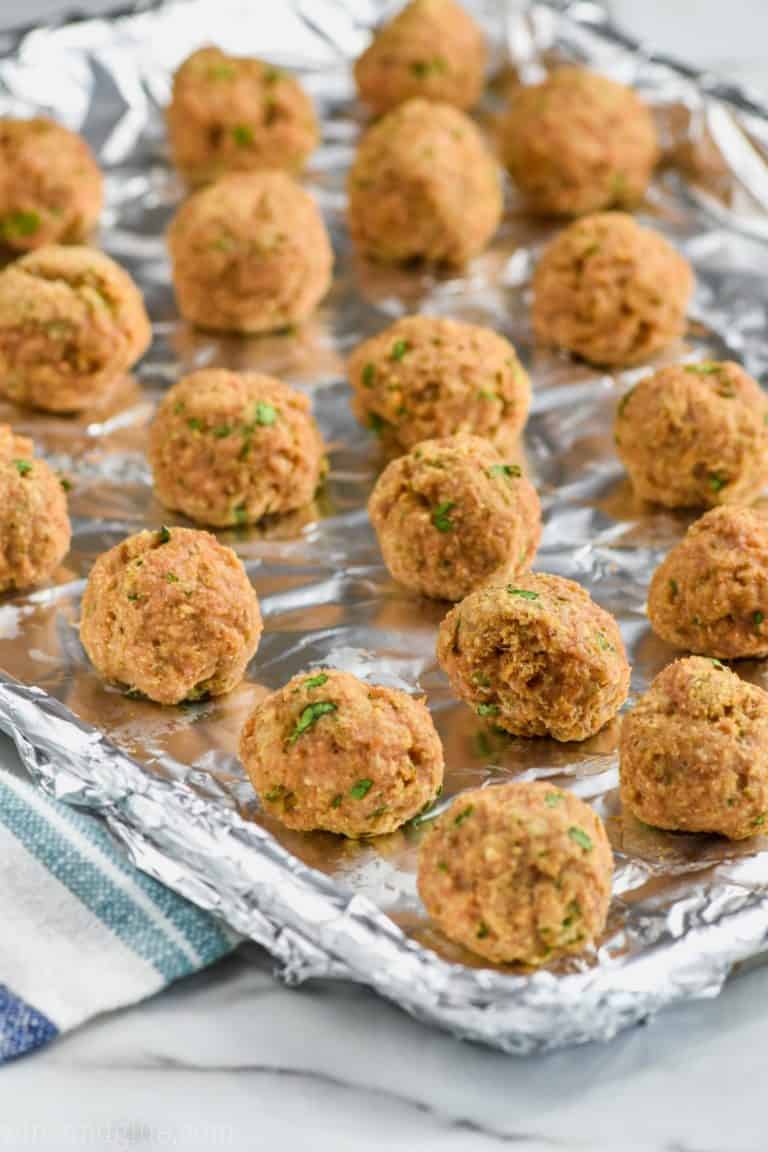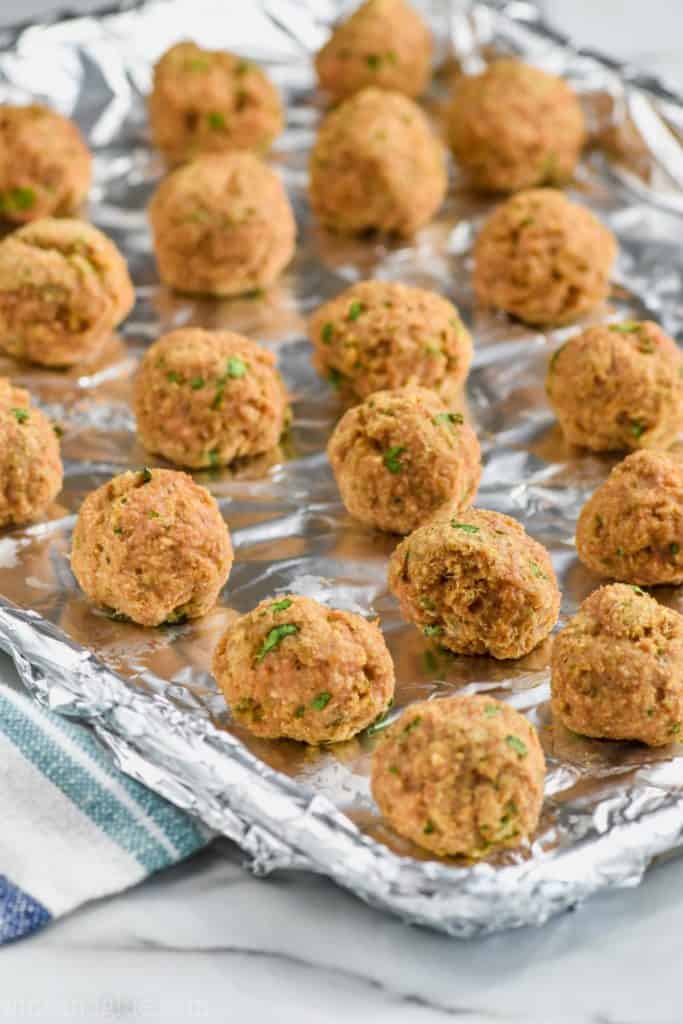 When looking for a good healthy turkey meatball, I immediately turned to my grandmother's traditional Italian Meatball recipe.
It has so many great reviews that it was a perfect place to start when developing this recipe.
What sets my grandmother's recipe apart is that you make a binding agent out of soaked bread. It works so well to create a moist and delicious meatball.
This recipe has all the great taste of her original, but with half the fat and half the calories!
HOW DO YOU MAKE TURKEY MEATBALLS
This recipe starts with some ground turkey. I used 93% lean.
As I mentioned above, you need some Italian bread soaked in water. Some recipes call for soaking it in milk, but honestly, grandma was pinching pennies and she used water. I have tried it both ways and vastly prefer water.
You also need some bread crumbs. I like using the Italian seasoned ones, but if you only have plain on hand, don't make an extra grocery trip.
You need an egg that you want to whisk up before tossing it in there.
You need grated parmesan. If you use the canned stuff, I promise not to tell anyone you didn't freshly grate it.
You also need some dried herbs and spices.
Finally, you need some fresh parsley. I love the added taste this brings to the recipe!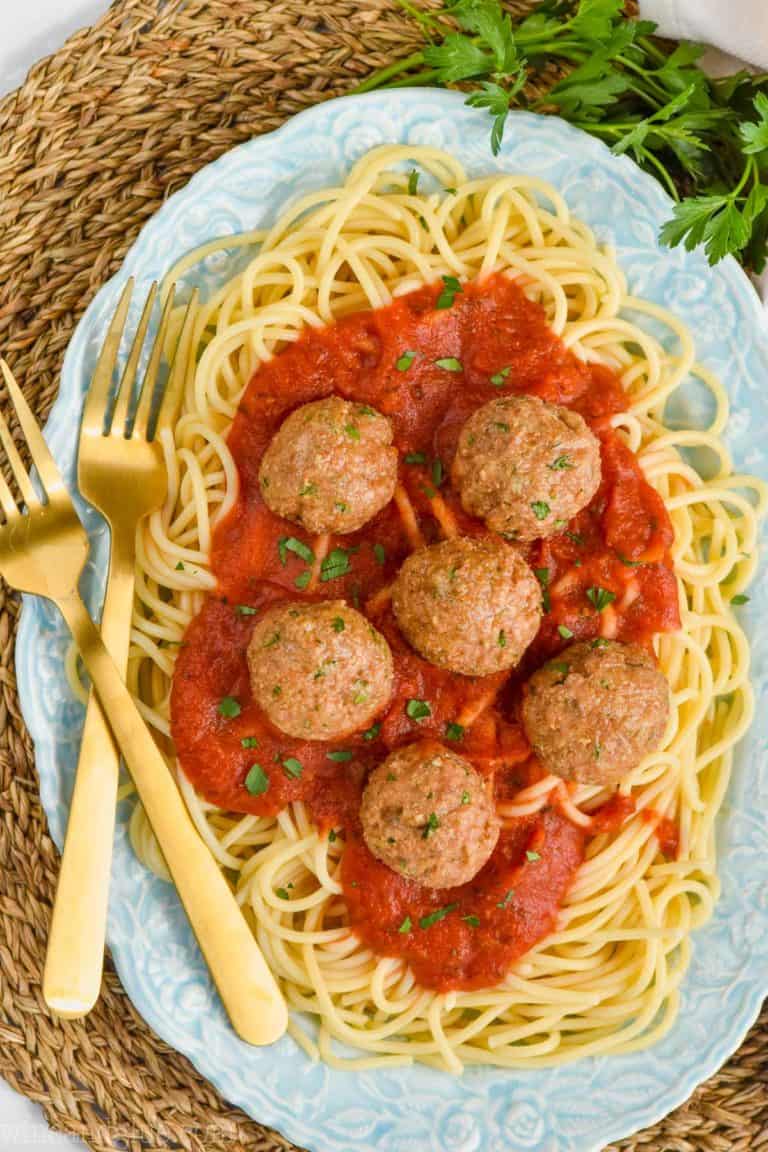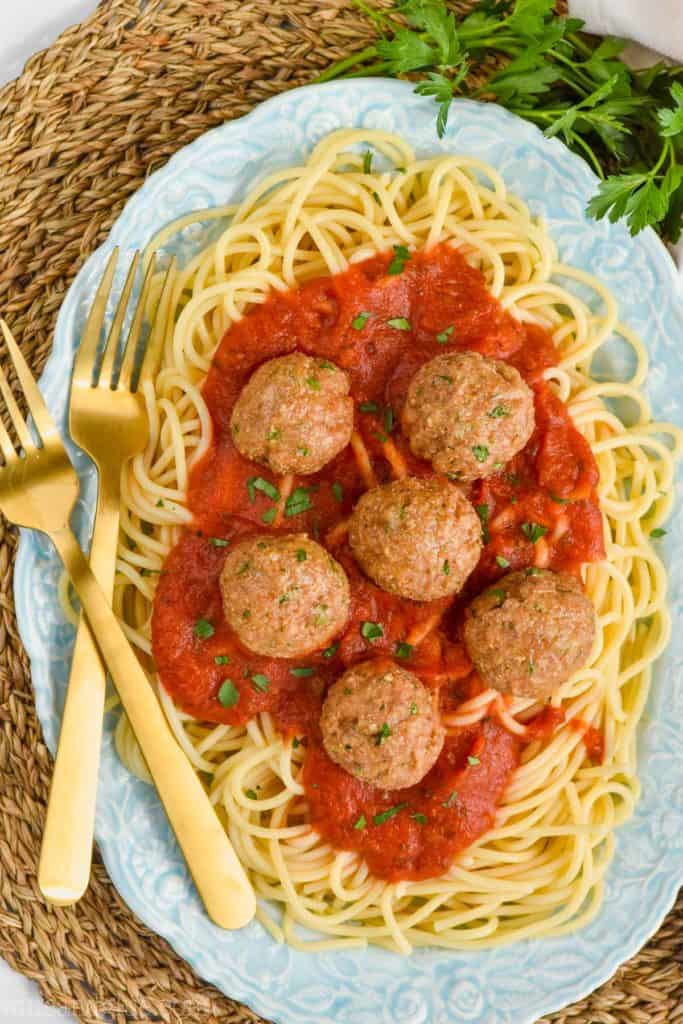 Disclaimer: True Italians do not serve their meatballs on spaghetti. They serve them separately. It's like two completely different dishes. Turkey meatballs and spaghetti is not a thing. But . . . . grandma also would not approve of me making her recipe out of ground turkey. So . . . good thing she adored me.
But I do love them with my Homemade Spaghetti Sauce.
TIPS AND TRICKS TO MAKING THESE GROUND TURKEY MEATBALLS
As mentioned above, whisk your egg before tossing it in.
I love creating my meatballs with a cookie scoop. It allows for really uniform meatballs that cook evenly and it makes fast work of making the meatballs.
Since you are working with raw meat, set your pan and your cookie scoop out before you start hand mixing the meat and other ingredients.
When you mix these, use your hands. It's just the easiest method.
You can definitely fry these if you want to, but it's not necessary. They cook up perfectly fine in the oven and you are making the turkey meatballs healthier this way.
These can be made ahead of time and then you can warm up the turkey meatballs in sauce on the stovetop.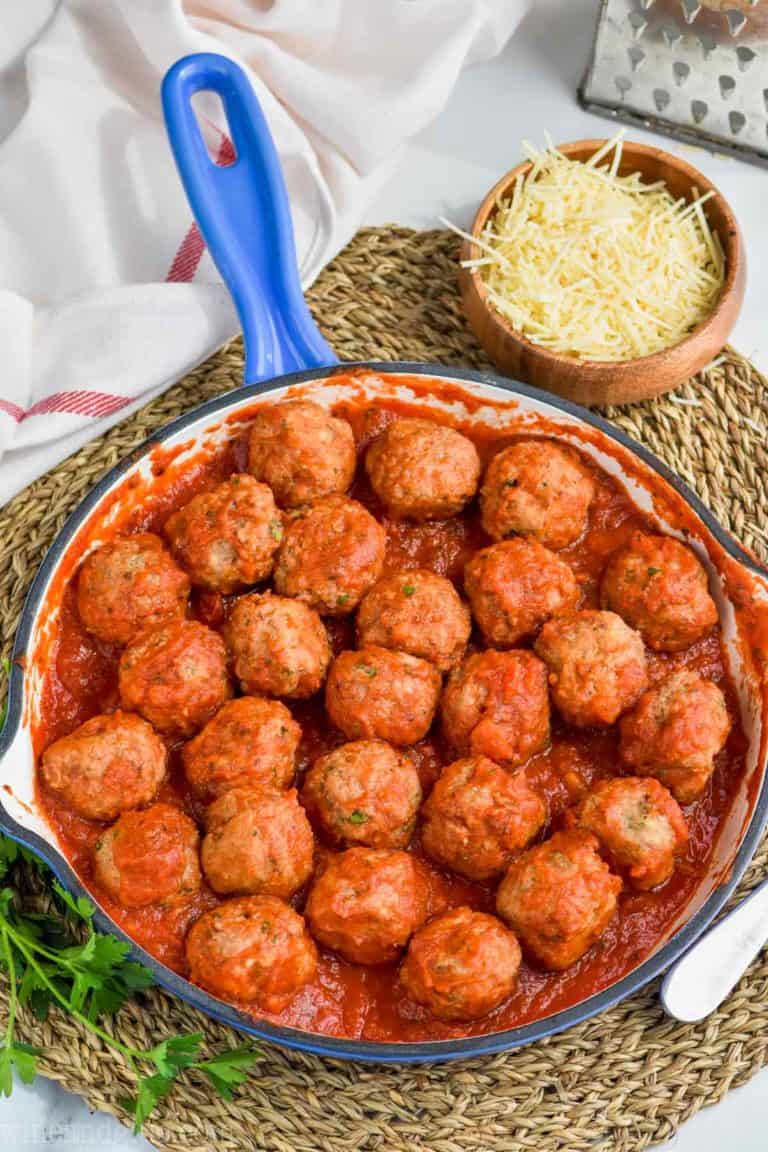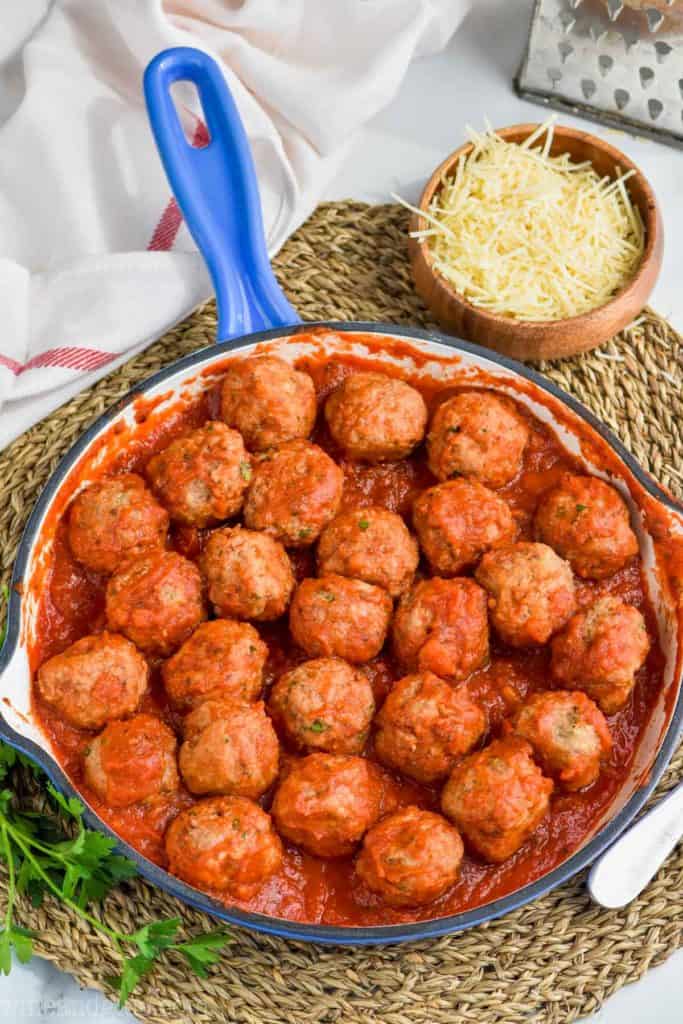 WHAT TO SERVE WITH MEATBALLS
These baked turkey meatballs would go great with this easy side salad or this roasted asparagus . You guys. Piper likes asparagus! It's like a small summer miracle.
Or you could serve it with this zucchini salad! When I was in NYC last week we did a cooking competition and my team made that recipe as part of the meal we were serving. The judge, who is a trained chef, took the time to comment on how good it was and then I spent four hours patting myself on the back.
If you make these meatballs or any of my other recipes, leave me a comment and let me know what you think!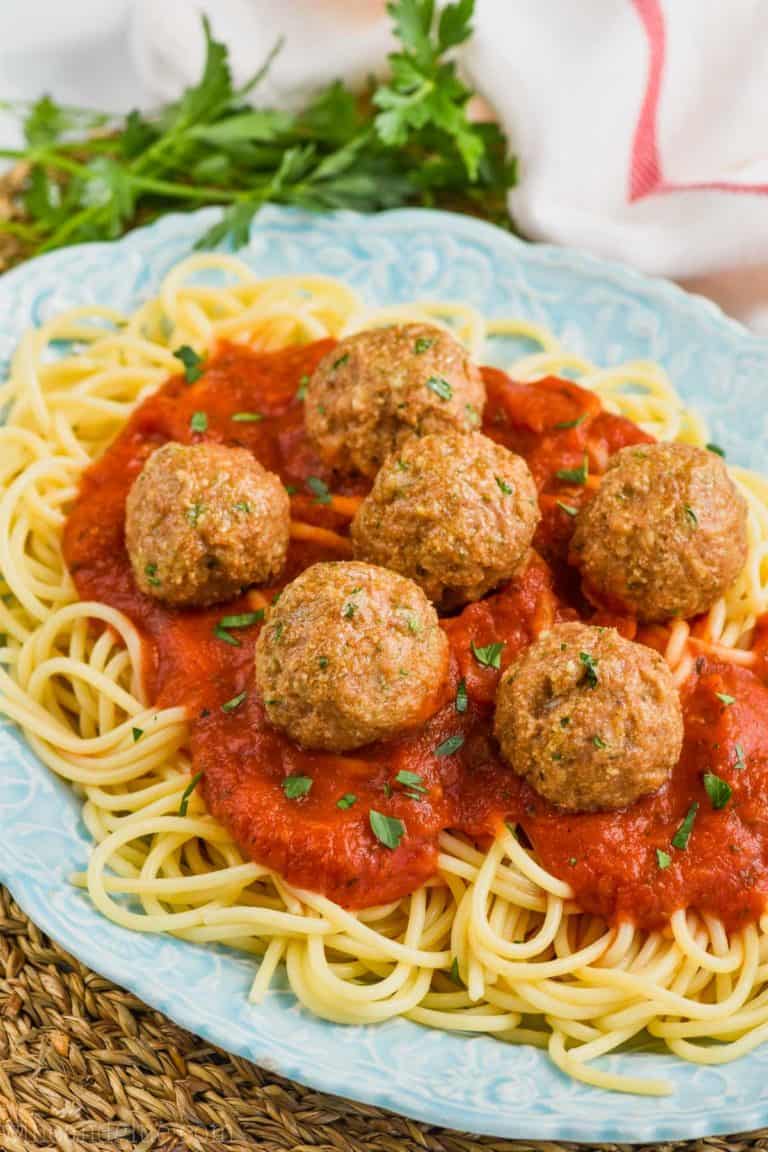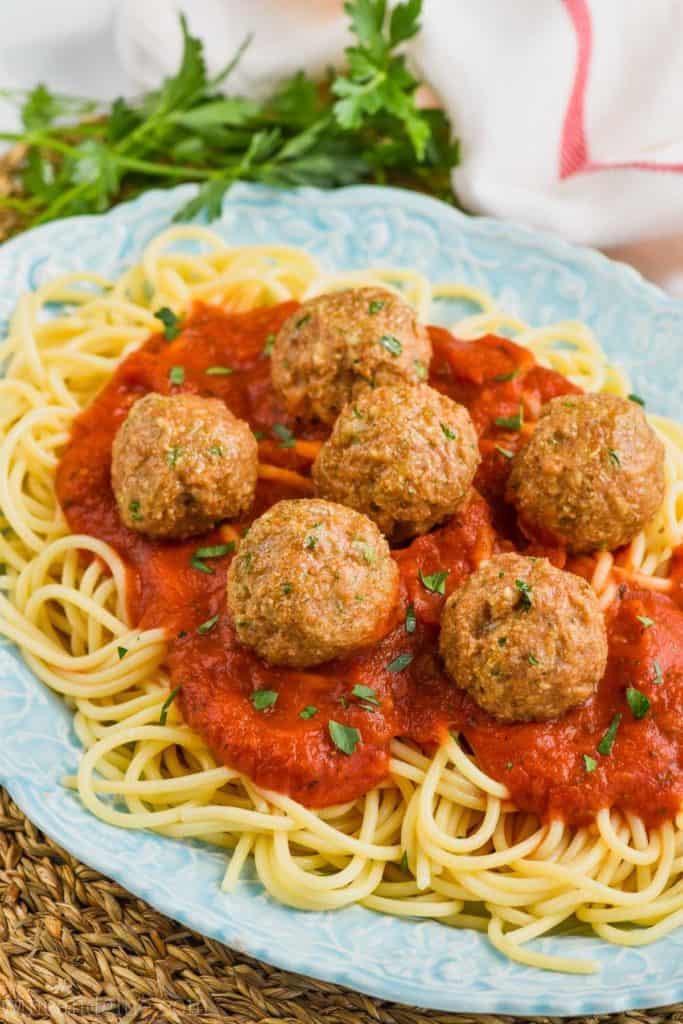 WATCH ME MAKE THESE BAKED TURKEY MEATBALLS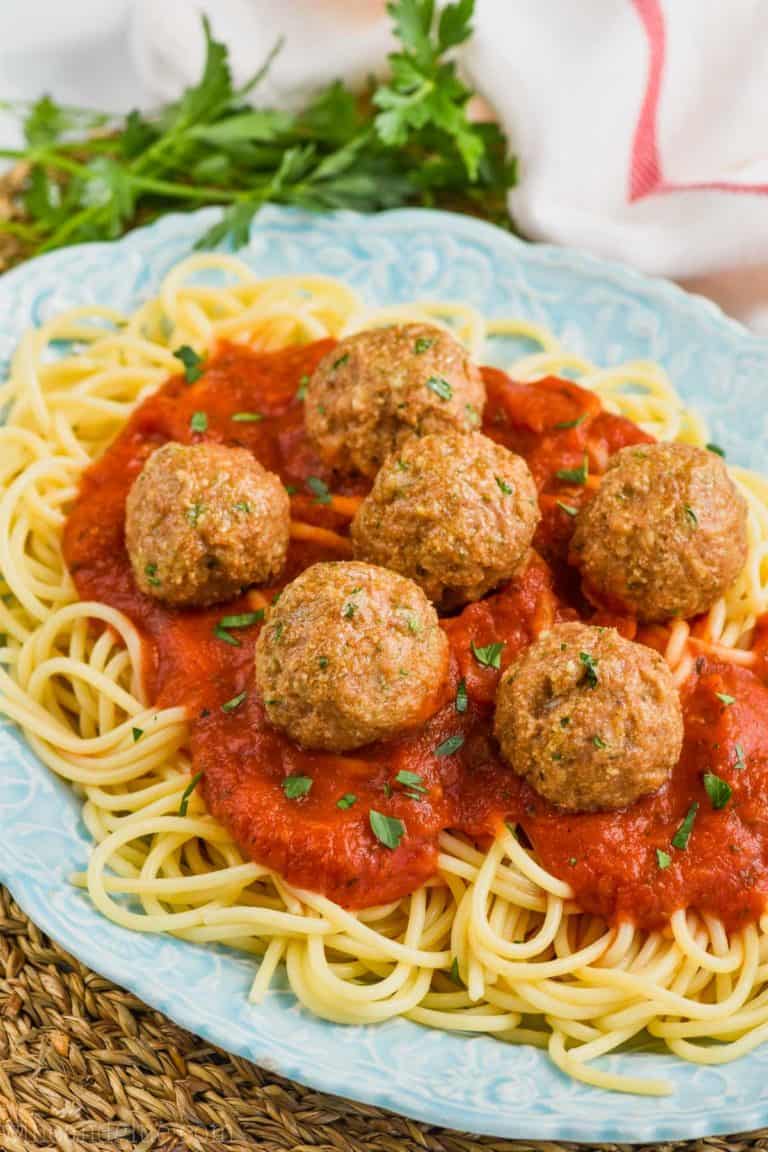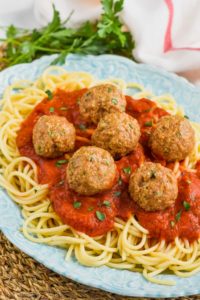 Baked Turkey Meatballs
Baked Turkey Meatballs are a delicious lighter alternative to my Grandmother's Italian Meatballs! Baked in the oven instead of fried, they are the healthy turkey meatball recipe you've been looking for!
Ingredients
1

pound

ground turkey

93% lean

1

egg

beaten

2

slices of Italian bread

(5 ounces)

1/2

cup

Italian bread crumbs

1/4

cup

grated parmesan cheese

1/2

teaspoon

garlic powder

(not garlic salt)

1/2

tablespoon

dried oregano

1/2

tablespoon

dried basil

1

teaspoon

salt

pinch of black pepper

2

tablespoons

fresh parsley
Instructions
Preheat your oven to 375 degrees. Line a baking sheet with aluminum foil and spray with cooking spray.

In a small bowl, pour cold water over the Italian bread. Let it soak for five minutes. Then squeeze out the bread removing as much water as possible and break it up into small pieces.

In a large bowl combine all of the ingredients. It works best to do this with your hands and make sure all the ingredients are well distributed.

Using a medium cookie scoop, make even sized meatballs. Roll them and place them on the prepared baking sheet. If not using a cookie scoop, the meatballs should be about an inch and a half across.

Bake for 15 minutes or until a meatball in the middle of the tray is cooked through when cut in half.
Serving:
1
meatball
Calories:
53
kcal
(3%)
Carbohydrates:
4.3
g
(1%)
Protein:
5.1
g
(10%)
Fat:
2
g
(3%)
Saturated Fat:
0.8
g
(5%)
Polyunsaturated Fat:
0.1
g
Monounsaturated Fat:
0.2
g
Cholesterol:
22
mg
(7%)
Sodium:
164.9
mg
(7%)
Potassium:
10.6
mg
Fiber:
0.2
g
(1%)
Sugar:
0.1
g
Vitamin A:
3.5
IU
Vitamin C:
0.7
mg
(1%)
Calcium:
9.5
mg
(1%)
Iron:
3.1
mg
(17%)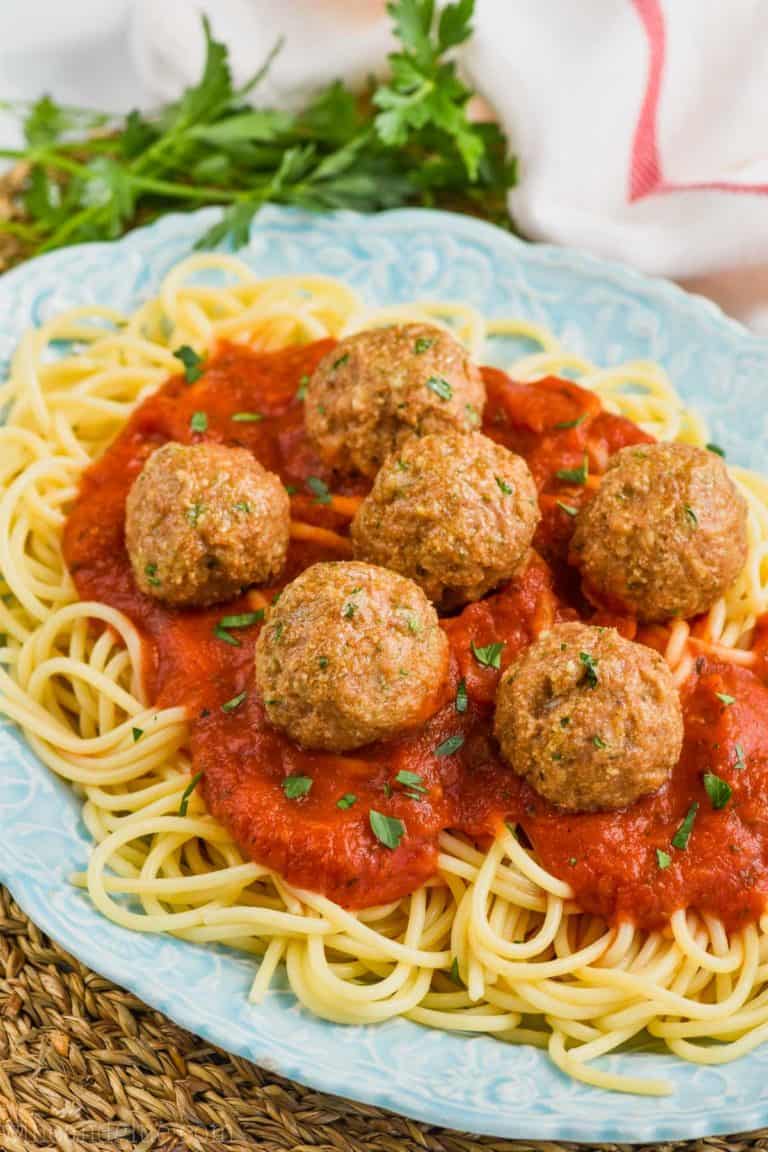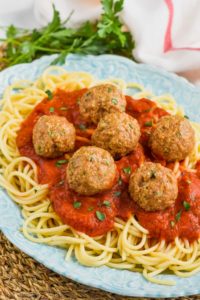 did you make this
Baked Turkey Meatballs
This post contains affiliate links, if you click on them and then make a purchase, I make a small amount of money at no additional cost to you. Thank you in advance for supporting Wine & Glue.