This Buffalo Chicken Pot Pie is an easy dinner recipe that your family will gobble up! Total comfort food!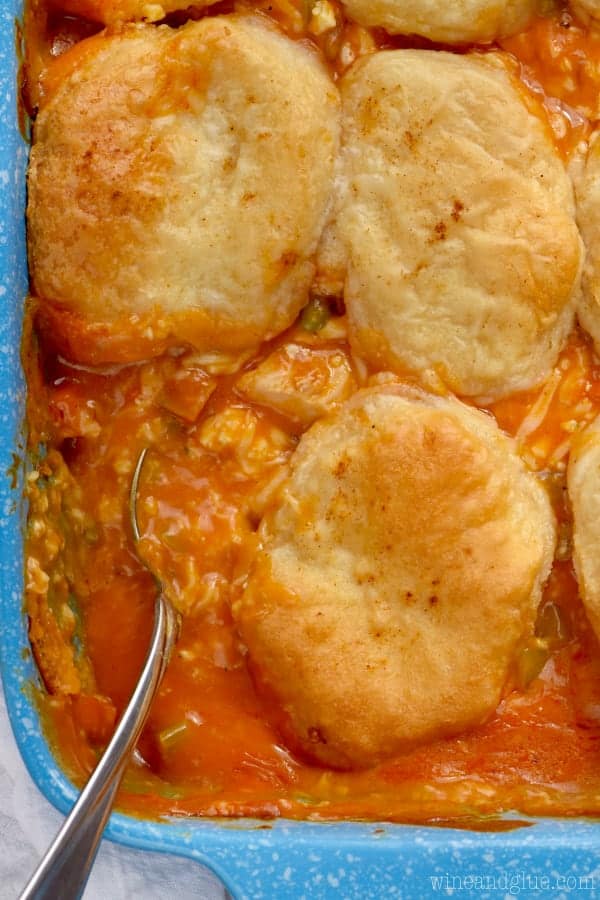 So since the kids have started school I've been working with them on seeing mistakes as a good thing, you know because you learned something. A difficult ask for these Type A kiddos of mine bent on perfectionism . . . so weird, I wonder where they got that from.
Anyway!
Ya'll, it has totally come back to bite me.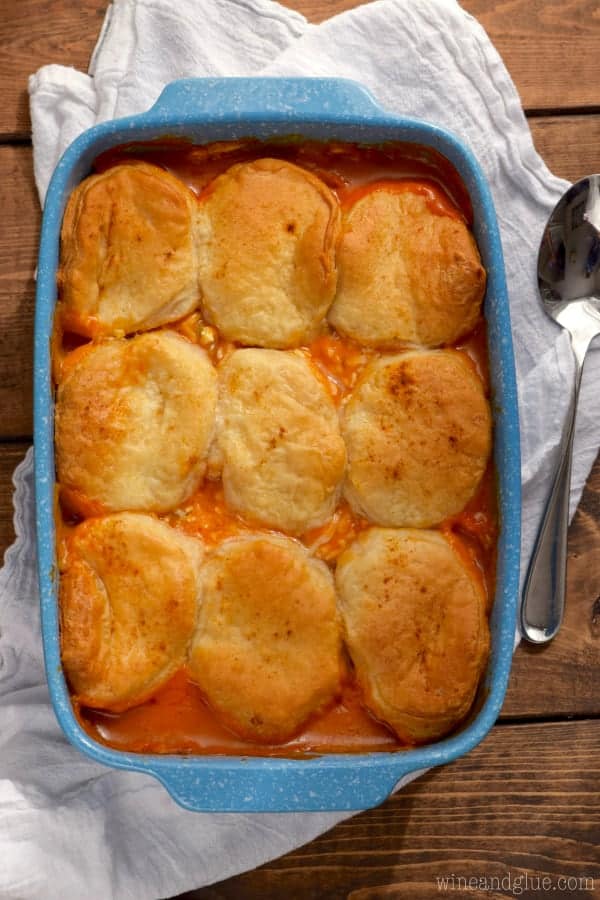 I have had so.many. recipe fails lately! And craft fails! And photography fails! And honestly, I don't even want to talk about the video fails. I just can't. Can I complain to you about how bitter I feel about recipe fails? They make me so angry. So angry. It's not even just the wasted ingredients, though that's tough to swallow too (HA!), it's the wasted time! In a world in which I am mom, chef, chauffeur, tutor, and everything else for the family pluuuuuuuus working a more than full time job without childcare . . . I can't deal with the wasted time invested in a recipe fail.
It makes me cry.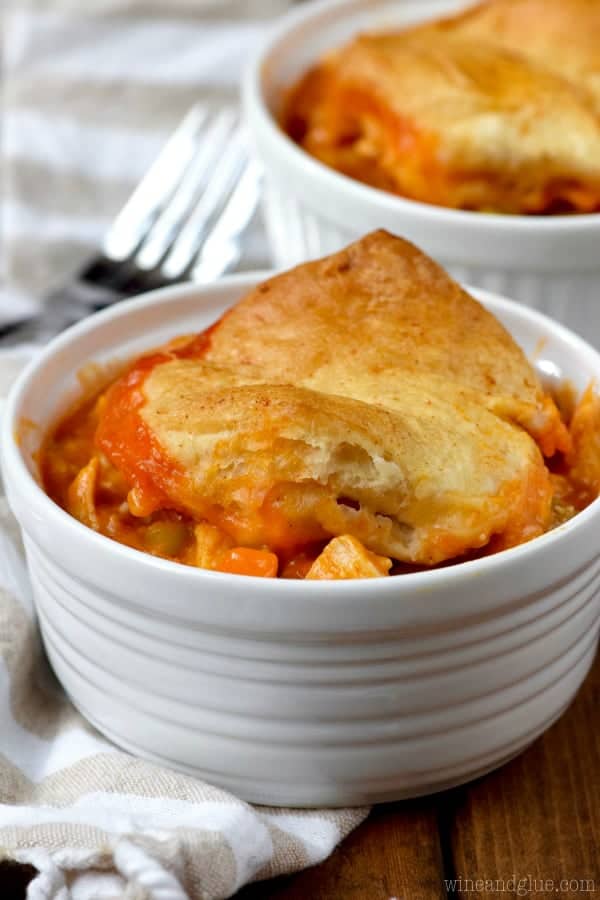 So then when my kids come home and tell me that they couldn't get a problem in math or, oops they were wrestling on the playground and got punched in the nose #truestory . . . I mean, if I'm going to tell them mistakes are great because you learn from them, I'm really going to need to work on embracing cakes that fall flat and crafts that look like garbage, right?
Annnnnnnd, when this Buffalo Chicken Pot Pie came out perfect on the first try I nearly wept with joy. (It's totally possible that I'm still overtired from having all the fun ever in San Francisco with a bunch of fellow bloggers last weekend.) But seriously, is it any surprise that it came out perfect? Chicken Pot Pie is such an easy staple and this is just a quick easy change up of it. If your family likes buffalo sauce they will love this.
I legit have eaten it for the last three meals. (Eeeep!!!)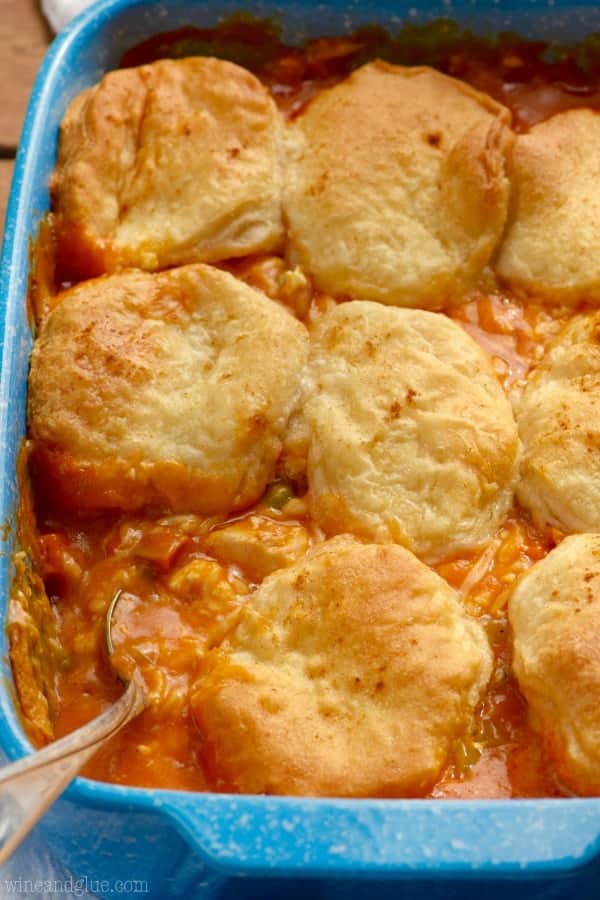 Note: I don't like that usually in these types of recipes with the biscuits, the biscuits don't quite cook all the way through. So with this recipe I just used a half pack, split them in half and only used nine halves total. They browned and cooked perfectly during the first half of the recipe and then I covered the whole dish with foil for the last half(ish) and then none of them were doughy and all of them were brown and crisp on top.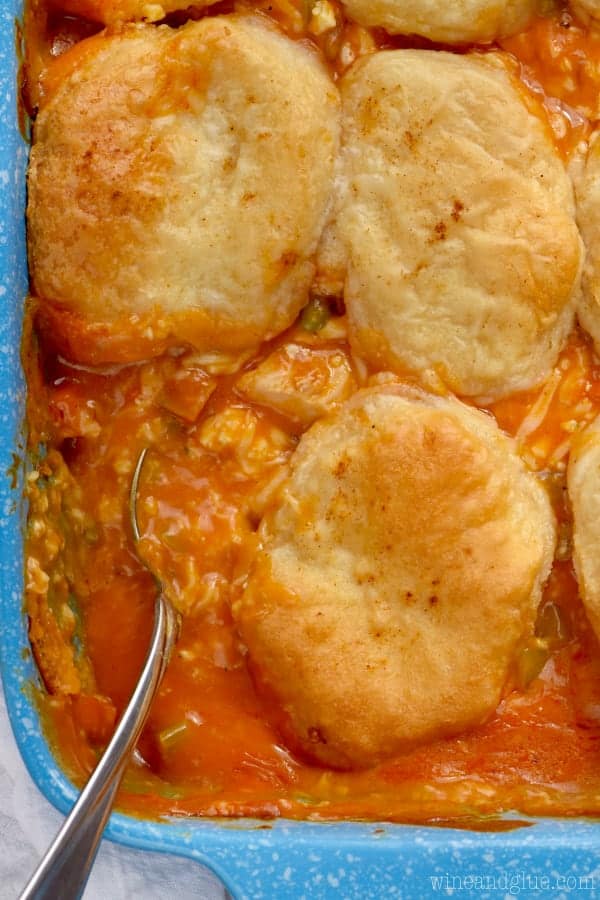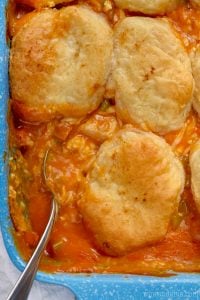 Buffalo Chicken Pot Pie
Ingredients
2 10.5

ounce

cans of condensed cream of chicken soup

1

TBSP

unsalted butter

2

celery ribs

diced

1/2

a yellow onion

diced

salt and pepper

1

cup

buffalo sauce

2

cups

diced cooked chicken

1

cup

frozen peas and carrots

1/2

cup

crumbled blue cheese

2

cups

shredded mozzarella

10.2

ounce

container

the half container of refrigerated flakey layer biscuit dough

1/4

tsp

paprika

optional
Instructions
In a medium sauce pan, melt the butter. Add the celery and onion and season with salt and pepper. Cook until translucent.

In the bottom of a 3 quart casserole dish, combine the condensed soup and buffalo sauce. Then stir in the chicken, frozen vegetables, sautéed vegetables, and cheese.

Divide the biscuits in half and place on top of mixture. Sprinkle with paprika and bake uncovered for 30 minutes. At 30 minutes (or when biscuits begin to turn golden), cover with foil and bake 20 more minutes. Let stand 10 minutes before serving.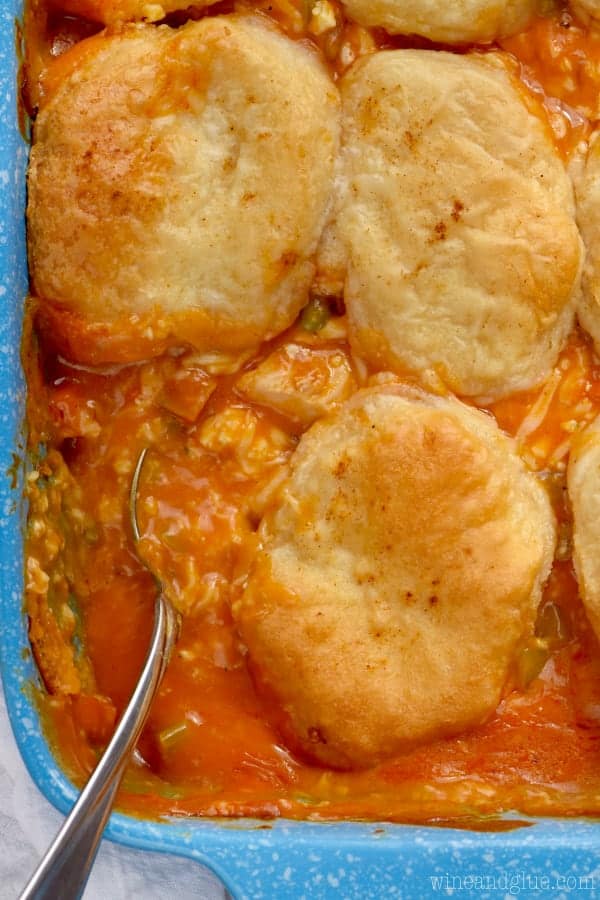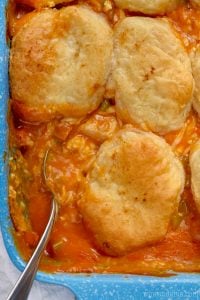 did you make this
Buffalo Chicken Pot Pie
You might also like
Slow Cooker Buffalo Chicken Noodle Sou
Buffalo Chicken Stuffed Mushroom