Amazingly soft Caramel Apple Sugar Cookies that are flavored with apple butter and have caramel baked right inside!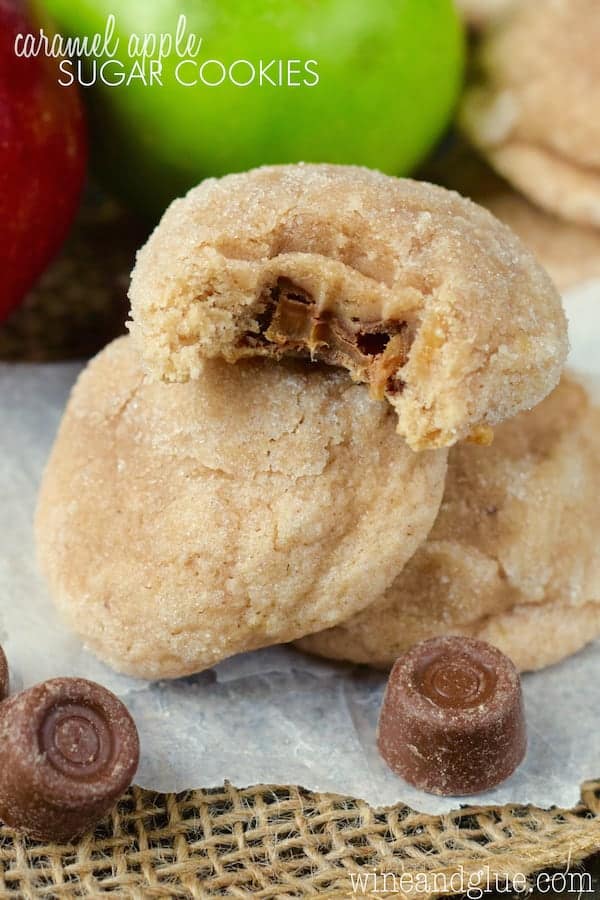 Can we just stop and take a moment and think about how amazing you all are?
…..
…..
…..
YOU GUYS ARE AMAZING!!
The other day I posted about a nasty comment that I got on the blog and how I need to be more like a duck to just let things roll off my back.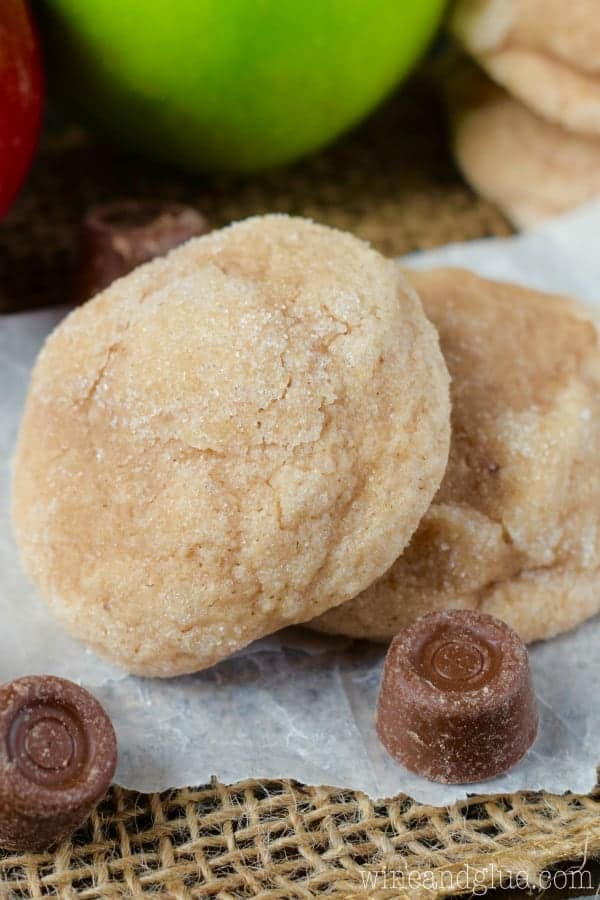 First, I want to say that that comment upset me a whole heck of a lot more than I care to admit. And isn't that part of the evilness that is anonymity on the internet? I know absolutely nothing about this person and yet I totally let them wreck my day. It doesn't even make sense.
On the other hand, I totally let the amazing comments that I got on that post MAKE my day. I should say days, because they keep coming in. I am blown away by people actually taking the time to read my blog. And then someone mentioned how much she looks forward to seeing Wine & Glue in her email inbox and I was crying.
No lie.
So, thank you. Thank you all for being you. Thank you for being the reason that I can do this amazing job. I get to stay home with my kids, I get to bake, I get to be creative, I get to take photos, and while it is harder than I think I have ever worked at anything . . . ever . . . I feel like I am living the dream.
Thank you.
And as a teenie tiny show of appreciation for all of you, leave a comment on this blog post and you will be entered to win a $25 Amazon gift card. Now through October 14th.  *CLOSED* – Thanks for entering!
You guys are the best.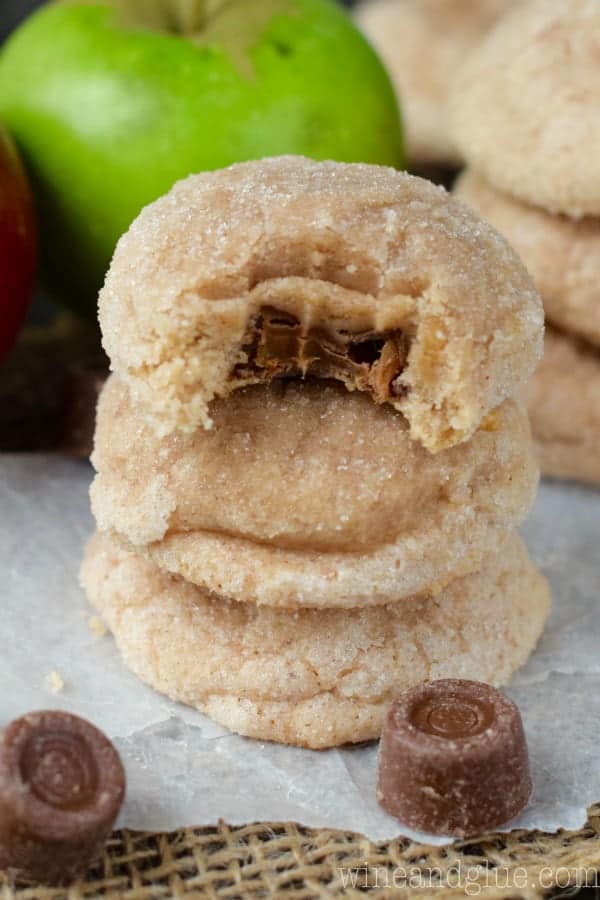 I should probably talk about this recipe, lol!
You guys these cookies are insanely good! They are soft, delicious, and have the taste of apple and cinnamon with a little caramel baked right in the center of them. I ate way more of these cookies than I normally do of blog treats and way more than I'm comfortable admitting! These are great anytime of year, but super fun in fall.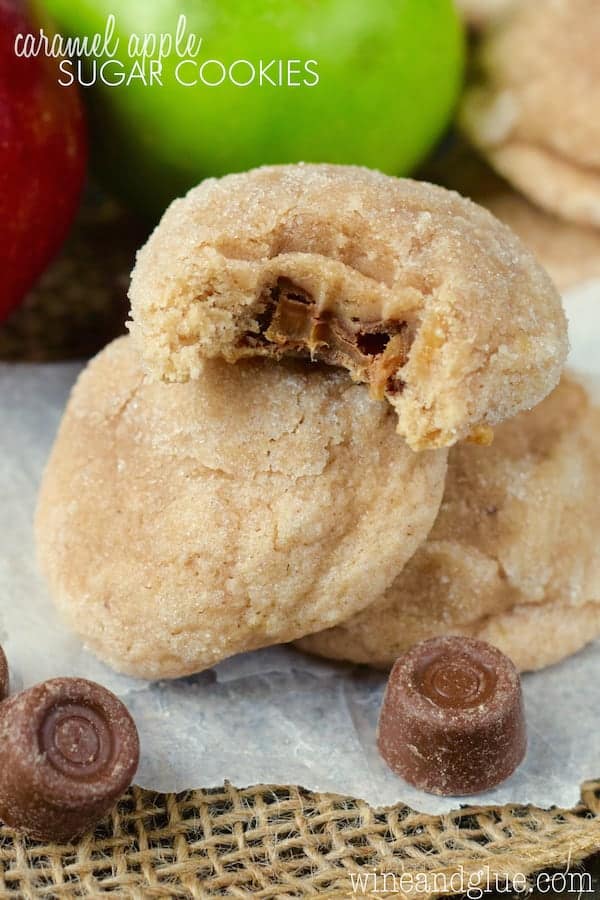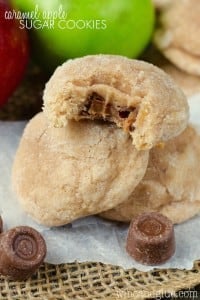 Caramel Apple Sugar Cookies
Ingredients
1 1/2

cups

sugar + more for rolling

2 1/2

cups

all purpose flour

1/2

tsp

baking powder

1/2

tsp

salt

1/2

tsp

cinnamon

8

TBSPs

butter at room temperature

see note

1/3

cup

apple butter

see note

2

tsps

vanilla extract

2

eggs

24

mini rolos
Instructions
In a large bowl, combine the flour, baking powder, salt, and cinnamon. Whisk until combined.

Beat the butter and apple butter together until well combined. Add in the 1 1/2 cups sugar and beat until fluffy, about three minutes. Add in the vanilla and then eggs, one at a time.

Slowly add in the flour mixture while beating on low. Beat until just combined, scraping down as necessary.

Chill the dough for 20 minutes. Preheat your oven to 350 degrees. Prepare baking pans with

silicon mats

or parchment paper.

Roll the chilled dough around the Rolos, one for each cookie, to make a dough ball about 1 1/2 inches in diameter.

Bake two inches apart for 10 to 12 minutes or until the edges of the cookies just turn golden brown. Allow the cookies to cool on the baking sheet for two minutes and then carefully remove them to a cooling rack until completely cooled. Store in an airtight container.
Notes
You should be able to push a finger into the butter easily but not all the way through.
Apple Butter is found in the grocery store near the jelly.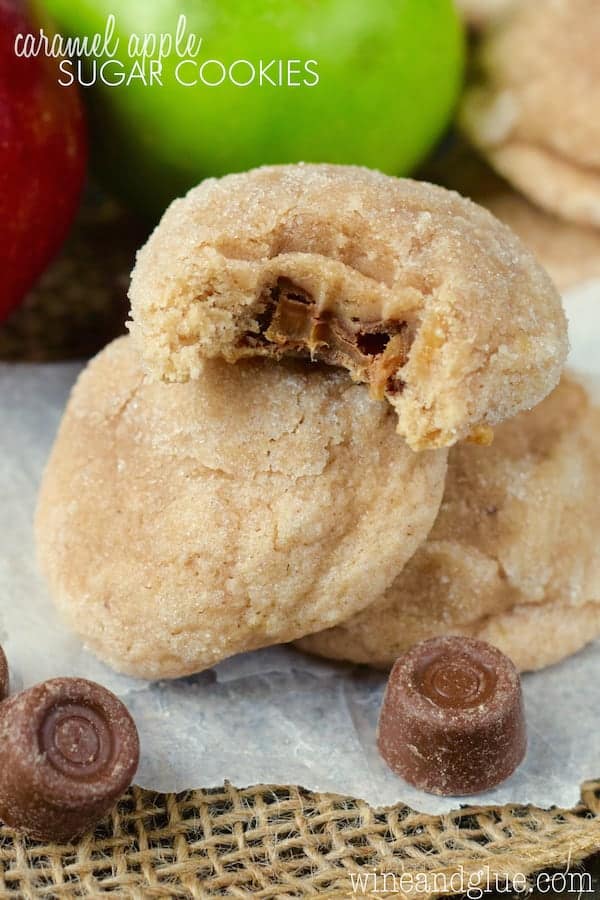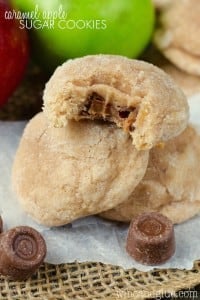 did you make this
Caramel Apple Sugar Cookies
Caramel Apple from friends
Caramel Apple No-Bake Cheesecake Trifles
You might also like

This post contains affiliate links, if you click on them and then make a purchase, I make a small amount of money at no additional cost to you. Thank you in advance for supporting Wine & Glue.