This Caramel Zucchini Poke Cake is completely from scratch and insanely good! You HAVE to make this! This caramel poke cake is a recipe that people request again and again!
If you are looking for another great caramel poke cake recipe, make this Caramel Apple Poke Cake. If you still have too many zucchini, make this Zucchini Sheet Cake or these Apple Carrot Zucchini Muffins.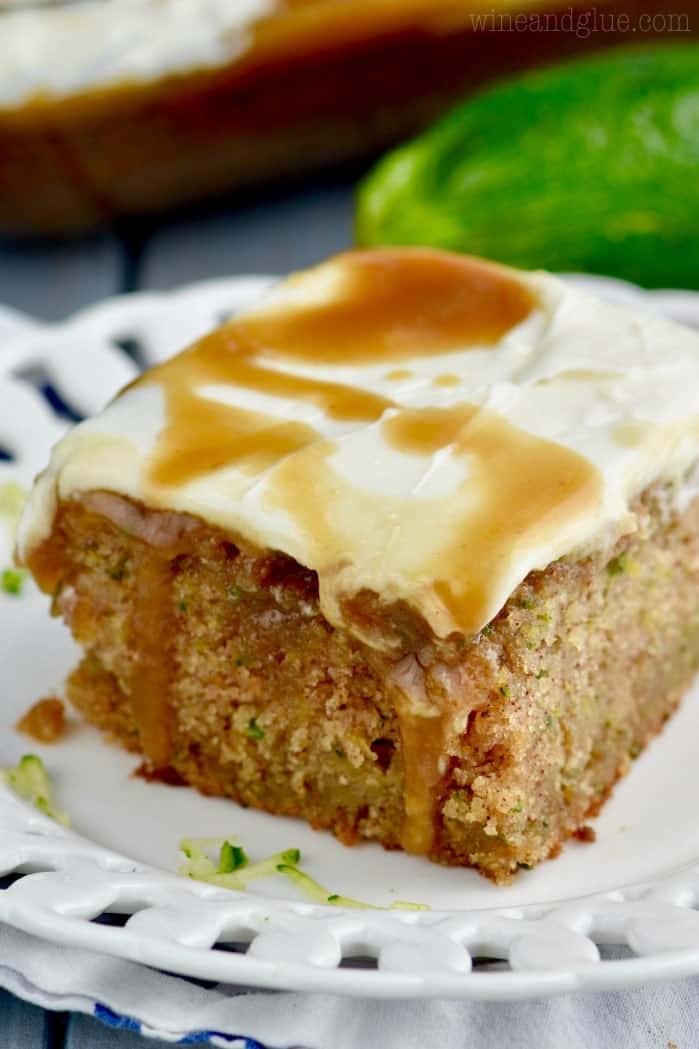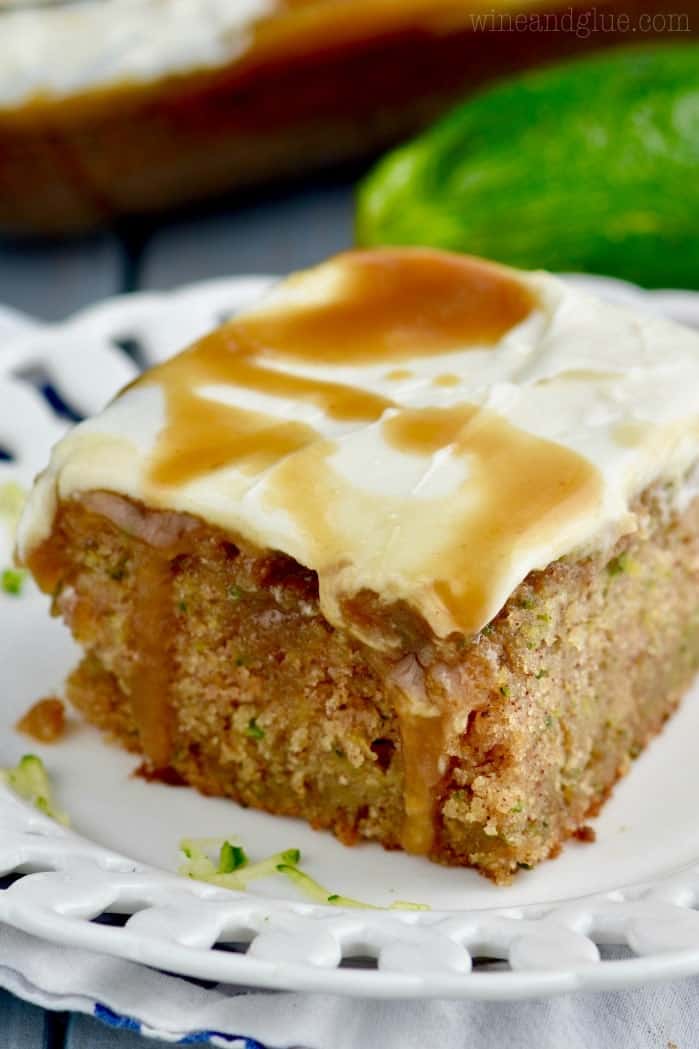 This poke cake is made totally from scratch with fresh zucchini and then you STUFF it with homemade caramel sauce, top it with THE BEST cream cheese frosting, and drizzle more caramel sauce on top. This cake is the stuff of dreams and legends. If you aren't a poke cake fan, this will turn you.
Do you ever feel like the universe is speaking to you?
So over the weekend we had this most amazingly beautiful day at the beach with our kiddos and my niece and nephew who we were watching for a few days. All the kids and Nathan were playing in the sand and I was in the shallow waves with Piper who was loving every second of it, when this guy walks by and casually says,
"Awww, man. I miss those days. Mine are all big now."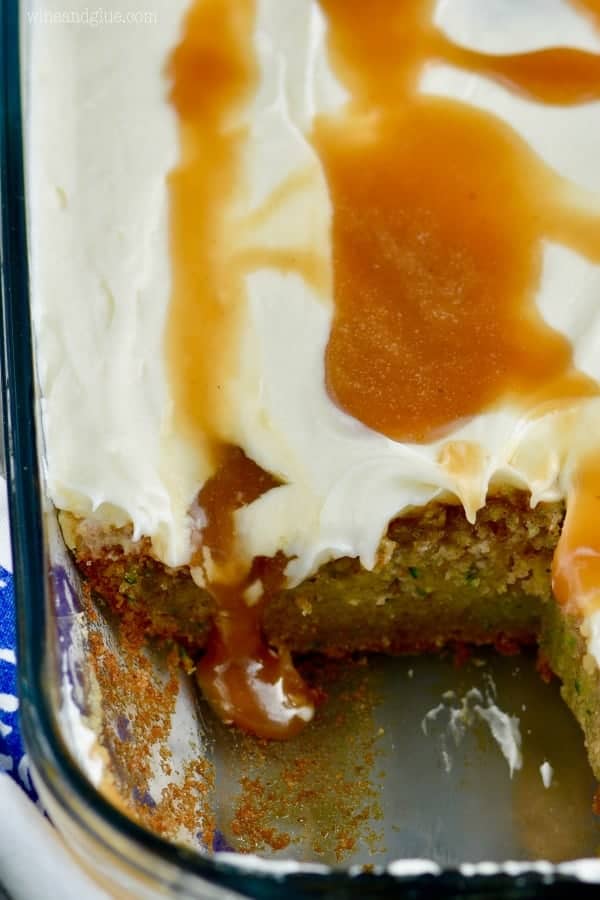 I'm definitely one of those moms that thinks about the days when my kids will all be in school . . . . with gleeful anticipation. You guys. I LOVE being a mom. I live and breath for my kids most days, but holy crap it's so hard. And I just long for the quiet.
The other day I was scrolling through Facebook when one of my blogging friends posted about how much she was struggling with her youngest starting kindergarten. She even went so far as to say that if you are one of those moms who longs for the days when the kids will all be in school to think again because it sucks.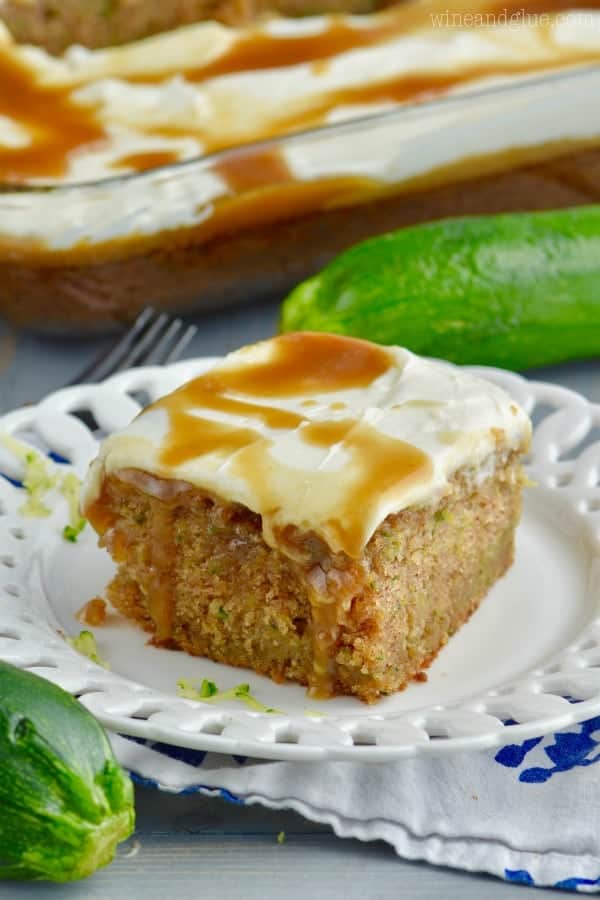 The other day, the sister of a childhood friend posted this article in reference to her only child going away to college. It is so well written because it just talks about how painful it is for them to leave home. There's no, so you better appreciate the crap out of them now guilt trip.
All these things have been ticking around in my brain, but when that guy looked at Piper and I with this longing and talked about missing them being this little. That was it. It was like the universe yelling at me to just stop for a second and breath them in. It won't last forever, these days where I am "the best mom ever" and they want endless snuggles and to talk to me about any and all little things.
I even thought about giving up blogging.
Sigh.
So, this is my question to all you moms out there:  How?
How do you embrace and love and cherish every second of their snot covered noses, while still maintaining some sense of your own self and not going crazy? Because I have to tell you, I'm just not going to get on the floor and pretend I'm a cat. Snuggles and books and art projects and bike rides? Yes. Cats? It's not happening.
Thoughts?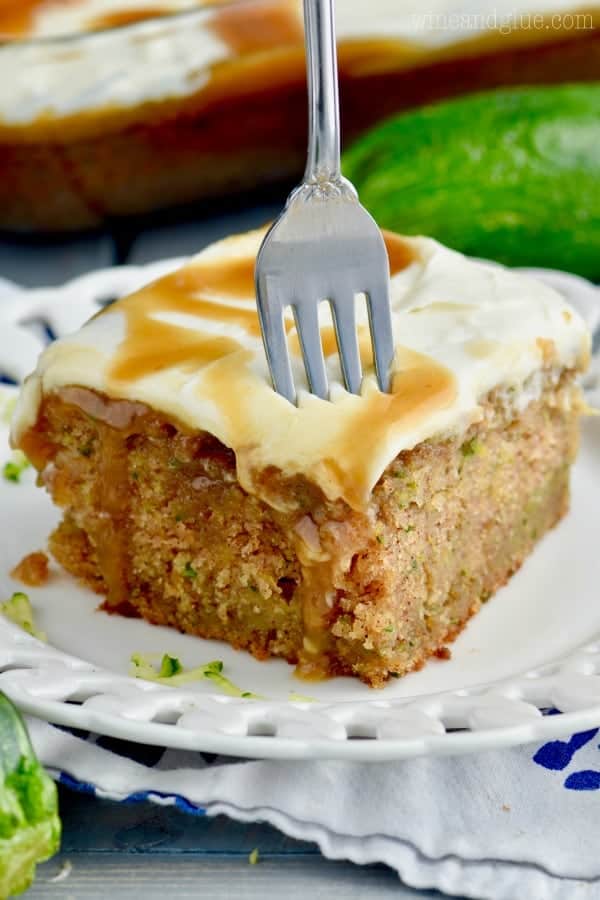 So this Caramel Zucchini Poke Cake. You guuuuuuuuuuuuuuuys! It is made totally from scratch, but won't take a million and a half steps. You guys, I love all the desserts that I put on my blog, but there aren't that many that I *seriously* want to face plant in. I'm just not a huge dessert fan. But this. This poke cake, with it's spices and it's drippy caramel sauce, and it's cream cheese frosting and fresh zucchini . . . I've already had two pieces and I'm on my way to slice myself a third. YUMMY!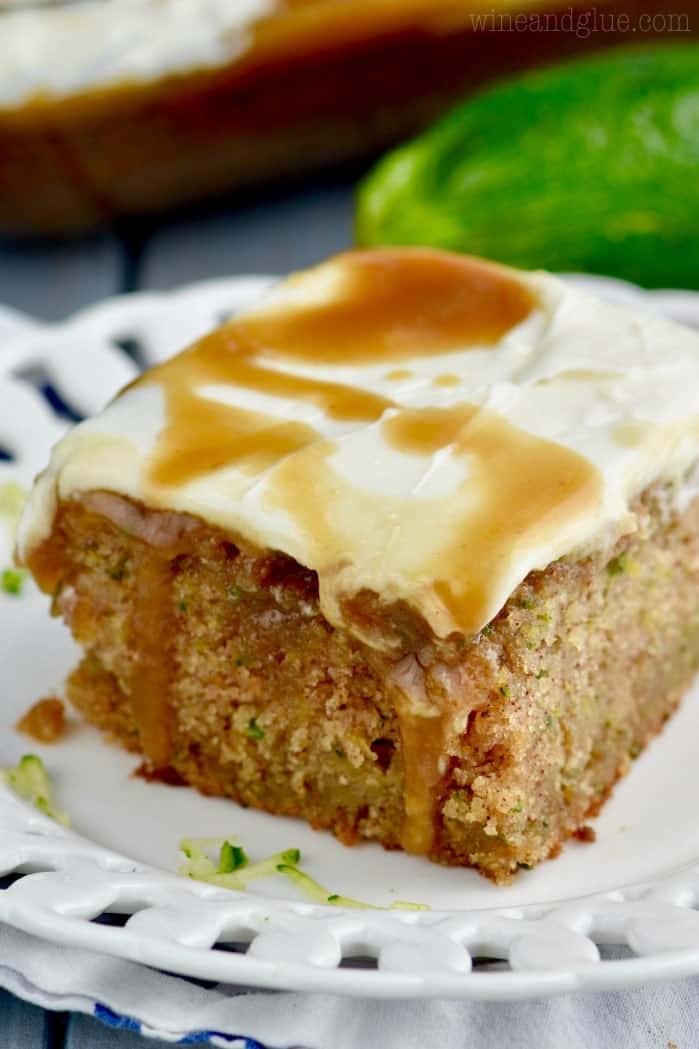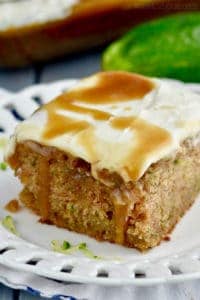 Caramel Zucchini Spice Poke Cake
This Caramel Zucchini Poke Cake is completely from scratch and insanely good! You HAVE to make this!
Ingredients
For Cake
2 1/2

cups

all-purpose flour

1 1/4

tsps

baking powder

1

tsp

baking soda

1 1/4

tsps

cinnamon

1/2

tsp

nutmeg

1/8

tsp

cloves

1/8

tsp

ginger

1/2

tsp

salt

4

large eggs at room temperature

1 1/2

cups

granulated sugar

1/2

cups

packed light brown sugar

1 1/2

cups

vegetable oil

1

pound

zucchini

grated finely (about three medium zucchini)
For Caramel Sauce
4

TBSPs

unsalted butter

1

cup

packed light brown sugar

1/2

cup

heavy cream

1

TBSP

vanilla extract
For Frosting
8

oz

cream cheese

room temperature

1 1/2

cup

powdered sugar

1/3

cup

heavy cream

room temperature

1/2

tsp

vanilla
Instructions
Preheat your oven to 350 degrees. Prepare a 9 by 13 inch pan by spraying it with cooking spray.

Whisk together in a large bowl the flour, baking powder, baking soda, and spices.

Whisk the eggs and sugars together in a large bowl until the sugars are just about dissolved. Now add the oil about a half a cup at a time and whisk in until it's combined.

Slowly add the flour mixture. Stir in the zucchini. Pour into the pan and bake for 40 minutes.

While the cake is baking, combine the butter, brown sugar, and heavy cream in a small sauce pan over medium heat. Stir consistently while the sauce cooks until it thickens, about five minutes. Add in the vanilla. Set aside.

In a large bowl or a stand mixer beat the cream cheese. Beat in the powdered sugar, heavy cream, and vanilla. Continue beating on medium for five minutes. Put the frosting in the refrigerator to frost the cake the following day.

When the cake is finished, remove it from the oven, allow it to sit for about 10 minutes and then poke about 24 holes in it. Fill each of the holes with caramel sauce, you should end up using about 2/3 of a cup. Reserve the rest.

Cover the cake and allow it to sit overnight. The next day, frost it and drizzle with the remainder of the caramel sauce. Serve the cake at room temperature.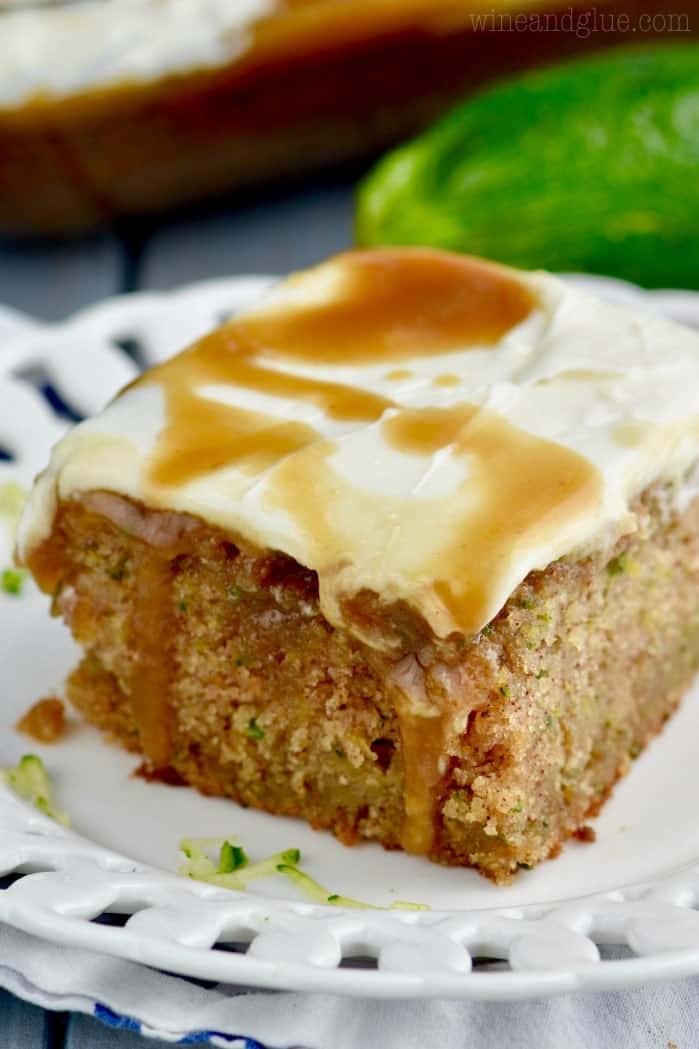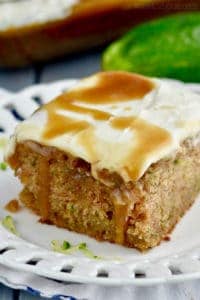 did you make this
Caramel Zucchini Spice Poke Cake