This Cinnamon Whiskey Sangria is only four ingredients and delicious all year round. It is a particularly amazing spin on my red sangria recipe, perfect for a ladies' night and even better for holiday get togethers. This is such an easy sangria recipe!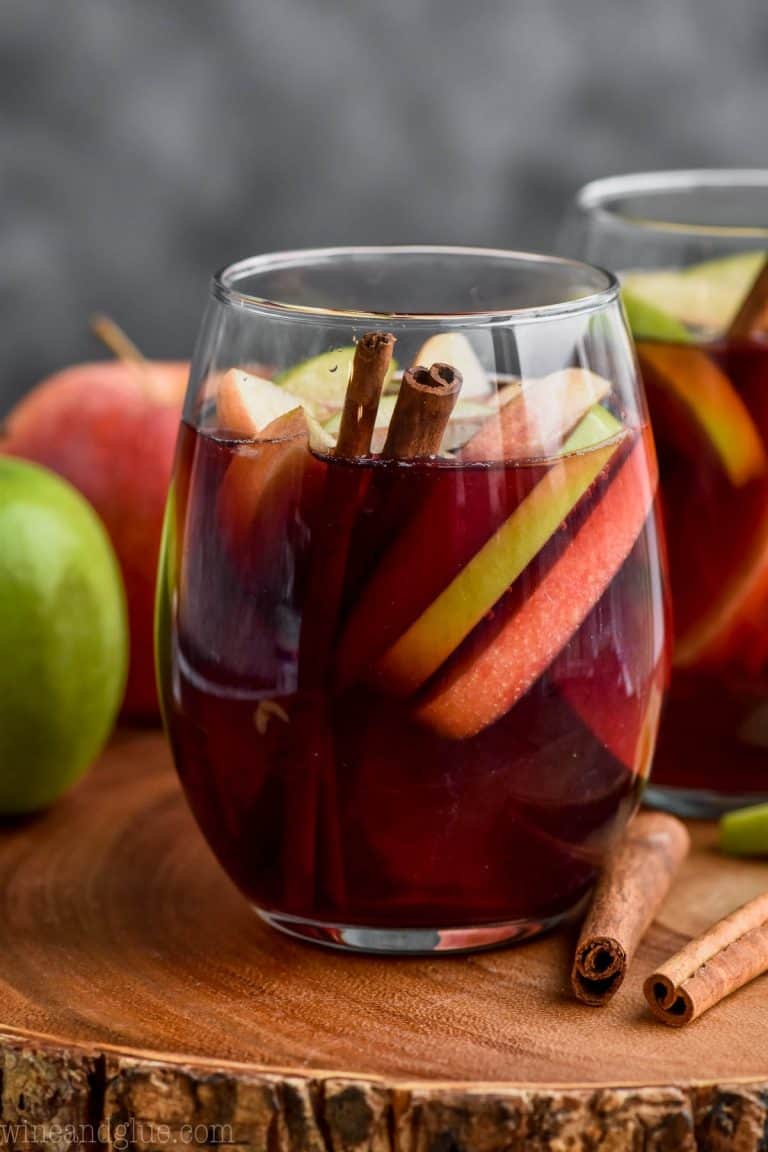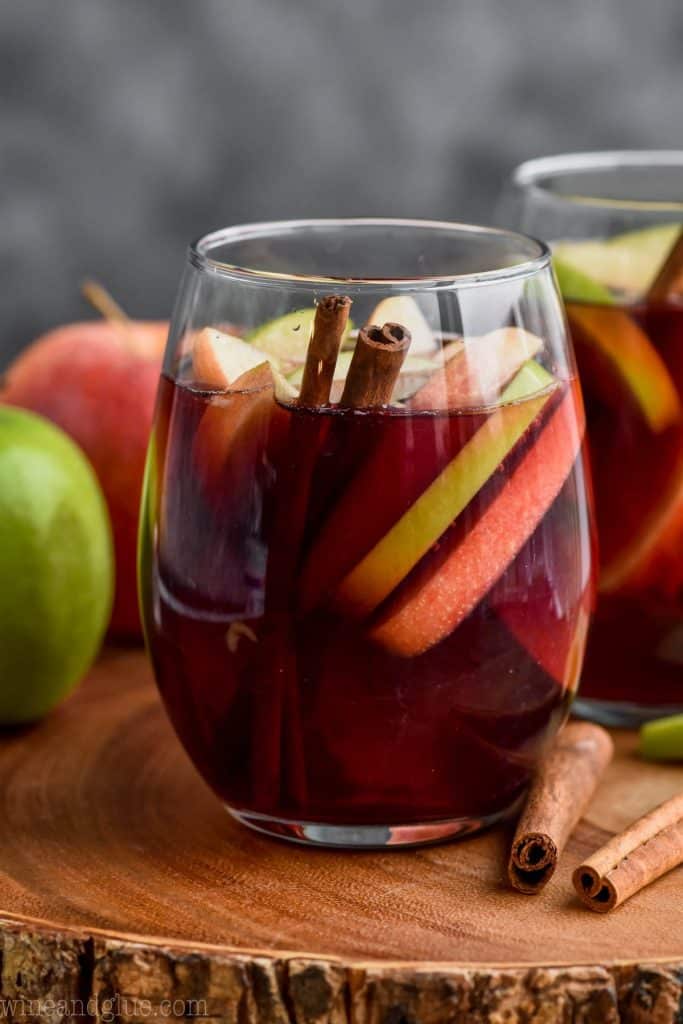 This post is written in collaboration with Iowa Corn. I could not be more proud to partner with them for a second year to tell their story and give you a behind the scenes of the life of the Iowa Corn Farmer.
Hi friends and Happy Friday! I already told you about my love for Iowa and their amazing corn farmers when I shared my Southwestern Cheesy Chicken and Rice Casserole last week, and last year when I shared my Slow Cooker Bacon Potato Corn Soup. But we haven't talked about one little part that is soooooo near and dear to my heart.
The cocktails.
As you all know, I am not shy about my love for whiskey. You just can't beat a good whiskey cocktail. I love my Whiskey and Wine Cocktail, my Desert Wasteland Whiskey Cocktail, and of course the classic Whiskey Sour Recipe! Well, you can't get
The first stop on our #IACornQuest Tour, both last year and this year, was the Iowa Distilling Company. And, if I'm being totally honest, it's the absolute highlight of the trip for me. #duh


The amazing folks at the Iowa Distilling Company make all of their award winning spirits on site. Not only that, they are true lovers of their community and the Iowa farmers who support their business and provide them the best corn to make the alcohol. In their own words:
"At Iowa Distilling Company, we aim to bring distilling back to its roots on the farm. Farming goes back generations in our families. We know corn and we know Iowa's soil – we've been working with it for years. We know the farmers who grow our grain and the people at the local farmers' co-op who help us load it into our truck. They are our friends and family, and we try to make them proud of every bottle that comes off our still."
Doesn't that just give you chills? It totally embodies everything I love about Iowa and all the people with Iowa Corn. The passion that you hear in those words totally comes through in the amazing product they serve and the incredible recipes they come up with to serve it.
Iowa Distilling Company is housed in the coolest space. A 100 year old building that has been a bank, an architecture firm, and a jute box repair shop now converted to a distilling company and bar. Our group was able to sit at their bar and drink their custom made cocktails and then sit and have the most delicious dinner from a local caterer.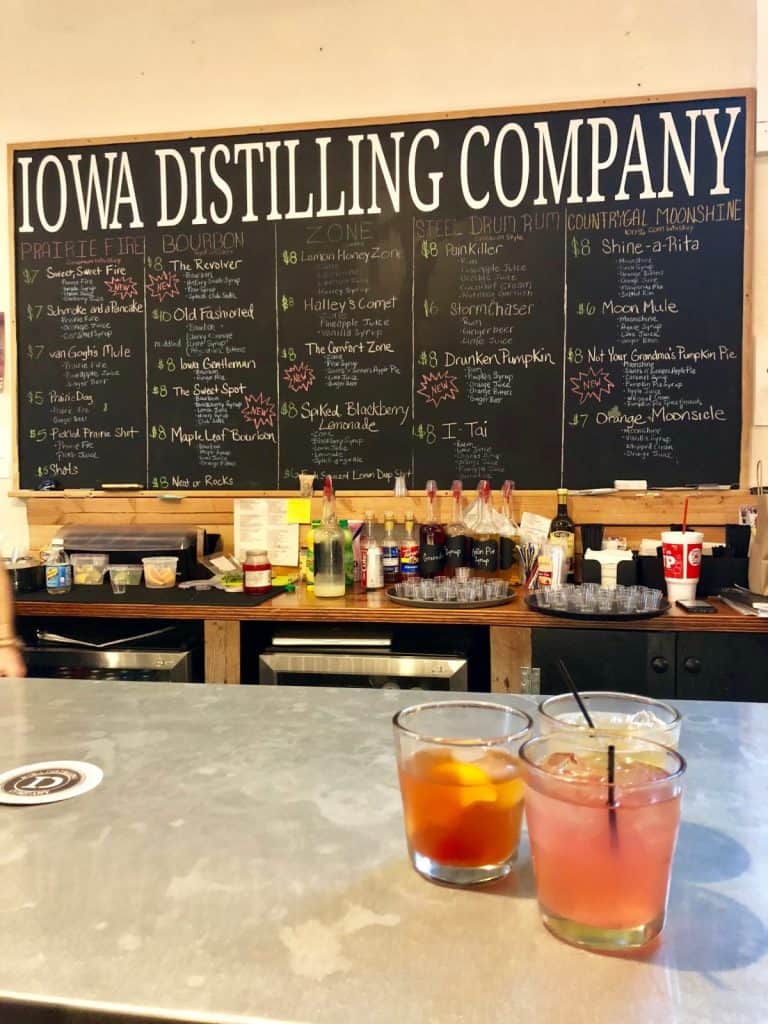 You can't see all the cocktails, but I need to tell you . . . our group tried a LOT of them and we were sincerely impressed. But, without a doubt, my favorite were the cocktails made with Prairie Fire, a cinnamon whiskey. I dare say, the best cinnamon whiskey on the planet. Last year I bought one bottle, this year I bought two. And I'm already regretting I didn't get a third.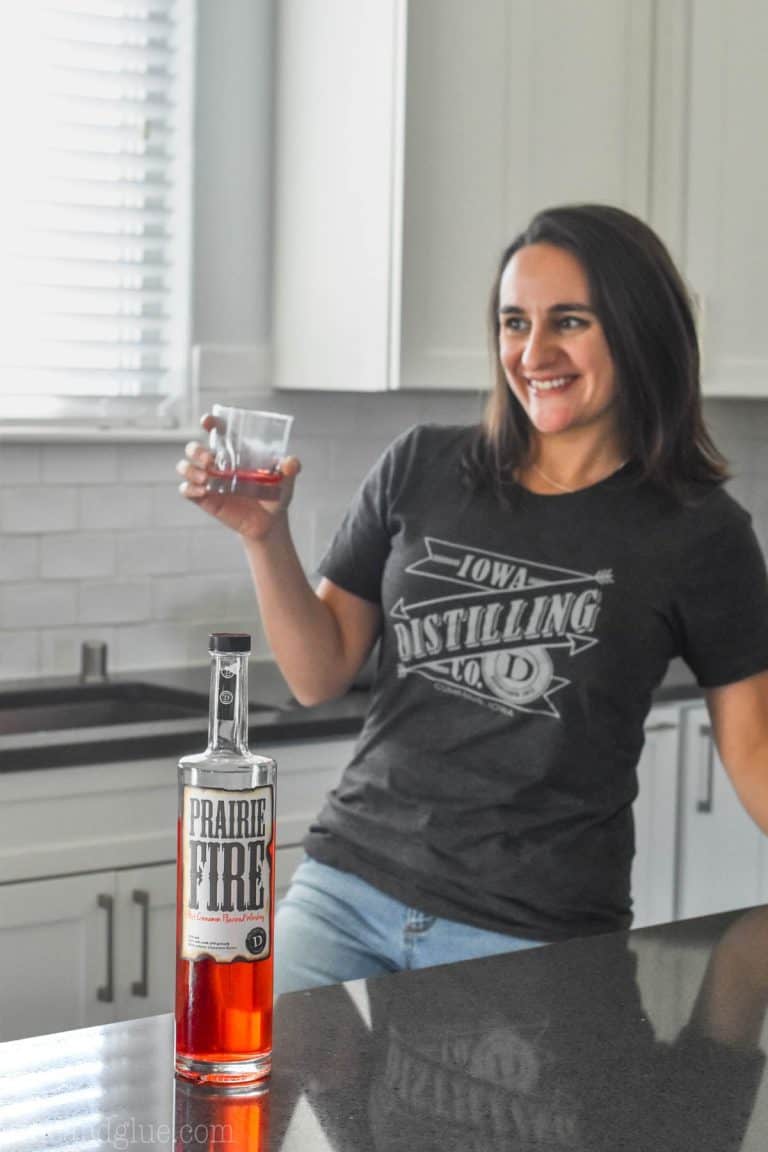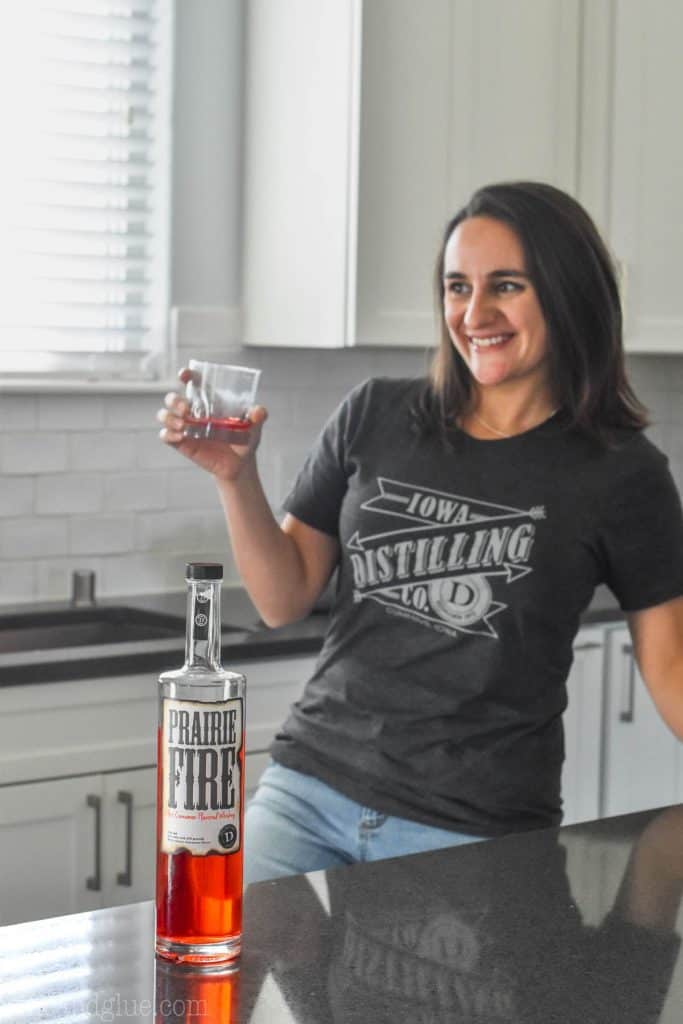 Prairie Fire is perfect on it's own, in fact, that is my preferred way to drink it. However, its also incredible in this Cinnamon Whiskey Sangria Recipe!
WHAT ARE THE INGREDIENTS OF SANGRIA?
Most sangrias consist of wine, a liquor (or two), and some fruit. This Cinnamon Whiskey Sangria takes a little bit of a different spin by adding in some apple cider which compliments this perfectly. Can I tell you guys something? I only had a super cheap bottle of red wine on hand when I was testing this recipe and it was still AMAZING! This might be the best sangria yet.
THE SANGRIA INGREDIENTS YOU'LL NEED
Red Wine blend
Prairie Fire Cinnamon Whiskey (or other cinnamon whiskey if you can't get to Iowa ???? )
Apple Cider
Apples
How easy is that??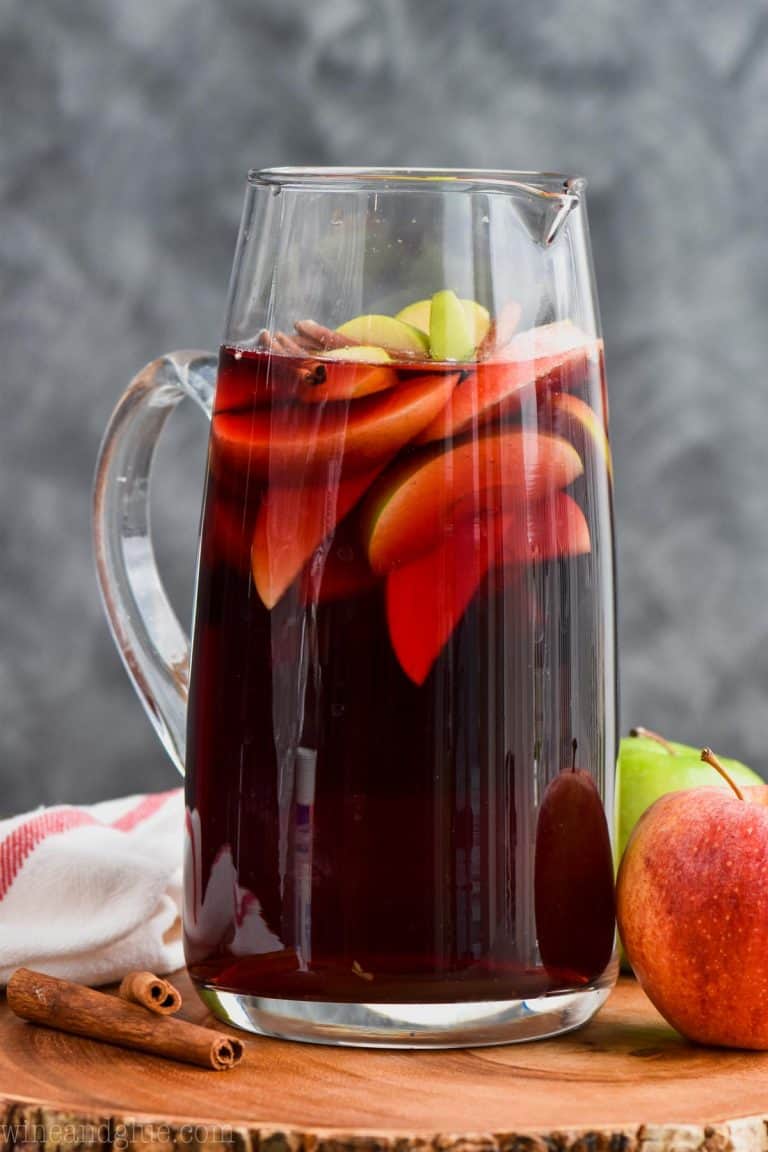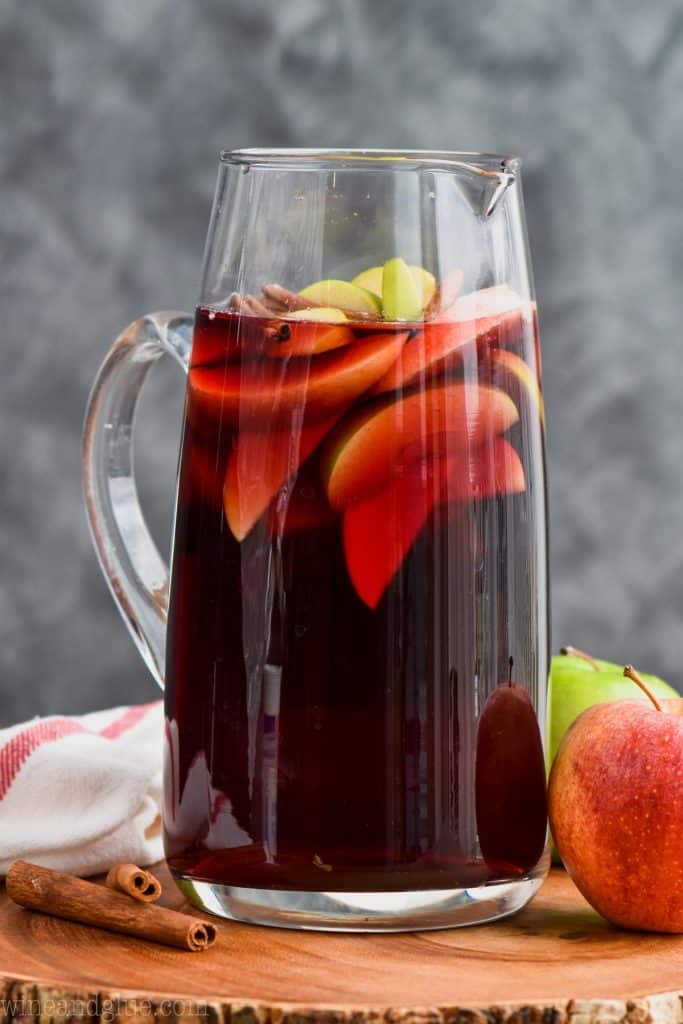 HOW TO MAKE SANGRIA
This sangria is super simple to make and will be the hit of any ladies' night, but I think it is especially great for a holiday party!
Pour all of the ingredients into the pitcher.
Add more apple cider if you don't want it to be as strong.
Taste it and add simple syrup to taste.
Add the apples right before serving, and have cinnamon sticks out for garnish.
TIPS TO END UP WITH THE BEST SANGRIA
I know I said I used a less than amazing red blend and it was still amazing. Guys, that's just to tell you how great this recipe is. Don't test my theory. The next time I made it (yup, already have done a few batches . . . ) I used a much better wine. Soooo good!
Try this recipe first without simple syrup. I didn't need any, but members of my book club did.
If you want to stretch this recipe and make it not as strong, add another cup of apple cider.
Only add the apples right before serving. Normally sangrias are known for their alcohol soaked fruit, but my experience is that apples don't hold up great in sangria. They aren't meant to sit in it overnight.
Though you see it pictured with cinnamon sticks here, do NOT add that to the pitcher and let it sit. Cinnamon sticks just hanging out in wine leave it with a woody flavor I do not love at all. Plus you totally don't need it. The Prairie Fire does it's job.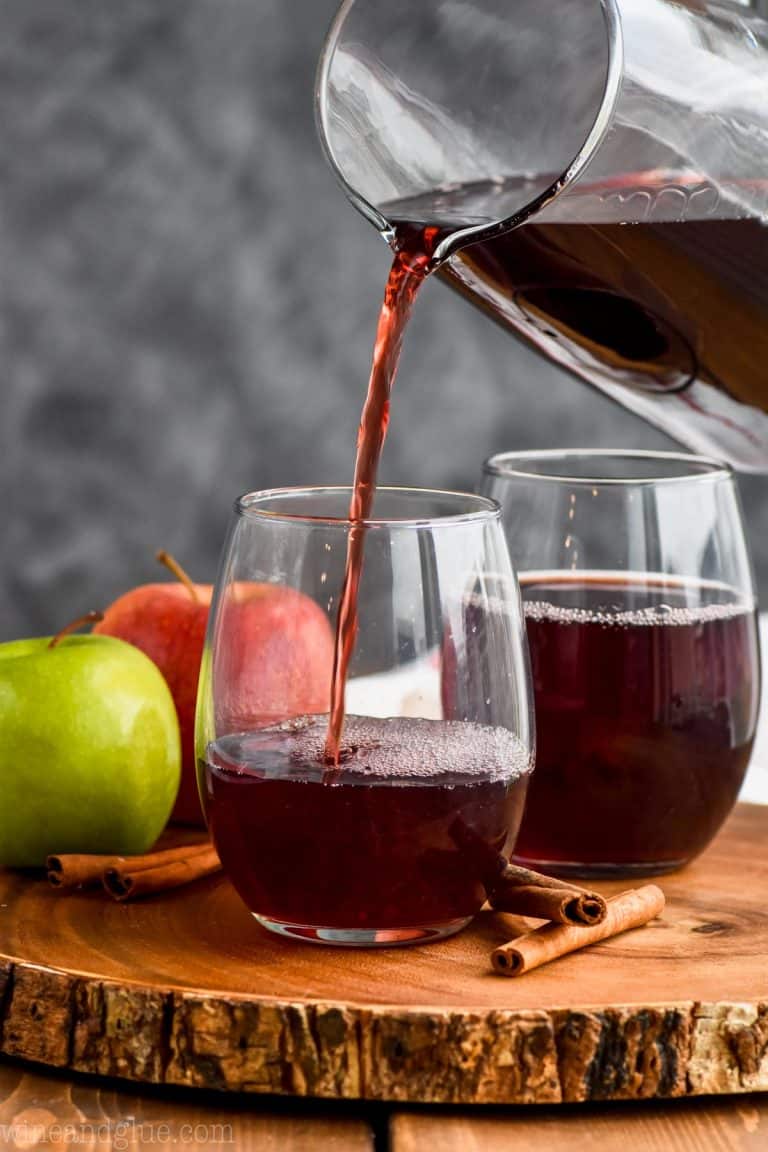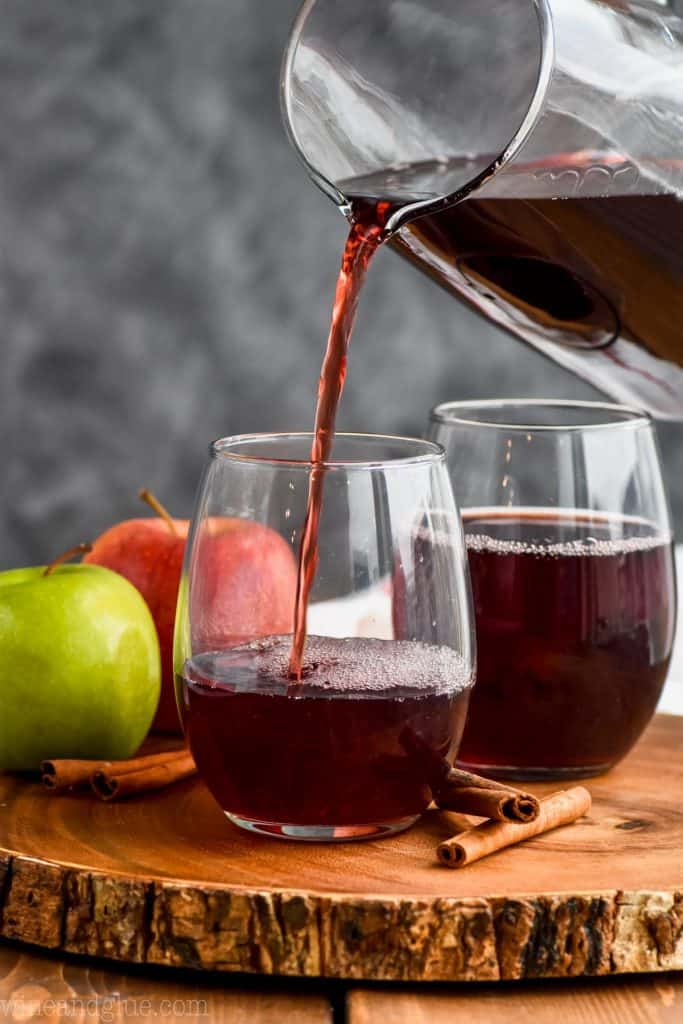 I say this from the absolute bottom of my heart. If you are ever near Cummings, IA, you MUST stop by Iowa Distilling Company and try out what they have to offer. You will not find a better Cinnamon Whiskey or a smoother vodka. To see all the spirits they make check out their products page. And while you are in Iowa, thank a farmer for growing some amazing corn that gave you those great drinks.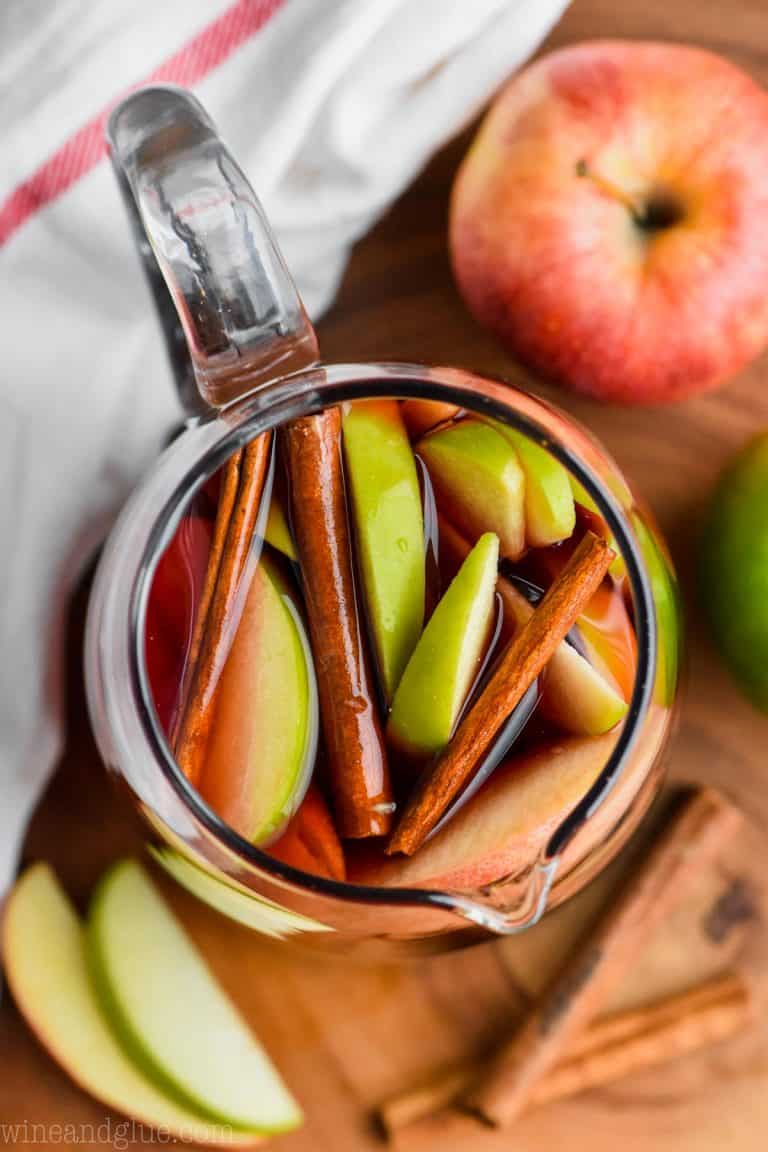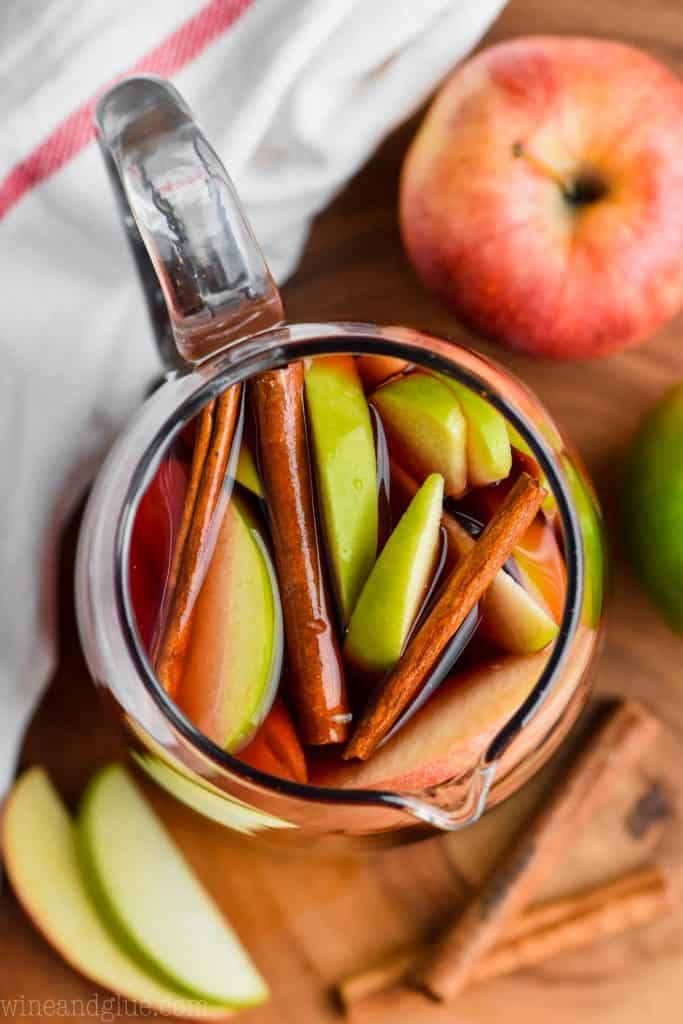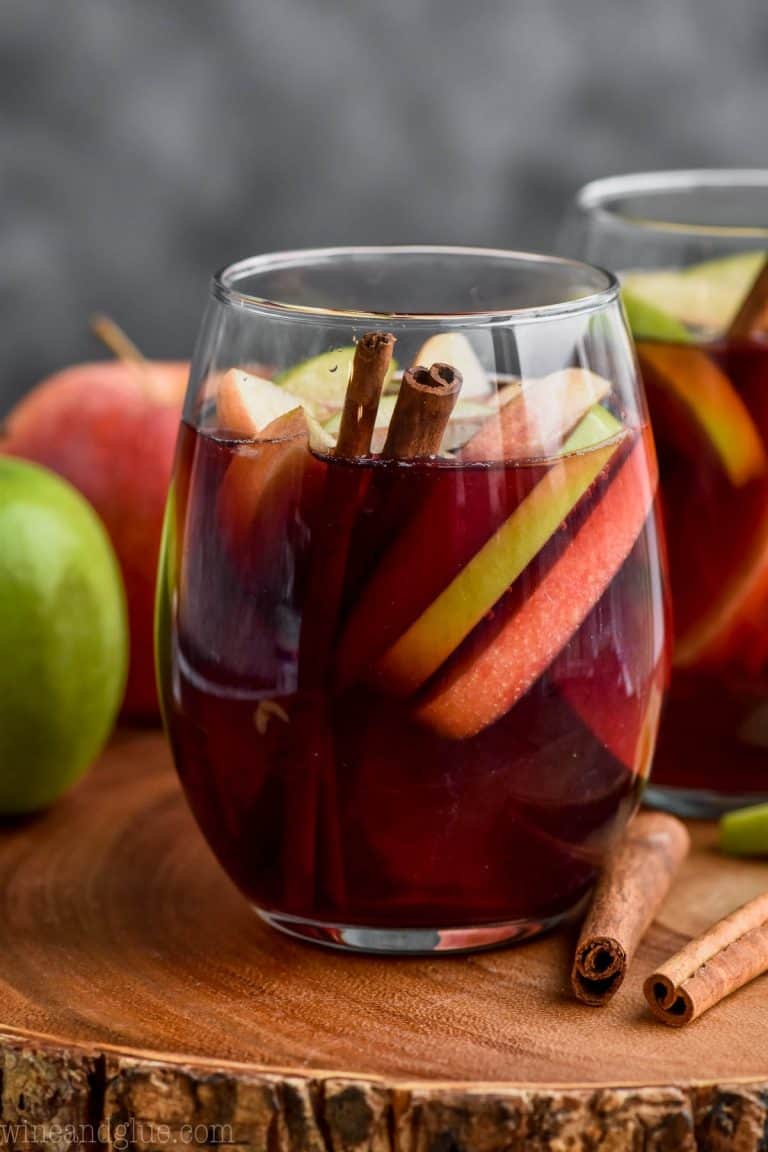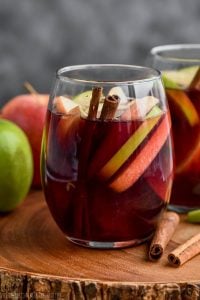 Cinnamon Whiskey Sangria
This Cinnamon Whiskey Sangria is only four ingredients and delicious all year round. It is a particularly amazing spin on my red sangria recipe, perfect for a ladies night and even better for holiday get togethers.
Ingredients
750 ml

red wine

(I used a blend)

1

cup

cinnamon whiskey

1

cup

apple cider

2

apples

cut up

1/2

cup

simple syrup

optional
Instructions
Stir the wine whiskey, and apple cider together to combine.

Taste it before possibly adding in simple syrup.

Add the sliced apples and serve!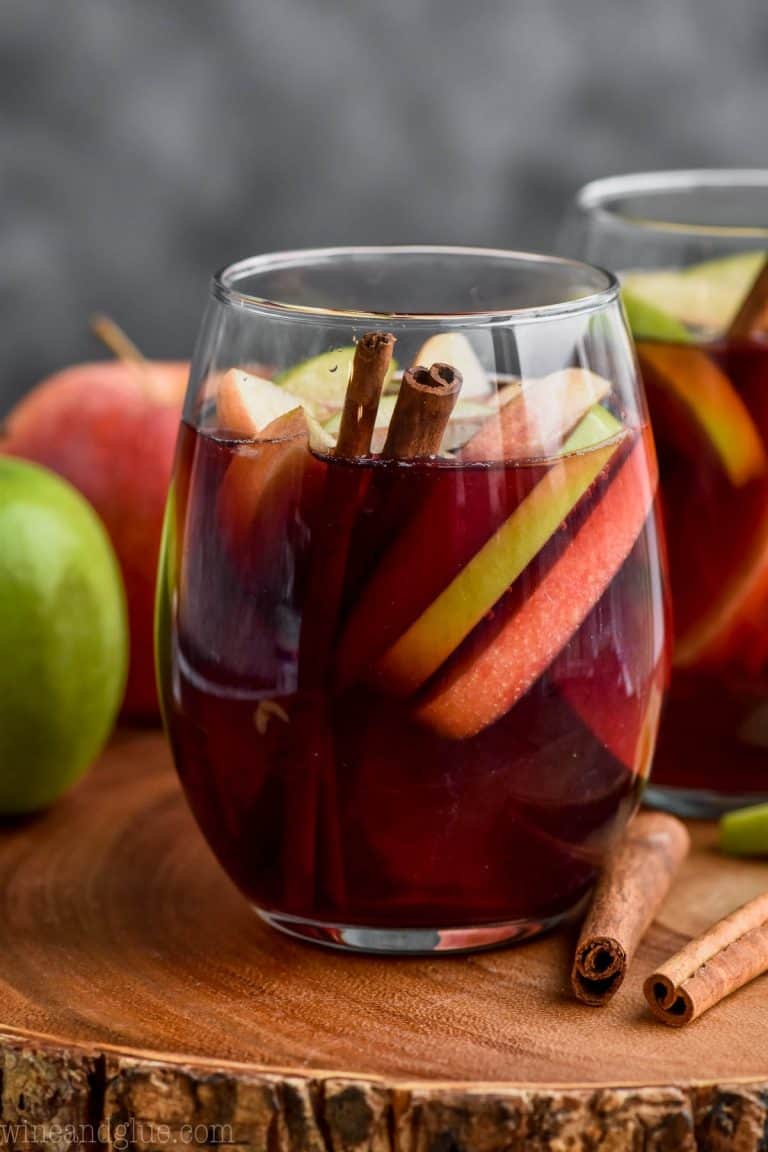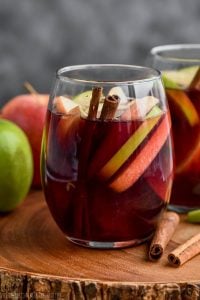 did you make this
Cinnamon Whiskey Sangria
Other great cocktails you could make using alcohol from Iowa Distilling Company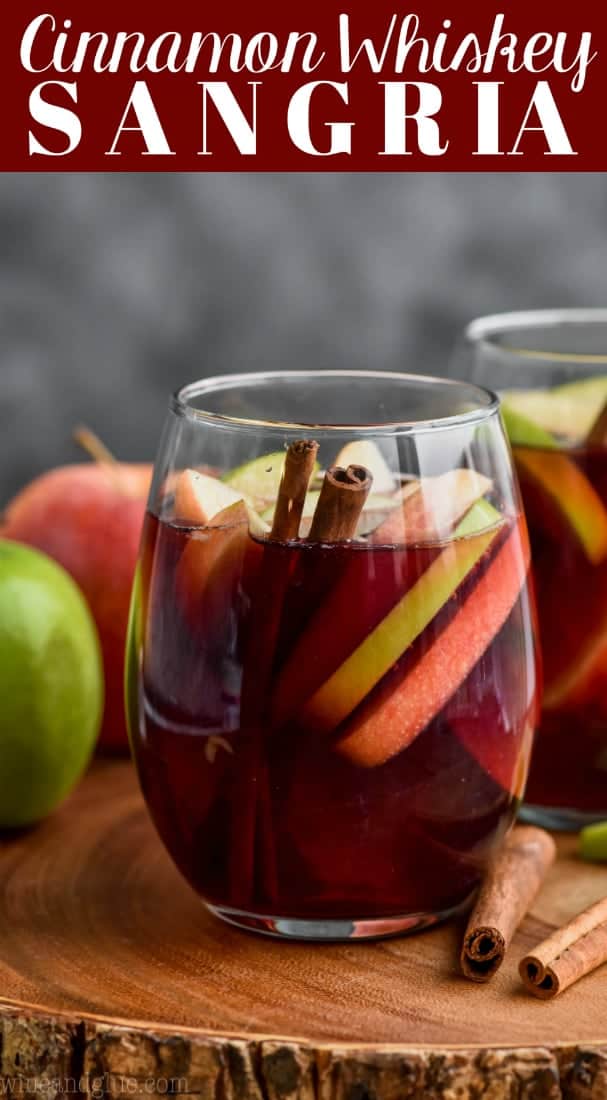 SaveSave
SaveSave