When life gets crazy, make this Crock Pot Chicken Bacon Ranch Soup! This soup takes so little time to make, but is delicious, creamy, and packs a flavor punch.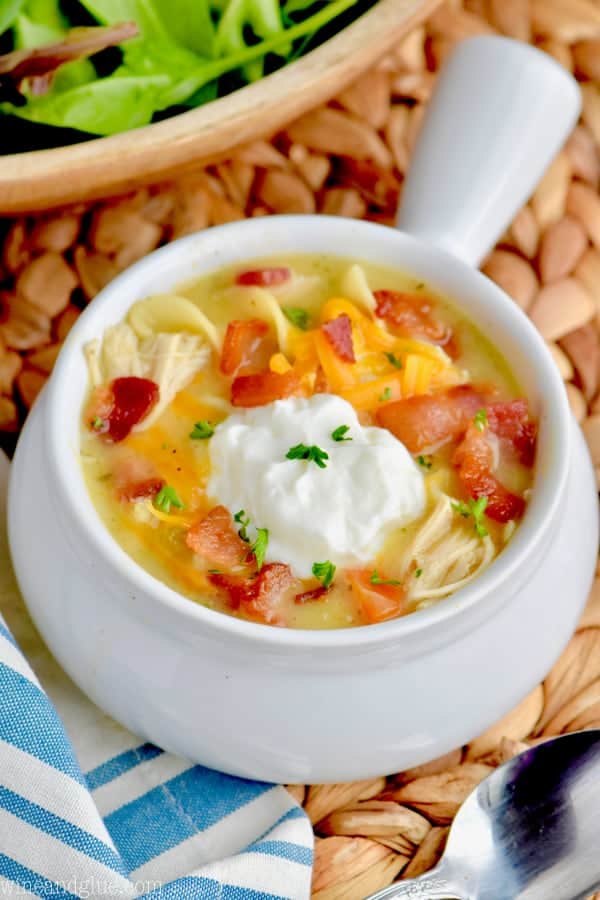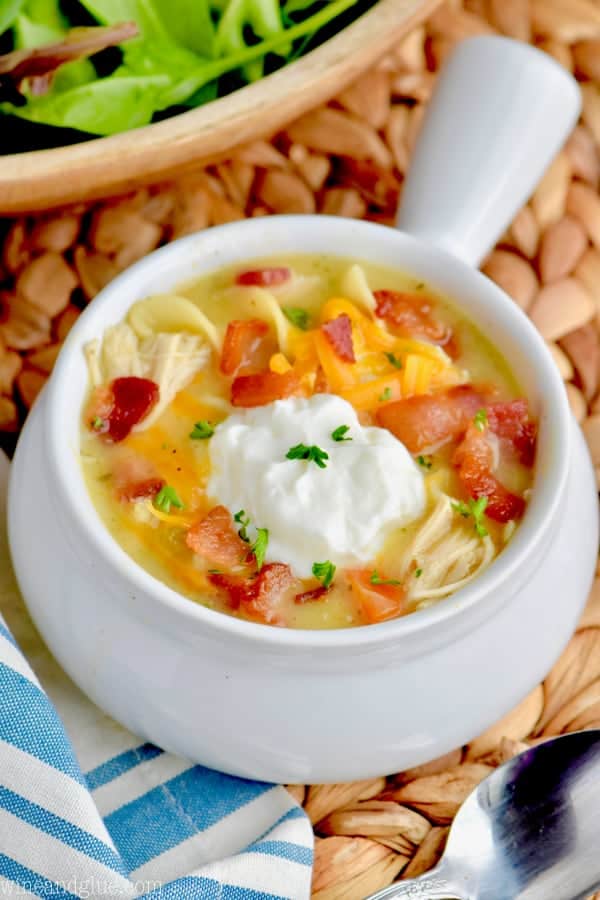 One of my very favorite things is other bloggers.
I know that I've totally talked about this before, so I won't bore you guys to tears today, but I just love talking to other bloggers. They get my weirdo life and they make me laugh myself exhausted every single time.
So, today I am at a blogging conference and need to get back to laughing my pants off, but first I need to talk to you about this amazing crock pot soup.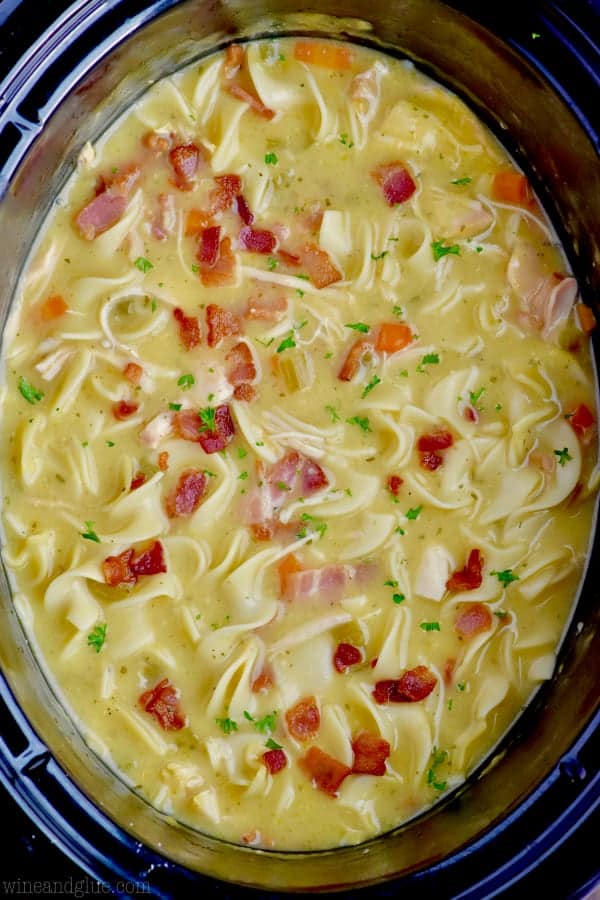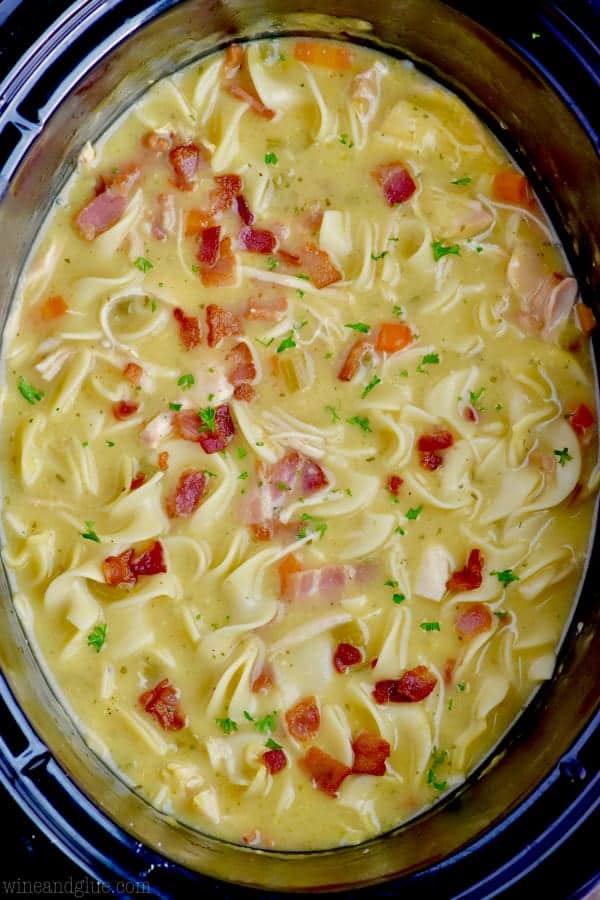 This creamy, delicious amazing slow cooker soup is an older recipe that is getting a face lift and a revamp. I made this soup easier and faster, BUT! I kept the bacon.
Because duh, bacon.
HOW DO YOU MAKE A CREAMY SOUP IN THE CROCK POT?
Okay, so there are a couple ways you can do this. For years and years, I would cook my crock pot soup with just stock and then stir in some heavy cream at the end. You guys, this works. It really does. It gives you some creaminess, it is easy, and it's fast. But, it doesn't have the same level of creaminess that you might want.
Recently, I tried creating a roux outside of the slow cooker after the soup was mostly done cooking with this Slow Cooker Broccoli Cheddar Soup. It worked very very well, people are leaving great reviews on that recipe. So that is totally a way to do it, but I think creating a roux is tricky if you are new to cooking.
This soup uses cream of chicken condensed soup. So it's absolutely crazy easy and comes out perfectly creamy. You are going to want to ladle it up over and over.
If you don't like using store bought short cuts like condensed soup, you could still make this using my Homemade Condensed Cream of Chicken Soup.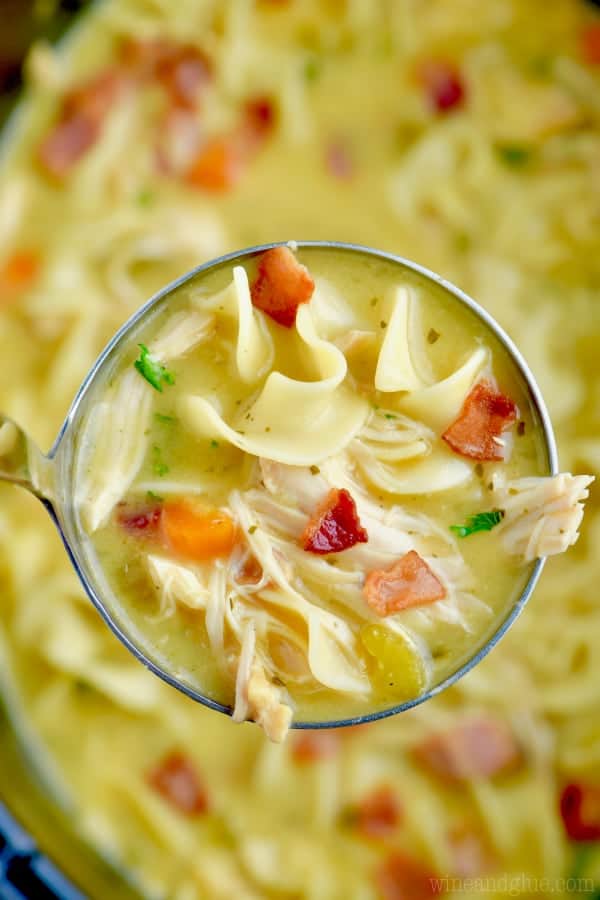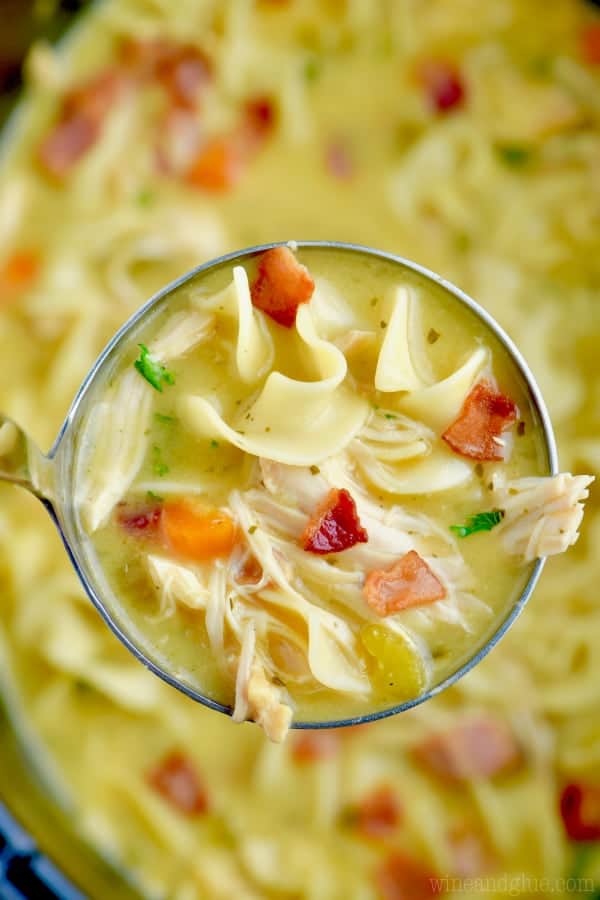 The flavors in this soup go perfectly well together. Ranch and bacon were made to go together. This is like chicken noodle soup on crack. It's on a new level and plane of existence.
A NOTE ABOUT SALT
We have several things bring salt to the party with this recipe: condensed cream of chicken soup, ranch seasoning, bacon, and chicken stock.
I recommend using low sodium chicken stock so that the recipe isn't too salty. That being said, if you are someone who tends to find things too salty, swap out the chicken stock for water and you will be much happier.
SERVING SUGGESTIONS
If you want to round out this soup to a full dinner, these are some great things to serve with this soup.
OTHER GREAT SLOW COOKER DINNERS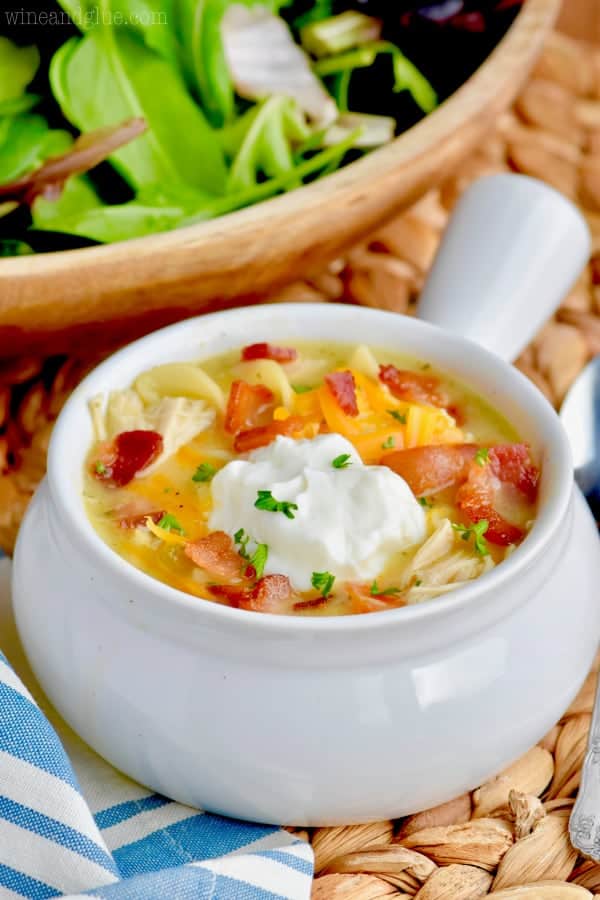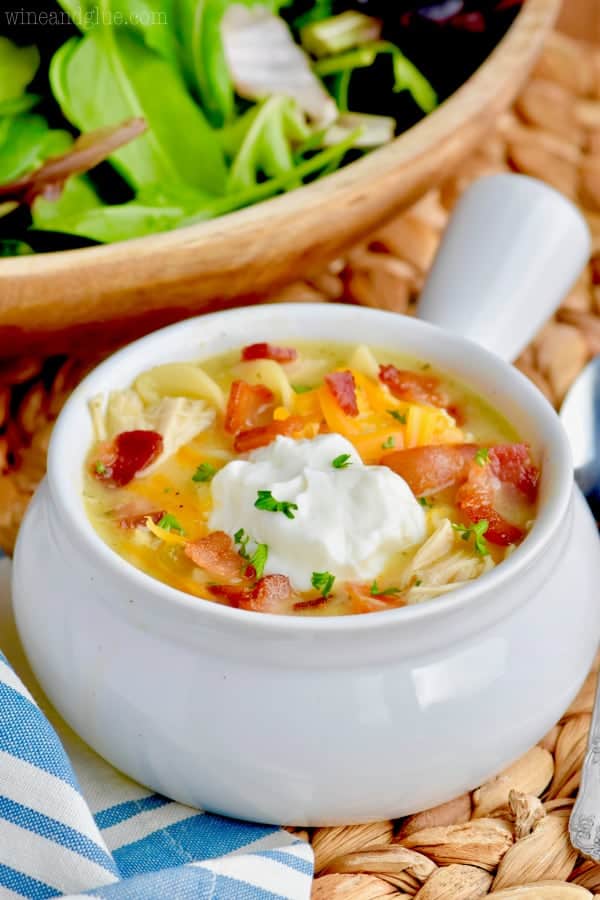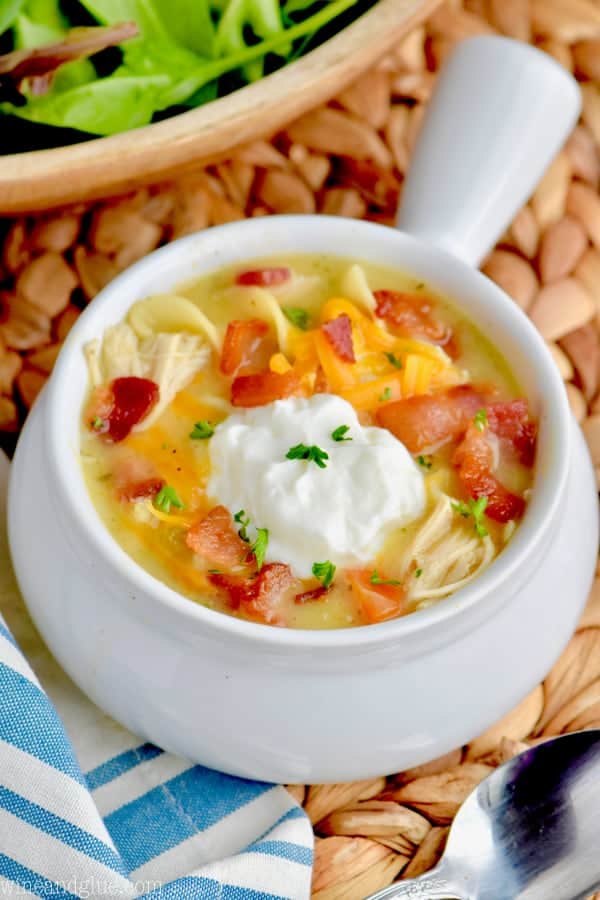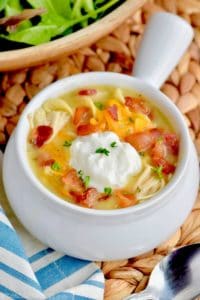 Crock Pot Chicken Bacon Ranch Soup
Total:
6
hours
15
minutes
When life gets crazy, make this Crock Pot Chicken Bacon Ranch Soup! This soup takes so little time to make, but is delicious, creamy, and packs a flavor punch.
Ingredients
2

10.5 ounces

cans cream of chicken condensed soup

1

14.5 ounce

can low sodium chicken stock

(see note)

1

cup

water

3

celery stalks

diced

3

medium carrots

peeled and diced

1

lb

chicken breasts

2

ounces

ranch seasoning mix

1/2

pound

bacon

diced, cooked, and drained

2

cups

wide egg noodles
Instructions
Combine the condensed chicken soup, chicken stock, water, celery, carrots, chicken, and ranch seasoning mix in a crock pot. Cook on high for four hours or on low for eight hours.

Add the egg noodles to the crock pot and cook on high four 30 minutes.

While the egg noodles are cooking, cook the bacon on your stove top to desired crispiness.

When the noodles are done cooking, remove the chicken, shred, and return to pot with the cooked bacon.
Notes
It is really important to use low sodium chicken stock in this recipe. The condensed cream of chicken soup, the ranch seasoning, and the bacon will all bring salt to the party. So if you don't use low sodium stock, it will be too salty. If you are very averse to salt, I would switch the stock to water.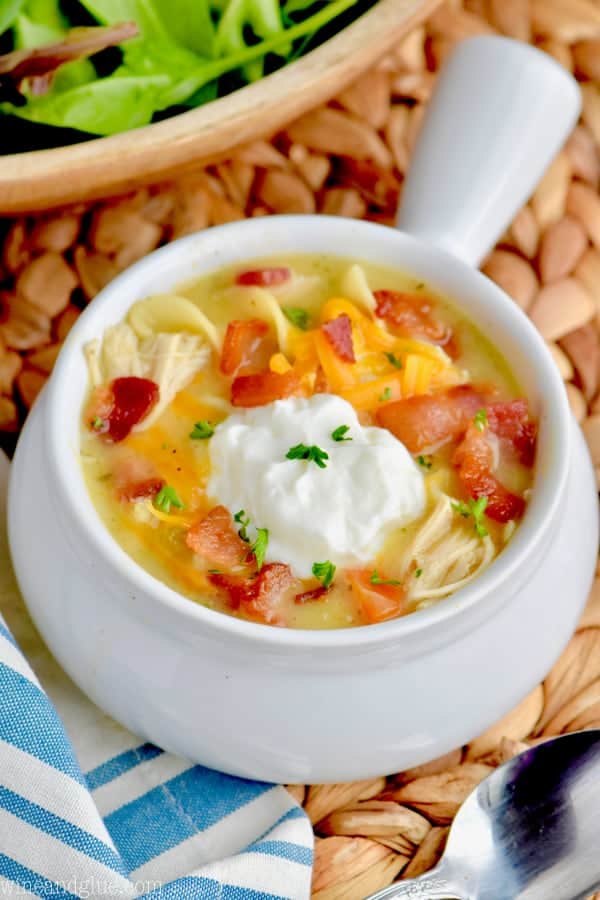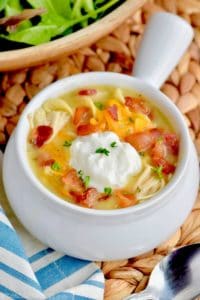 did you make this
Crock Pot Chicken Bacon Ranch Soup