These Green Velvet Sugar Cookie Bars with Cream Cheese Frosting have have the amazing red velvet taste mixed with sugar cookie and could not be easier!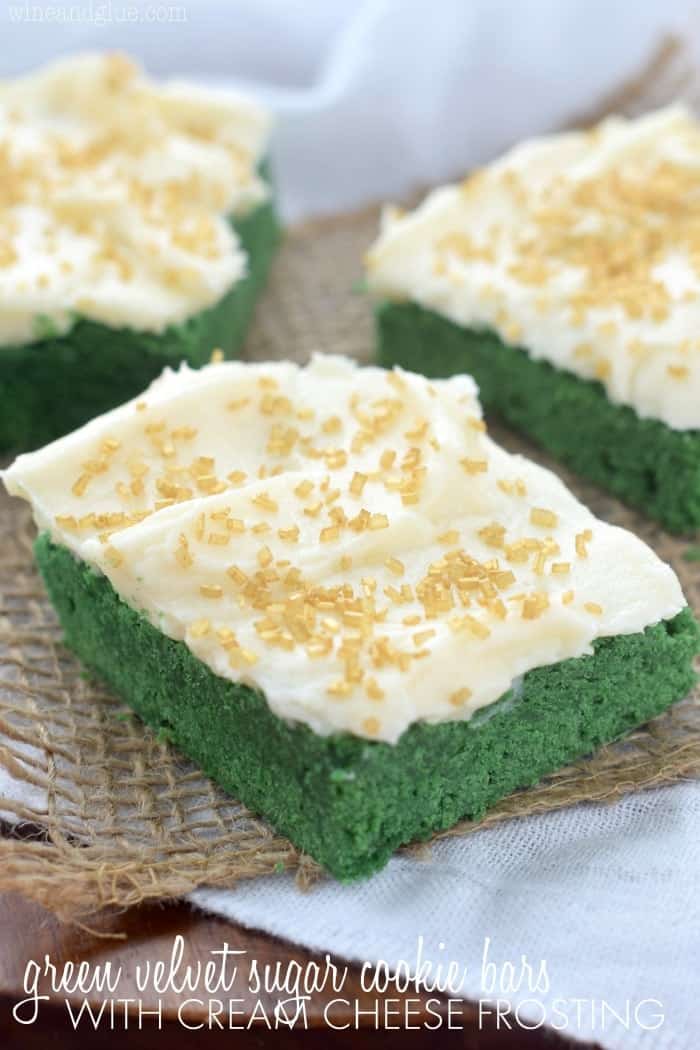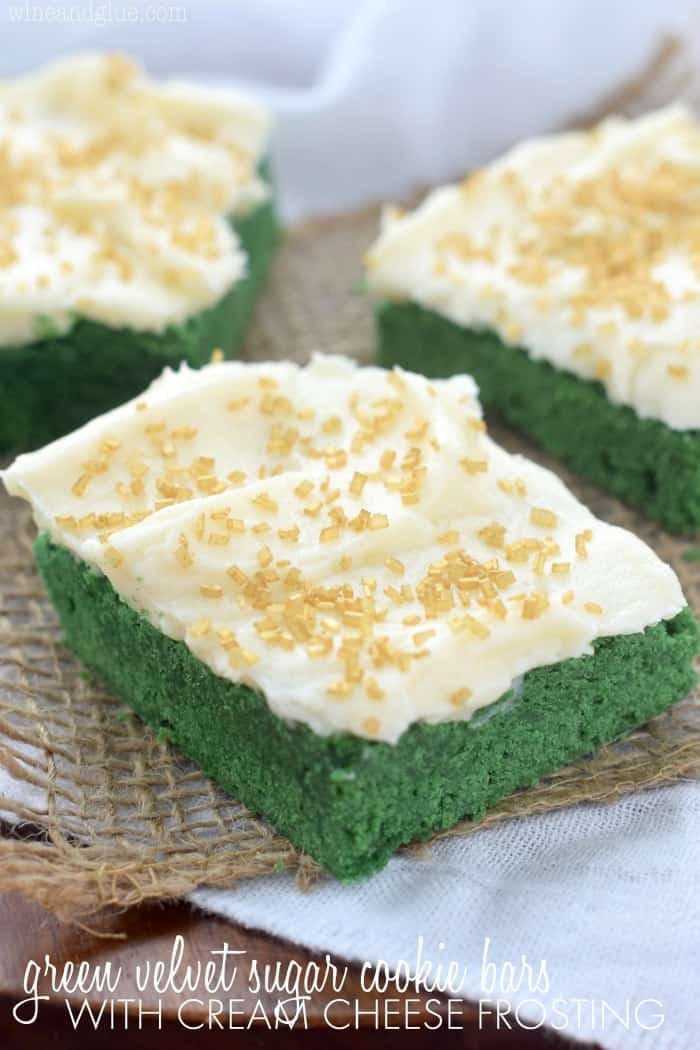 I said to a mom friend the other day . . . I never realized before I became a mom how hard and gross it would be to take care of other human beings.
I mean, I won't go into details. Because I have totally been told in the comment section before that I was too graphic #imbitter #itseriouslywasntgraphic
But . . . OH MAN.
This week has brought on the stomach flu, a sinus infection, and the normal amount of pure nastiness that goes with having a newborn. I mean, pureed meat alone is enough to make a new mom want to yak. Or a seasoned mom for that matter. Side bar. I hate when I get a little drop of baby food on my hand and because of my career my natural instinct is to lick it off . . . and OH HELL PUREED TURKEY IS NASTY!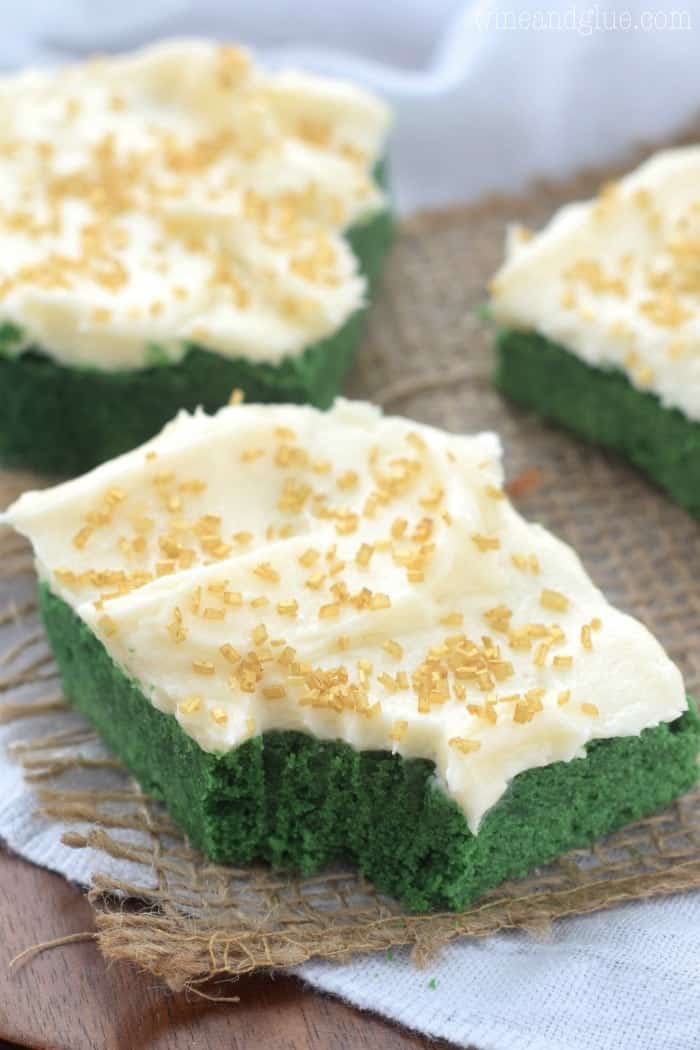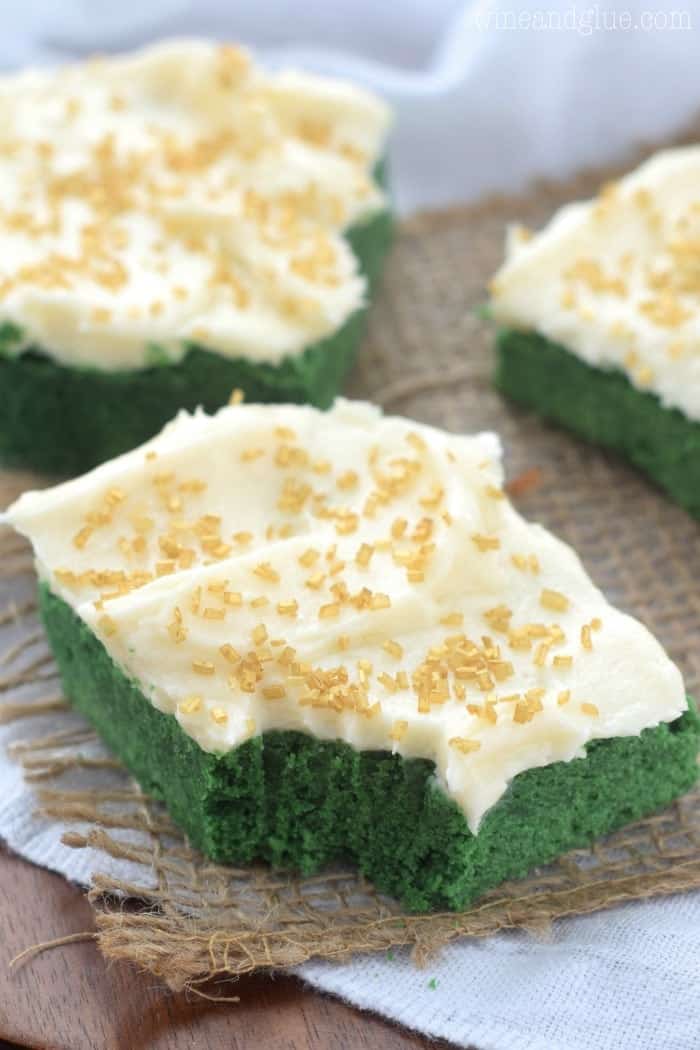 All of this is to say . . . that that just about wraps up the "take a peek into my crazy life" portion of the post, lol! You don't want to know more today.
Let's talk about these Green Velvet Sugar Cookie Bars! Can we be honest? These were made exclusively so that I could take the picture you see above. I had this mental image of a green green bar a creamy frosting and golden sprinkles ever since seeing this amazing cake. It's seriously so beautiful, I couldn't shake it. Anyway, I even ordered the gold sprinkles before I'd even attempted making the bars, yes, ordered sprinkles, because I was that focused on making my vision a reality.
The good news? The bars are even more amazing than the pictures. I could. not. stop. eating them in my caffeine driven frenzy. So, originally I was going to throw some buttermilk in there, but then after reading this post, I decided to try just a little vinegar instead, which totally made sense, since you make buttermilk by adding vinegar to milk. It totally worked. It gave it just this teenie tiny barely noticeable taste of tanginess that is perfect for red and green velvet.
Seriously, these are melt in your mouth delicious!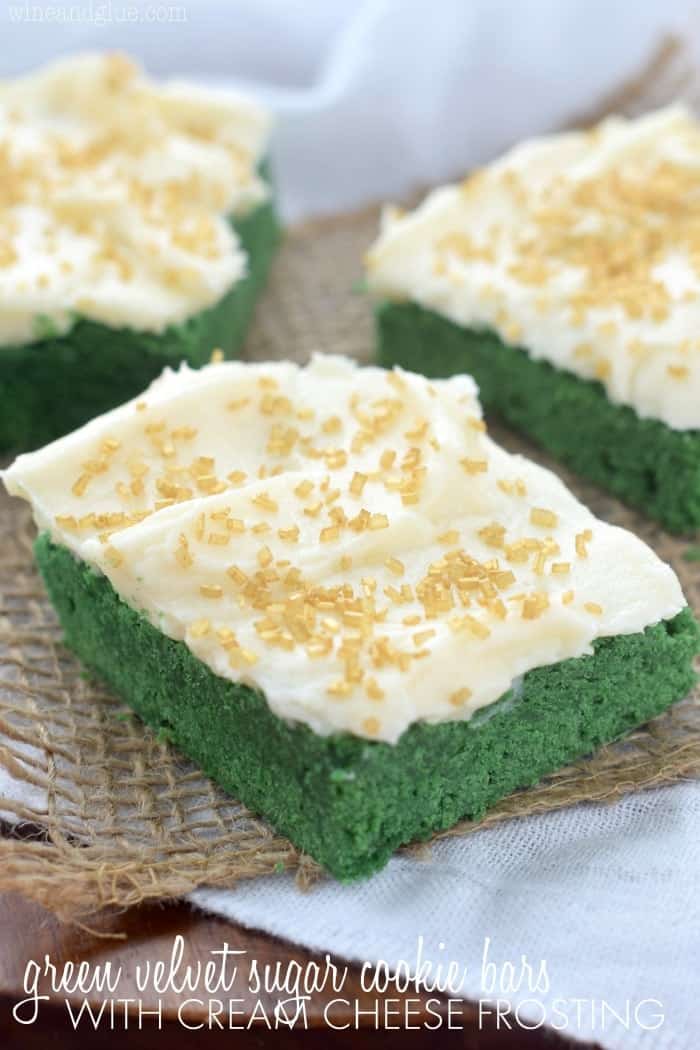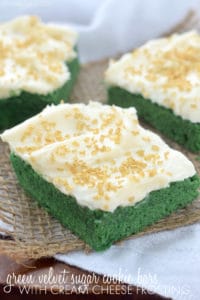 Green Velvet Sugar Cookie Bars
Ingredients
2 1/2

cups

all purpose flour

2

TBSPs

unsweetened cocoa powder

1/2

tsps

baking powder

1/2

tsps

salt

14

TBSPs

unsalted butter

room temperature

1 1/2

cups

granulated sugar

2

eggs

2

tsps

vanilla extract

1

tsp

white vinegar

1

TBSP

green food coloring

8

oz

cream cheese

room temperature

4

TBSP

unsalted butter

room temperature

1 1/2

tsp

vanilla extract

2

cups

powdered sugar

not packed

golden sprinkles
Instructions
Preheat your oven to 350 degrees. Spray a 9 by 13 inch glass baking dish with cooking spray and set aside.

In a large bowl mix together 2 1/2 cups all purpose flour, 2 TBSPs cocoa powder, 1/2 tsp baking powder, and 1/2 tsp salt.

Cream together the 14 TBSPs (1 3/4 sticks) butter and 1 1/2 cups sugar until light and fluffy. Add in the eggs, one at a time, then 2 tsps vanilla, 1 tsp white vinegar, and 1 TBSP green food coloring.

Slowly add in the flour mixture a little bit at a time until the dough is fully combined.

The dough will be very sticky. Press it into the bottom of the baking dish and bake for 20 to 22 minutes.

Remove from the oven and allow it to cool completely.

Meanwhile, mix together the butter and cream cheese until fully combined. Add the vanilla extract. Slowly mix in the powdered sugar until fully combined. Spread over the cooled bars and top with

golden sprinkles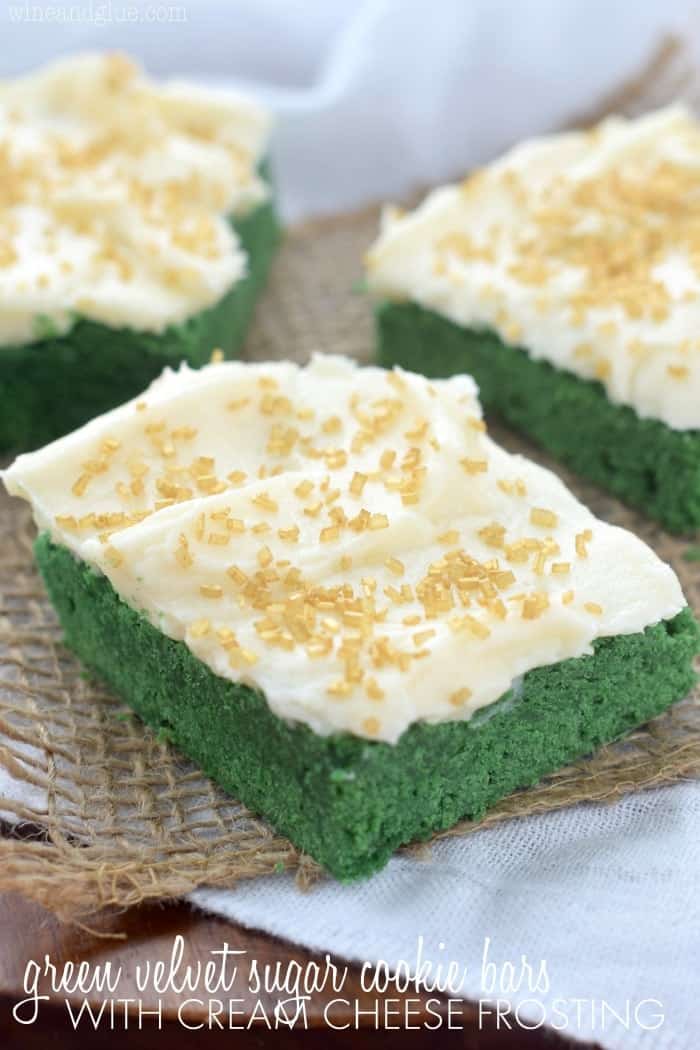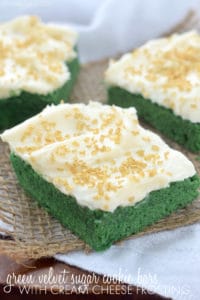 did you make this
Green Velvet Sugar Cookie Bars
Bars from friends
Chocolate Chip Pecan Blondies from Barefeet in the Kitchen
Oreo Cream Cheese Stuffed Red Velvet Brownies from Taste and Tell
Oatmeal Brownie Milky Way Bars from i am baker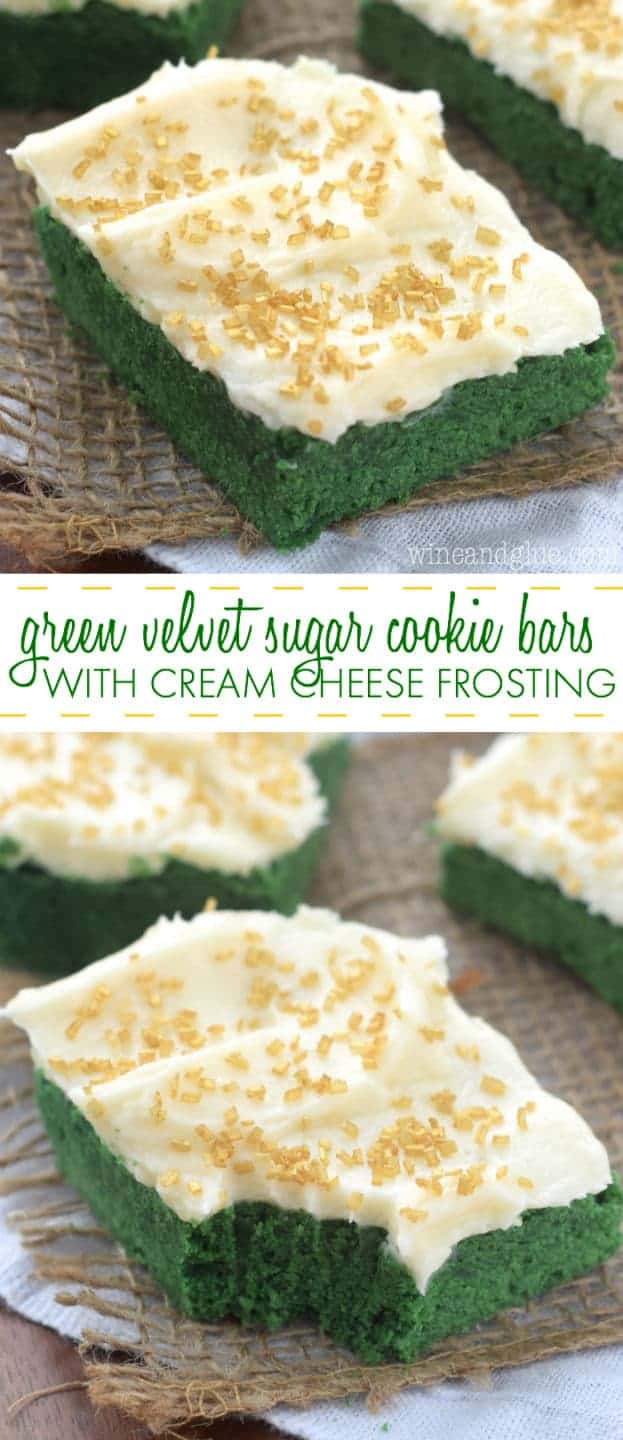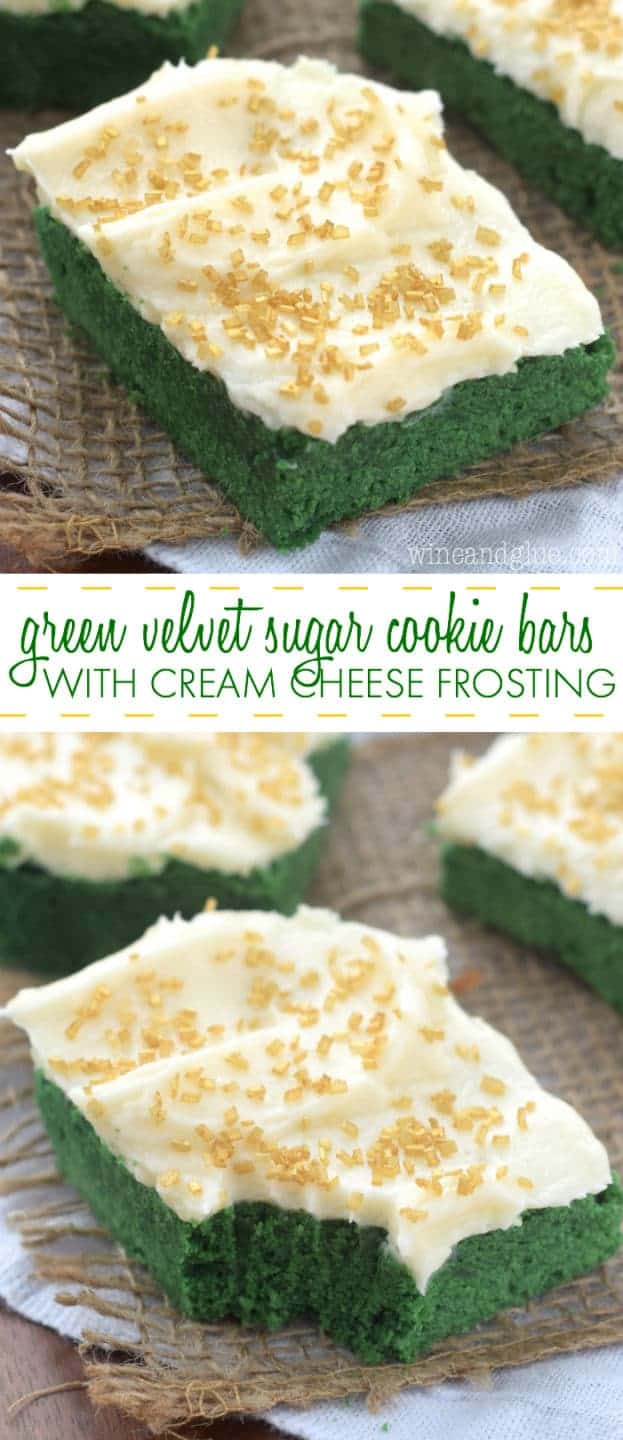 This post contains affiliate links, if you click on them and then make a purchase, I make a small amount of money at no additional cost to you. Thank you in advance for supporting Wine & Glue.