These Lighter Caramel Apple Pipe Pops come together with only TWO ingredients and are a perfect snack for the kiddos! I'm so excited to be partnering with Yoplait to bring you this awesome snack hack that can be done so many different ways!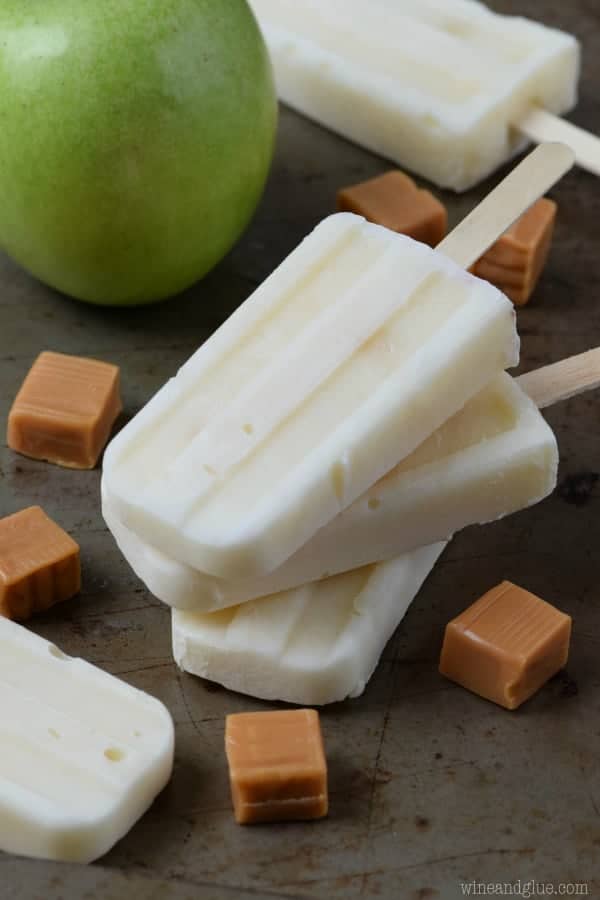 So things have been kind of rough at home with kiddo #1. Rough in the kind of way that makes you question your abilities as a parent. Rough in the kind of way that leaves you banging your head against the wall at the end of the day and feeling like you are out of magic rabbits to pull out of your hat.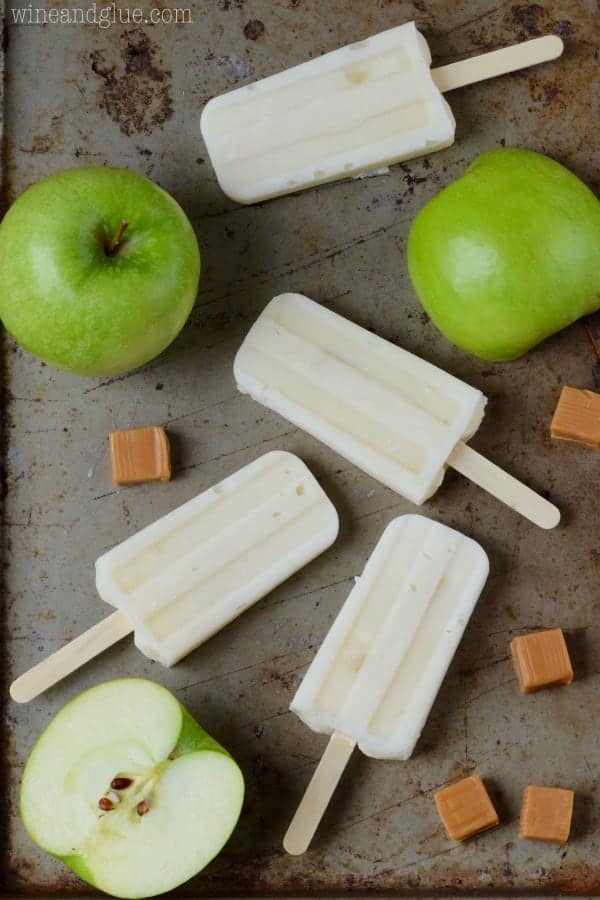 I'm sure it has to do with some life changes and family stresses that are going on at home. Combined with wanting more responsibilities, being given more responsibilities . . . but ultimately being a kid who still is told what to do and when to do it 99% of the time.
Sigh.
So the other night we were having one of those moments. A moment when I really didn't know what to do. I mean, we were both sort of having a meltdown.
And then, I decided that we would make these.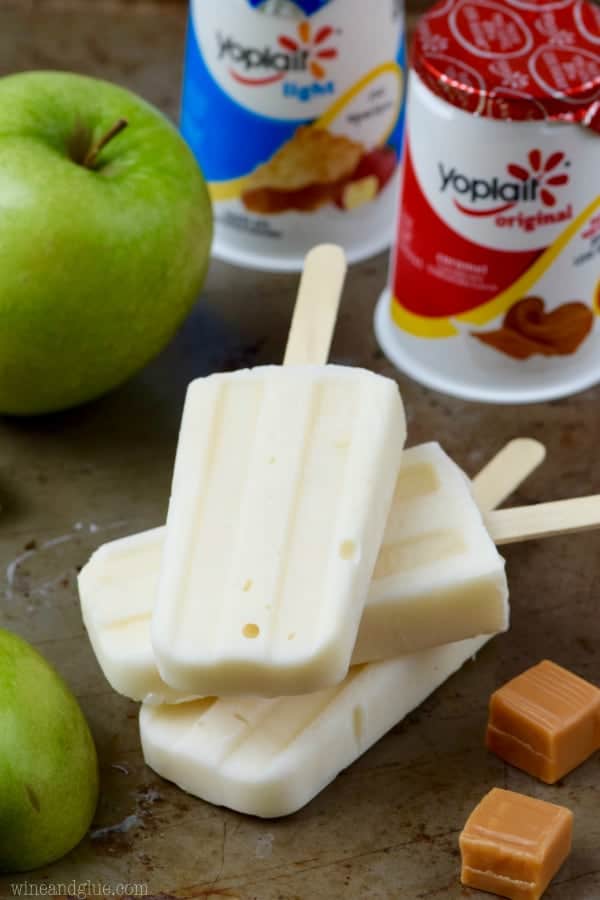 So we got in the car, went to the grocery store, just the two of us (OMG. Side note: Grocery shopping with just one kid feels like a vacation), and we stood in front of the Yoplait section of our grocery store and picked out flavor combinations to make these lighter yogurt pops.
You guys.
It totally worked! I'm not even kidding. Before doing that, he was not even really speaking to me. And then suddenly we were standing there and talking about what would make the most amazing flavor combos. And since Yoplait has 100+ flavors there were looooots of choices.
I went with combining Light Apple Pie and Original Caramel because I am the perpetual foodie and thought that would be the most intriguing.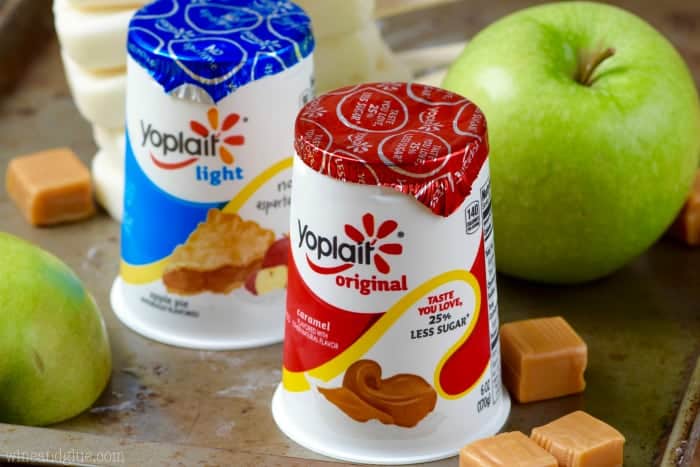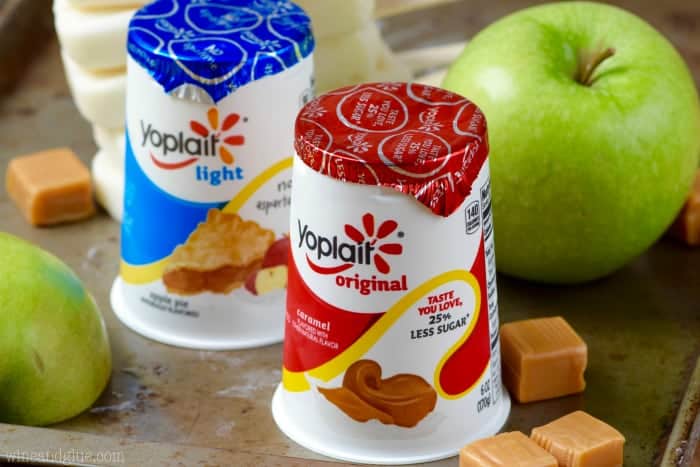 While kiddo picked out more than a dozen other combos to make different pops.
You guys. These are magical pops. Not only did they totally change things with my grumpy little guy, they also are the FIRST frozen pops that I've actually been able to get out of the mold! #winningatlife
There are so many things that I love about this idea: combining two Yoplait flavors to make a unique and original frozen pop. First, it really is magical and so fun for the kids to come up with their own flavors. Second, it is a super easy "cooking" activity to do with the kids. It's pouring and mixing and some more pouring. Done! And finally, given the reduced sugar and no aspartame in Yoplait, it's a snack that I really feel good about!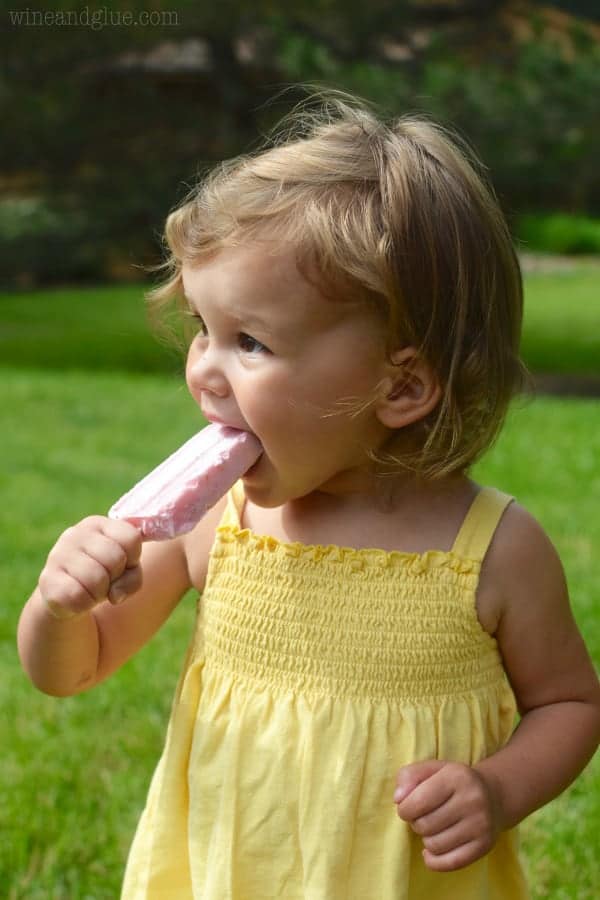 Gavin's favorite flavor combo was Original Red Raspberry and Original Blackberry Harvest and I actually let Piper have it for breakfast! She thought it was the most amazing thing that had ever happened!
Side note number two: Is my baby girl not the cutest thing ever when eating a frozen pop??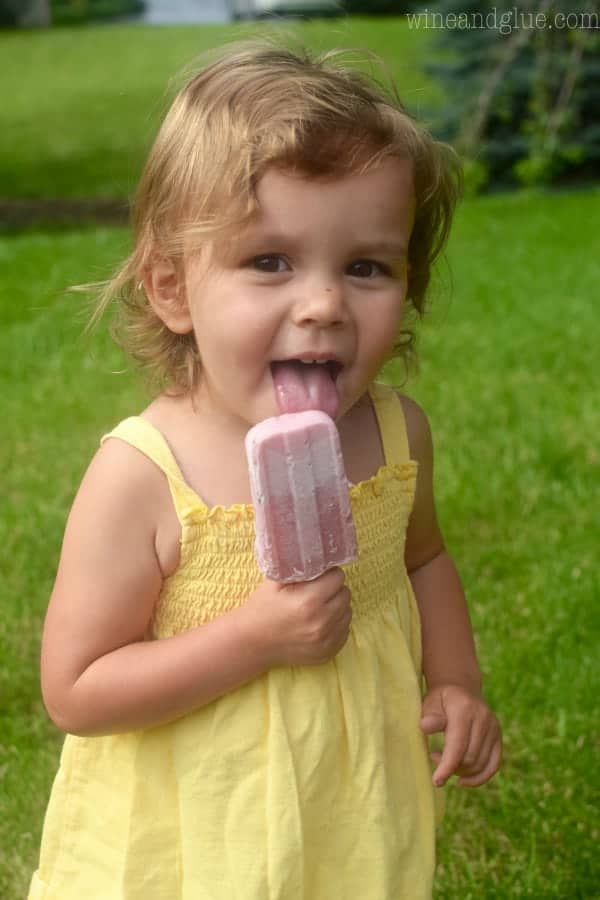 Confession: I love recipes that aren't even actually recipes.
You take any two original flavors of Yoplait (or really you could branch out into their Greek 100 yogurt and Whips! for even more flavor combos!) stir them together in a bowl and pour them into molds. Ooooor! You could go for a SUPER combo and add four flavors. About four original 6 oz containers will get you 7 pops.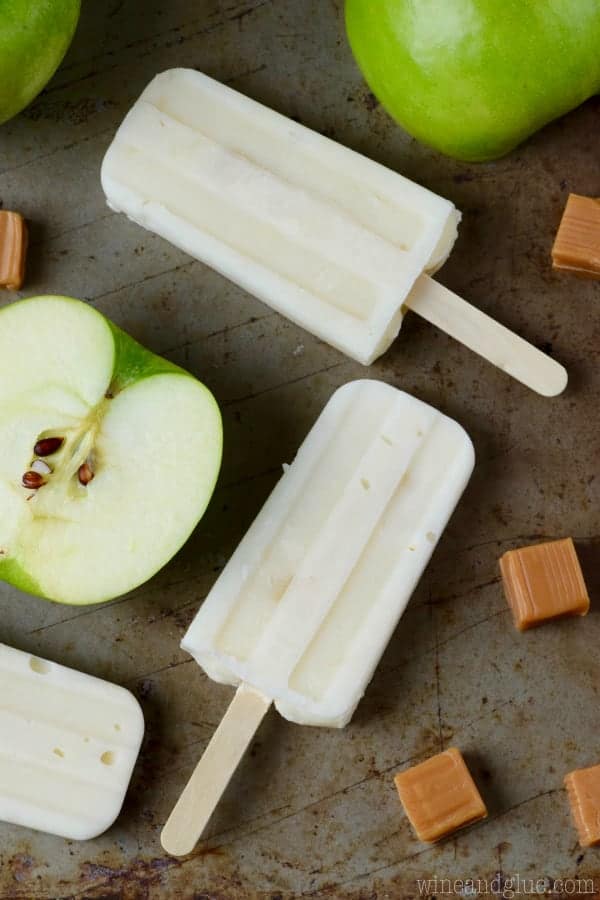 Welcome to your family's new favorite snack!
For more awesome snacking ideas, be sure to follow Yoplait on Facebook, Twitter, Instagram, and Pinterest! Check out their 100+ flavors HERE! And try all of Yoplait's 100+ flavors for a chance to win $100,000! Just enter the code from on top of specially marked lids at Yoplait.com/100Ways and you will have a chance to win one of more than 3,000 prizes!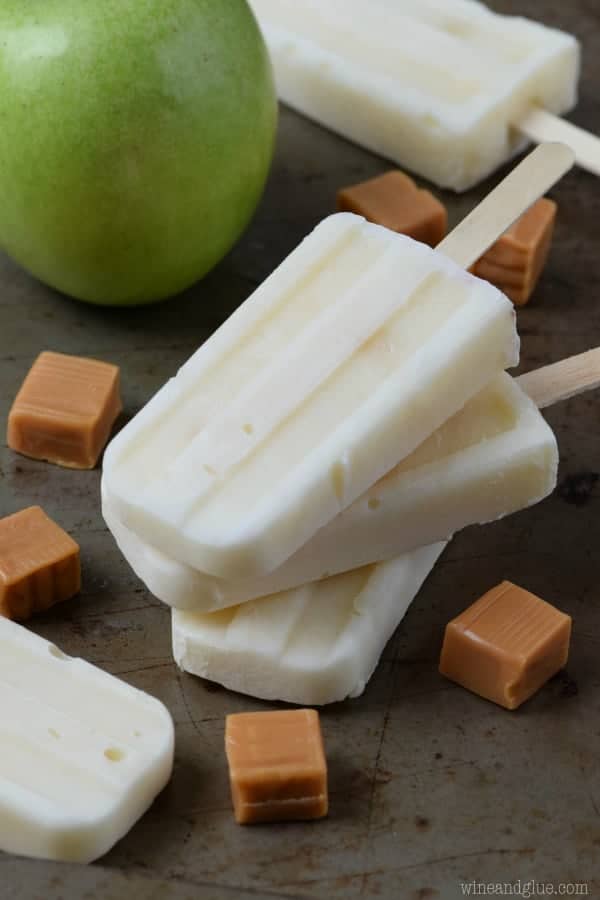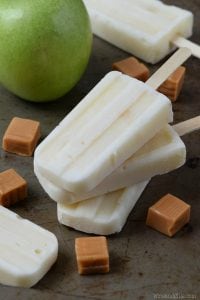 Lighter Caramel Apple Pie Pops
Ingredients
2 6

oz

containers of Yoplait Original Caramel Yogurt

2 6

oz

containers of Yoplait Light Apple Pie Yogurt

Makes approximately seven pops.
Instructions
Mix the four containers of yogurt together and pour into molds, add popsicle sticks. Freeze overnight. To remove from molds, carefully rinse the bottom portion of the molds in warm water, and gently pull out the pops. Store in an air tight container in the freezer for up to one month.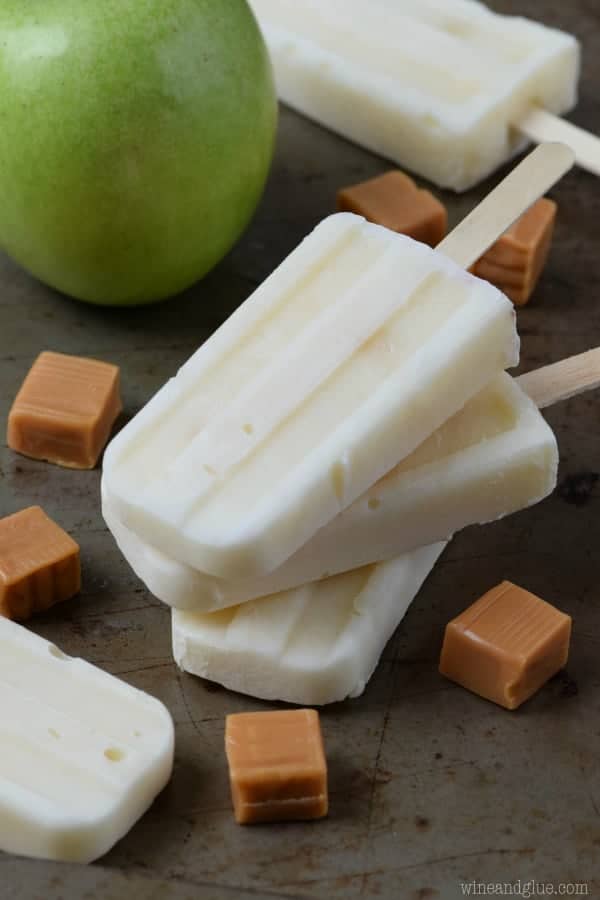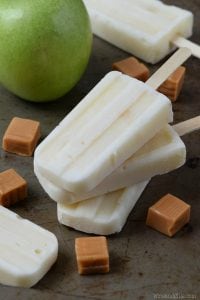 did you make this
Lighter Caramel Apple Pie Pops