This Loaded Reese's Peanut Butter Cup Bark is BURSTING with the perfect flavor combo, but it's a bark, so it's way easy!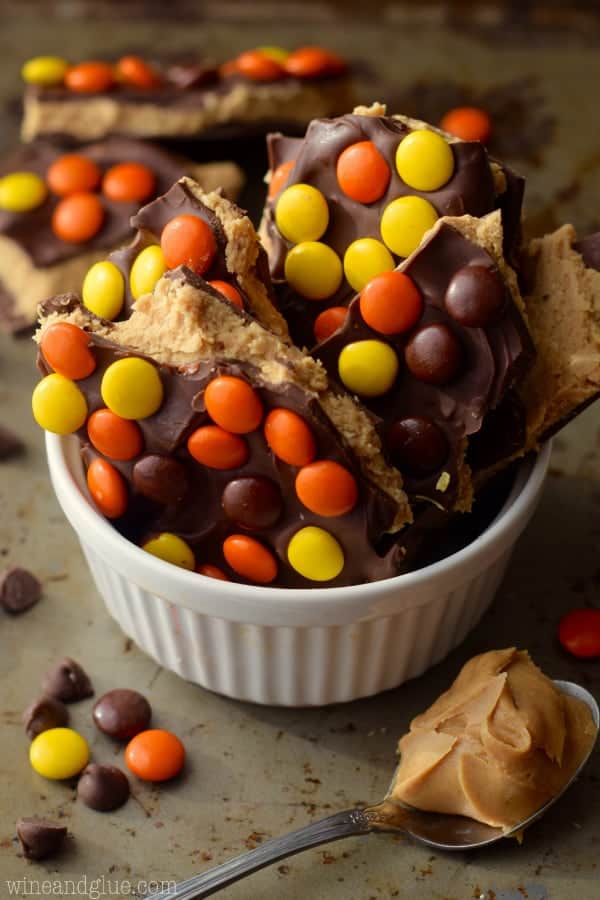 They did a segment on the radio yesterday: What are you going to tell your family at Thanksgiving that they have no clue about?
You guys, there was a girl who called in who is going to tell her parents, her parents who have given her tens of thousands of dollars (!!) to go to school, that she hasn't actually been in school. Yikes! I half want to be a fly on the wall when she tells them and I half would be way too scared!
You guys, why does Thanksgiving, such a chill happy holiday all about food, why does it have to evoke such family drama??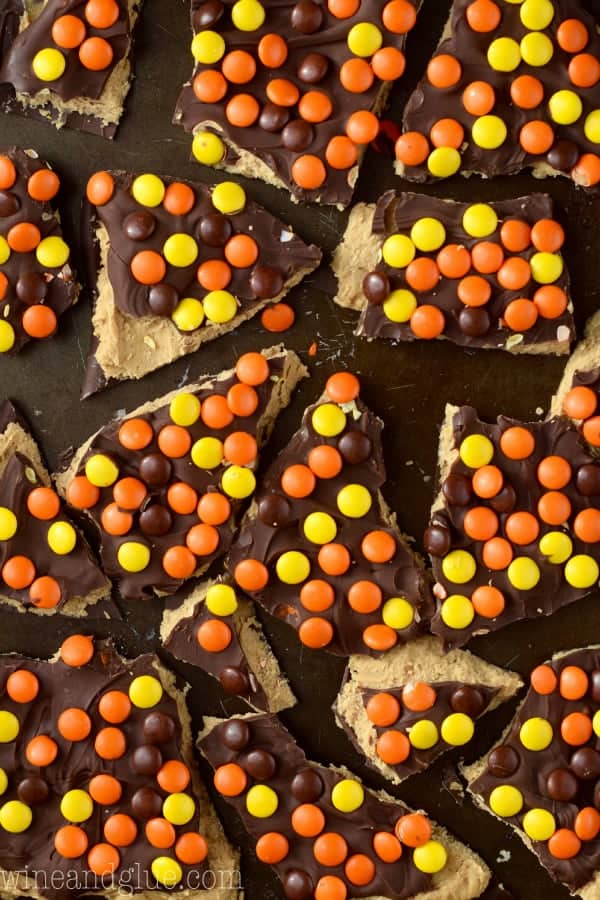 I love my family way too much to air our family Thanksgiving drama on the blog, but let's just say we've had our moments. I mean, not "Hey dad I just wasted 20k dollars" moments. But moments.
And I'm not alone. (Right??) I mean, in this day and age when lots of people my age celebrate four (FOUR) Thanksgivings because both sides of the family have divorces and remarriages, I mean with that many turkey days, you are bound to find yourself in some drama.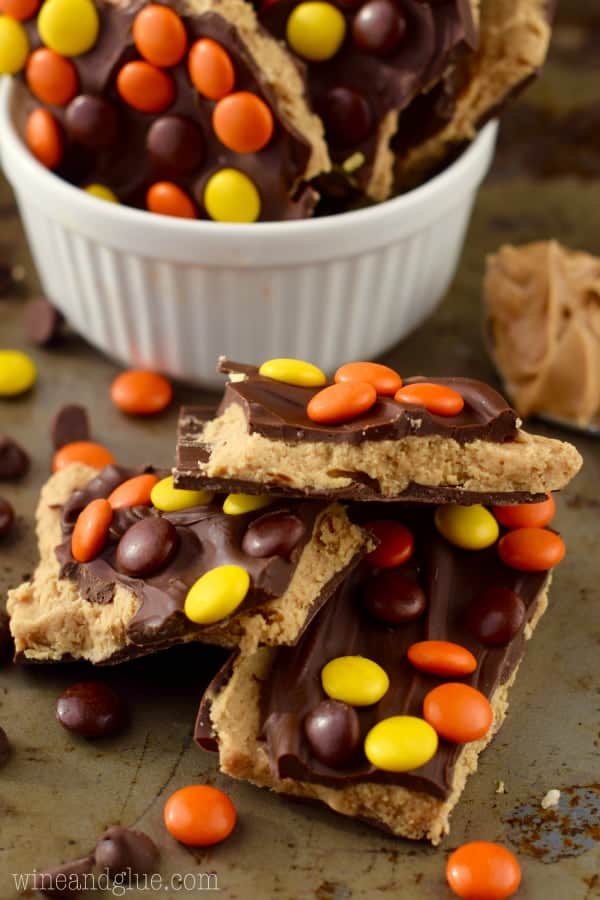 In all seriousness, Thanksgiving always feels rough for me (even without the drama). It's the last holiday that I celebrated with my mom. She was too sick to do much of the cooking, my brother literally pulled a recliner chair into the kitchen so she could supervise in comfort, but we were together.
My mom was good at so many things. But definitely at the top of that list were cooking and being the most amazing and empathetic shoulder and ear. I miss so much about her. I miss her all the time. But today I'm especially missing her loving and kind support.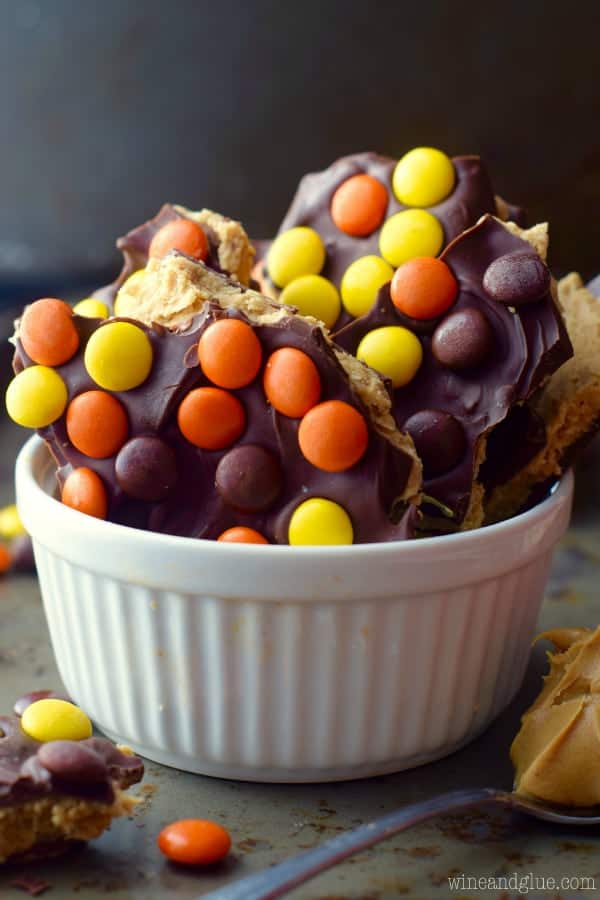 This bark is no replacement for my mom (I mean, duh.) but it is really really good. And for a second when you put it in your mouth and taste the perfect combo of chocolate and peanut butter you forget about the drama and all is right in the world.
I love bark. It is the lazy baker's answer to . . . everything. It's just spreading layers, refrigerating, another layer or two, and then you break it apart and start eating. This bark tastes just like a peanut butter cup but without all the work!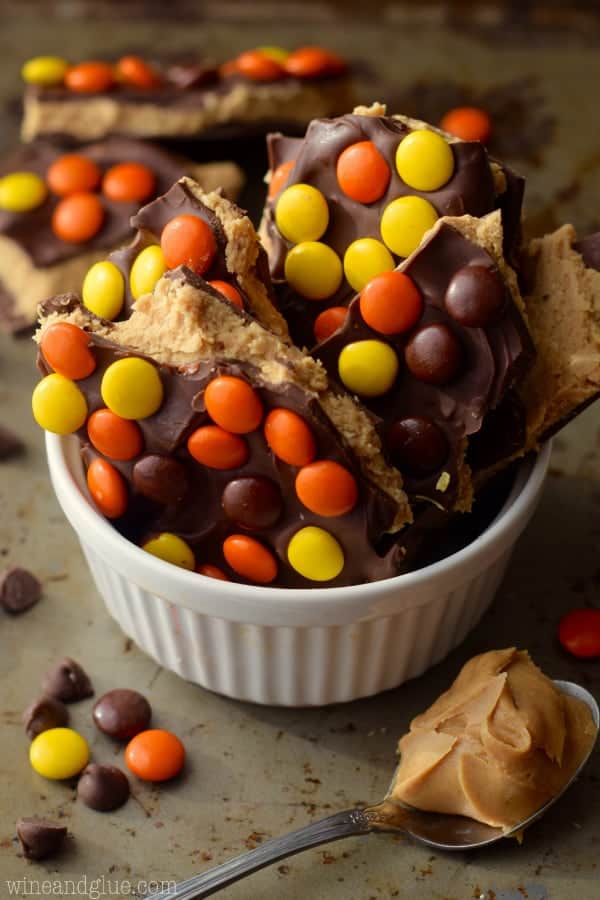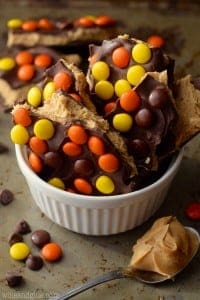 Loaded Reese's Peanut Butter Cup Bark
Ingredients
3 1/2

cups

of chocolate chips

I used milk chocolate, divided

1 1/2

cups

of creamy peanut butter

I used JIF

1 1/2

cups

of powdered sugar

3

TBSPs

butter

softened

1

cup

Reese's Pieces
Instructions
Line a 10 by 15 inch pan with wax paper.

Melt 1 1/2 cups of the chocolate and spread it over the wax paper. It won't reach all the way to the edge of the pan. Put it in the refrigerator to set.

Combine the peanut butter, powdered sugar, and butter. I put mine in the microwave during mixing for 10 to 15 seconds to help with mixing. Spread it over the chocolate layer evenly.

Put the pan back in the refrigerator to set.

Melt the remaining 2 cups chocolate chips and then spread over the peanut butter layer. Top with the Reese's Pieces. Let set and then break apart. Store in an airtight container.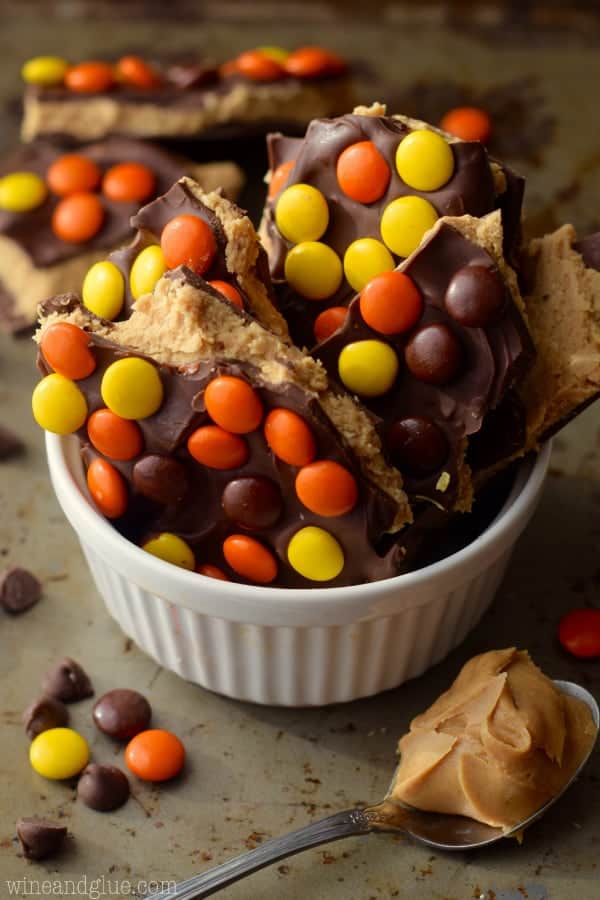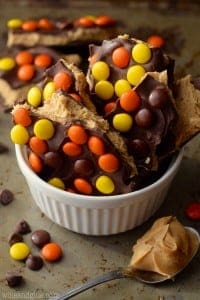 did you make this
Loaded Reese's Peanut Butter Cup Bark