These Maple Frosted Blondies are ridiculous! They are soft, sweet, and delicious and made that much more so when topped with a delicious maple frosting and white chocolate ganache!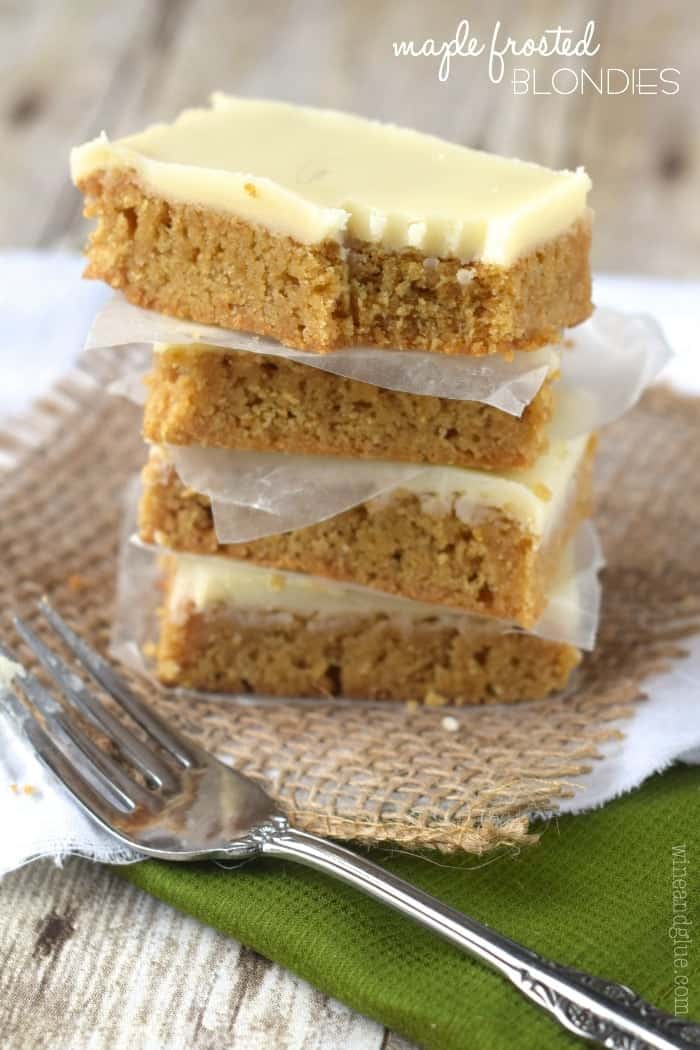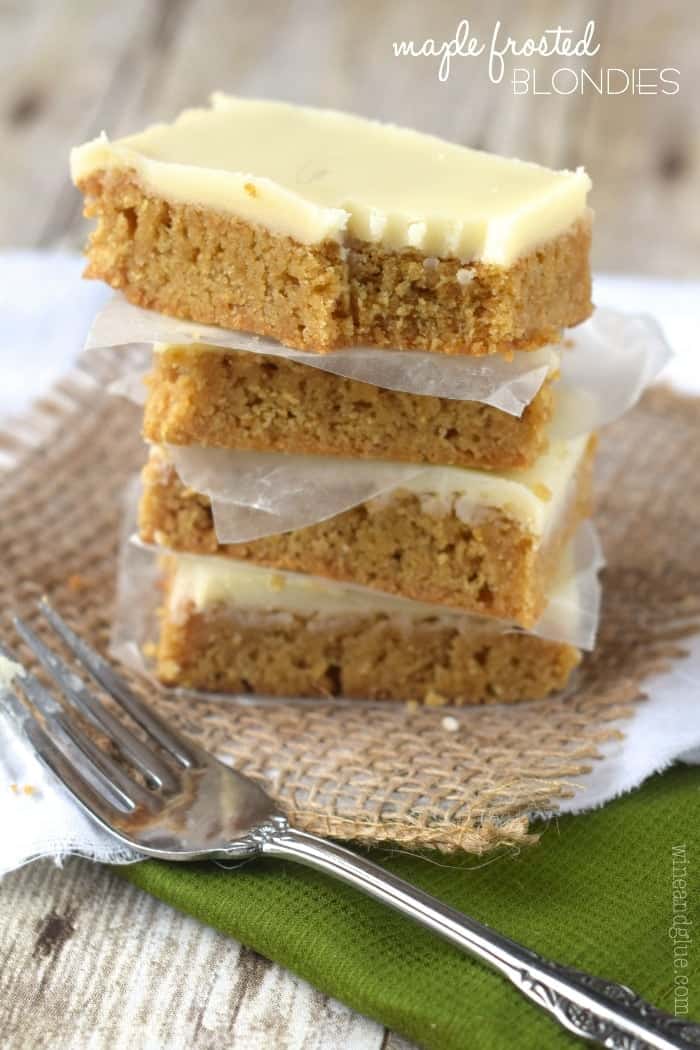 This post is going to be ridiculously short, and guess why?
I'm 100 pages until the end of Gone Girl.
I'm at that point in a really fantastic book where you just have to know what happened, but at the same time, you really aren't ready to be done with it. Because once I am done with it, I will never unknow how it ends. #duh
I said this the other day to my husband, "I wish I hadn't read 'The Fault In Our Stars' yet."
He looked at me like I was absolutely insane. And I explained. Okay, I can never read it for the first time again, and it is SO good. I mean sure, I can read it again, but it won't be the same as the first time. I already am in love with the characters. So there won't be that delightful slow unfolding of who they are and coming to adore them. And then that slam you in the chest ugly cry ending. I mean, I'm sure I would do the ugly cry again, but it just wouldn't be quite as ugly.
And now Gone Girl. You guys! It is soooooooo good. And I love and hate all the characters all at once. Ugh! I don't want it to end, but holy hell I want to know what happens, so of course I will stay up tonight until I finish . . . and then likely sleep for 20 minutes until Piper starts crying and I stumble into her room to feed her. #sleepisfortheweek
What is the last book that you had to finish but also didn't want to?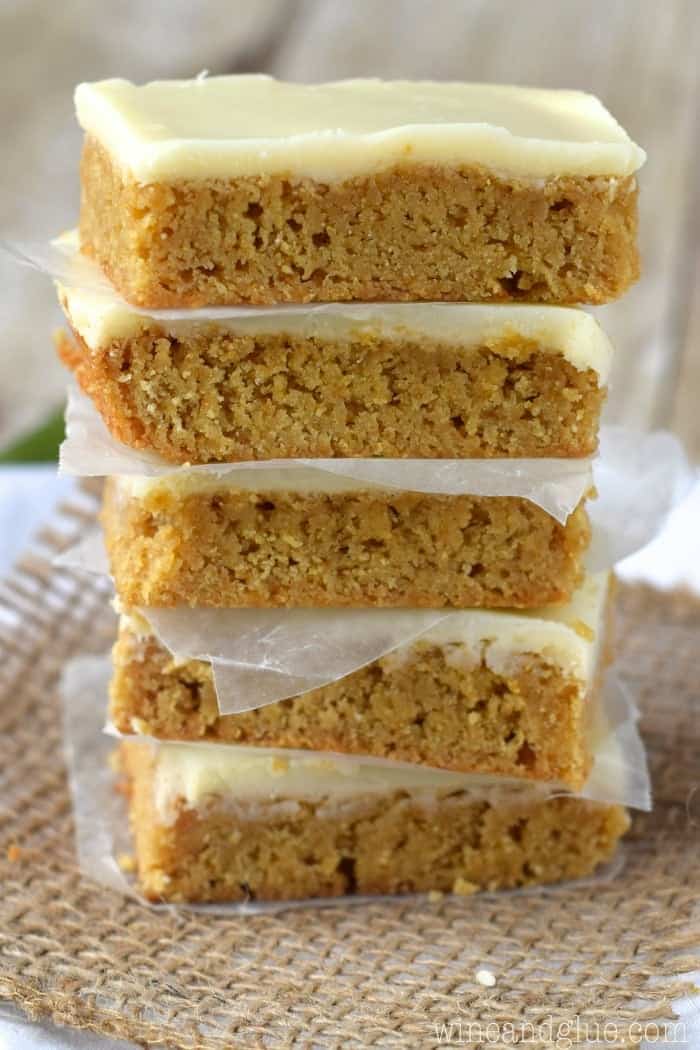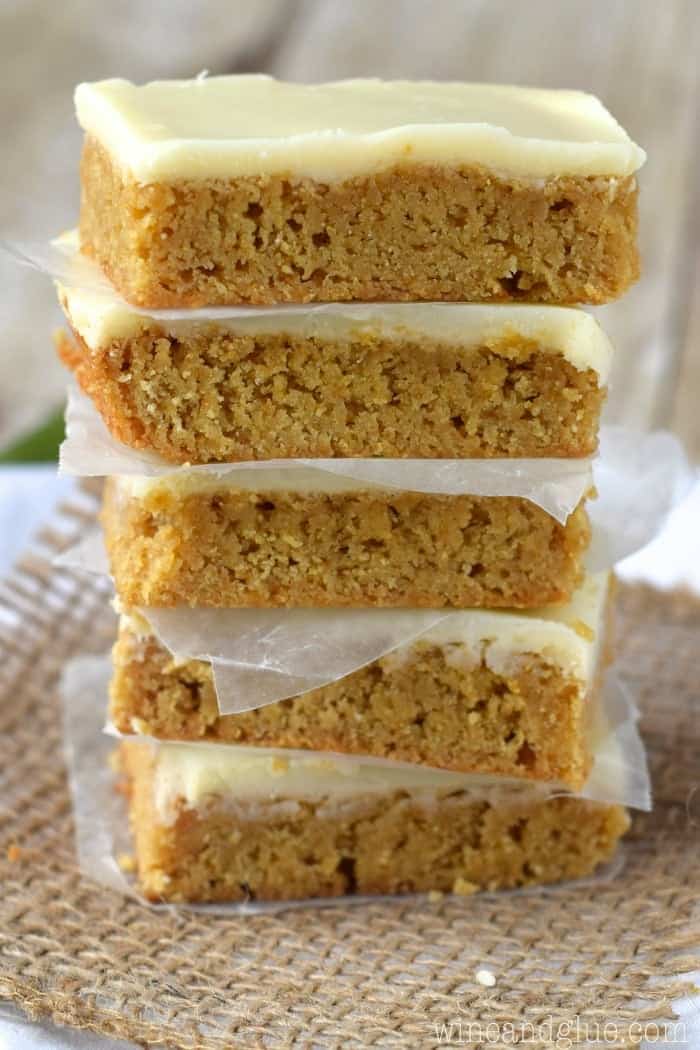 Gone Girl is kind of like these blondies. They are so soft, delicious, and full of maple flavor, which is absolutely complimented by white chocolate ganache. You are just going to be so in love with them that you will just want to eat the whole pan and finsih them off . . . but of course then you will never be able to uneat the whole pan. :)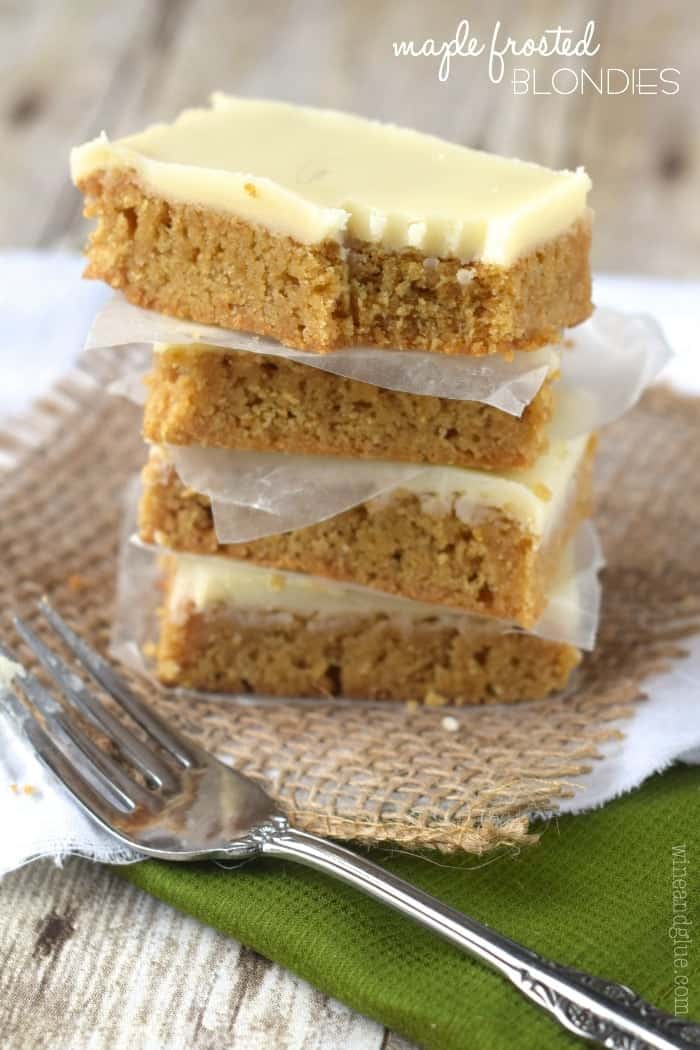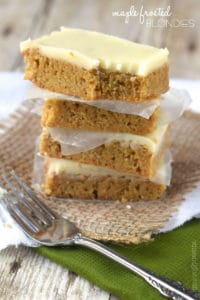 Maple Frosted Blondies
Ingredients
For the Blondie Layer

1 1/2

cups

all purpose flour

1

tsp

baking powder

1/2

tsp

salt

1 1/2

cups

packed light brown sugar

1 1/2

sticks butter

melted and cooled

2

large eggs

4

tsps

vanilla extract

For the Maple Frosting Layer

1/2

stick butter

melted

2

TBSPs

maple syrup

1

cup

powdered sugar

For the White Chocolate Ganache Layer

1

cup

white chocolate chips

1/2

stick butter

1

TBSP

milk
Instructions
Preheat your oven to 350 degrees and grease a 9 by 13 pans

In a medium bowl, whisk the flour, baking powder, and salt together.

Cream together the sugar and butter, about two minutes. Then mix in the eggs and vanilla. Gently mix in the flour mixture.

Bake for 25 to 28 minutes, cool for 10 minutes, and then refrigerate for a half hour.

Mix together the maple syrup, butter, and powdered sugar for the maple frosting layer. Spread it evenly over the cooled blondies. It will be thin. Refrigerate for another half hour.

Microwave the white chocolate chips and butter together for in 30 second intervals, stirring in between until fully melted. Mixture will likely be chunky and not smooth. Add the milk, and that should smoothen it out. Spread it over the cooled maple frosting, and chill for another half hour before cutting.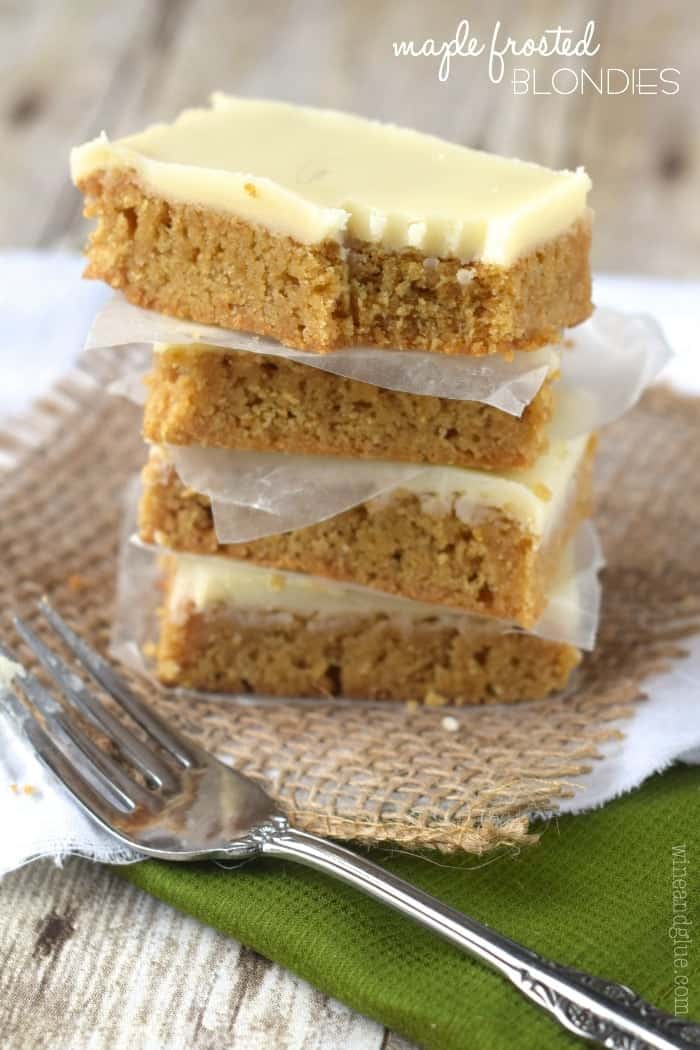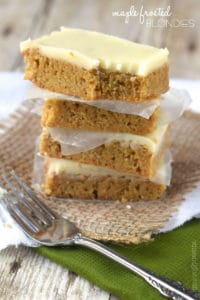 did you make this
Maple Frosted Blondies
You might also like
Sugar Cookie Cookie Butter Bars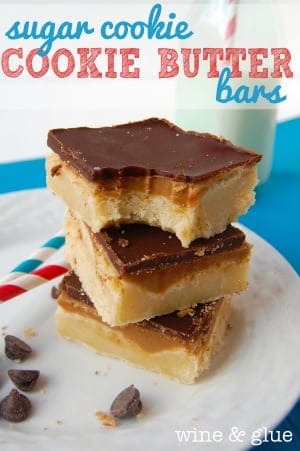 Chocolate Raspberry Brownies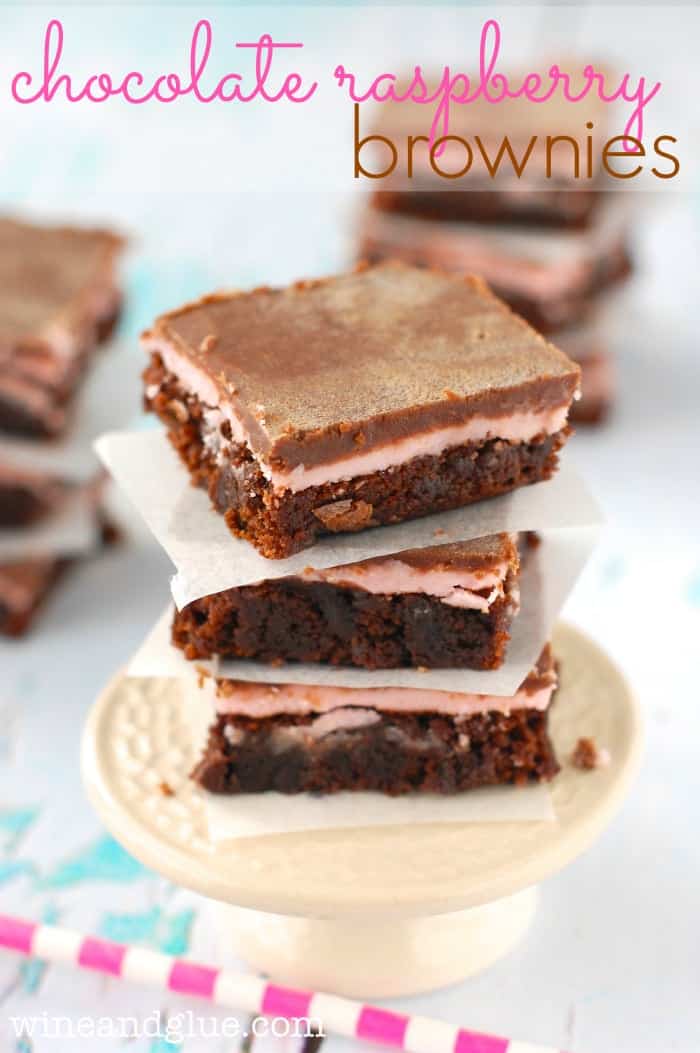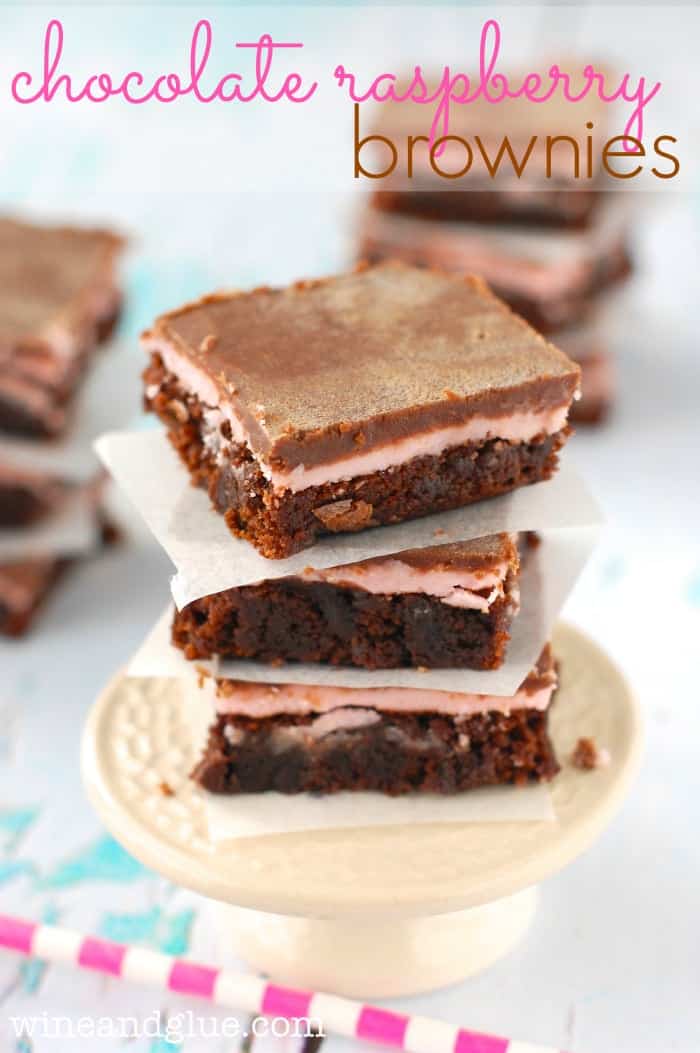 This post contains affiliate links, thank you in advance for supporting Wine & Glue.