These Peanut Butter Stir Fry Noodles are the perfect easy weeknight dinner. It comes together in just under 30 minutes and is packed with delicious peanut butter flavor that everyone will love. Such an easy chicken stir fry that your family will want again and again.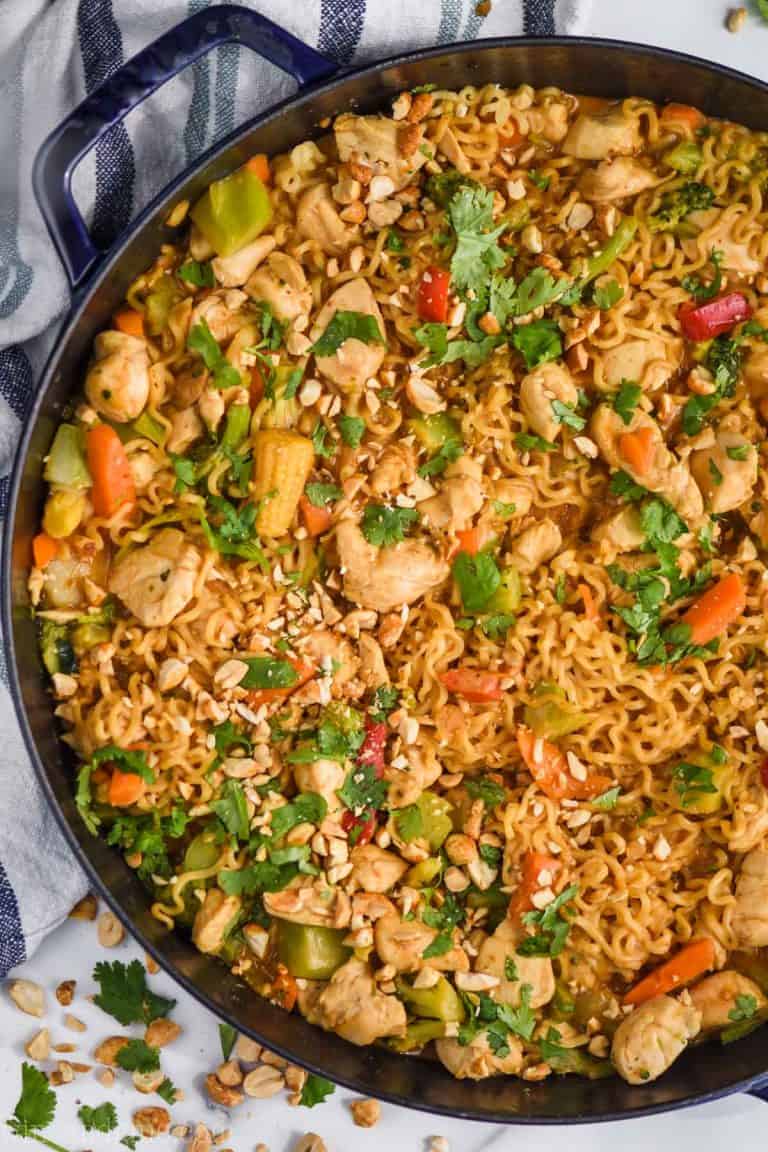 This post is sponsored by the National Peanut Board. I received compensation, but all opinions and content are my own.
In our house we go through A LOT of peanut butter. So much peanut butter, in fact, that when I accidentally pick up the smaller jar at the grocery store, Nathan is irritated with me because he knows it will last no time at all. Two big jars. Bought in bulk.
I think the reason we love peanut butter so much in our house is because it is delicious (obviously), but also it is something that is going to stick with our kids and really wipe out their hunger so they aren't back in 10 minutes asking for a snack. At 8 grams of protein per serving, it is perfect for our growing brood. Our oldest takes a peanut butter and jelly sandwich every day to school and our other kiddos often have it as a dip with pretzels or veggies as an afternoon snack when they are acting super hangry.
I also love how versatile peanut butter is! Obviously it is amazing in a sandwich, but it's also perfect in baked goods like my Peanut Butter Chocolate Chip Cookies and desserts like my Peanut Butter Cup Pie. I love using it in snacks like my five ingredient no bake energy bites. But! It is even amazing in dinner recipes.
30 MINUTE STIR FRY NOODLES
This Peanut Butter Stir Fry Noodles dinner recipe is phenomenal. The sauce for it starts with creamy peanut butter, but if you love chunky peanut butter you could use that instead. With the sauce taking less than 5 minutes to make and it being the most complicated part of this recipe, you are going to love how simple this chicken noodle stir fry is. The perfect weeknight dinner!
I will tell you, that I made this and wrote down all the timing with all three of my kids home from school needing help with homework, having tantrums, and demanding snuggles. So, I promise you, this chicken stir fry with noodles really is an ideal weeknight family meal.
THE BEST PEANUT SAUCE
Let's start with how we make the sauce, shall we? It is really easy to whisk together this stir fry noodle sauce and then just pour on the end of your recipe. You will need:
creamy peanut butter
soy sauce
apple cider vinegar
chile paste – found in a small tube in the international aisle
minced fresh ginger – you can buy this in a tube near the produce
fresh garlic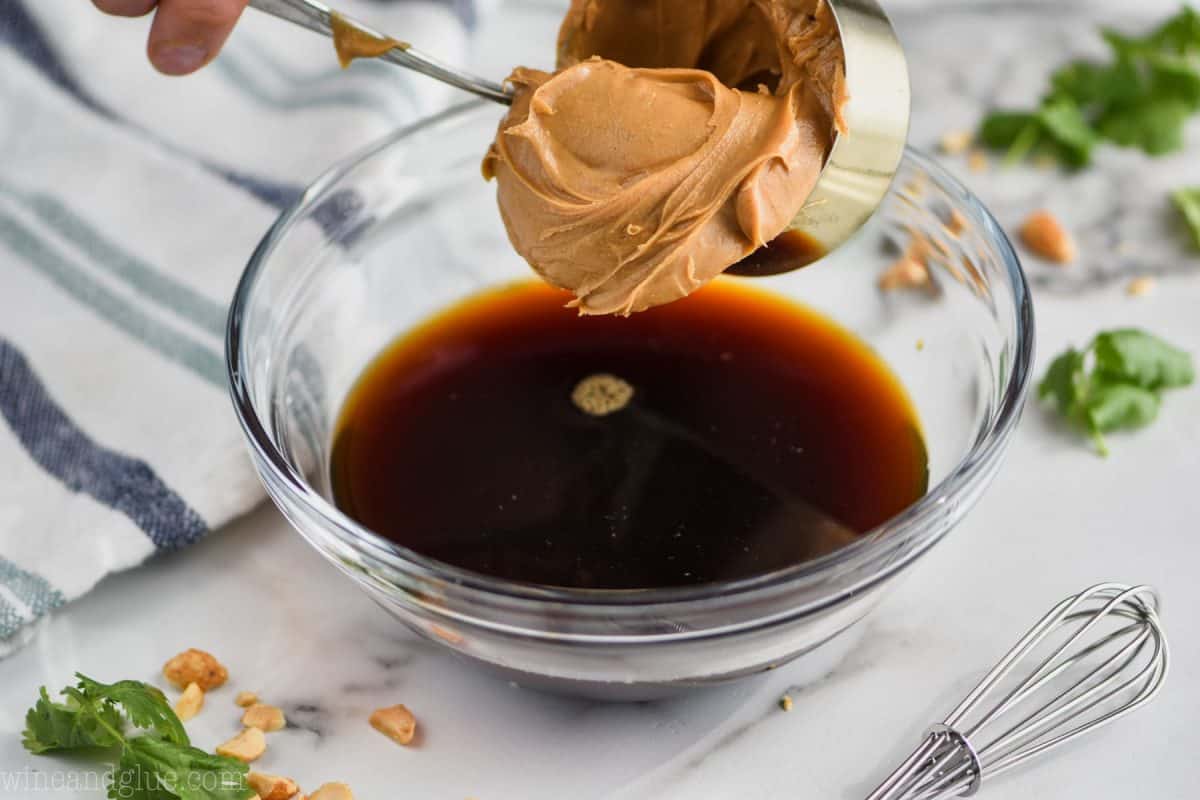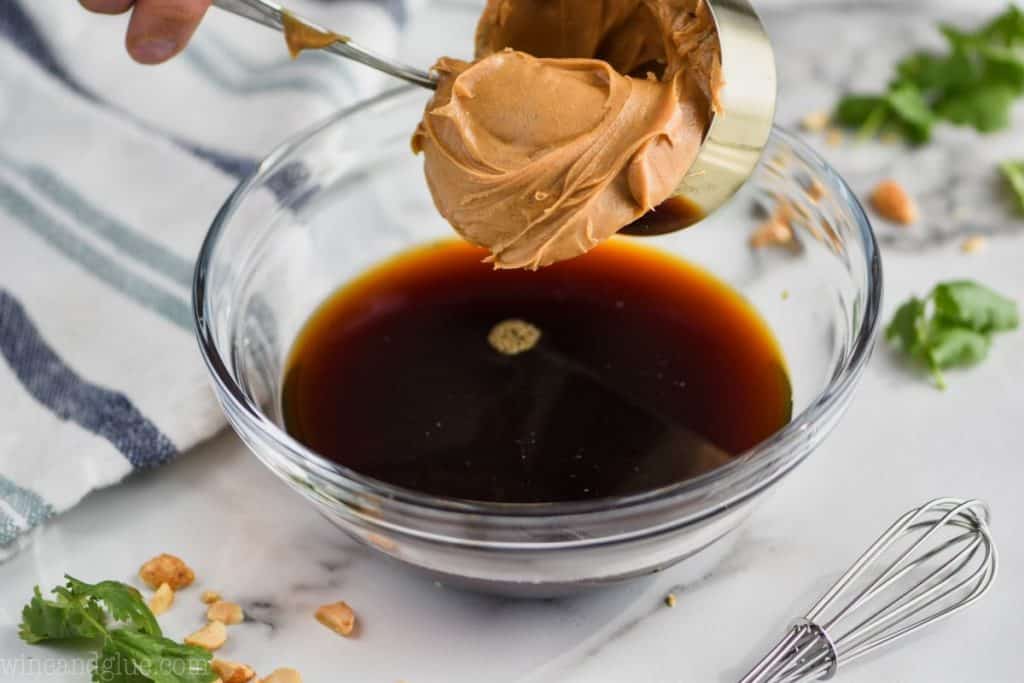 HOW TO SOFTEN PEANUT BUTTER
This sauce is a little easier to whisk together if you first soften the peanut butter. To do that, I would suggest sticking this amount in the microwave for about 15 to 30 seconds. It's okay if it gets very liquidy in there because you are incorporating it into a sauce.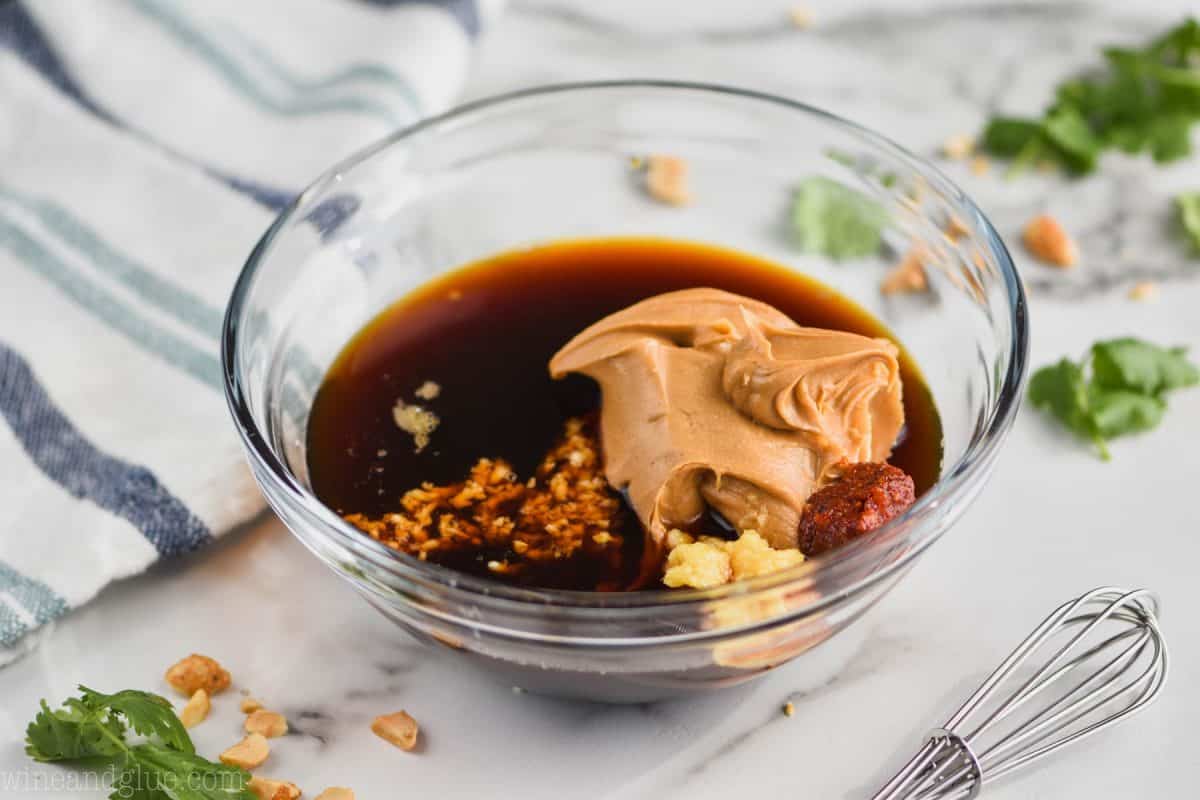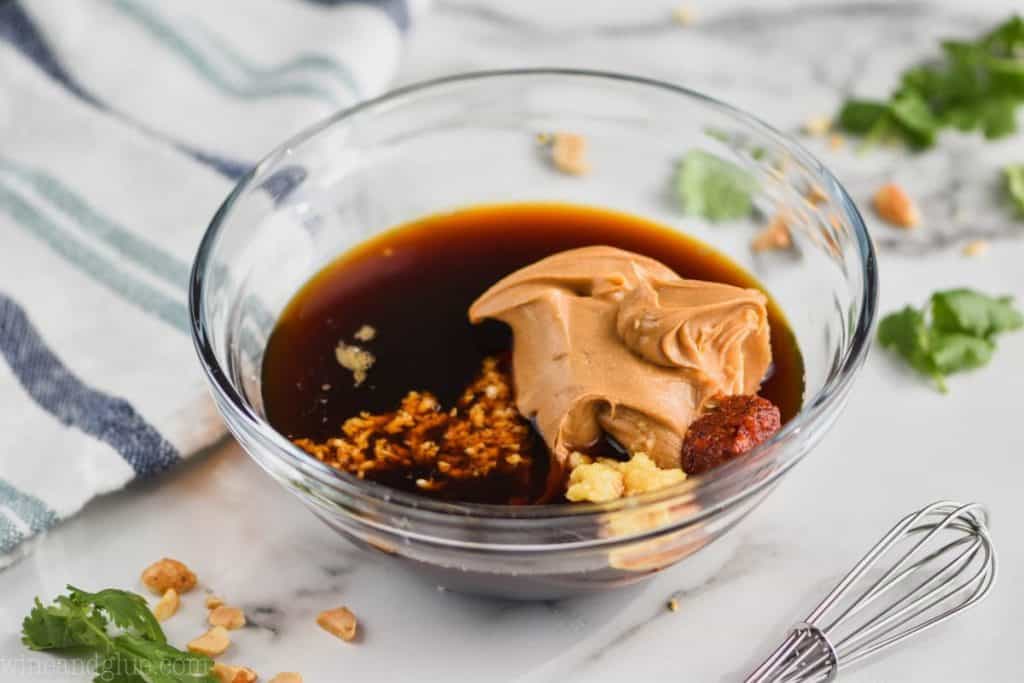 Once you have all of the ingredients your bowl, whisk together until smooth. It may take a bit for the peanut butter to incorporate into the rest of the ingredients are really break down. Keep whisking until the sauce is smooth.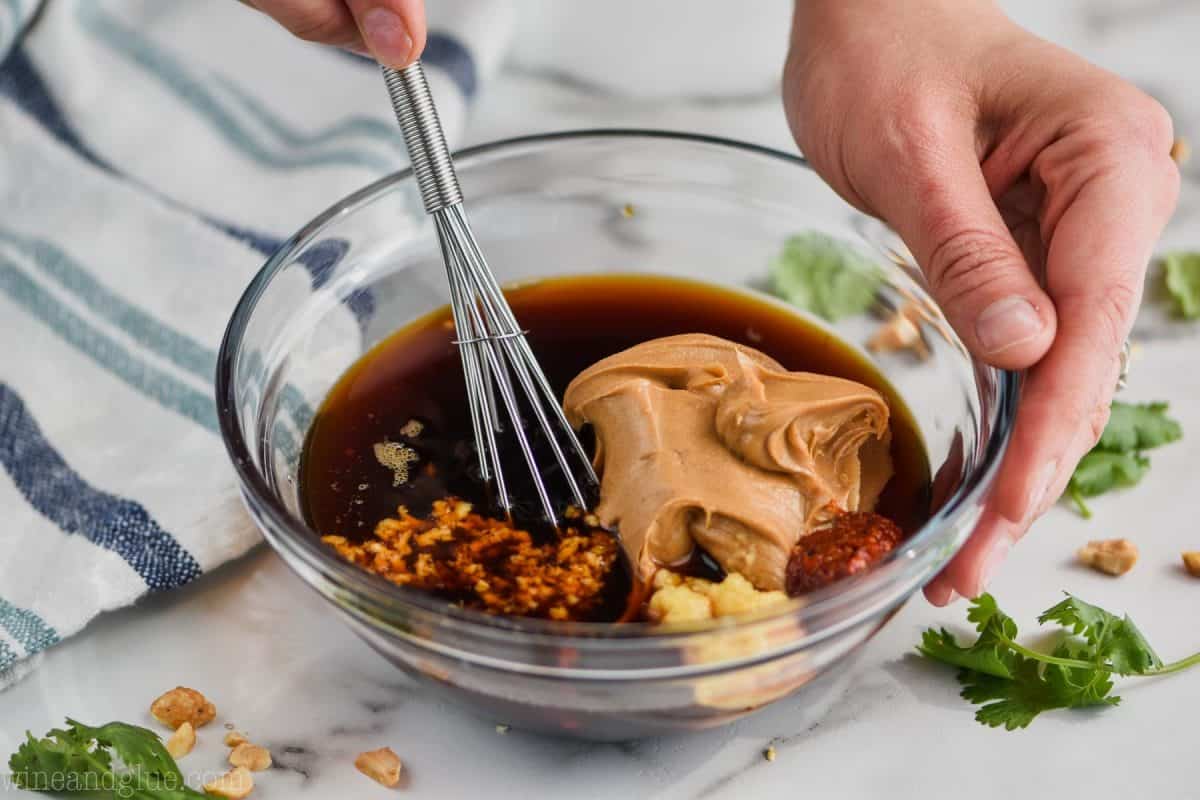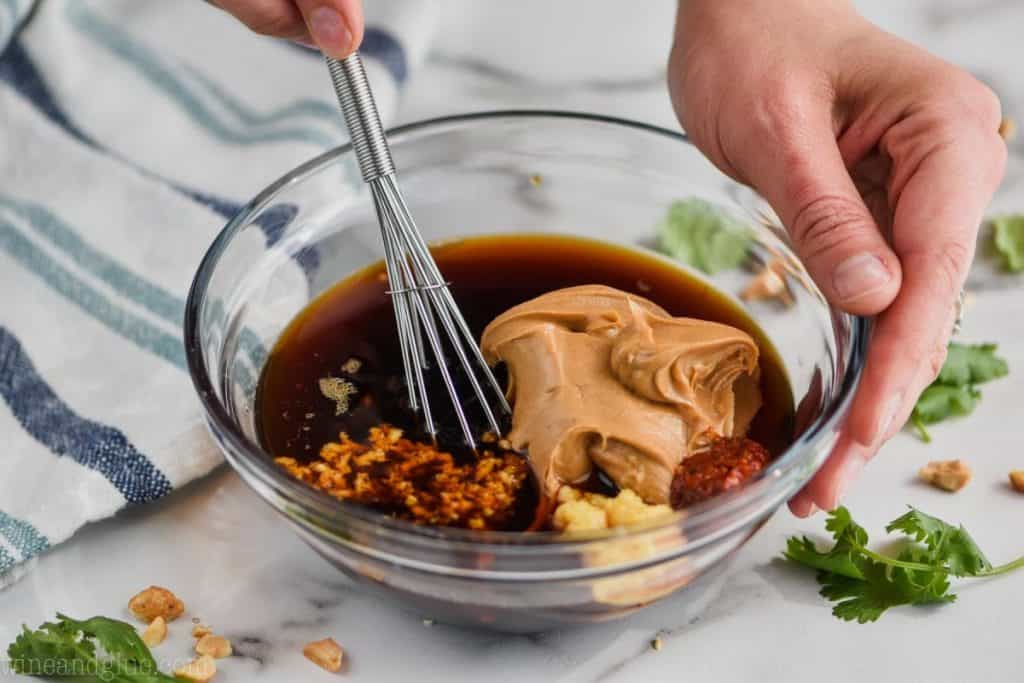 MAKING THESE EASY STIR FRY NOODLES
I just love how easy this recipe is. Making the sauce is literally the most hands on part of this recipe and we already got that done! If you are really comfortable in the kitchen, you can make your sauce while your chicken cooks and your noodles boil and this recipe will be done even faster!
If you aren't as comfortable, just make prep the sauce at the beginning and set it aside.
It is so easy to make stir fry noodles with chicken and vegetables. Here are the steps laid out.
Make the sauce and set aside.
Cut the chicken into bite sized pieces. Using chicken tenders makes this easier.
Bring water to a boil and start your noodles cooking.
While the water is boiling, start cooking your chicken.
Add in the frozen vegetables to the chicken.
Add the noodles to the vegetables and the chicken.
Pour the sauce over everything and toss to combine. (Please note that this is done on the stove top. I just took my dish off to take the photo in natural light.)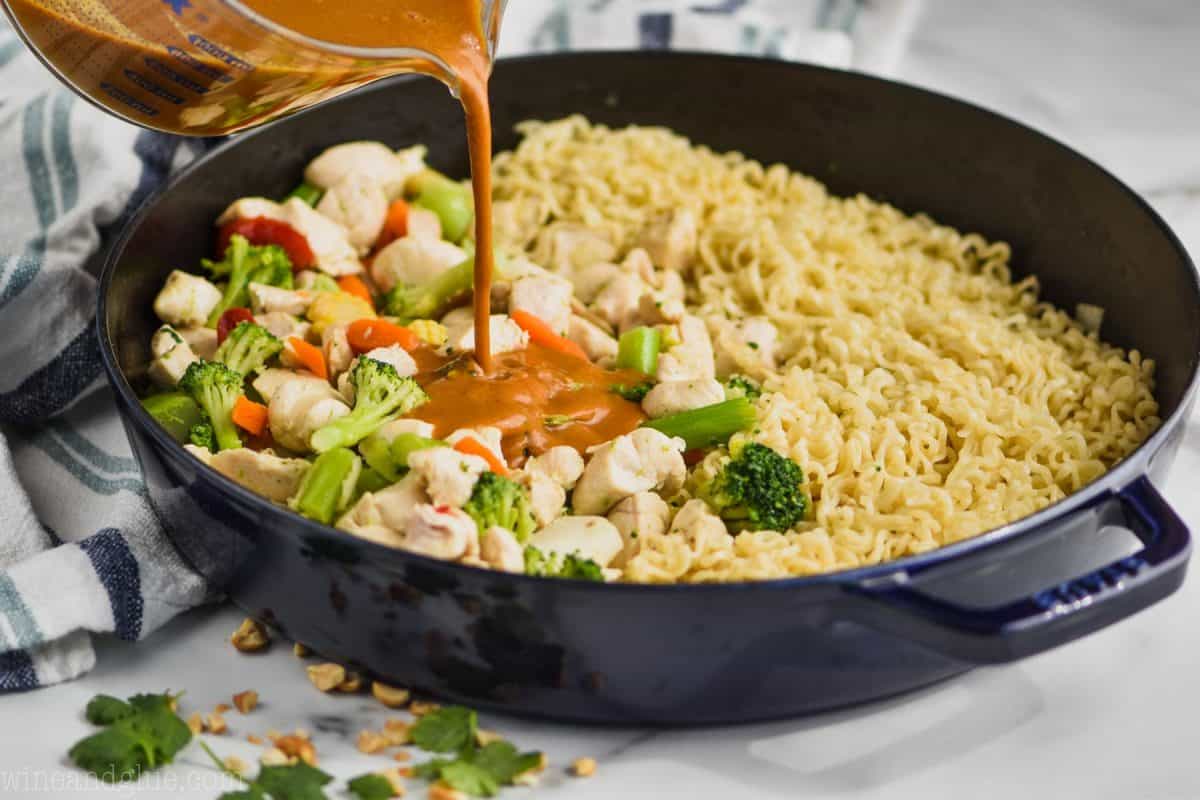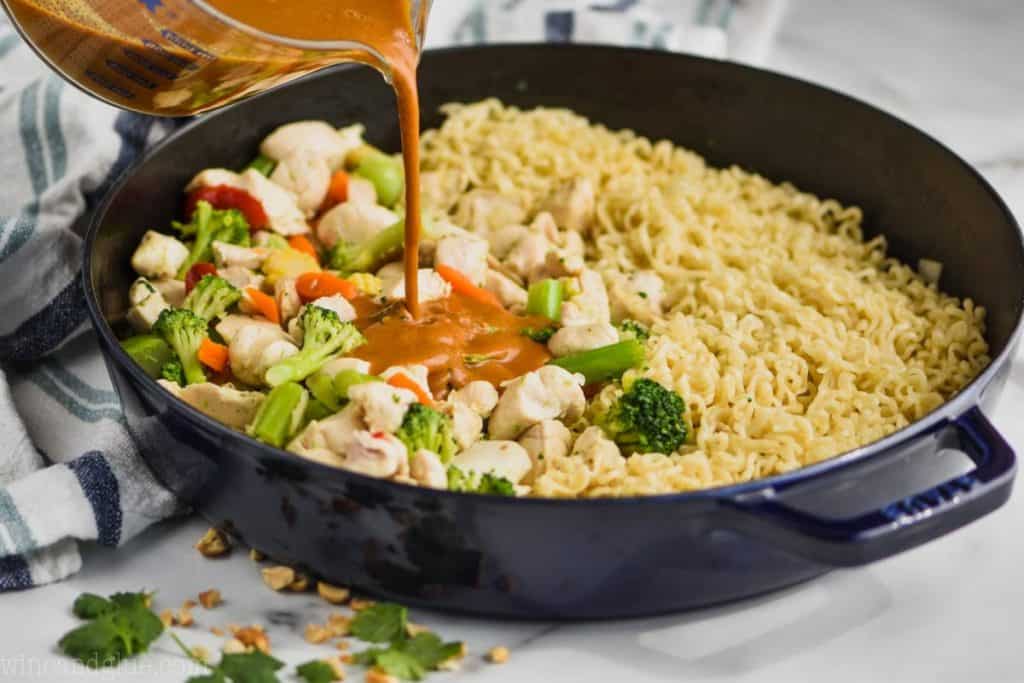 HOW TO GARNISH THIS DISH
If you have little ones, you might want to be done at this point. That said, I loved this dish with the extra punch of fresh cilantro and chopped peanuts on top. They give the final dish such a pretty presentation and I love the extra flavor they provide.
HOW MANY SERVINGS DOES THIS MAKE?
This recipe makes 5 servings that are 1 1/2 cups each. To put that in perspective, everyone in our family (three being small kids), had generous servings and we had some left over. I would think this would feed five adults.
VARIATIONS AND SUBSTITUTIONS
Replace the creamy peanut butter with crunch peanut butter for more texture.
Make these stir fry noodles vegan by replacing the chicken with more vegetables. The protein you are getting from the peanut butter is great!
Make this recipe gluten free by leaving out the ramen and doing a rice noodle stir fry. Then replace the soy sauce with liquid aminos which are gluten free.
Add more spice to this dish by throwing in some red pepper flakes.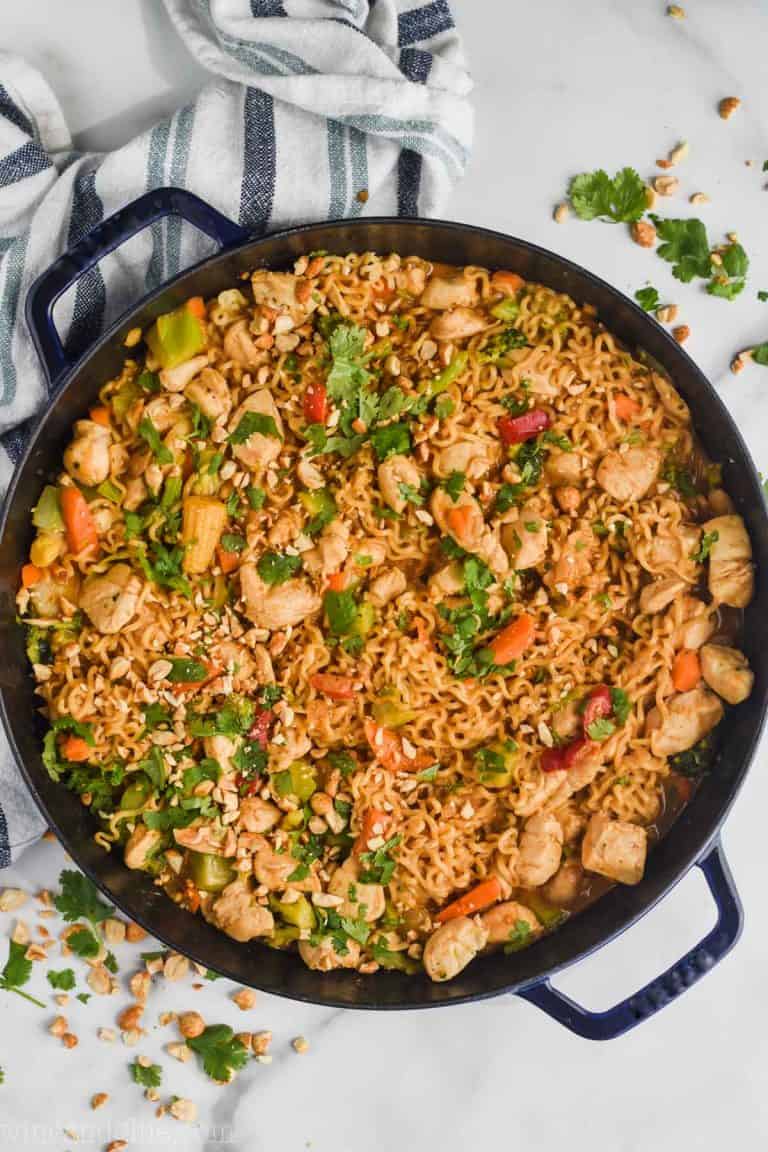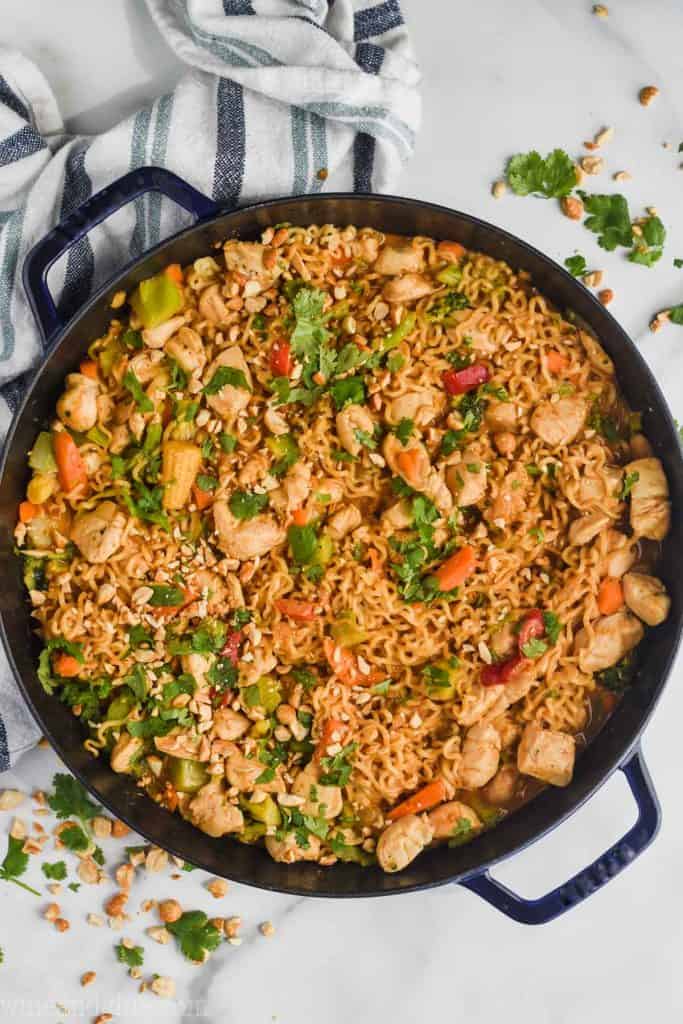 OTHER GREAT RECIPES USING PEANUT BUTTER
You can also click here for even more Peanut Butter recipes!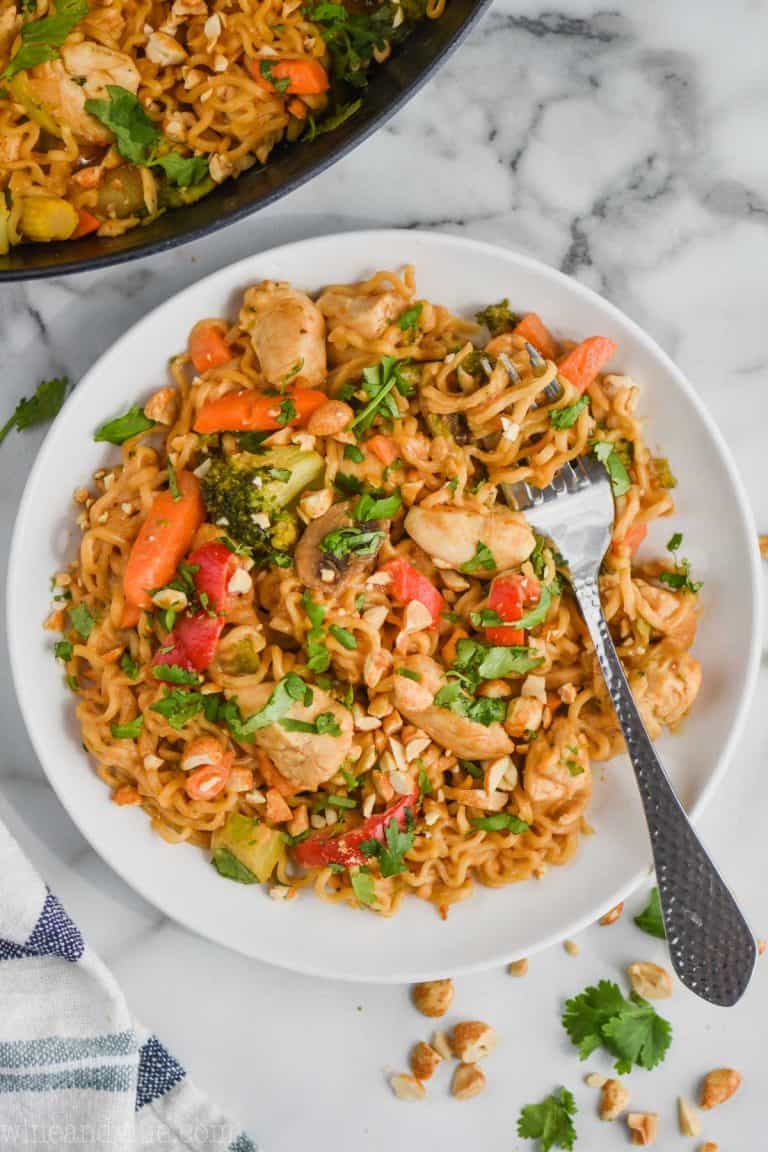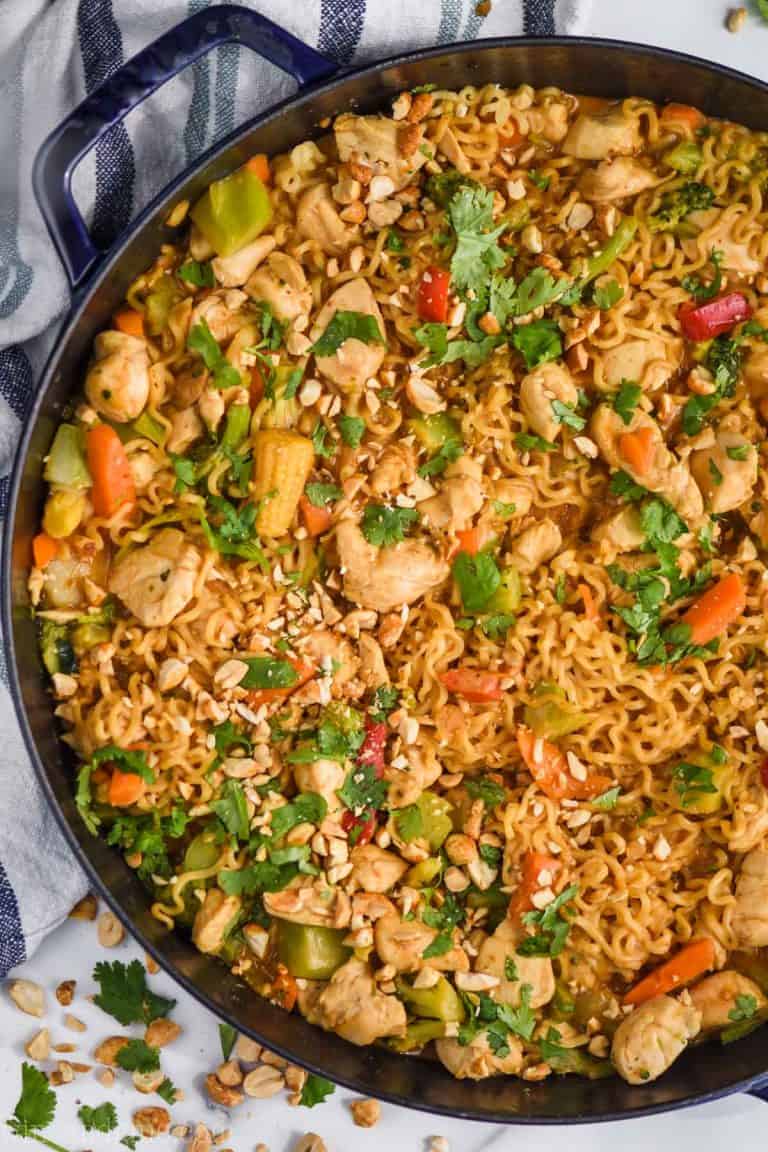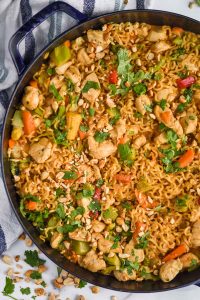 Peanut Butter Stir Fry Noodles
Ingredients
1/2

cup

creamy peanut butter

(or crunchy)

1/2

cup

soy sauce

1/3

cup

apple cider vinegar

2

cloves

fresh garlic

minced

1

teaspoon

chile paste

1

tablespoon

minced ginger

2

tablespoons

olive oil

1 1/2

pounds

chicken tenders

(or boneless, skinless chicken breasts)

6

ounces

Ramen noodles

(2 packages boiled, but without the flavor packets)

16

ounces

frozen stir fry vegetables

roasted peanuts

chopped

fresh cilantro

chopped
Instructions
In a medium sized bowl, whisk together the soy sauce, peanut butter, apple cider vinegar, garlic, chile paste, and ginger. Set aside.

Cut the chicken into bite sized pieces.

In a large skillet, heat the olive oil over medium heat. Cook the chicken until no longer pink, about 7 to 10 minutes.

While the chicken is cooking, bring a large pot to a roaring boil. Add the Ramen noodles and cook for 3 minutes. Drain and rinse with cool water to stop the cooking process.

Add the frozen vegetables to the chicken and cook until thawed, about 5 minutes.

Add in the noodles and the sauce, and toss to combine. The sauce on the dish will be liquidy but will thicken as it sits off the heat.

Top with chopped peanuts and fresh cilantro for an extra punch of flavor.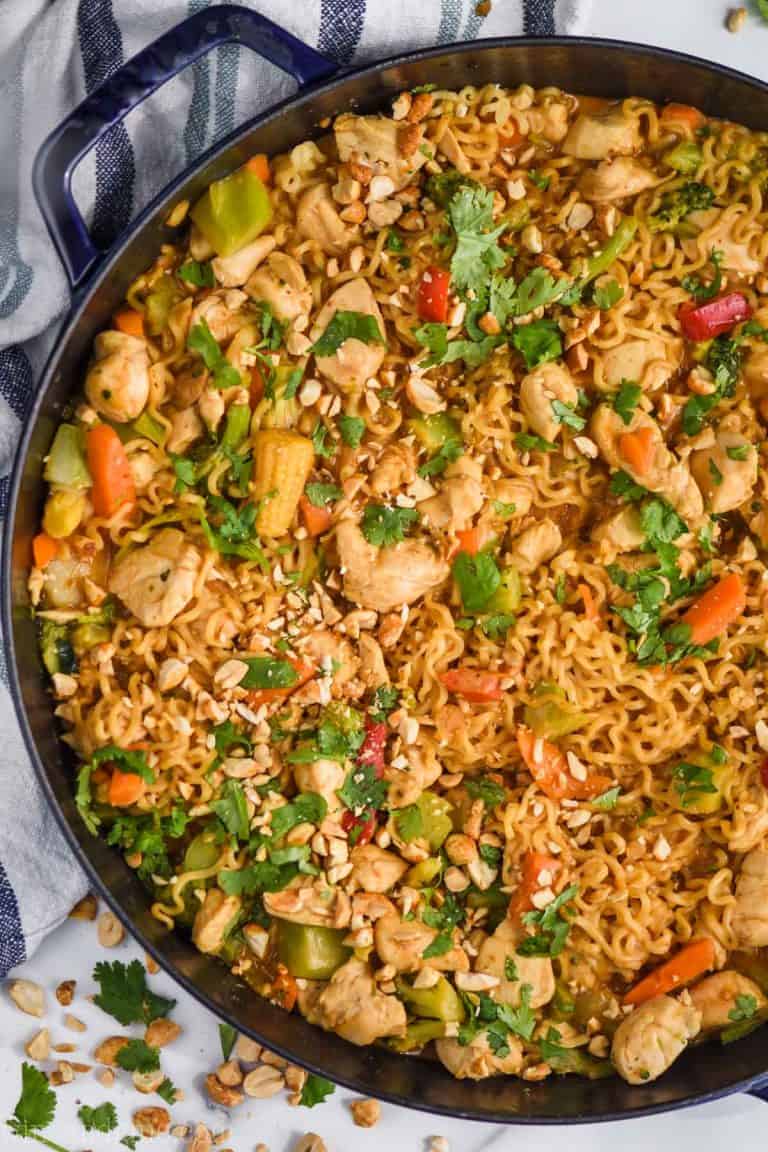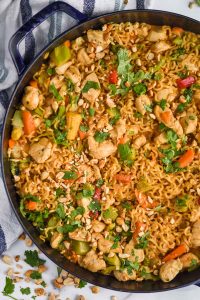 did you make this
Peanut Butter Stir Fry Noodles
Other great easy 30 Minute Meals: