This Rainbow Fudge is super easy but will wow everyone! So easy the kids can do it!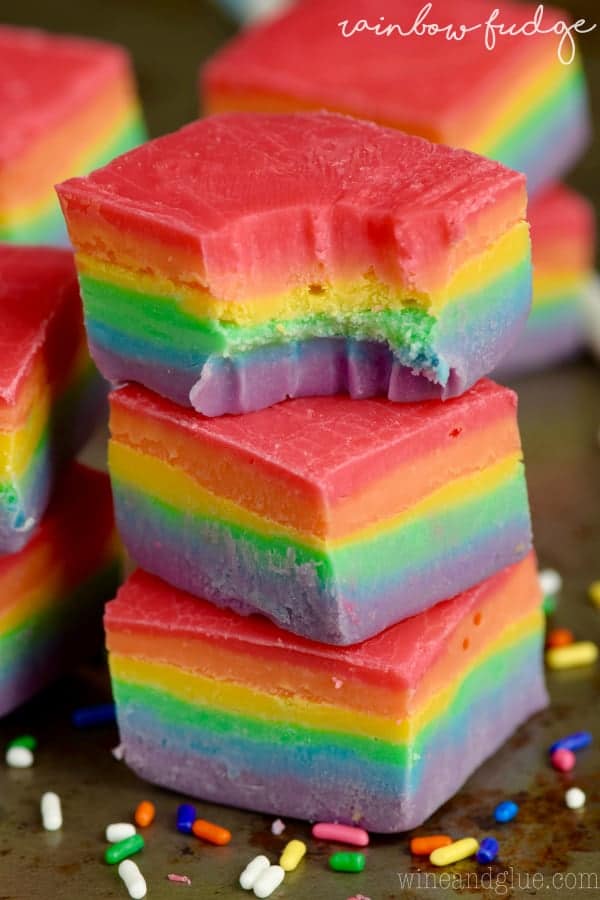 All of last week Nathan was gone on a work trip. And when I'm the only grown up in the house I have the tendency to . . . . lose it. So one day I saw that our front door was unlocked. In a matter of seconds I convinced myself that I had left the door unlocked for the last week and a half and obviously someone had come into the house, knowing the door was unlocked, and was just in the basement laying in wait for me.
I had this thought approximately one minute before I was headed to bed.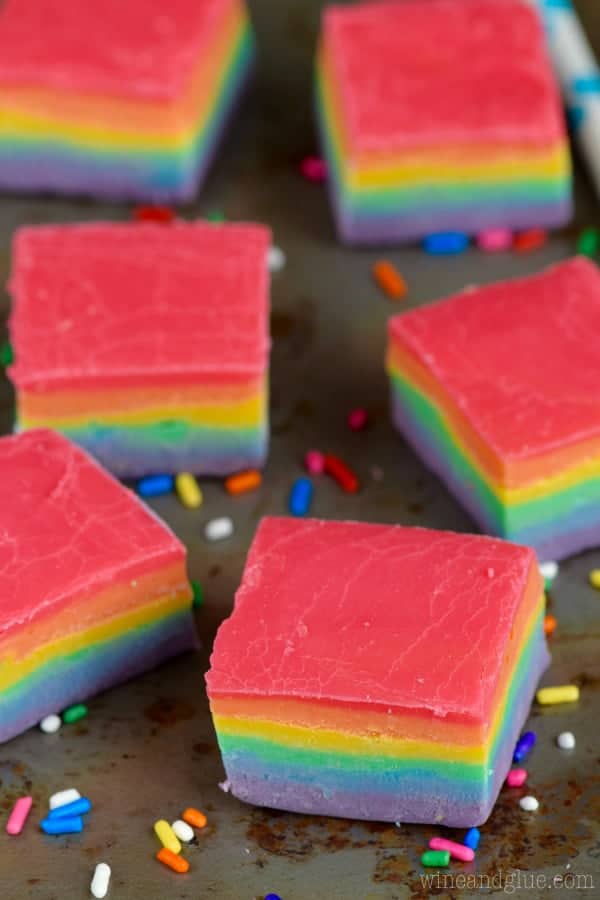 The next morning I got up really really early to work out. I'm running on the treadmill . . . . in the basement . . . where I'm convinced that the culprit is just waiting for the right minute to kill me.
Suddenly I see something out of the corner of my eye. I keep telling myself that it's just the light reflecting off my wedding ring. I keep seeing it, and keep seeing it, when I look over.
You guys.
It's a spider that has dropped down from the ceiling and is now dangling inches from my ear. I momentarily forget I'm running on a moving treadmill, jump to slap it between my two hands, land back down on the treadmill, and nearly trip and kill myself.
You guys. I'm so happy Nathan's home.
And I'm still alive.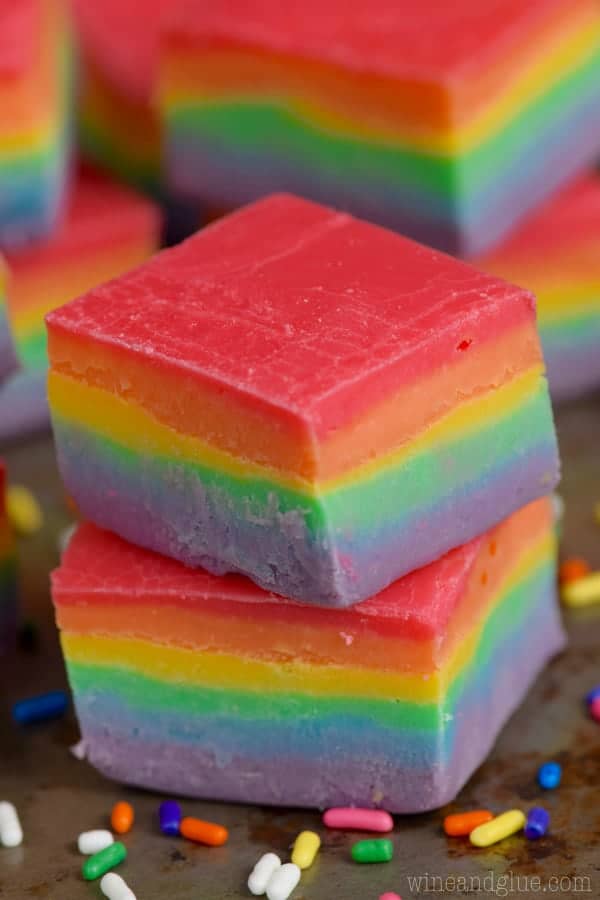 Okay, this fudge isn't scary at all. Not even to make. It's SUPER EASY!
It's based on the idea that you can mix together three cups of chocolate chips and a 14 ounce can of sweetened condensed milk, and you can make fudge! So I broke it down into sixths. That amounted to a half cup of white chocolate chips and 3 TBSPs plus 1 tsp of sweetened condensed milk for each color. Each color took about 8 drops of color, with the exception of red. That took 16 drops. Obviously for purple you need 4 drops of red and 4 drops of blue. And for orange you need 4 drops of red and 4 drops of yellow. You make one layer at a time, and you might want to space them out a little and not make them back to back as I did. I made them in my microwave, and by the end, it was over heating a little. You add it one layer at a time and once it's dry you just pop it out, cut it, and look at your beautiful creation.
Then eat it. :)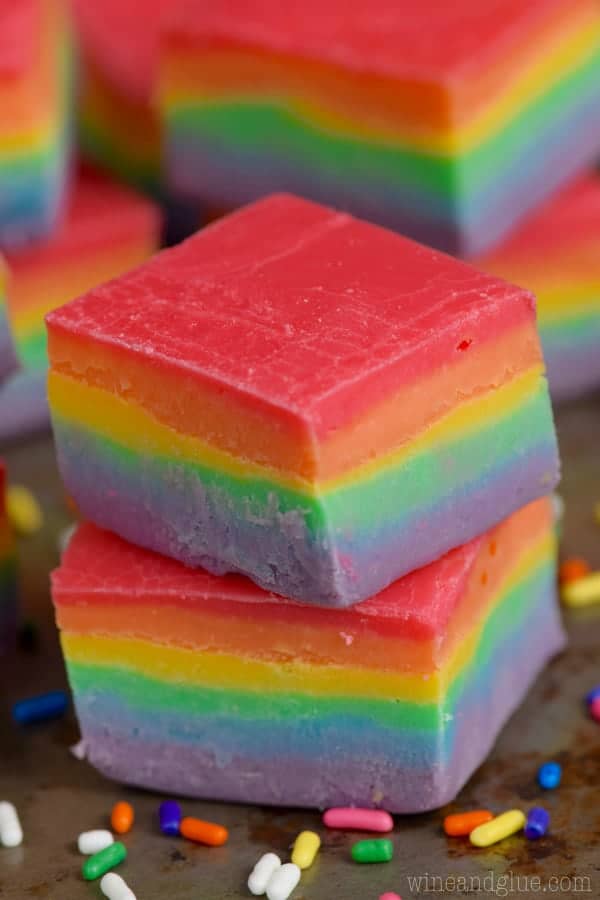 Rainbow Fudge
Ingredients
3

cups

white chocolate morsels

divided

14

oz

sweetened condensed mil

divided

food coloring
Instructions
Line an 8 by 8 inch glass baking dish with aluminum foil.

In a small bowl combine 1/2 cup white chocolate chips and 3 TBSPs plus 1 tsp sweetened condensed milk. Microwave for 30 seconds and stir until smooth. Stir in 4 drops of red food coloring and 4 drops of blue food coloring to make your purple layer. Spread it as evenly as possible. Set the fudge in the refrigerator to cool while working on the next layer.

Repeat the process adding instead 8 drops of blue food coloring. Continue the process until you have made and added all six colors. I used 16 drops for red. (Note: I did each layer one after another, but you might have to wait in between to not overheat your microwave.)

Once the fudge has completely cooled, remove it from the pan, peeling off the aluminum foil. Cut the fudge into squares and store outside of the refrigerator for up to two weeks in an airtight container.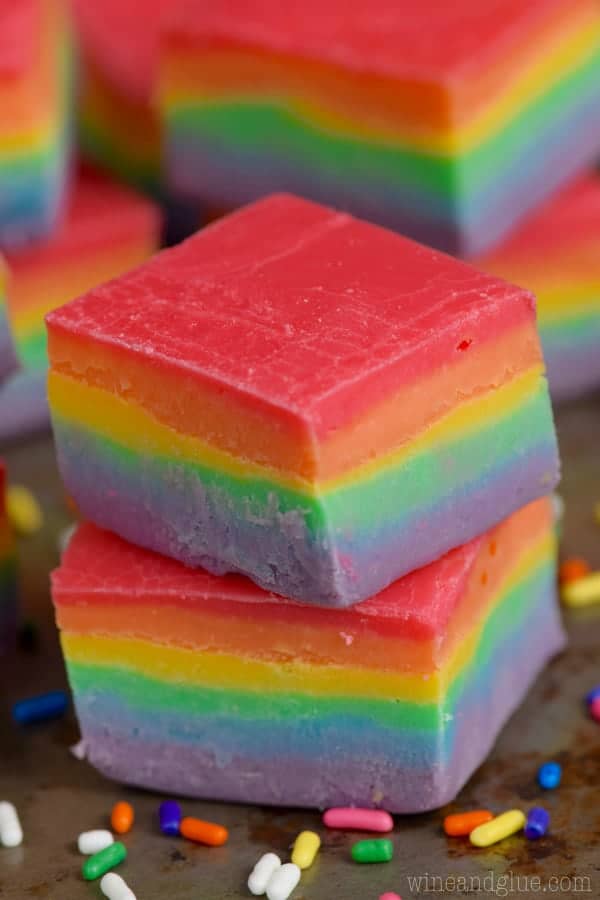 did you make this
Rainbow Fudge
Rainbow Treats from Friends
Rainbow Pinwheel Cookies from Mom on Timeout
Rainbow Palmiers from Crazy for Crust
Rainbow Truffles from The Domestic Rebel
Other rainbow treats